Wednesday, April 20, 2022
CEIBS duo clinch Corporate Social Responsibility Case Writing Award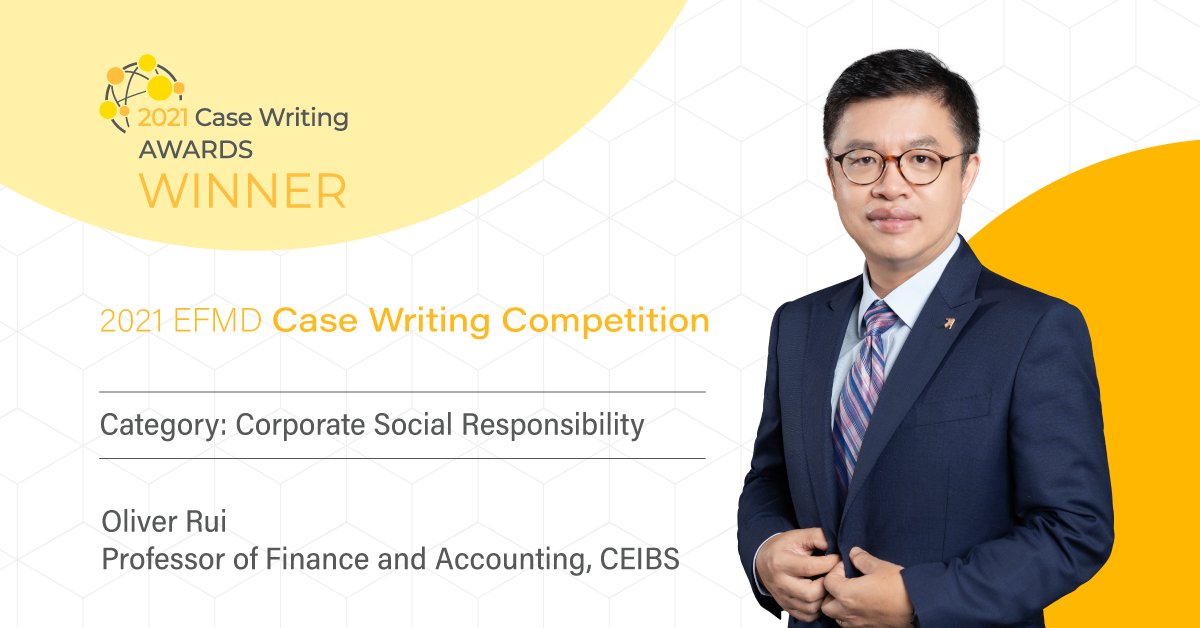 April 20, 2022. Shanghai – A case written by CEIBS Professor of Finance and Accounting Oliver Rui and senior case researcher Qiong Zhu has won the best case award in the Corporate Social Responsibility (CSR) category of the EFMD's 2021 Case Writing Competition.
The learning exemplar, entitled Ant Forest: Starting from Environmental Protection, is based on a campaign first launched on the Alipay online payment platform by Ant Financial Services Group in 2016. The campaign aims to reduce carbon emissions by planting trees when users engage in environmental-friendly behaviour.
The case analyses the operating model and achievements of Ant Forest, demonstrating that it heralded a new model for protecting the environment, while generating unique business value for Ant Financial.
In accepting the award, Prof. Rui said, "We are honoured to be recognised with this achievement and we hope this case can shed light on how to create economic value by solving social problems," adding, "It can help business executives better understand how to design normalised, sustainable and systematic public benefit mechanisms that solve social problems and how to create economic value by solving these problems."
The case illustrates a classic example of how a business can create economic value by delivering social value. In just over three years, Ant Forest chalked up two notable achievements – functioning as a green initiative and public benefit platform accessible to any individual or entity, and encouraging users to use Alipay by rewarding them with green energy points. The case also shows how this solved a key problem for the company by delivering a social networking function, a key weakness of Alipay.
"I'm very glad to win this prize in EFMD competition. This award is the result of the hard work of Prof. Rui and myself, the full support of the CEIBS Case Centre, and the cooperation of the Ant Forest team. I hope that this case can demonstrate the concept of sustainable development and the ability of Chinese enterprises to create shared value for the world," Qiong Zhu said.
This latest recognition of CEIBS research credentials follows numerous other similar awards, such as a Responsible Leadership case recognised by the EFMD last April, and a Responsible Business case win in 2020.
The EFMD's case writing competition was established in 1988 to promote "innovative and impactful case writing and teaching." It aims to encourage management development through a number of categories representing critical managerial areas and to create a community of outstanding innovators. Some 400 cases are assessed by an international judging panel every year.
The Corporate Social Responsibility (CSR) category covers cases which touch upon managing "demands for socially and environmentally circular business practices" and discovering new modes of business which can promote responsible economic activity.
Read more about Prof. Rui's teaching and research interests here.
Find the full list of winners from this year's competition here.