​CEIBS Teddy Instagram campaign! 
Join in the fun. Take a photo with the Instagram photo frame
on Shanghai campus.
Mail to Teddy and you just may be a lucky winner!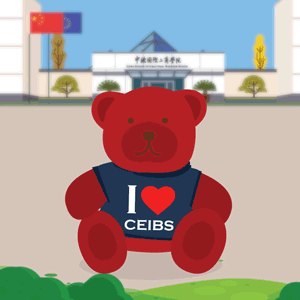 Date of birth: Nov 8, 2015
Colour: CEIBS Red
Hobbies: Travelling the globe and meeting new friends
Interests: Fashion; Promoting the CEIBS brand
CEIBS Teddy may only be a few years old but he's already seen SO much of the world. In May 2016 he travelled to four different countries within eight days to join CEIBS Europe forums in Warsaw, Zurich, London & Paris.
On April 12, 2017, he was in Taiwan to help our alumni host a forum on innovation opportunities across the straits. This was followed by a trip to Hong Kong on April 21 to look at the endless tech, innovation and entrepreneurship possibilities between Hong Kong and the mainland. In 2018, Teddy once again joined all the major CEIBS overseas events. And of course he's been spotted at events and lectures at our campuses in Shanghai, Beijing, Shenzhen, Zurich and Accra.
Keep watching this spot for CEIBS Teddy's next adventures, fun-filled contests and surprises; and be sure to visit the Gallery to check out his selfies and fun photos with his fans. Tag your photos with #CEIBSTeddy so we can easily find them.
True to his Sino-European roots, CEIBS Teddy is active on both Chinese and English language social media -  Facebook ,  Twitter, LinkedIn, YouTube, Instagram, WeChat, Weibo, Douyin, bilibili, Toutiao and Zhihu. But feel free to join the conversation in any language! 
If your photo makes it here, email us to claim your prize! teddy@ceibs.edu