Sunday, April 08, 2018
Disrupting Africa's Payment Industry
"I was looking for the new concepts and ideas around management and also the current trends. With its blend of both local and global context, China Europe International Business School was the perfect place to offer me such an experience."
~ Mitchell Elegbe, CEO of Interswitch; CEIBS-Wharton-IESE Global CEO Programme 2013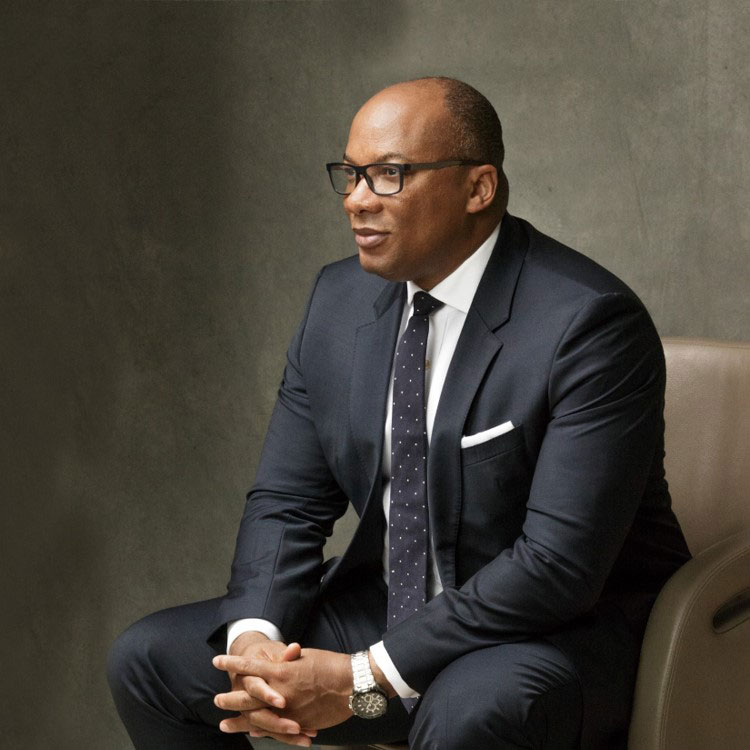 Fifteen years ago, Mitchell Elegbe launched Interswitch and totally disrupted the way Africans pay for goods and services. Ten years ago one of its subsidiaries, Verve, which offers payment cards and digital tokens, introduced Nigeria's first home-grown EMV standard chip and pin payment card to the country. Today Verve accounts for around 19 million of the estimated 54 million payment cards being used in the country and continues to achieve impressive milestones. It expanded into Kenya in 2015 and is now accepted in over 20 African countries, with ambitious global expansion plans on the back of a ground-breaking partnership with Discover Financial Services to launch Verve Global, a move which would see Verve accepted in the US, UK and UAE.
With payment penetration at less than 15% in Nigeria, their biggest market, Elegbe sees a lot more opportunities out there. For example Quickteller, another flagship Interswitch brand, is Nigeria's most used consumer payment portal. It has close to four million active users and tens of thousands of listed merchants and billers, numbers which continue to grow year-on-year. Quickteller aggregates banks, billers and consumers into a one-stop shop, offering instant bill payments, fund transfer, airtime top-up and other value-added services which can be accessed across multiple channels including its ubiquitous web version, a mobile app, USSD (a protocol through which mobile phones communicate with service provider's computers) and across ATMs.
"There are still markets in Africa that have remained largely untouched from a digital payment viewpoint. The opportunities are huge and there is no better time to do the payment business here," says Elegbe. Where others may see challenges, he sees opportunities to disrupt the market and create solutions. "Payment is something that, if well utilised, could be very profitable whether you are talking about Nigeria, Africa or globally," he explains. "MasterCard, VISA, Alipay, PayPal, etc. are all already in this space and there are more players coming because it is a very interesting space. It is a high-growth industry and players who are able to appropriate a dominant part of that growth end up doing very well. It is a very good industry to be in."
Having accomplished its initial goal of providing banks with the infrastructure needed to serve their customers, Interswitch has now begun offering its products to a wide range of not only institutional clients but also retail consumers. Elegbe's explanation of his company's operational model is quite simple: they make it easy for people to do business. "We electronically connect institutions and individuals to their banks, and also to merchants/service providers to ensure ease of financial transactions between businesses and their customers," he says. In the future, according to the company's website, that will mean an even greater reliance on technology as they move away from traditional channels (ATMs, point of sale terminals and personal computers) and shift their focus to the cloud. Clients would then be able to access their services anywhere, anytime, by using additional channels including mobile and even more futuristic options such as wearable devices.
Those who have followed Interswitch's performance since Elegbe came up with the business idea in 2001 would be hesitant to bet against the company's ambitious plans for the future. Interswitch was launched at a time when everyone thought Nigeria's infrastructural challenges were too great to overcome. The company's success, with Elegbe at the helm, has not gone unnoticed. In 2012, he was named West Africa Business Leader of the Year, one of the categories in CNBC/Forbes' coveted All African Business Leaders Awards. According to organisers, that accolade is based on criteria such as outstanding leadership in business, an ability to achieve positive financial results, increase shareholder value and provide sound management; proven corporate governance, innovation, best business practices and accountability, along with integrity and vision.
Elegbe was also named one of his country's top 20 CEOs by popular Nigerian internet site Nairaland Forum. Also among the illustrious group: Chairman and CEO of Dangote Group, Aliko Dangote; CEO of Globacom, Mike Adenuga; CEO of Stanbic IBTC Holdings, Yinka Sanni; and CEO of First Bank Nigeria Limited Adesola Kazeem Adeduntan. "Those are people I'm hoping to be like someday," says Elegbe with a modest laugh when the list is mentioned. "So to be put on a list with them is an honour."  
The criteria used to select firms for the list included widespread use of their products; but factors such as firm size, market capitalisation and CEOs' earning power were not considered. Instead, the article focused on where CEOs were educated. Elegbe completed the CEIBS-Wharton-IESE Global CEO Programme in 2013. The programme is led by three world-renowned business schools: IESE, Wharton and CEIBS. Through the collective knowledge of expert faculty members on three continents, participants gain invaluable insights into global markets. The course provides participants with an opportunity to examine authentic business scenarios, exchange viewpoints with other CEOs and develop specific action plans in real time. There is a Cross-Programme Project (CPP) that allows them to directly apply what they learn to their own business context. Elegbe still recalls how the course helped him have a clear understanding of his role. "I got a very simple definition of a CEO's role, one that even today has really impacted my business," he says. "A CEO's job is to ensure that customers trust the organisation. There has to be trust with the external market, with your shareholders, trust among colleagues in the office. People do business with you because they can trust you to be predictable, because they trust what you can do. It was a very important point I took back home and I have put systems in place to build that trust."
He also learned a lot, he says, about China's ecommerce industry by studying heavyweights such as Alibaba and Tencent. And the discussions around succession planning were also very useful for him. He had enrolled because he was looking for answers. He found them and immediately after completing the course he made quite a few changes to the way he did business. He learned a lot, he says, both from his classmates – very experienced managers, CEOs and business leaders – as well as from the very knowledgeable faculty teaching the course. "They gave me a lot of great ideas as I interacted with them. I came out of the programme really satisfied that it was time well spent and I really didn't want it to end. If there was a phase two, I gladly would have gone for it," he says. "I got value which brought a lot of positive changes and I am still feeling the effects of the course even though it's been some years now."
He chose the CEIBS Global CEO programme, he explains, because he was looking for a way to get the knowledge he needed without putting his career on hold. "I needed a very structured and condensed programme that draws attention to the challenges that growing businesses face locally while still giving you a global perspective," he says. "I looked around and the CEIBS Global CEO Programme turned out to be a very interesting one for me and that was why I applied for it. I was actually looking for something that tells me what is happening out there, the new concepts and ideas around management; and also the current trends. [With its blend of both local and global context] CEIBS was the perfect place to offer me such an experience." Not surprisingly China is a part of his global focus. He is now negotiating a few deals in China, but the terms of the negotiations require him to keep the details confidential. However he does say this: "Two of them are quite substantial."
For now, when he is not using the skills learned from studying at CEIBS to run his company, he spends a fair bit of his time mentoring young entrepreneurs. The continent is not short of those dreaming of launching their own start-ups, he says. "If you look at Africa, with all its challenges – and the lack of resources is key – people do want to dream big dreams. And that is the fundamental requirement for entrepreneurship," says Elegbe. "Africa has enough challenges to make it have a large crop of entrepreneurs."
And for those who may be inspired by his success, he offers a bit of advice: do not focus on your failures but on the opportunities available if you are disruptive enough to find sustainable solutions to existing problems; make good friends and build a strong network; and do not be overly reliant on the government. "The government's role is to provide citizens with the infrastructure needed," he says. "That is necessary for entrepreneurs to rise. But, for me, the main issue for an entrepreneur is to focus on which problems he needs to solve by being a disruptive force."