Tuesday, March 28, 2023
CEIBS faculty shine on highly-cited Chinese researchers list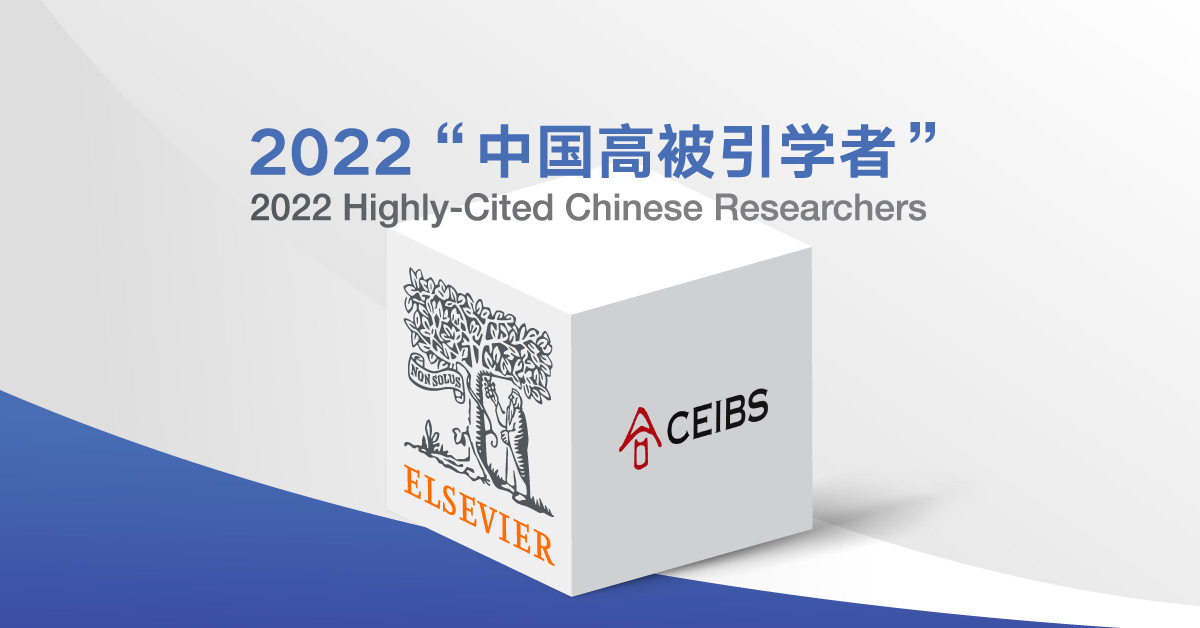 March 28, 2023. Shanghai – A historic high 16 CEIBS faculty have made the 2022 list of Highly-Cited Chinese Researchers released by world-leading academic publisher Elsevier.
Amongst those listed, 14 CEIBS faculty have been named for their contributions in the category of Business Management, while another two appear on the Applied Economics list. CEIBS has also boasted the largest number of faculty on the list in the field of Business, Management and Accounting for six consecutive years.
CEIBS faculty included on this year's list are:
Professor Emeritus Chen Jieping
 Professor of Accounting Chen Shimin
Professor of Accounting David Erkens
Professor of Accounting Ding Yuan
Honorary Professor Jiing-Lih Larry Farh
Associate Professor of Management Michael Kwan
Professor of Management Tae-Yeol Kim
Professor of Economics Bala Ramasamy
Professor of International Business and Strategy Shameen Prashantham
Professor of Management Katherine Xin
Professor of Economics and Finance Xu Bin
Professor of Finance Frank Yu
Professor of Management Zhao Hao
Professor of Operations and Supply Chain Management Zhao Xiande
"CEIBS is committed to nurturing business leaders versed in 'China Depth, Global Breadth,' and will continue to attract world-class faculty and give play to its role as an international think tank to promote the socio-economic development of China and the world, with the aim of becoming one of the most respected business schools in the world," CEIBS President Wang Hong said, adding that the latest ranking demonstrates the academic influence of CEIBS and its professors.
"The record-high number of CEIBS professors appearing on Elsevier's list this year reflects our growing reputation as a trusted source of knowledge about doing business in and with China. The research carried out by our faculty forms an important part of our mission as both a business school and a think tank. That they continue to be published in the world's top journals and be cited by their peers is a reflection of both their hard work and status as thought leaders in their respective fields," CEIBS President (European) Dominique Turpin said.
Elsevier has released the Highly-Cited Chinese Researchers list annually since 2015. The list uses Scopus, a global authoritative citation and index database, to track the scientific research achievements of Chinese scholars. A total of 5,216 China-based scholars from 504 academic institutions across 10 different subject areas were named on the 2022 list.