Monday, February 27, 2023
CEIBS teams claim top prizes at The Case Centre Awards and Competitions 2023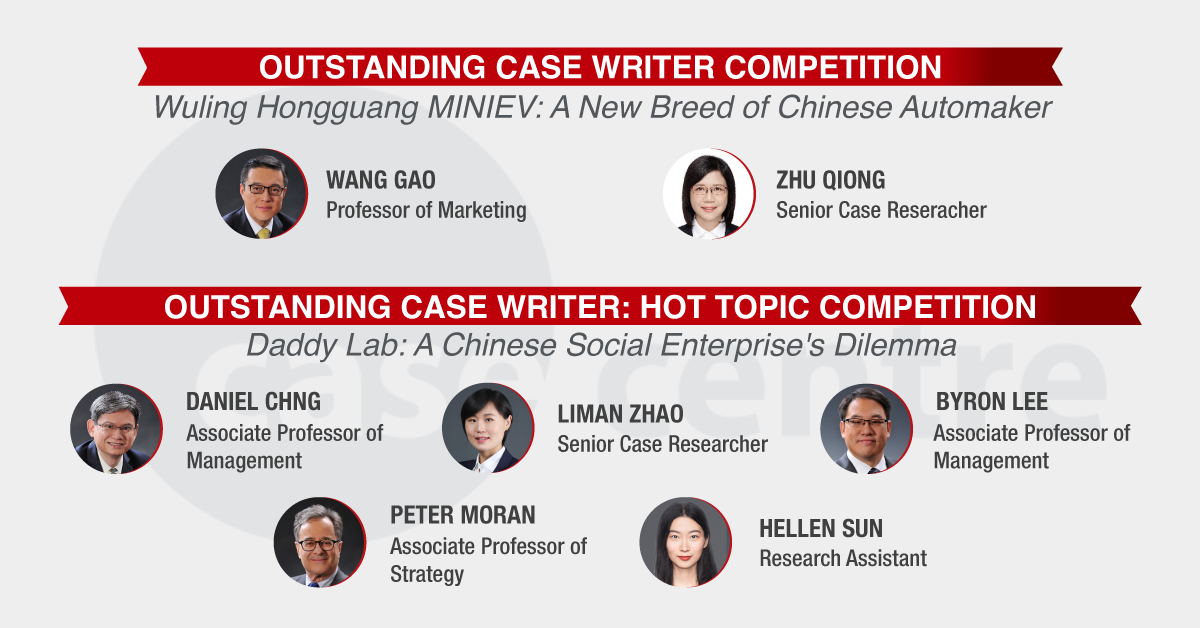 February 27, 2023. Shanghai – Two CEIBS case-writing teams have been named winners in The Case Centre Awards and Competitions 2023.
Wuling Hongguang MINIEV: A New Breed of Chinese Automaker by CEIBS Professor of Marketing Wang Gao and Senior Researcher Zhu Qiong won the Outstanding Case Writer Competition.
Meanwhile, Daddy Lab: A Chinese Social Enterprise's Dilemma by CEIBS Professor Daniel Han Ming Chng, Senior Case Researcher Liman Zhao, Professor Byron Lee and Professor Peter Moran, together with and Research Assistant Hellen Sun took home the prize for Outstanding Case Writer: Hot Topic Competition. The theme of this year's Hot Topic Competition was 'Business, social media, and society.'
Each year, The Case Centre Awards and Competitions recognise "outstanding case writers and teachers from across the globe and celebrate worldwide excellence in case writing and teaching." Cases are judged by The Case Centre's Executive Committee and representatives from several top business schools.
Wuling Hongguang MINIEV presents the case of the Hongguang MINIEV, a popular and highly customisable compact electric vehicle (EV) manufactured by SAIC-GM-Wuling Automobile. It explores several problems management needed to consider following the MINIEV's launch in order to ensure its long-term success and how the brand would hold up against more established players and expand its market. The case was also a Second Prize winner in the 2021 Global Contest for the Best China-focused Cases.
"It is a great honour for us to win this prestigious award. This case is unique in the automobile industry and demonstrates a very different way of making cars. As an award-winning case, we hope more of our peers use this case in their classrooms," the authors said in a shared statement.
Daddy Lab takes a look at Daddy Lab, a Chinese social enterprise known for raising public awareness of hazardous and unsafe products. The case examines the challenges facing the company as it sought a sustainable business model for generating profit without undermining its social mission. Daddy Lab previously claimed the Best Case Award in the 2020 Global Contest for the Best China-Focused Cases and first place in the category of Responsible Leadership in the EFMD Case Writing Competition in 2021. The case also finished as a runner-up in the Teaching Cases Awards section of the Financial Times' Responsible Business Education Awards 2022.
"Winning this award will provide an opportunity for our case to garner more attention from students and educators in terms of the topics of social entrepreneurship and challenges facing social enterprises. We hope our case can help business schools take the lead in refocusing attention on responsible management while encouraging business students and practitioners to do more in terms of addressing social issues," the case-writing team said.
The Case Centre has more than 500 member organisations worldwide and is dedicated to advancing the case method, sharing knowledge, wisdom and experience to inspire and transform business education across the globe.
CEIBS teams also received prizes in The Case Centre Awards and Competitions in 2013 and 2014. For a complete list of the 2023 winners, click here.