Monday, February 13, 2023
CEIBS MBA repeats as #1 in Asia in FT ranking for seventh consecutive year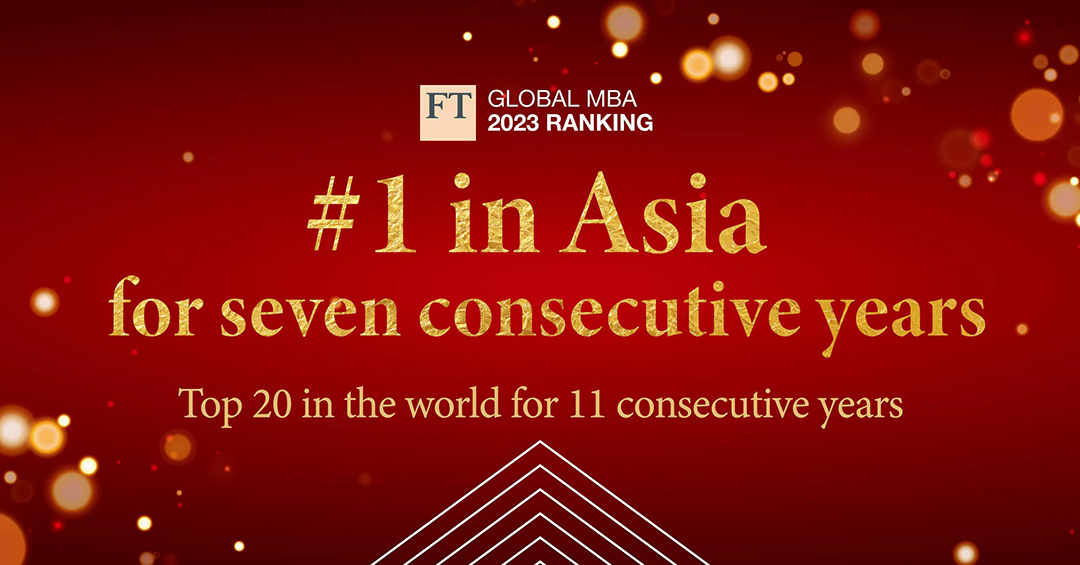 February 13, 2023. Shanghai – CEIBS has again placed #1 in Asia (and #20 in the world) in the Financial Times' global ranking of MBA programmes for 2023. This year's list features six Chinese and a total of 16 Asia-based business schools. It is the seventh consecutive year CEIBS has claimed the top spot in Asia. The school's Global EMBA (GEMBA) programme is currently ranked #2 in the world.
Today's ranking release comes amidst growing interest in China's role on the global stage and greater calls for more responsible leadership in business. It also comes as relaxed COVID restrictions have made it easier for international students to pursue a China-based management degree.
Wang Hong
CEIBS President
"In the face of global challenges and changes in management education, this year's ranking result is a remarkable achievement that reflects CEIBS' competitiveness and influence. We remain committed to nurturing business leaders versed in 'China Depth, Global Breadth,' and we will continue to facilitate knowledge creation and dissemination, integrating teaching, research and business practice from China and the world, and to promote China's socio-economic development, with the aim of becoming one of the most respected business schools in the world."
Asia remains a major market for management education in 2023, with many business schools in the region seeing stable or increased demand from both domestic and international applicants post-pandemic.
Dominique Turpin
CEIBS President (European)
"Businesses around the world, even those which do not directly engage with Asia, are increasingly affected by developments in this vital region. Our #1 ranking in Asia reflects the fact that we continue to offer students priceless long-term value with an MBA that equips them with an unrivalled understanding of business in China, and the country's fundamental role in the regional and global economies."
In compiling its ranking, the FT considers 21 indicators in the categories of career progress, diversity and research/ESG. CEIBS climbed 13 spots to an all-time-high #41 in FT research rank in 2023 and made significant moves up the ranking in aims achieved, career service, female faculty and ESG and net zero teaching.
Ding Yuan
CEIBS Vice President and Dean
"These achievements show that we have continued to keep pace with both current trends and other top international institutions in meeting the needs of today's business students and alumni. At the same time, we have built an effective incentive system for attracting and retaining world-class faculty active in cutting-edge research and publishing in influential journals."
As the first full-time English-language programme on the Chinese mainland, the CEIBS MBA has grown and expanded in step with CEIBS and China's development. Despite many challenges and increasing competition, the programme has continued to deliver an unparalleled experience for those interested in pursuing a career in or with China.
Zhang Weijiong
CEIBS Vice President and Co-Dean
"The fact that we have retained the #1 place in Asia in the Financial Times' ranking is inseparable from the collective efforts of everyone in the CEIBS community and demonstrates the strength of our MBA programme. With international travel and people-to-people exchanges returning to normal, CEIBS will accelerate its development and continue to cultivate more high-calibre international talent."
The end of zero COVID and China's reopening have brought greater optimism for the country's economy in 2023, and schools are now preparing to welcome back colleagues, students and alumni from abroad. Relaxed travel restrictions and visa polices mean international students can now enter China and schools can resume offline activities as well as overseas modules.
Shameen Prashantham
CEIBS Associate Dean (MBA) and Professor of International Business & Strategy
"With the borders open, we look forward to strengthening our position as the #1 programme in Asia. Our MBAs will soon be resuming overseas electives, market exploration treks and in-person exchanges with top schools around the world. It also signals a new chapter for our admissions, programme delivery and career services teams to resume the 'global breadth' activities that make our programme unique."
CEIBS MBA is now accepting applications to join the August 2023 intake (MBA 2025). Prospective students are encouraged to submit their applications on or before the remaining two deadlines on March 22 and May 17, 2023.
Candidates can also get a feel for life on CEIBS Shanghai Campus, the MBA lectures and our alumni community by spending a weekend at the Beyond Borders Camp this March. Learn more here.
Catch Prof. Prashantham speaking as part of the FTLive's The Future of Business Education: Spotlight on MBA online event on February 22, 2023. Details here.
About CEIBS MBA
CEIBS' full-time English-language MBA programme is an intensive 12- or 16-month journey combining academic rigor, experiential projects and personal transformation. Designed with the school's motto of 'China Depth, Global Breadth' in mind, students build on business fundamentals before taking deep dives into electives. Learn more here.
About CEIBS
China Europe International Business School (CEIBS) was co-founded by the Chinese government and European Union (EU) in 1994 and has campuses in Shanghai, Beijing, Shenzhen, Accra (Ghana), and Zurich (Switzerland).
CEIBS is committed to educating responsible leaders versed in 'China Depth, Global Breadth' and serves as an important platform for exchange and co-operation between China, Europe and the world.
The school offers MBA, Finance MBA, EMBA, Global EMBA, Hospitality EMBA, DBA (Switzerland) and Executive Education programmes. It has ranked #1 in Asia in the Financial Times' ranking of MBA programmes for seven consecutive years and has been ranked in the top 5 on its global EMBA list for five consecutive years.
CEIBS has more than 27,000 alumni from over 90 countries and regions around the world and has provided management training for more than 200,000 executives worldwide. Learn more here.