Friday, August 27, 2021
CEIBS MBA2021 Triumph with Record 95.5% Graduate Employment Rate
August 25, 2021. Shanghai – The CEIBS MBA graduate employment rate reached 95.5% this year – the highest in the last decade – according to the CEIBS MBA2021 Career Report released today. The report also details remuneration statistics, industry and function distribution, recruiting companies, geographic spread, and more.
Leading the trend, the technology sector has demonstrated the strongest demand for CEIBS MBAs amongst various industries for three straight years. Next in line were healthcare, financial services, manufacturing (industrial products and services) and consulting industries. Meanwhile, general management, marketing/sales, finance/accounting, consulting, and operations formed the top job functions.
Another important trend that was observed this year was an increase in demand from multi-national companies on top of strong existing demand from Chinese enterprises. Amongst recruited MBA2021 students, 57.9% went on to join multi-national companies, while 38.1% chose Chinese or state-owned enterprises.
Of the 83.3% of MBA2021 students who chose to work in mainland China, many have gone beyond the usual top-tier cities such as Beijing, Shanghai, and Shenzhen, and instead moved into booming second- and third-tier cities like Hangzhou, Jiaxing, Chengdu, Foshan, Xiamen, and Quanzhou, showcasing a trend of emerging attractive domestic work locations.
Furthermore, graduate employment in overseas markets this year has increased to 16.7%, of which Asia-Pacific countries and regions (excluding mainland China) account for 13.5%, and European and American countries account for 3.2%. It is worth pointing out that 87.1% of international students received jobs in the Asia-Pacific region, and 32.3% stayed in mainland China.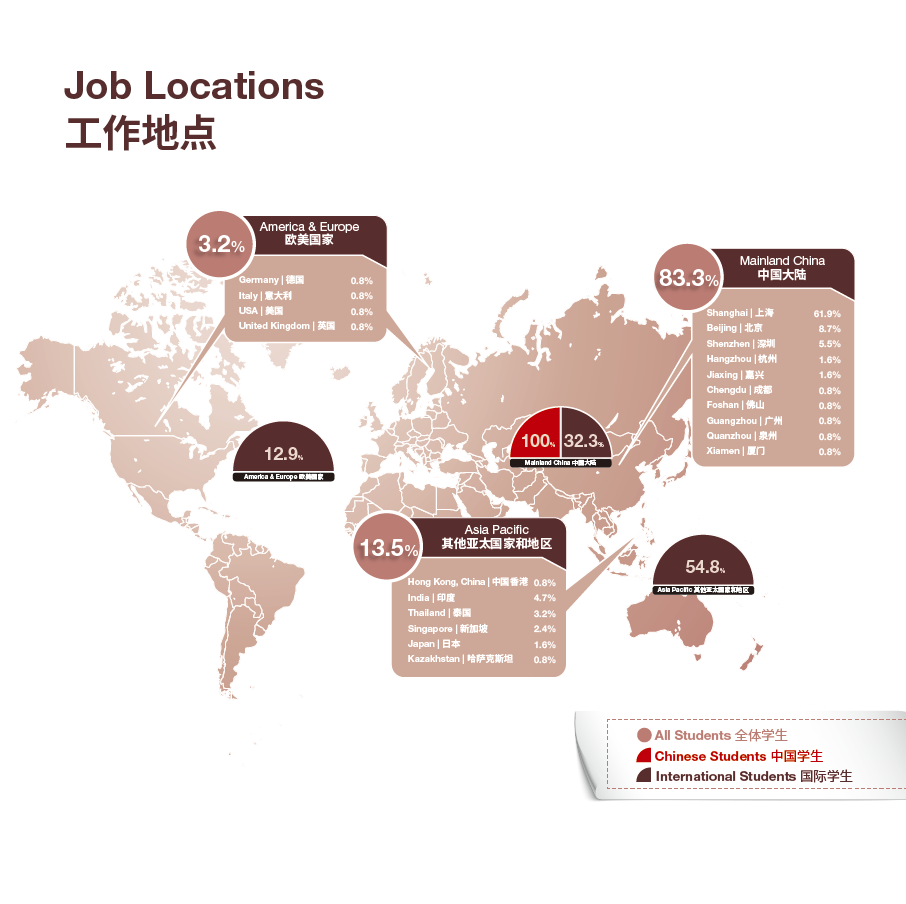 Many of CEIBS' long-standing partner companies have continued to look to the school for their talent needs. Some of the top recruiters this year include Alibaba, Agoda, Amazon, AstraZeneca, Bayer, Budweiser, Cargill, Cathay Capital, Danaher, Dupont, FOSUN, JD, J&J, Junhe Capital, Kavo, Lilly, Li & Fung, Microsoft, Michelin, LLYHMM SHOP, Novartis, Roland Berger, Tencent, UNISOC, Walmart and West Summit Capital.
With an unstable global job market brought about by the shock of the COVID-19 pandemic, business schools around the world have been doing their best to respond to the challenges. CEIBS MBA2021 graduates showed courage in the face of adversity and performed outstandingly in the job market. The employment rate (within three months after graduation) reached 95.5%, overturning the slight negative downturn faced last year.
At the same time, for the fourth consecutive year, the CEIBS MBA programme has once again entered the global top 10 and was ranked #7 in the world and #1 in Asia by the Financial Times in 2021.
As the first career development centre in mainland China, the CEIBS Career Development Centre (CDC) continues to focus on working with recruiters and the business community as a whole, both to support key talent development, as well as to build platforms and initiatives to effectively anticipate and address critical business issues.
The CEIBS MBA 2021-2022 recruitment season will officially start on August 30, 2021. Employers are welcome to contact the CDC to recruit talent and explore other cooperation opportunities. Please call +86-21-2890 5142 or email cdc@ceibs.edu for details.
For more information, please check out the full version of Career Report 2021 here.