Saturday, April 14, 2018
Never Alone – MBA 2018 Graduation Ceremony
April 14, 2018. Shanghai – More than 150 students from the MBA Class of 2018 were back on campus today, joined by friends, family, professors and CEIBS staff to celebrate the next chapter of their MBA journey. Ushering the MBAs into the CEIBS alumni family of over 20,000 professionals were school leaders President (European) Prof. Pedro Nueno, Vice President and Dean Prof. Ding Yuan, Vice President and Co-Dean Prof. Zhang Weijiong and Associate Dean and MBA Programme Director Prof. Juan Fernandez. They were joined by Dominique de Villepin, the former Prime Minister of France, who is now Distinguished Professor at CEIBS.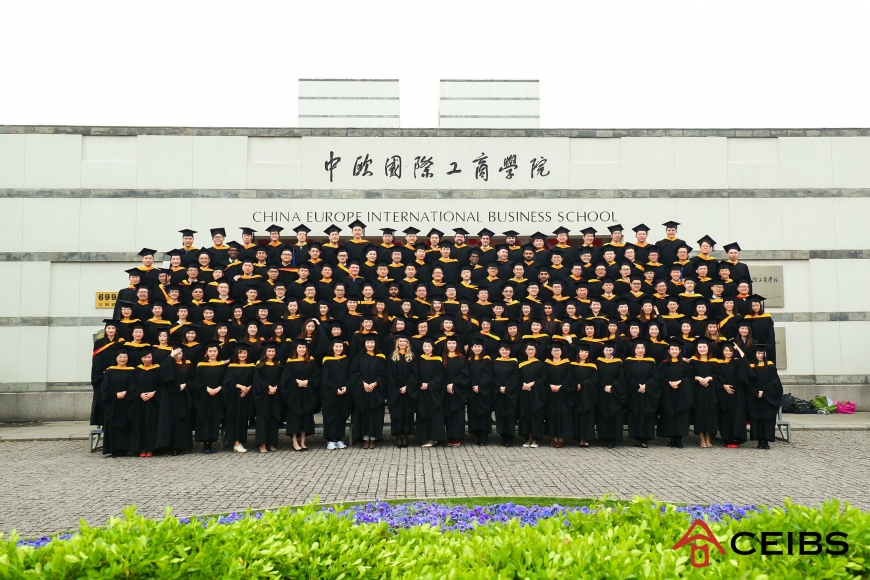 President Nueno began the proceedings by expressing his pride in the graduating class, reminding them to keep in touch with CEIBS as "alumni are the pillar of business schools". He also encouraged today's graduates to be mindful of their own personal growth. "Our school has grown extremely fast since its inception in 1994; probably in the next 100 years we will have campuses on both the Moon and Mars, so I encourage you to grow as fast," he said.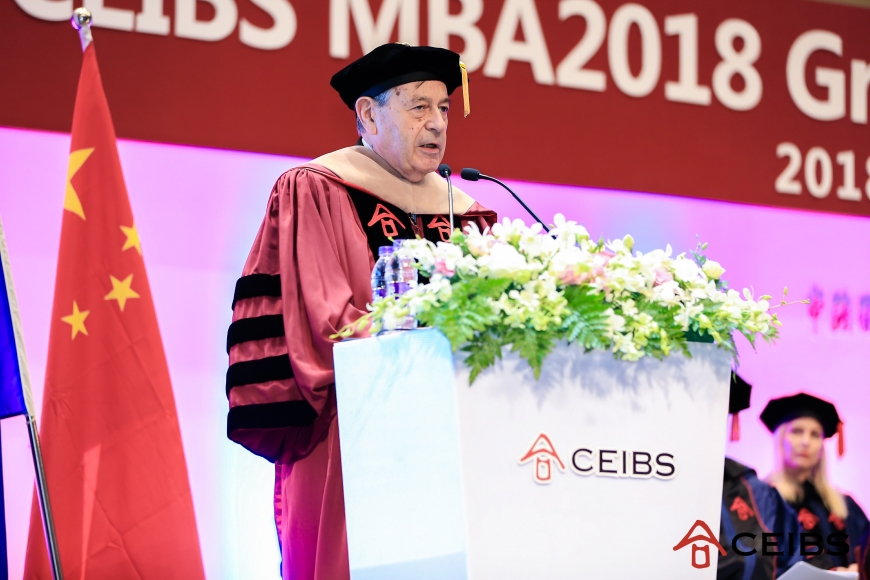 Distinguished Professor Dominique de Villepin spoke of his gratitude in being a part of the day's event which brought such pride and happiness. He shared with graduates two observations he has about the world. First, that the environment and equality will be the main challenges of our time; and second, that in the coming years the world will need people like CEIBS graduates to build bridges between nations and continents.  "You have in your pockets the passport of knowledge but also a responsibility as advocates of the EU-China friendship to draw the world of the future. In the coming decades, I am convinced both Europe and China will become the main engines of international prosperity," he said.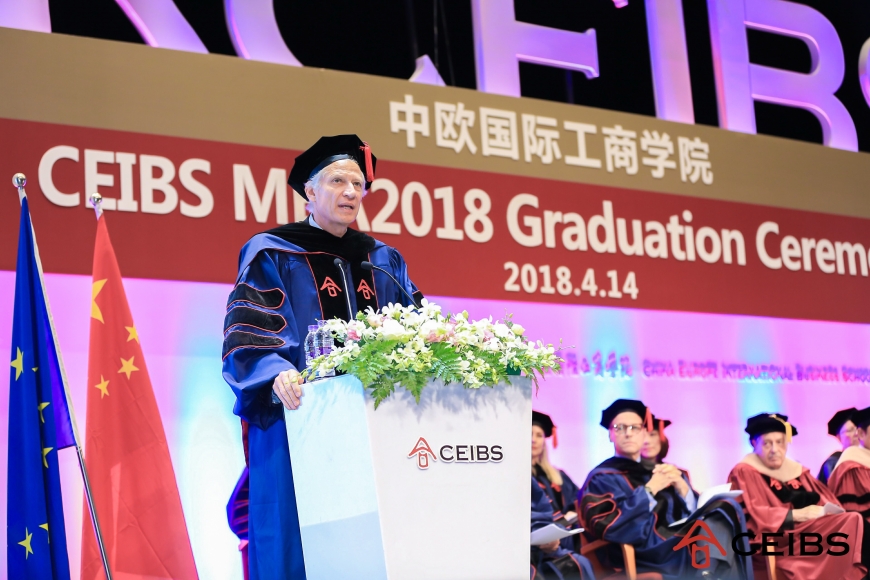 In his keynote speech, President of Henkel Greater China, Mr. Jeremy Hunter encouraged graduates to embrace the random occurrences of life that were never part of their original plan. In a career that has taken him from the UK to Portugal, India and China, Mr. Hunter shared the seven habits which are the foundation of his professional and personal life:
Happiness is a journey not a destination
Develop an attitude of gratitude
Just say yes
Respect for others
Give back to society
Keep learning
Take time to smell the coffee.
Representing the MBA Class of 2018, Charlotte Li and Richard Higgs shared some of their key takeaways from their journeys at CEIBS. "After this 18-month journey, I am proud that eventually we all had the courage to fulfil our career switches successfully. But what I appreciate most is that we encouraged each other along the way. Not only did we experience many 'firsts' ourselves, but we also became part of many 'firsts' for each other, as was our class oath; MBA 2018 never alone," said Li. Higgs borrowed the words of his hero and fellow South African, Nelson Mandela, to reflect on his experience. "There is no passion to be found in playing small – in settling for a life that is less than the one you are capable of living, because at CEIBS we don't play small. We push the boundaries. We break new boundaries," he said.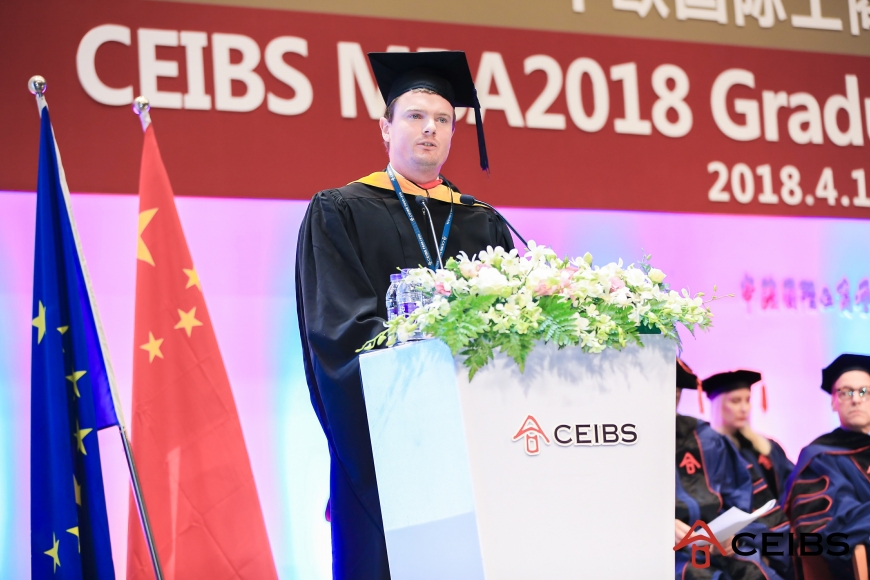 The MBA Class of 2018 presented the school with a donation and were in turn lauded by the current MBA Class of 2019 who sent them off with two performances dubbed by Prof. Fernandez as the 'fun part' of graduation. The MBA Class of 2019's dance team gave a performance of "This is Me", which was followed by MBA 2019 Tian Tian's piano recital of Polonaise No. 6 in A-Flat Major by Chopin.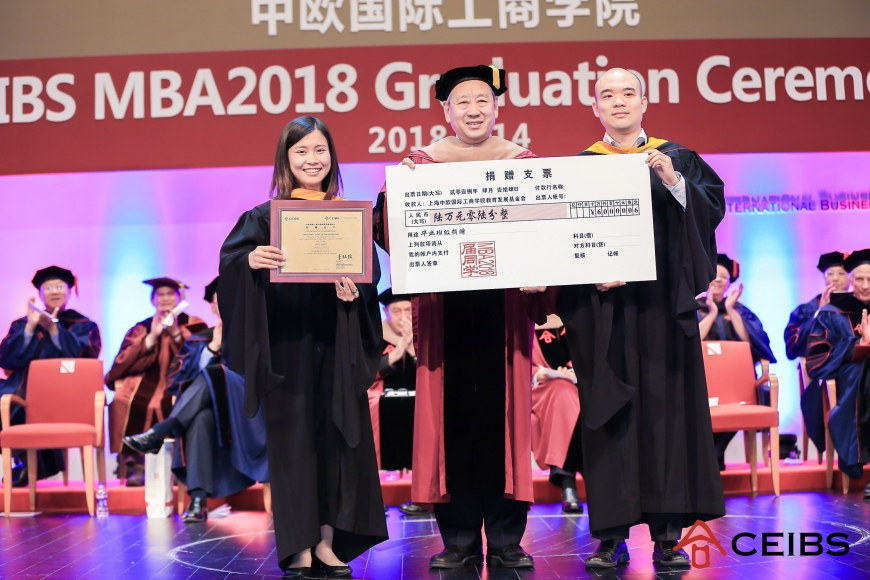 Prof. Fernandez congratulated the MBA Class of 2018 on their new status as alumni before challenging them to question how they will measure their lives. He encouraged them to give serious thought to how they can find happiness their careers, how they can find happiness in their relationships and, finally, how they can live a life of integrity.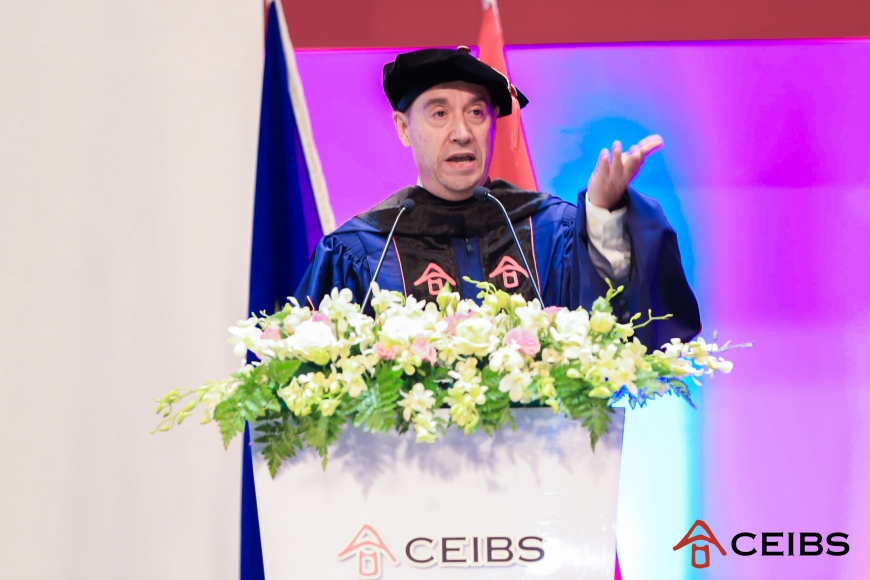 Dean Ding and Co-Dean Zhang joined Prof. Fernandez on stage to present awards to the MBA Class of 2018's outstanding achievers. The award recipients are:
Student Leader Award: Richard Higgs, Andy Ren and William Yan
MBA Office Special Recognition Award: Anna Bi, Jaime Boy Ispizua, Richard Chen, Abhishek Chhabria, Candice Hou, Rahul Kalra, Lisa Li, Charlotte Li, Anson Li, Eva Ni, Muzi Peng, Andy Ren, Dwight Van Diem, Clinton Wong, Stephanie Yu and Ernesto Chien
Outstanding Graduate Award: Arkham Gan, Laura Loof, Chris Pang, René Reijnst, Rituraj Shailendra, Victor Tobio Torrejon, Abe Xu, William Yan, Steven Yao and Coco Zhou
Special Contribution Award: Richard Higgs
The ceremony concluded with Vice President and Co-Dean Zhang Weijiong calling upon the graduates to signal their new status as alumni by switching the tassels on their caps from right to left. Celebrations continued well into the evening as CEIBS hosted a graduation dinner for all who supported the students throughout their MBA journey.