Wednesday, April 11, 2018
Step Forward with Globalizing Chinese Enterprises
April 11, 2018. Shanghai – CEIBS MBA Career Development Centre held the first Chinese Enterprise Forum at the Shanghai Campus today.  Held under the title of 'Step Forward with Globalizing Chinese Enterprises', the forum attracted nine globalizing Chinese enterprises: JD, Didi, Geely, Vivo, Wuxi AppTech, H&H, Chervon, GCL and Landsea. These firms shared their international expansion plans and career opportunities with over 100 current CEIBS MBA students and alumni. The forum aims to establish a platform to promote these globalizing Chinese enterprises among MBAs and enhance communication between recruiters and young professionals.
In his welcome address, CEIBS Vice President and Dean Prof. Ding Yuan shared how many domestic giants are taking their first brave steps towards capturing overseas markets.  For them, talents with China knowledge plus a global perspective are an essential success-factor to realize their overseas ambitions.  As the most international business school in Asia, CEIBS has been actively preparing students for this historical opportunity, guiding MBAs through the rigorous curriculum and career development programme.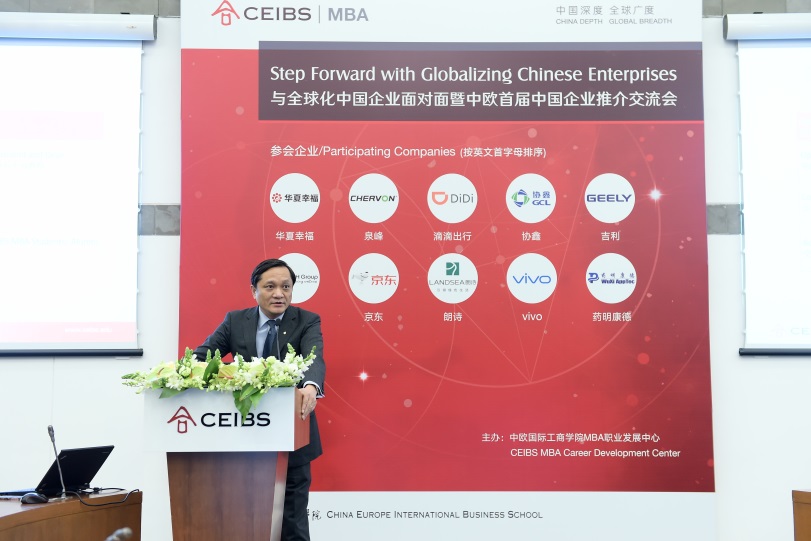 Today's event featured seven-minute presentations from the enterprises' HR and/or business leaders. The executives introduced their business models, shared industry trends and challenges, and offered advice for aspiring entrepreneurs. Participants then had the opportunity to sit down, one-on-one, with company executives to get a better understanding of their business and career opportunities.  Read on for some highlights from today's presentations.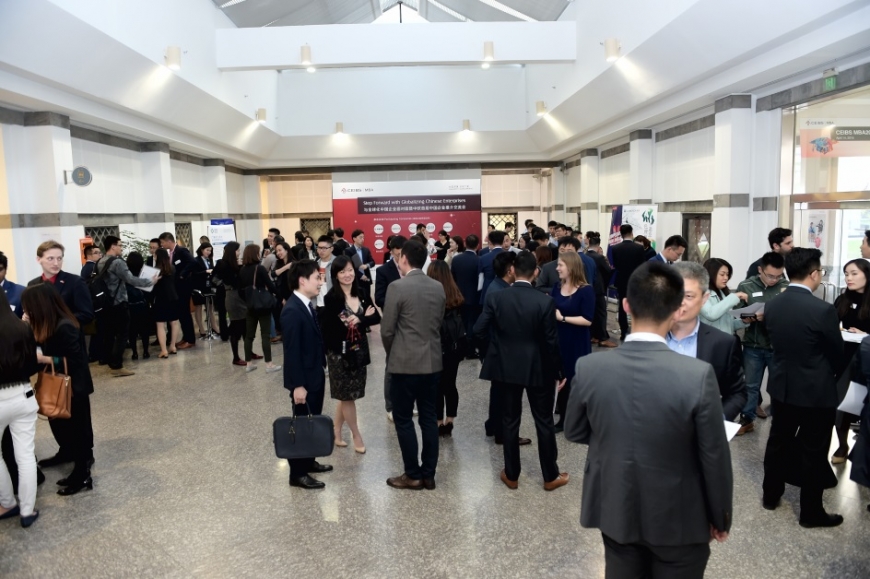 Technology
Representing China's B2C e-commerce & internet giant JD, CEIBS welcomed Qingqing Li, Director of JD's Recruiting Department who introduced JD RUN (JD's Summer Internship programme) and their International Management Trainee (IMT) programme. 
In line with Didi's going global strategy, the topic of their presentation was "Say hello to the future". Vincent Hu, HR Director of the major Chinese ride-sharing, AI and autonomous technology conglomerate, shared the company's new initiatives for internationalization, describing both their vision for the taxi hailing experience of the future as well as Didi's comprehensive compensation framework.
Damon Dong, Senior HR Director of one of China's leading smartphone companies introduced Vivo as a new and vibrant leader of both technology and fashion. Having invested substantially in technology, design, innovation and AI, Vivo aims to bring the perfect smartphone experience to their users.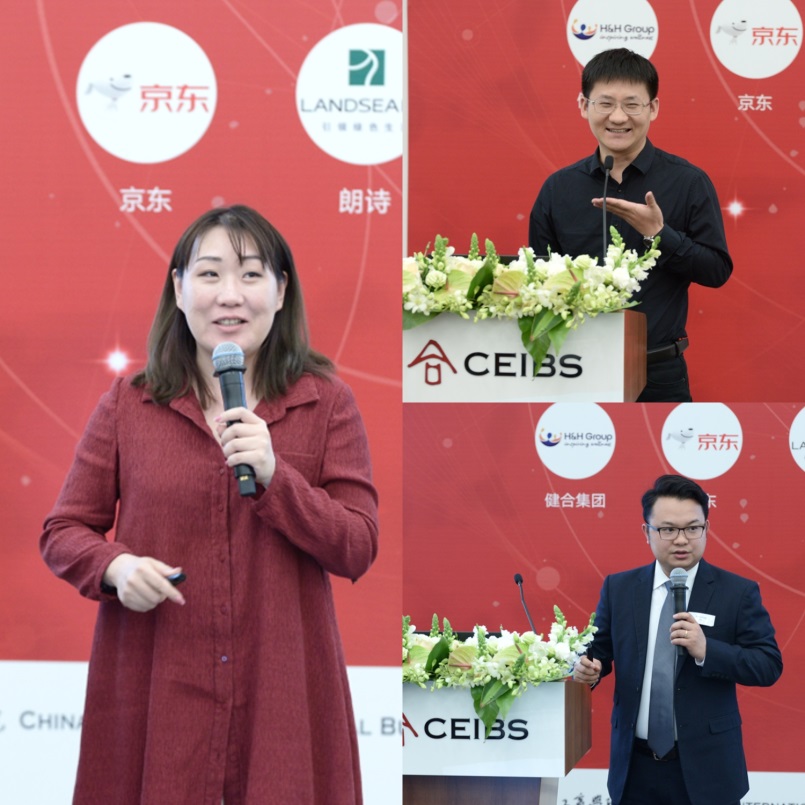 Made in China
Bulin Tong, Campus Recruitment and Employer Branding Leader of the automotive manufacturer Geely highlighted the company's global strategies for production, design, research and development as well as their talent recruitment and career development.
Alex Tu, Chervon Market Insights Director, shared how Chervon has grown to become a top 10 player in the global power tool industry.  He also promoted Chervon's five major product categories and internship opportunities in the Corporate Strategy and Development Department.
Consumer Goods
Jeff Ren, the HR Director of one of China's leading manufacturers of nutritional and baby care products shared how the company focuses on wellness, starting with their name – H&H Group, which stands for 'Health & Happiness'.
Healthcare
How to achieve a future in which there are no more challenging diseases was the topic of David Li's presentation.  As the HR Vice President of Wuxi AppTech Human Resources Department, he shared why Biotech will be one of the leading trends in the next 20 years, and how – by joining Wuxi AppTech – graduates will be provided with opportunities to work together with industry elites and serve top clients in order to change the world. 
Energy
As the only enterprise representing the energy industry at the forum, Qin Hao, the HR Department Staffing Director at GCL elaborated on the company's focus on new & clean energy as well as its globalization strategy in line with China's Belt and Road Initiative (BRI).
Real-Estate:
Representing Landsea, one of the market leaders in China's green property sector, HR Deputy General Manager Zhan Wei outlined the company's talent supply chain and current requirements, including vacancies such as International Business Director.
About CEIBS MBA Programme:
The CEIBS MBA programme is ranked No. 1 in Asia by the Financial Times and Forbes. It is also ranked #8 in the 2018 Financial Times ranking of the world's top 100 full-time MBA programmes.  The CEIBS CDC is one of the earliest career development centres in mainland China, and aims to provide comprehensive support for students to become future leaders. Thanks to strong support from recruiters and the outstanding performance of CEIBS alumni, around one third of students in the CEIBS MBA Class of 2017 who received job offers within three months of graduation were successfully employed by globalizing Chinese enterprises. MBA2019 internship recruitment is now underway. We welcome recruiters to collaborate with CEIBS Career Development Centre. Recruiters who are looking to hire MBAs can reach us by email at: cdc@ceibs.edu or call us at 021-28905142.