Thursday, April 20, 2023
CEIBS team emerges as big winner in EFMD case contest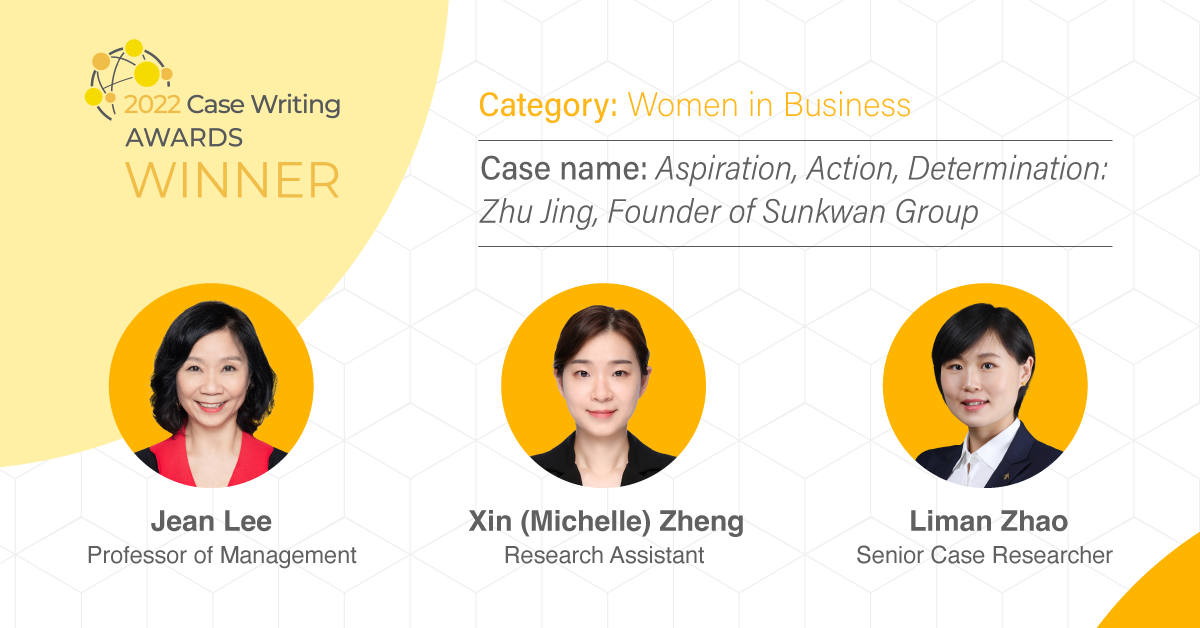 April 20, 2023. Shanghai – A CEIBS team has emerged as one of the big winners in the 2022 EFMD Case Writing Competition announced this week.
A case entitled Aspiration, Action, Determination: Zhu Jing, Founder of Sunkwan Group by Professor of Management Jean Lee, Research Assistant Xin (Michelle) Zheng and Senior Case Researcher Liman Zhao took home the top prize in this year's Women in Business category.
The case presents the challenges that Sunkwan Group Founder Zhu Jing faces as a female entrepreneur in China's real estate industry and how she has addressed them. In particular, it highlights how empathy, trust, empowerment, and other features of Zhu's leadership, together with the company's business philosophy, have given birth to a united executive team.
"Zhu Jing's case helps our b-school students better understand the difficulty for women to start a business, women's advantages and disadvantages in resource acquisition, the pros and cons of the female management style, and the positive and negative sides of a highly empathic CEO," the CEIBS author team said in a shared statement.
The winning case also looks how recent changes in China's real estate industry moved Sunkwan to re-design its reward system, and how Zhu Jing's decision about whether to punish the Sunkwan's executives for the company's poor performance mirrors her leadership style as a female entrepreneur.
"With this case, we expect to remind entrepreneurs and managers in a broader sense that in the world of entrepreneurship and management, they should be 'ideal without being idealistic' and 'care for employees without excessive empathy,' so that the excellent qualities of female entrepreneurs can be better tapped to help run business and fulfill aspirations," the team added.
The EFMD Case Writing Competition is an annual contest organised by the EFMD and The Case Centre which rewards innovative cases in management development. Each year, more than 400 cases are evaluated on the basis of case quality, teaching notes and innovation, with winners being announced across more than a dozen categories.
The Women in Business category "welcomes cases that feature women lead protagonists in the business environment, especially those that elucidate the systems, challenges and issues faced by women in business," with an emphasis on those that "demonstrate the route women have taken to become fully and equitably engaged in their organisation" and "highlight growth and success within a gender unbalanced environment."
CEIBS has been a regular fixture in the EFMD winner's circle in past competitions; most recently in 2022, when teams featuring CEIBS Professor of Finance and Accounting Oliver Rui and Senior Case Researcher Qiong Zhu and former CEIBS Lecturer Lucia Pierini, Professor Gianfranco Siciliano, Martin Roll and Case Researcher Zhijing Cao took home top prizes in the Corporate Social Responsibility (CSR) and Latin America Business Cases categories.