Friday, October 14, 2022
CEIBS Hosts MBA 2024 Scholarship Conferment Ceremony
October 11, 2022. Shanghai – Scholarship recipients, staff, alumni and company representatives joined school leadership today for a special MBA scholarship conferment ceremony at CEIBS Shanghai Campus.
In addition to scholarships and fellowships awarded by the school, representatives were also invited from Air Liquide, DDI Shanghai Town & Country Club, L.Y. Global and TSI to present company-sponsored scholarships to this year's recipients.
CEIBS Vice President and Dean Ding Yuan opened the event.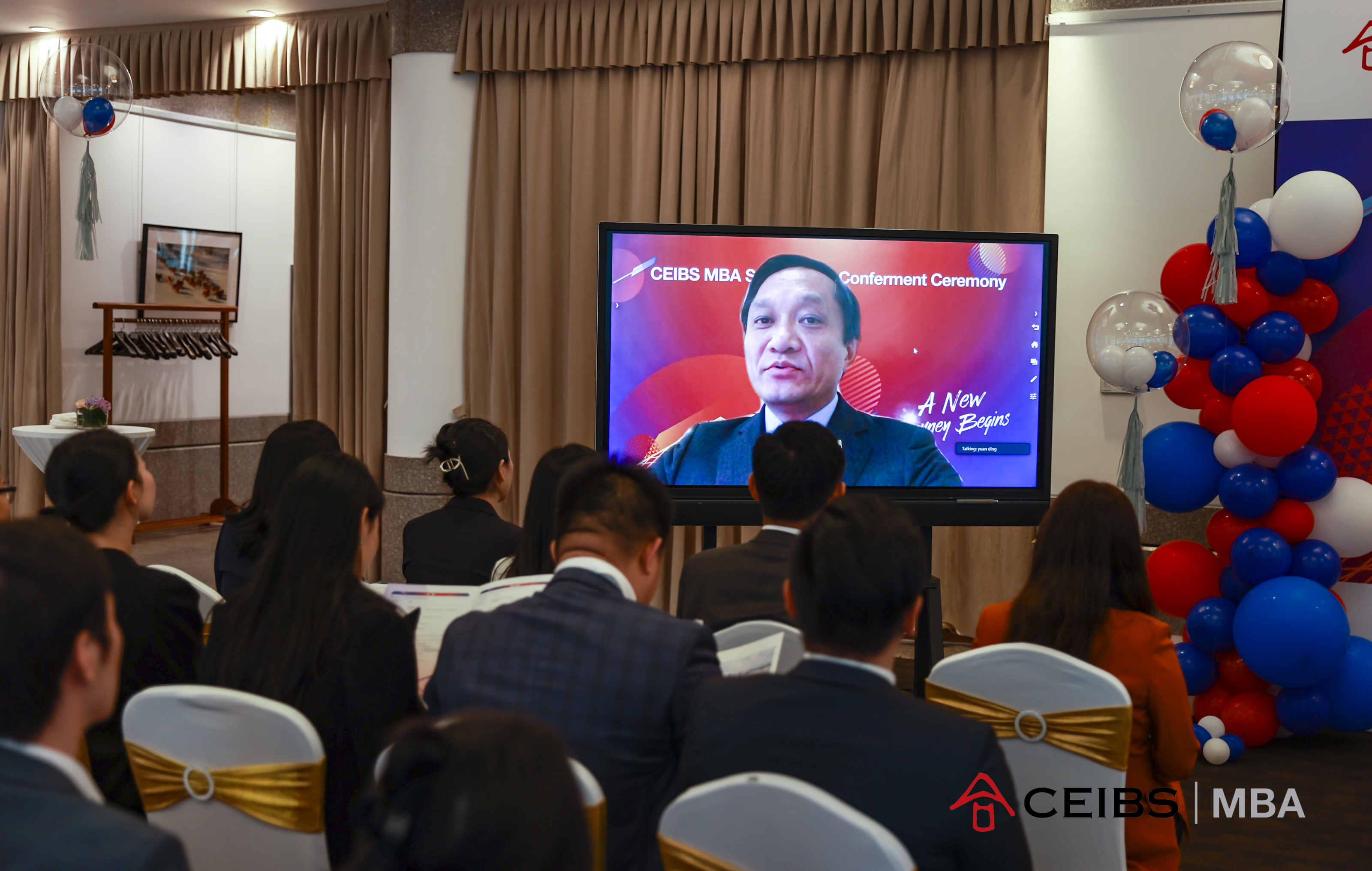 "I would like to praise and congratulate the scholarship winners. I know how selective the process is as I approve them myself one by one," Dean Ding said.
"However, with big rewards come big responsibilities. I hope all the talent here will rise to become socially responsible role models, both within the CEIBS family as well as in the wider community," he added.
Celebrating their tenth year sponsoring CEIBS scholarships, Chief Operating Officer of Shanghai Town & Country Club DDI Group Mr. Domenico Palumbo offered a keynote speech in which he congratulated the recipients of this year's DDI scholarships, Zhiyin Lou and Di Meng.
"First, on behalf of DDI Group Chairman, Mr. Marvin Li Hailin, I would like to congratulate all of this year's scholarship recipients. Each of you deserves our admiration," Mr. Palumbo said.
"The Shanghai Town & Country Club (STCC) is the crown jewel of DDI Group's philosophy – a private club promoting an international lifestyle for both families and businesses. Like CEIBS, we are based here in China, but provide our members with global benefits. We have a lot in common as a result of our friendship and cooperation over the past ten years. I hope that you will all have the opportunity to visit us soon," he said.
Founder of L.Y. Global Mr Shengjun Guo then took to the stage to share his words of encouragement for the students.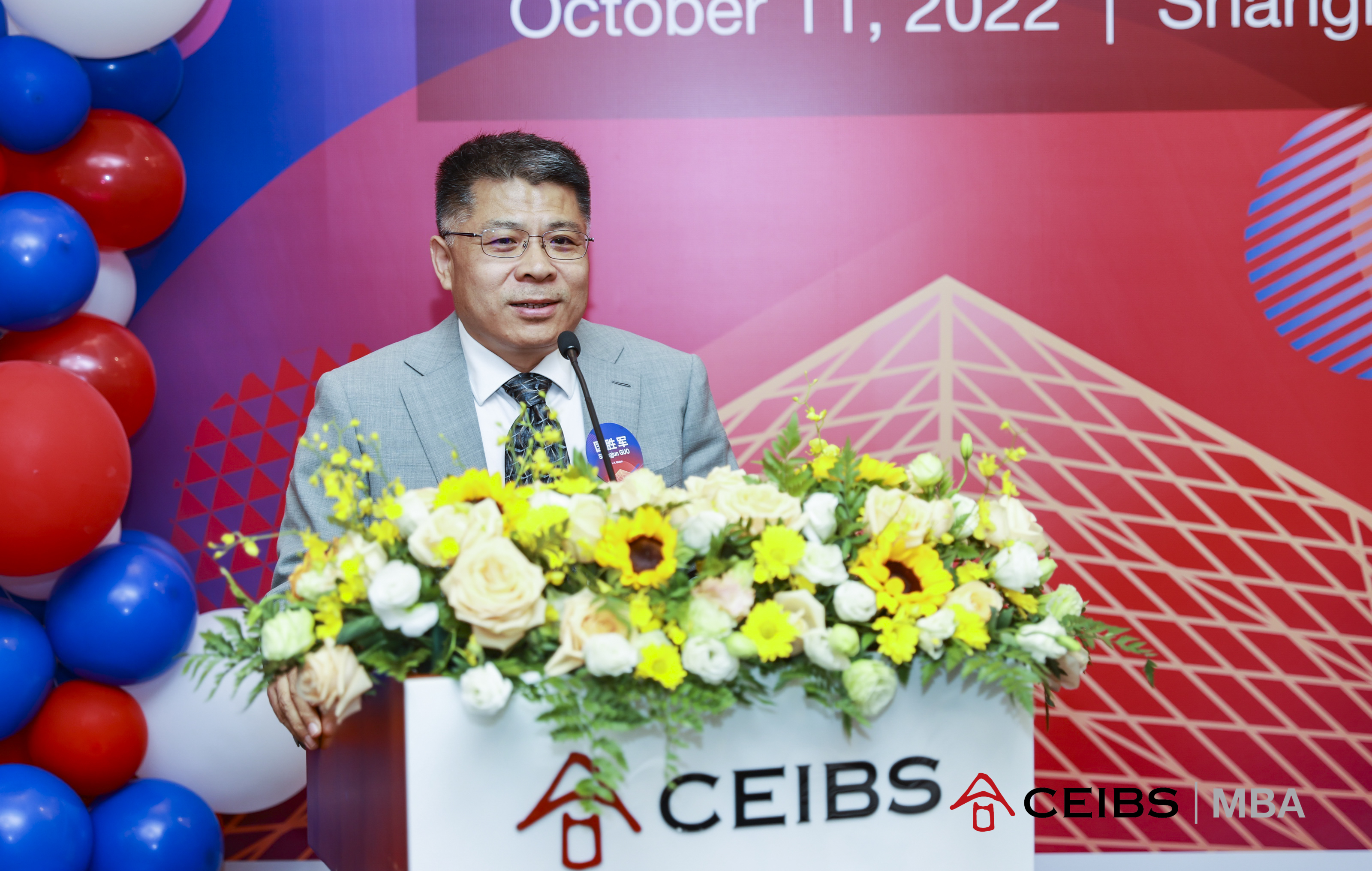 "I'm honored to be here. Having started my own immigration business in my thirties, studying at CEIBS helped me to build the company to the point of being able to give back with our own scholarship here," Mr. Guo said.
"My hope is that all of you will find a career that you love after graduation, and hopefully join me as a scholarship donor in the years to come," he added.
CEIBS Merit Scholarship winner Angelina Ye also gave a short speech in which she conveyed her gratitude to today's scholarship sponsors.
"When working with the United Nations Industrial Development Organization, I learned about the magical power of impact investment from an international organization's perspective, which is to give and to take with joint efforts for the shared prosperity of all. Today, your faith in CEIBS' students presents another beautiful miracle of investment, which is the power of investing in the youth of tomorrow and to empower us, as students, to reach our limitless potential for solving some of the world's most difficult problems," Angelina said.
Following the conferment of the scholarships, CEIBS Associate Dean and MBA Programme Director Professor Shameen Prashantham shared his closing remarks.
"Today's event, in many ways, represents all of the ingredients required to build a world class business school," Prof. Prashantham said.
"In addition to our outstanding faculty, students, alumni and partnership ecosystem, we've also heard repeatedly about the importance of the final ingredient – having a higher purpose. So I encourage you all to seize the day and make the most of this once-in-a-lifetime opportunity ahead of you," he concluded.
About CEIBS MBA Scholarships and Financial Aid
CEIBS and its corporate partners will continue to provide financial aid in the form of merit-based scholarships, diversity-based fellowships, needs-based education funds and pre-application scholarships to outstanding and resilient young professionals. Click here for more details.
About CEIBS MBA
The MBA Class of 2025, kicking off in August 2023, is now open for applications. In the VUCA era, CEIBS welcomes candidates who have demonstrated the resilience, courage and growth mind-set required to venture into a changing world.
The full-time English-language MBA programme is an intensive 12- or 16-month journey combining academic rigor, experiential projects and personal transformation. Designed with the school's motto of 'China Depth, Global Breadth' in mind, students build on business fundamentals before taking deep dives into electives on digital business, finance, entrepreneurship, marketing and more.