Sunday, July 24, 2022
MBA 2022 Graduation: Two be one, to be continued
The CEIBS MBA Class of 2022 concluded their journey this weekend at a special hybrid graduation ceremony that also welcomed back alumni from the MBA 2020 and 2021 cohorts. Joined by professors, mentors and CEIBS staff, more than 100 graduates officially joined the CEIBS alumni community of more than 26,000 professionals worldwide. School leaders including CEIBS President Wang Hong, Vice President and Co-Dean Weijiong Zhang, Associate Dean and MBA Programme Director Shameen Prashantham and MBA Administration Director Michelle Zhu led the first on-campus MBA graduation ceremony since 2019.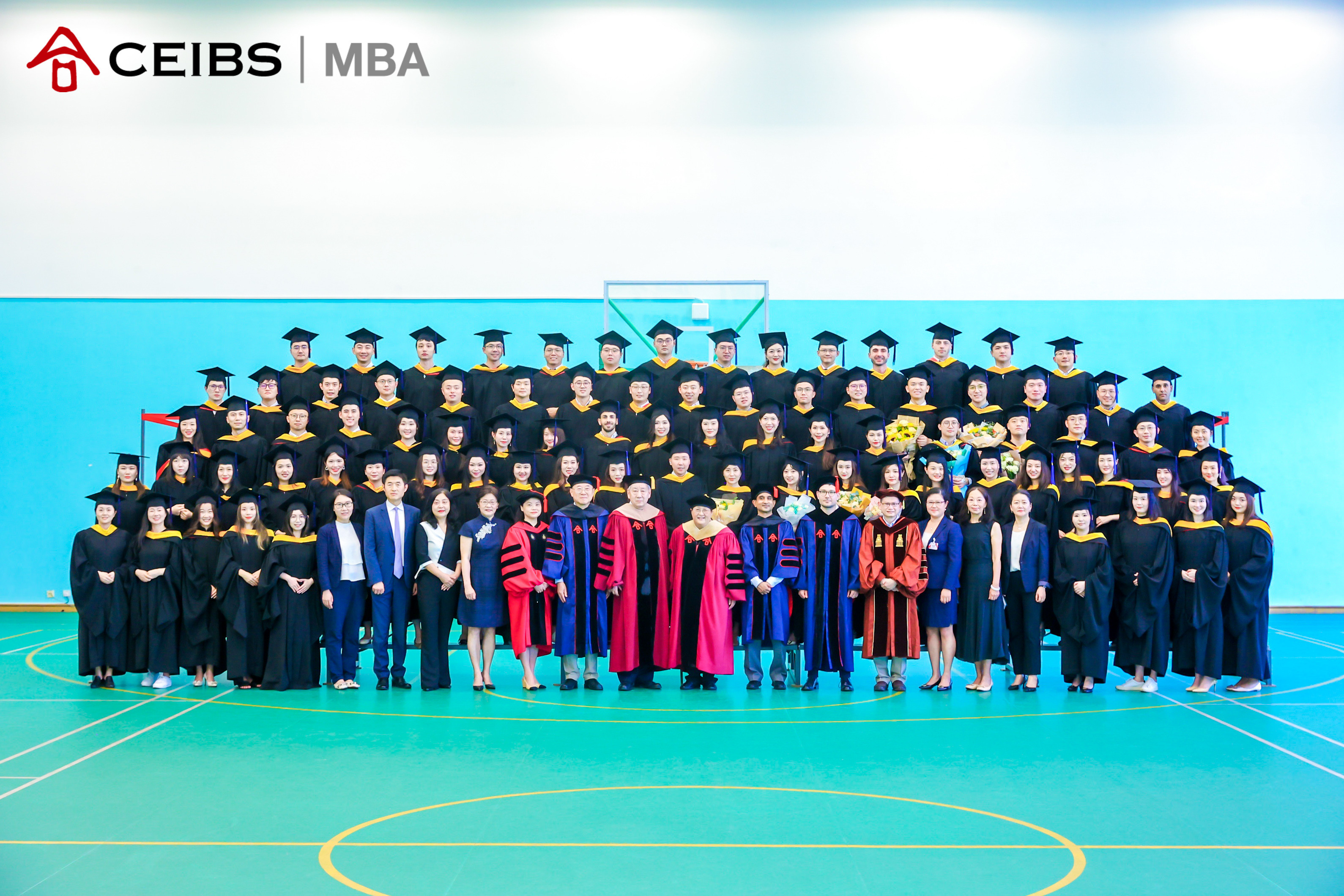 Group photo of CEIBS MBA2022
As the host of today's celebrations, Prof. Prashantham welcomed the attendees before handing things over President Wang, who congratulated the MBA 2022s on their achievement despite the obstacles along the road.
"In the midst of radical change, I hope that all of you can look beyond and discover the laws of development, while setting your eyes on the needs of society and others. Keep learning and sharpen your mind," President Wang said.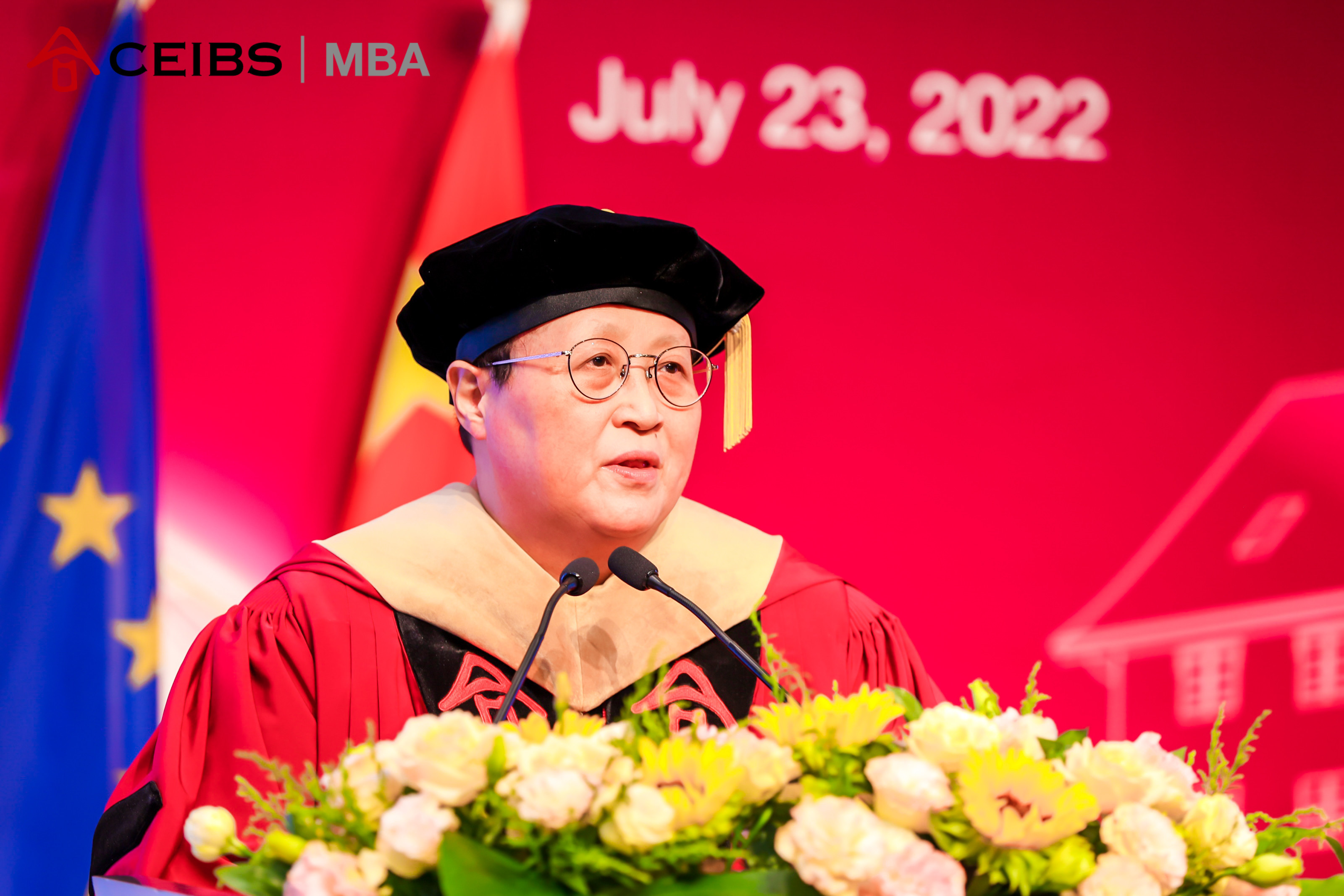 President Wang Hong 
CEIBS President (European) Dipak Jain and Vice President and Dean Ding Yuan also shared their best wishes via video messages.
CEIBS President (European) Dipak Jain
"No challenge ahead of you is greater than the force behind you," Prof. Jain said. "CEIBS is always going to be behind you, and we are here to make sure you reach greater and newer heights." 
Vice President and Dean Ding Yuan
Dean Ding then recalled some special memories of the MBA 2022 cohort and congratulated them on their accomplishments throughout a difficult yet worthwhile journey over the past 16 months.
Also appearing during the ceremony, Budweiser APAC CEO & Co-Chair Mr. Jan Craps reflected on the many engaging and inspiring experiences he has shared with the graduates. He also shared his three guiding principles on how to grow your career around the world:
Dream big – It takes the same amount of effort to dream small as it does to dream big, so why not dream big?
Be curious and seek to understand – Since a young age, my parents told me that we have two ears and one mouth for a reason. Use them in proportion.
Act tenaciously with an obligation to dissent – Fulfill your duty to your team. Encourage the sharing of different viewpoints to add value and create impact.
Mr. Jan Craps
In honour of today's graduates, Mr. Craps presented a special brew inspired by the class' tenacious, unique and driven spirit. The beer was brewed especially for the occasion with ingredients selected by honorary CEIBS brew masters Dean Ding and Prof. Prashantham.
Special made bear
With many MBA faculty joining the celebration both online and in person, Associate Professor of Marketing Hyun Young Park shared one final lesson on facing challenges in the future on behalf of other faculty members.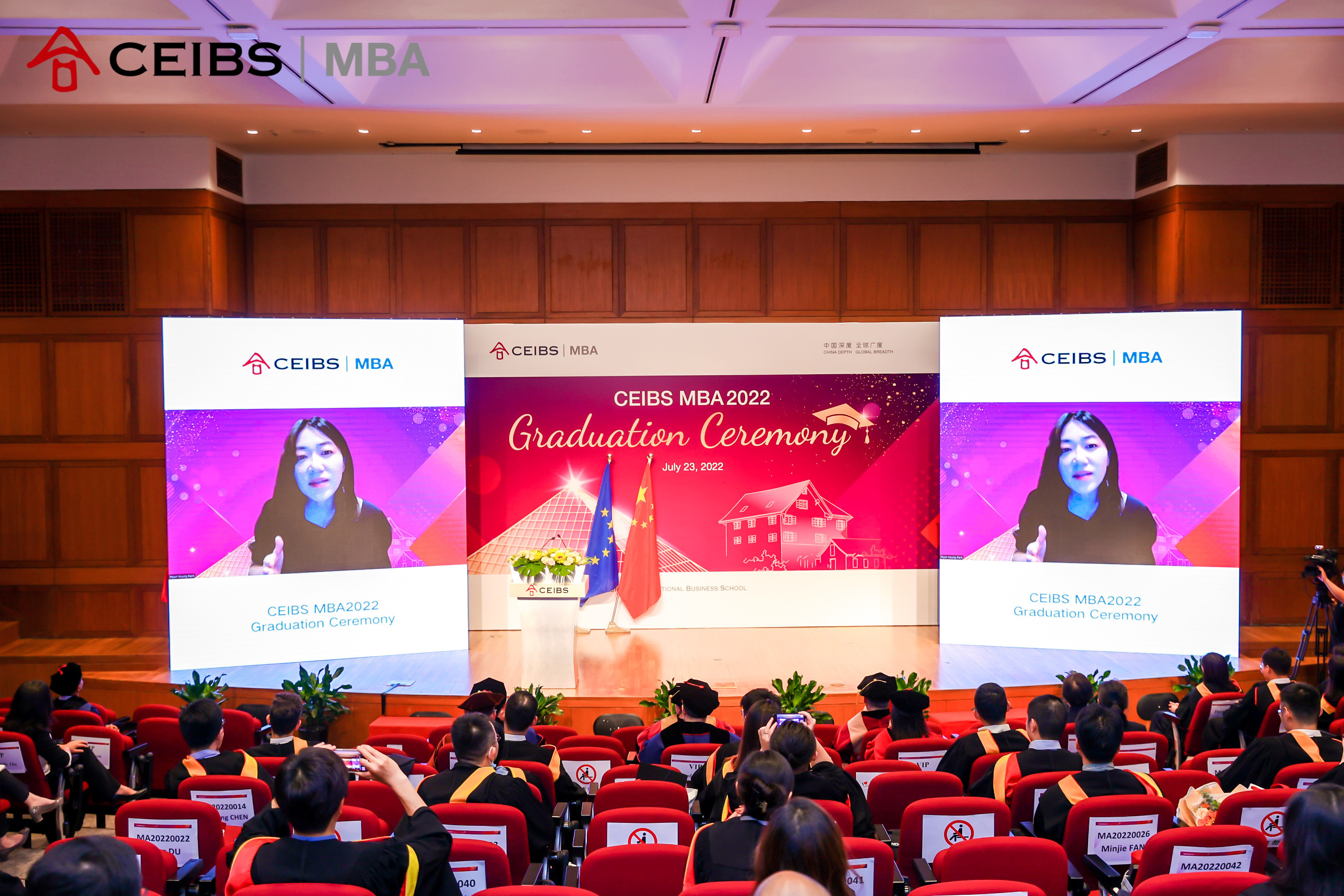 Associate Professor of Marketing Hyun Young Park
"Don't be afraid if you are lagging behind, don't be afraid if you are slow. Be afraid when you stop running your race. Many of you have demonstrated this wisdom throughout your MBA journeys. I remember one of the more disadvantaged Integrated China Strategy Project teams in the proposal stage turned out to be one of the best teams in the end. This is just one example of making small but gradual steps. Remember to take these lessons as your muscles to face bigger obstacles down the road," she said.
Representing the MBA Class of 2022, Ahmed Elshennawy and Lu Xu also shared some key takeaways from their journeys at CEIBS. Joining online, CEIBS' very first Egyptian alum Ahmed reflected on the contrast between expectations and the reality of the MBA programme with his own framework of happiness.
Ahmed Elshennawy
"I never expected to have such a unique experience with 40 international students for two semesters with the Zurich cohort. Our exceptional circumstances have strengthened the bonds between us. Another aspect is related to the online experience. Although it was not the best experience for my MBA, it allowed me to stay with my family for a couple of months during the long programme. The last thing that I did not expect is the positive impact of COVID-19 on the semiconductor industry. My short stay in China exposed me to several leads for my new company. In fact, I have just signed my first project with a Chinese company," he said.
Joining the graduation celebration in person, Lu shared her three wishes with her batchmates.
Lu Xu
"Our happiness is defined by the few closest relationships we have in our lives. It's not about the quantity, but quality. When you achieve something, I hope you all have someone to drink a glass of champagne with. Never forget that you have us, too. I certainly wouldn't mind sharing a good glass of champagne with you," she said.
Prof. Zhang and Prashantham, together with Michelle Zhu, then presented the awards to the MBA Class of 2022's outstanding achievers. The award recipients are:
Dean's List: Ahmed Khaled Ahmed ELSHENNAWY, Linjia HUANG, Dongning LIU, Mien Kong Joshua LO, Celso Emanuel PEREIRA BENIDIO, Lun QI, Yizhou REN, Shashank TRIPATHI, Wei WEI, Lu XU, Mengye YANG, Iulian-Victor ZANOAGA, Kaijie ZHANG and Yilun ZHOU
Student Leader Award: Jing HU, Celso Emanuel PEREIRA BENIDIO and Liuhan YANG
Outstanding Graduate Award: Martina COSTA, Jing HU, Linjia HUANG, Juncen LI, Gaurav NANDA, Celso Emanuel PEREIRA BENIDIO, Raffaele RAGINI and Wei WEI
MBA Office Special Recognition Award: Jiang DU, Ahmed Khaled Ahmed ELSHENNAWY, Min HU, Shiqi HU, Hao LU, Sourav Kumar PANDA, Qing SHEN, Ken SHIMIZU, Yanni SUN, Jawai WONG, Lu XU, Bo YUAN, Yidong ZHAO and Yilun ZHOU
CEIBS Special Contribution Award: Liuhan YANG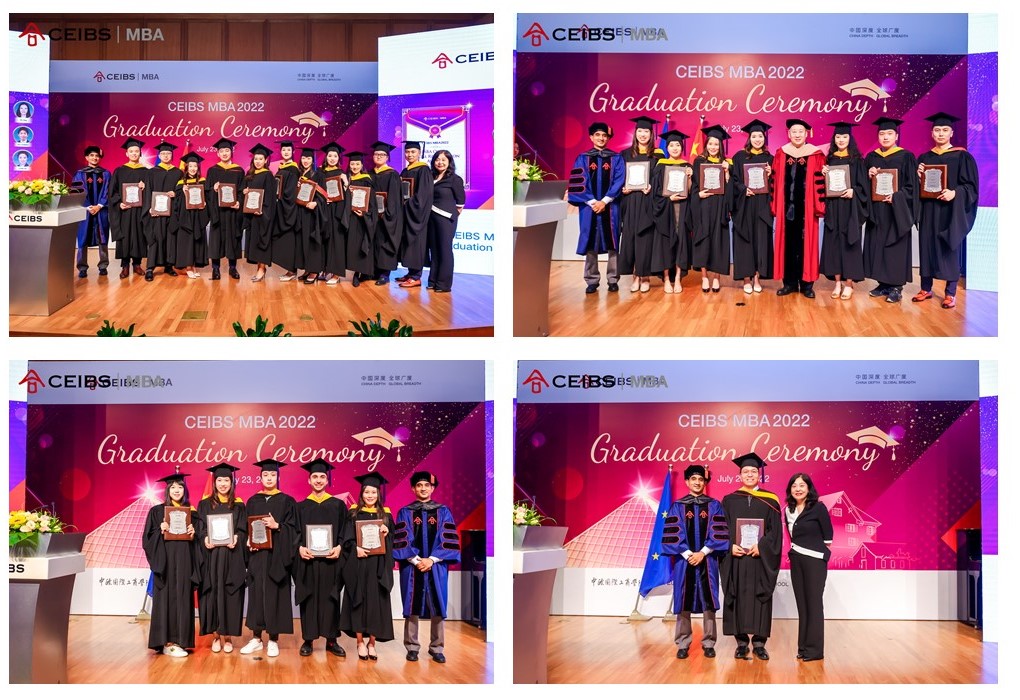 Awards ceremony
In his closing remarks, Prof. Prashantham called on all of the graduates to keep striving for excellence with wisdom and compassion, a stance very much needed to make headway with the United Nations' Sustainable Development Goals (SDGs) in our fragile world.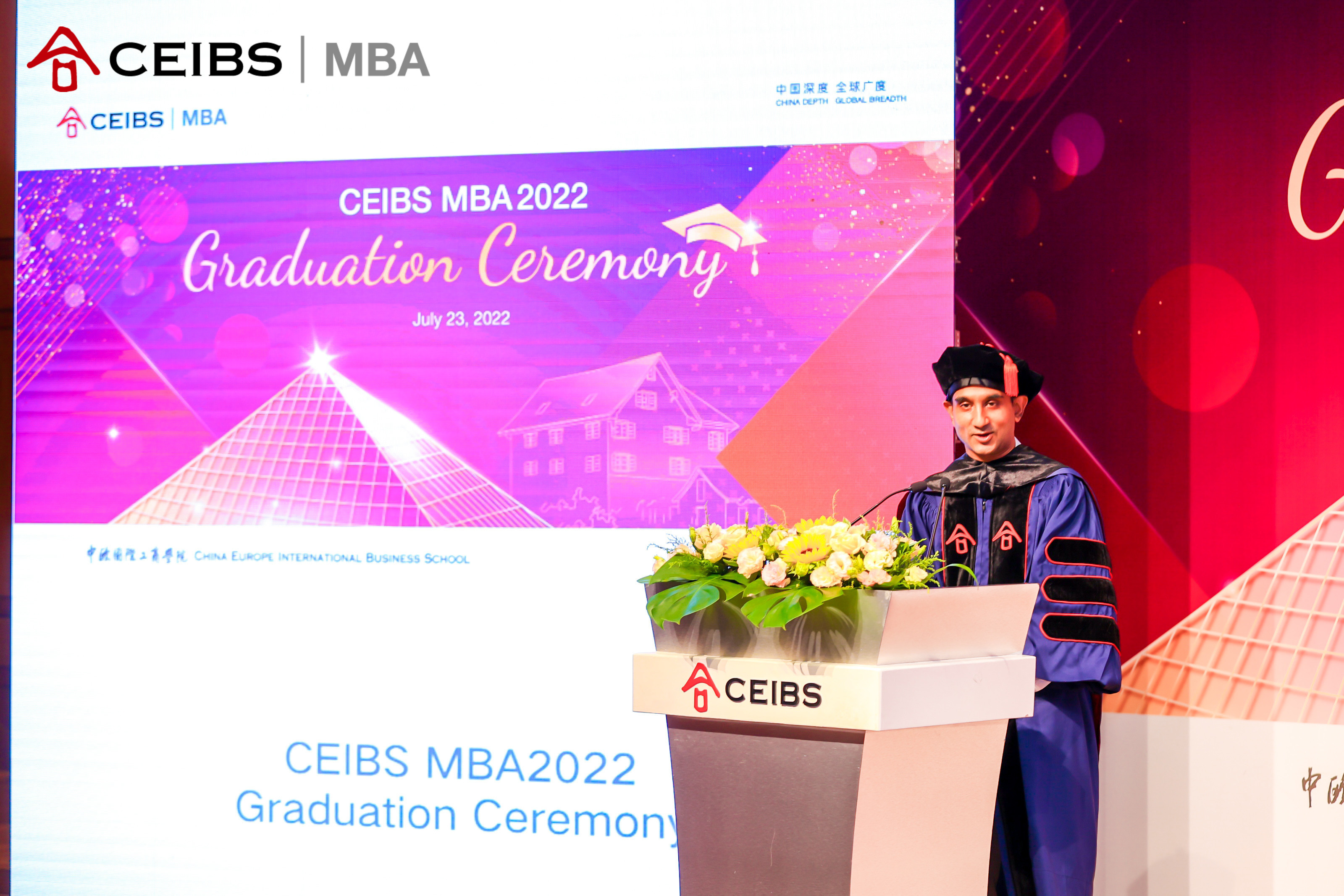 Professor Prashantham
"Owing to the profound disruption that the world continues to face during COVID-19, the path of getting to this point has not been an easy one and things didn't go according to plan, especially in terms of students from Zurich being able to come to Shanghai. But you all have hung in there and reached the end of the journey. Even though we aren't all together on this day as we would have liked, the milestone you've achieved is a cause for great celebration," he said.
During the penultimate part of the agenda, a sand drawing video was prepared by the MBA programme team that recounted the journey of the cohort over the past 16 months. The audience was then treated to a video chorus featuring MBA graduates singing "See You Again," during which they recalled their experiences at the Shanghai and Zurich campuses. Finally, the graduating class presented the school with a donation gift.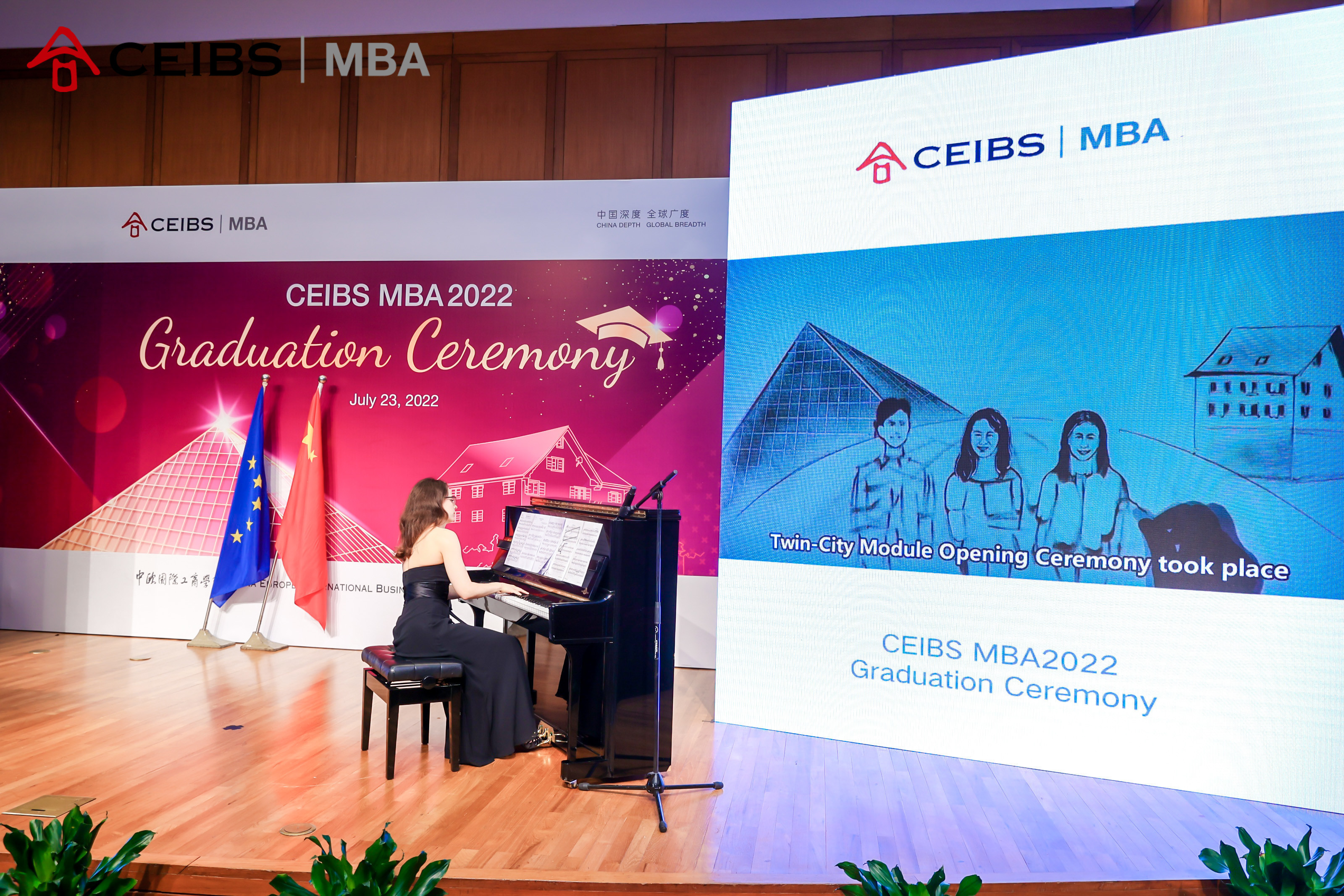 Sand drawing performance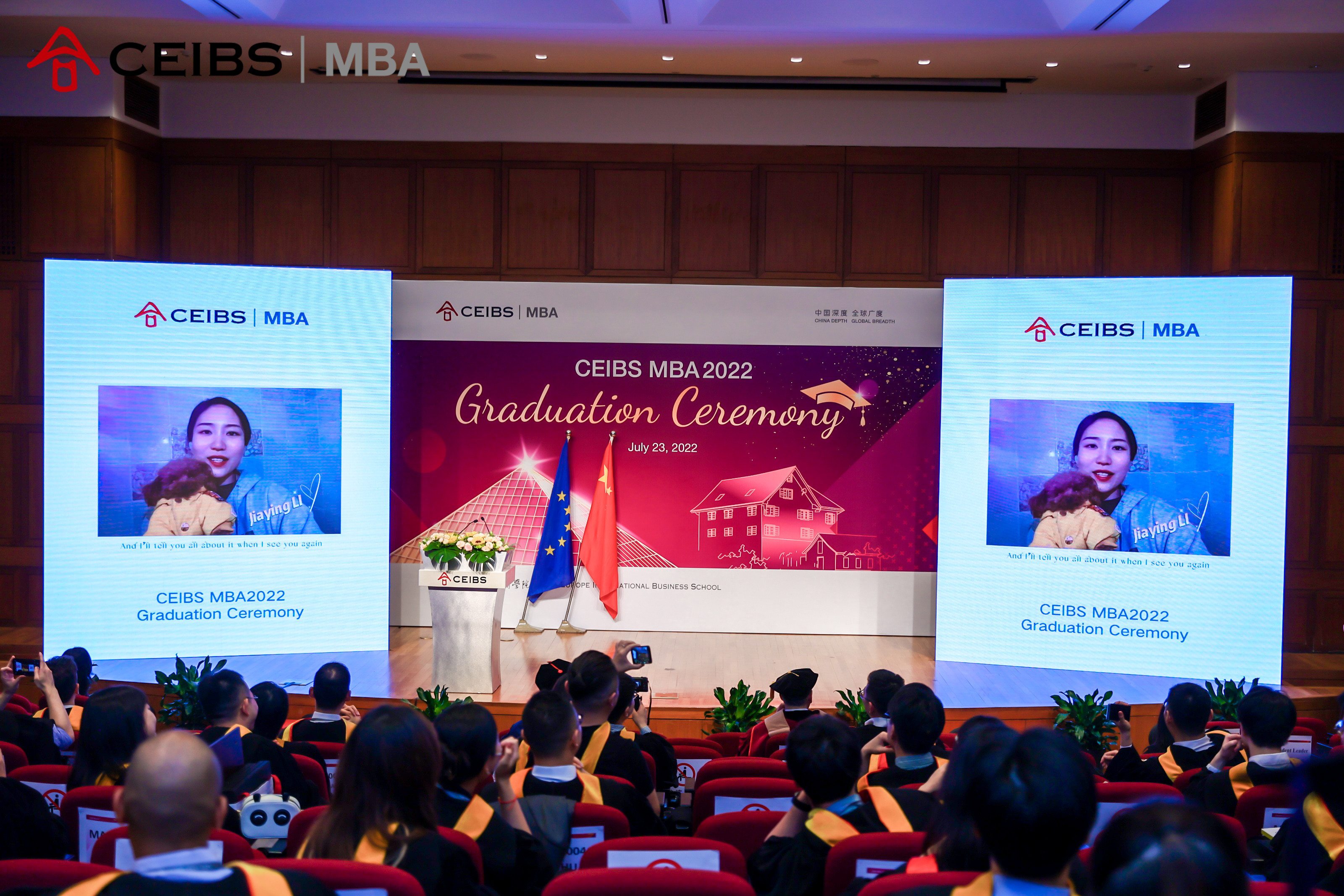 Video chorus
Class donation
The ceremony concluded with Prof. Zhang calling upon the graduates to mark their new identities as alumni by switching the tassels on their caps from right to left. Celebrations continued into the night with a graduation party organised by the MBA Student Committee.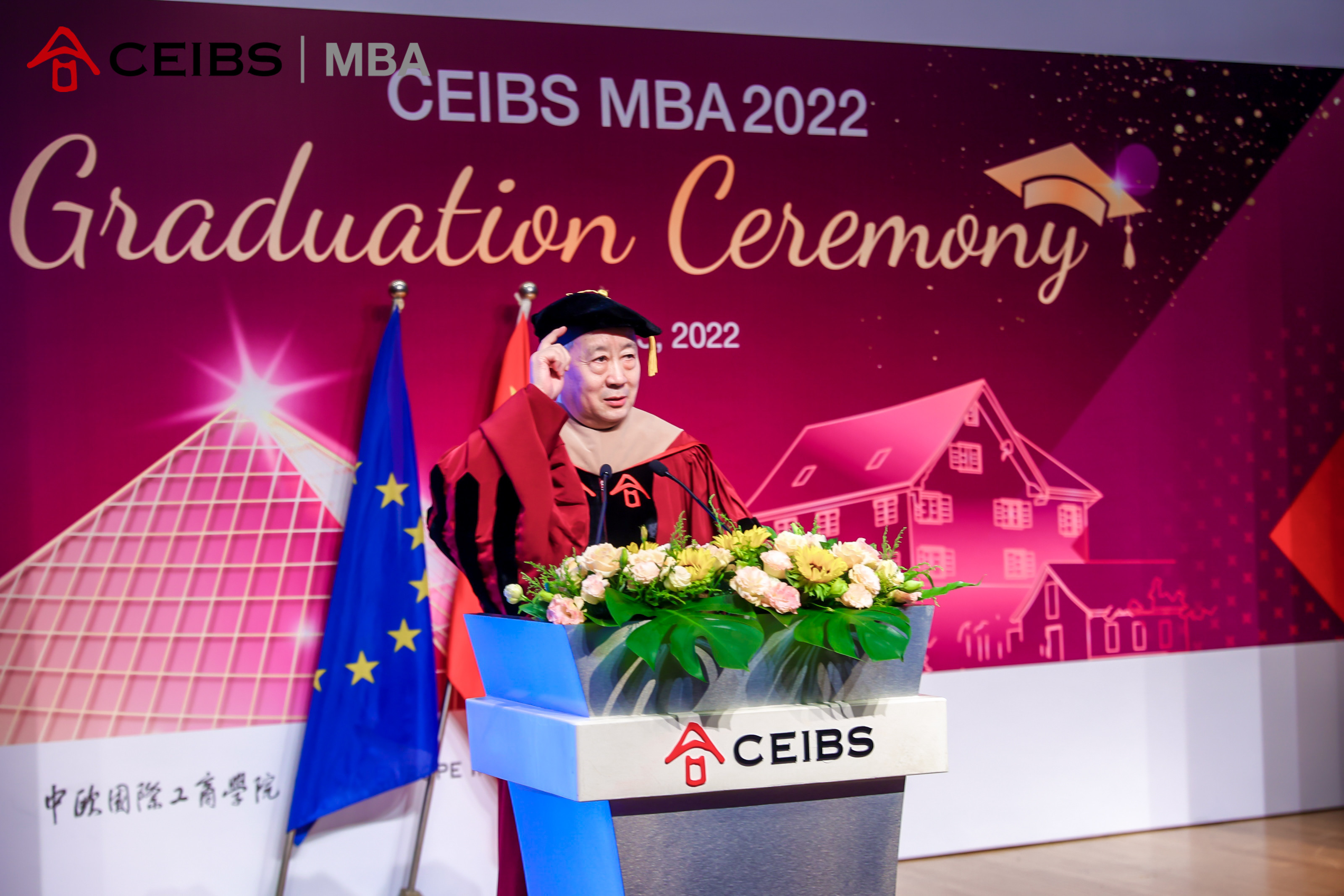 Tassel switching