CDC Hosts C-Suite Alumni Career Sharing Session on Consulting
Friday, April 17, 2020
CDC Hosts C-Suite Alumni Career Sharing Session on Consulting
April 17, 2020. Shanghai – As part of CEIBS' ongoing efforts to support the career development of MBA students and alumni during the COVID-19 pandemic, the CEIBS Career Development Centre and Alumni Association have co-organised a special series of C-Suite Alumni Career Sharing session webinars.
Following the first session on Finance & Investment, the second session on Consulting took place today attracting nearly 90 students and alumni. Mr. Elton Huang (EMBA 2012), Managing Partner, Entrepreneur & Private Business, PwC, and Mr. John Qu (MBA1997), Senior Partner, McKinsey & Company, shared their insights into the consulting industry and offered suggestions and advice on career development.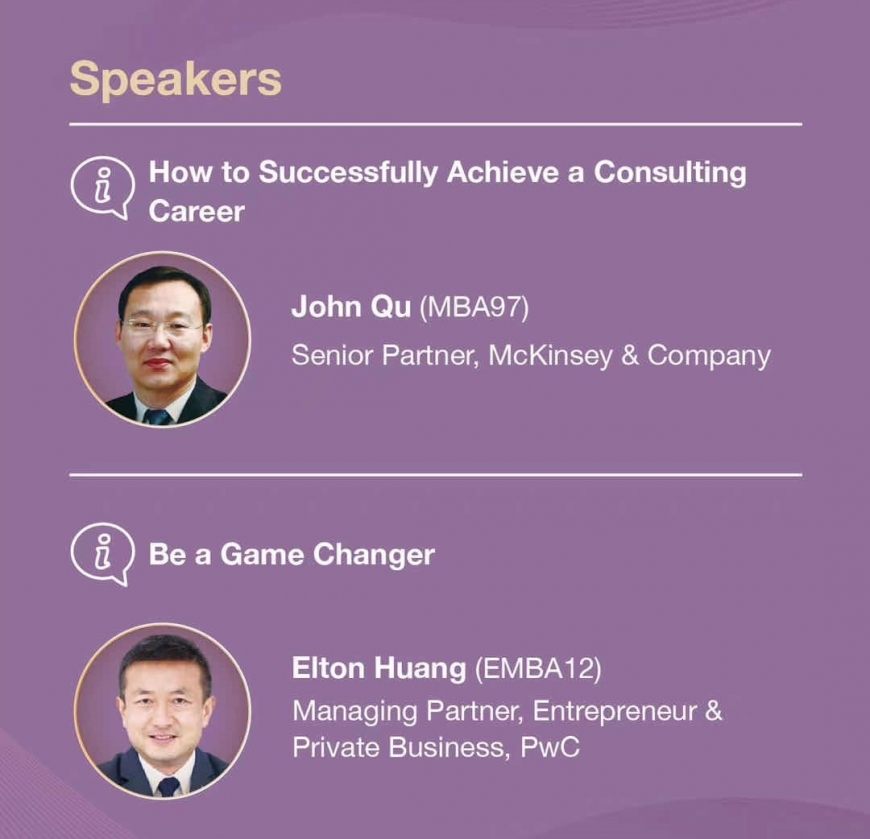 During the session, Elton told participants that the current pandemic has unquestionably impacted the entire industry, and has, in fact, been the most challenging time that he has ever experienced throughout his career.
In Elton's opinion, only if a company is preparing to be a "game-changer" in advance, will it be able to cope with various crises in a more dynamic and flexible way, and be better positioned to still attract high-quality talent and develop itself well in the fast-changing situation.
In PwC's business roadmap, innovation and technology, especially digital transformation, are playing increasingly important roles. This is not only reflected in consulting companies helping customers implement more digital solutions, but also in the fact that digital tool systems such as big data analysis have been gradually developed and applied within the consulting companies.
"We have to think out-of-the-box and embrace innovation, because many times it is impossible to predict where the next disruptor will come from. Compared to the external disruptors, the bigger challenge might be how to self-reflect and thrive in the new era – so don't waste any crisis!" Elton said.
Looking at industry trends, Elton added that he was more optimistic about the financial services industry, especially wealth management in 2019. In 2020, particularly under the epidemic situation, he said he would be more concerned about remote office, conventional healthcare and new healthcare sectors.
John Qu, who is currently in charge of financial services industry consultancy at McKinsey, offered a series of advice and suggestions for the MBA students who do not have a consulting-related background but want to enter the consulting industry.
First, in-depth industry knowledge should be accumulated through full preparations. For instance, no matter the sector, at least one or two areas of unique thoughts and deep insights will be demanded of candidates.
Second, excellent communication skills are of crucial importance for MBA candidates. Basically, many MBA students tend to speak well, but they haven't always figured out how to quickly make their point by transforming complex sets of information through effective frameworks into simple and direct points. In addition, the capability to solve problem is also the key, because MBA students must learn to apply business theories into reality.
But, how can MBA candidates achieve long-term career development after successfully joining the consulting industry? John has a few keywords for that: Passion and enthusiasm, hard-core knowledge, concentration and persistence and last but not the least, teamwork-spirit.
From John's perspective, consulting is an industry that requires long working hours. While some feel pressure from working long hours, others find the hard work rewarding. As the career progresses, the career development paths of these two mind-sets show different directions.
John suggested that new joiners to the consulting industry gain hard-core knowledge in some certain field by taking on related projects, or internships.
"If what you deliver is not just a report, but business insights that will have an influence on the industry, that will become your core competitiveness, and will help you earn your reputation in the industry as time goes by!" he said.
After the sharing session, participants had the opportunity to interact with the two alumni. In response to a student's question about how to make a transition into consulting from a non-consulting background, John had one simple word, "Network!" He explained it is essential for students to build relationships early on, to know your strengths, to know how to leverage them for consulting, and then make sure other people know how you can positively impact their firm.
Following on from the consulting sharing sessions, the CEIBS Career Development Centre and Alumni Association plan to organise a series of job fairs together in the near future.