CDC Hosts C-Suite Alumni Sharing Session on Finance & Investment
Monday, March 30, 2020
CDC Hosts C-Suite Alumni Sharing Session on Finance & Investment
March 30, 2020. Shanghai – As part of CEIBS' ongoing efforts to support MBA students and alumni during the COVID-19 pandemic, the CEIBS Career Development Centre (CDC) and Alumni Association have co-organised a special series of C-Suite Alumni Sharing Session webinars. The first session, which took place today and covered the finance and investment industry, saw over 80 students and alumni in attendance. Mr. HUANG Fanzhi (MBA 2003), Managing Partner of Share Capital, and Mr. LI Wen (EMBA 2010), Chairman of China Universal Asset Management, shared their insights into the industry and offered suggestions on career development.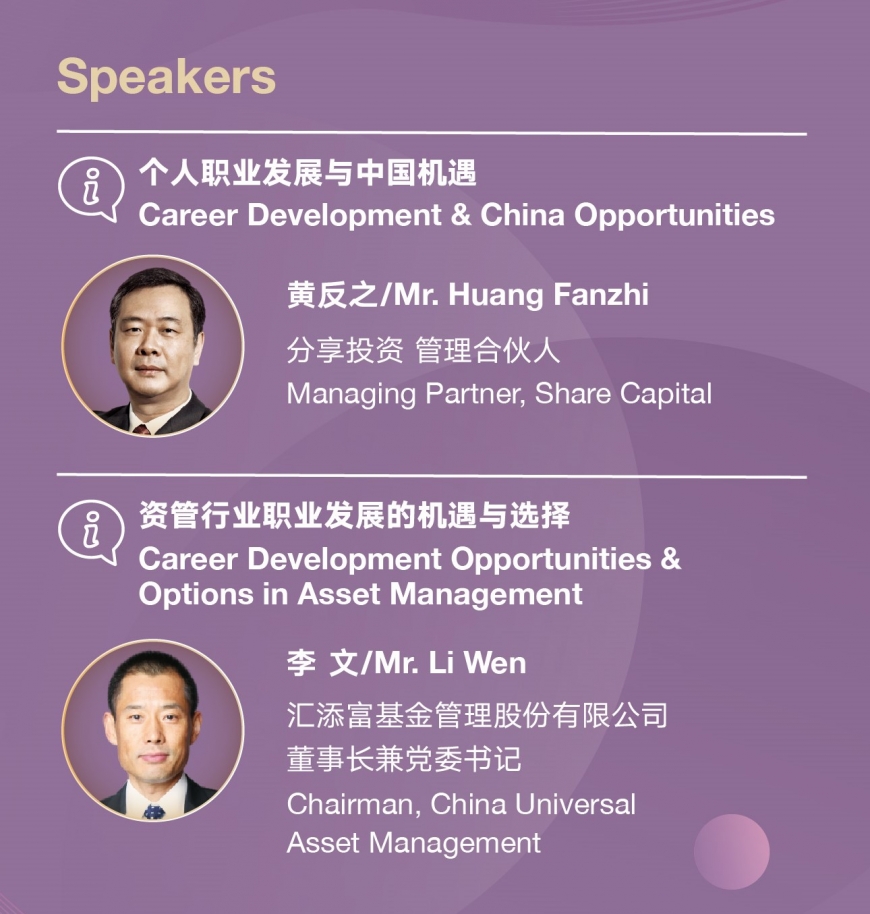 For Fanzhi and many in his class, landing a job with a Fortune 500 company upon graduation was a top priority. While many did land their dream job, as time went by, most hit a glass ceiling when it came to getting promoted to a senior executive level at their global headquarters.
In comparison, great changes were taking place in Chinese private-owned enterprises, which offered a lot more development and growth opportunities. Such opportunities appeared not only at mature companies such as Fosun, Tencent and Alibaba, but also at entrepreneurial ventures and start-ups.
Fanzhi pointed out that start-ups can be a good choice for candidates willing to challenge themselves. He further advised students to be cautious and not too bold when starting their own businesses, and to consider joining a reliable entrepreneurial team which may be less risky than being an independent entrepreneur.
Fanzhi also encouraged students to be flexible when it comes to job location. He predicts that the very active Guangdong-Hong Kong-Macao Greater Bay Area will likely bring out more opportunities than Beijing and Shanghai in the near future. Thus, he said, students need to be more open-minded rather than simply focusing on Beijing and Shanghai.
For those looking for a career transition, Fanzhi emphasised the need to closely study the market trend. "Personal career development should be undertaken in line with the market trends," he added. Fanzhi further advised students to be resolute while entering the new field. More often than not, a career switch does not go smoothly at the initial stage – students should be brave enough to face challenges with a determined attitude.
From Wen's perspective, everyone covers three stages in their career. First, from undergraduate to around 35 years old, one needs to explore the career direction they would do well in and meet social needs at the same time. Second, from 35 to 50, one needs to continue to improve to reach the career tipping point as a manager. The final stage is to transform oneself into a coach or mentor to enhance the significance and social value of one's entire career.
Wen also shared with the audience the swift advancement of the asset management industry in China, which is a very talent-oriented sector with increasing demand for high-quality workers. For instance, in the past decade the number of employees in the mutual fund industry has grown at over 11% per year and new spheres are constantly emerging, including fintech, international business, and quantitative investment.
Meanwhile, new changes have also taken place in existing conventional job functions, offering students more choices. For instance, sales positions increasingly demand professional knowledge and behaviour, and are gradually developing into investment consulting roles. Information technology positions require talent who have a deep understanding of both IT management and business. An excellent fund manager must have financial knowledge as well as great vision and values and a training cycle of 8 to 10 years is usually required.
"Your career is part of your life planning, too, so you should avoid short sightedness," Wen said. He also suggested that if students want to join the asset management industry, they should first become "hard-core" in their professional positions before advancing to more general management roles. In addition, with the fast progress of the internationalisation of China's asset management industry, the international background of MBA students can invite more job opportunities. Wen concluded that students should take a longer view, adjust their expectations, and embrace both opportunities and challenges with an open mind.
The second C-Suite Alumni Sharing Session will focus on the consulting industry and will be held on April 17, 2020.