MBA2019 Graduate Job Acceptance Rate Hits 10 Year High
Wednesday, August 21, 2019
MBA2019 Graduate Job Acceptance Rate Hits 10 Year High
August 21, 2019. Shanghai – Detailing salary increases, recruiting companies, geographic locations and more, the CEIBS MBA2019 Career Report was released today. Despite a challenging job market in China, 94.9% of CEIBS MBA2019 graduates received at least one job offer within three months following graduation. The job offer acceptance rate hit 94.3%, the highest percentage in the past 10 years (Note: In line with MBACSEA statistical standards, the job offer acceptance rate does not include entrepreneurs and graduates returning to their previous employers).
Highlights from this year's report include the fact that 70.5% of graduates landed their job by leveraging various CEIBS resources. In addition, 80.1% of those graduates successfully achieved a career switch – changing their function, industry, or both. In terms of salary, the median annual salary was RMB 500,000, and over 70%of graduates obtained a salary between RMB 300,000 and RMB 700,000. Lastly, the overall average salary was 94.4% higher than the average pre-MBA salary.
During the 2018-2019 recruitment season, a total of 380 companies posted 1,026 full-time jobs via CEIBS' Career Development Center (CDC) platform, the highest number shared in the past five years. From an industry perspective, the technology sector demonstrated the greatest demand for CEIBS MBAs this year, followed by the financial services, healthcare, manufacturing (industrial products) and consulting industries.
One important trend we continued to observe this year was the increase in demand from local Chinese enterprises for MBA students, both Chinese and international, to support domestic and overseas growth.
The percentage of MBA2019 graduates who joined Chinese companies exceeded 40%, and amongst international students who accepted job offers, 88.2% decided to pursue their career development in Asia after graduation, with 52.9% of those successfully finding employment in mainland China.
Tremendous support was received again during this recruitment season from a great number of well-known domestic and foreign companies, many of which have long-term corporate relationships with CEIBS, including ABInbev, Alibaba, Amazon, Bain & Company, Bayer, Burger King, CFLD, China Renaissance, Danaher, Delta Capital, Didi, DowDuPont, Johnson & Johnson, J.P.Morgan, Juss Intellisports, Legend Capital, Microsoft, Monitor Deloitte, Novartis, Roland Berger, SenseTime, Tencent, vivo and WuXi AppTec.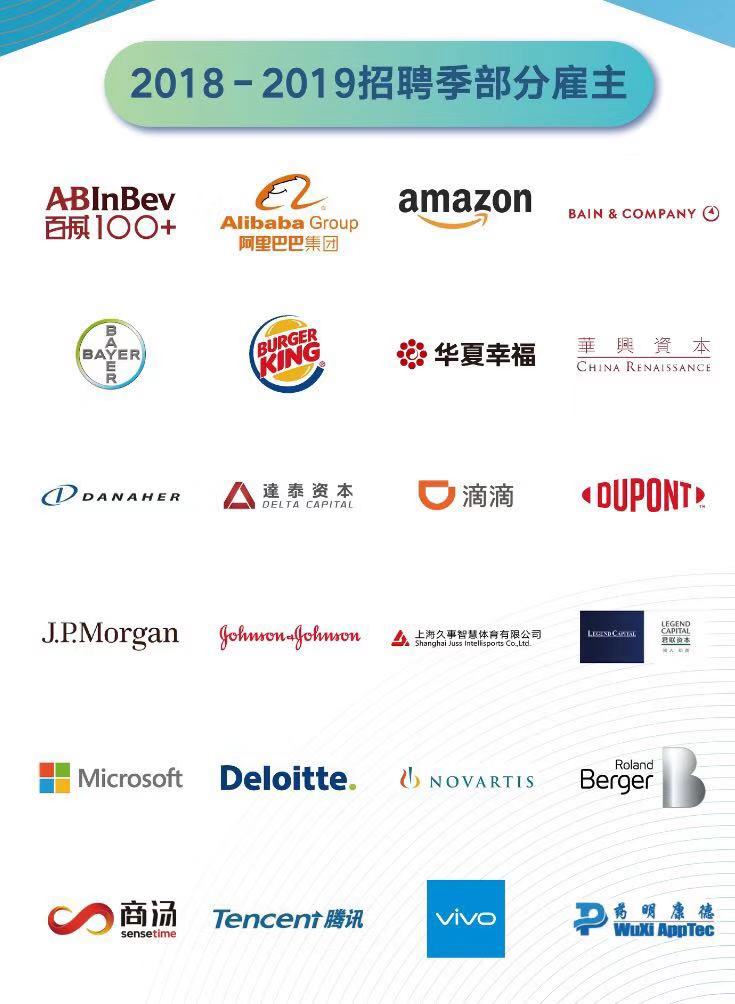 For more information, please check out the full version of Career Report 2019.
This year marks CEIBS' 25th anniversary. CEIBS MBA programme is ranked #5 in the Financial Times' 2019 global MBA rankings, and the CEIBS's job offer acceptance rate ranked #1 amongst the top five business schools.
As the first career development center in mainland China, CEIBS' Career Development Center continues to focus on working with recruiters and the business community as a whole, both to support key talent development issues, as well as to build platforms and initiatives to effectively anticipate and address critical business issues.
The CEIBS MBA 2019-2020 recruitment season will officially launch on August 26, 2019. Employers are welcome to contact the CDC to recruit talents and explore other cooperation opportunities. Please call +86-21-2890 5142 or email cdc@ceibs.edu for details.
To apply for the CEIBS MBA programme, please contact the CEIBS MBA Admissions team at +86-21-2890 5555 or email admissions@ceibs.edu.