Thursday, March 01, 2018
CEIBS MBA CSR Club Holds Food Security Forum
March 11, 2018. Shanghai – How can big data, block chain and disruptive business models help China achieve food security? Speakers from across the food industry value chain explored ideas and shared some ways that their companies are tackling the issue during the CEIBS Food Security Forum held today at the Shanghai Campus.  The event was organized by the student-led MBA CSR Club.
CEIBS Associate Dean and MBA Director Professor Juan Fernandez quoted the ancient Greek physician Hippocrates in his opening address. "Let food be thy medicine and medicine be thy food," he said. It was a fitting beginning to the day; though humans have been aware of the importance of food safety for more than 2,000 years, the pressures of feeding an increasing global population has led to fraud, contamination and poor supply chain practices.  With the aim of starting a dialogue on how to improve these areas, the MBA CSR Club, led by MBA 2019 student Rodrigo Laniado, organized this inaugural CEIBS Food Security Forum with a China focus. Read on for highlights.
Metro China's focus on New Retail
Managing Director of Metro Jinjiang Cash & Carry China Jeroen de Groot noted in his keynote speech that food safety is important not only for China; it has global ramifications as well, particularly in the traceability and transparency of supply chains. "In only a couple of years the food industry has experienced massive changes with big online platforms buying offline stores," he said. He added that big data allows online platforms to better understand customers' needs and offer more tailored service than traditional brick-and-mortar stores. Metro is therefore working closely with startups to help the food industry ramp up digitalization. "This will help to make food traceability more transparent and accessible," he said.
Metro founded a traceability system in 2007 called Star Farm which de Groot says allows regional farmers to increase their crop yields without compromising sustainability.  By 2016, Star Farm had 400 participating companies, 22,000 trained farmers, more than 4,700 assessments for factories and farm bases, and around 4,000 products with an impeccable traceability record.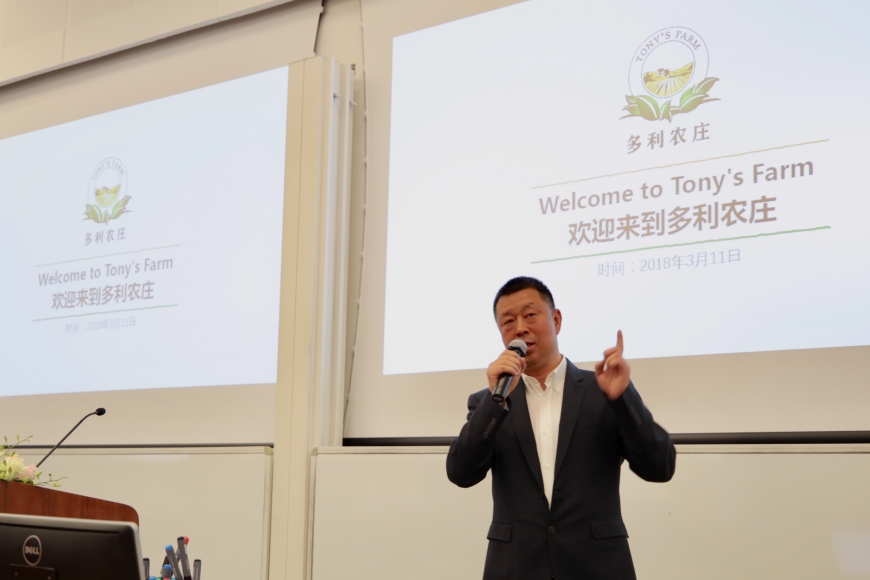 Barriers to starting an urban organic farm
The Founder of Tony's Farm, Tony Zhang (EMBA 2005) said in his keynote speech that food security is not only about having enough food, but also about having good food. He faced many challenges when he set out in 2005 to create the first "farm for the city" in China. The government didn't consider a 30,000-acre organic farm close to Shanghai to be an efficient use of land, and was concerned about the use of traditional fertilizers and pesticides. There is also the tendency in Chinese culture to have enough food on the table so that after everyone is full, half of the food remains uneaten. "This is extremely wasteful and we need to learn how to value food more," Zhang said. Tony's Farm now has multiple locations across the Chinese mainland. At the one in an ecological park in Chengdu, the company gives farmers three to five acres of land so they can work on applying organic practices, and also offers the farmers housing.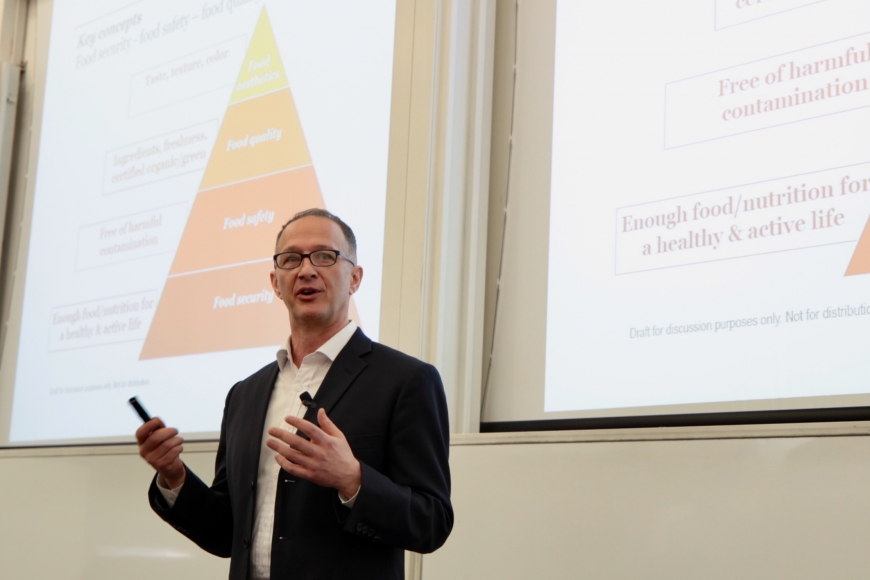 Challenges and transformation of China's food sector
Senior Manager at PwC Food Supply and Integrity Services Brian Marterer explained the difference between food security and food safety in his keynote speech. "For PwC, food security is having enough food that is nutritious and healthy to eat. Food safety is food that is free from harmful contaminants," he said.
One of the biggest challenges China's food industry faces is that primary production is highly fragmented. Marterer said that the per-farm average amount of arable land is 0.7 ha in China, compared to 16 and 102 ha in the EU and US respectively. Though China has experienced an impressive increase in crop production — from 1980-2013 crop production increased by more than 200% — there has only been a 10% increase in arable land. As a result, China now is the world's top producer of rice, wheat, vegetables and tea and the second top producer of soybeans and corn. But Marterer noted that this major production increase does not come for free. "In 1980, China chemical fertilizer and pesticide use was 10 and 0.7 million tons respectively. In 2015, China used 60 million tons of fertilizer and 1.8 million tons of pesticide for crops, this is over seven times more pesticides and fertilizers than used in the US and EU," he said.
Another problem that China will face in the future, according to Marterer, is the lack of fresh water for food and agriculture. Beef is China's fastest growing segment of protein consumed, and it has one of the highest water footprints, it is 120lt./gram compared to 60 and 58 for goat and pork respectively. He said that the government has responded by consolidating every sector in order to be able to enforce regulations more efficiently.  "For example, in 1999 there were fewer than 20 hog farms producing more than 50,000 hog/year vs 250 in 2015," he noted.
Brian concluded his speech by suggesting that government initiatives such as using e-commerce platforms to supervise restaurants could ensure that restaurants would be liable for food safety issues.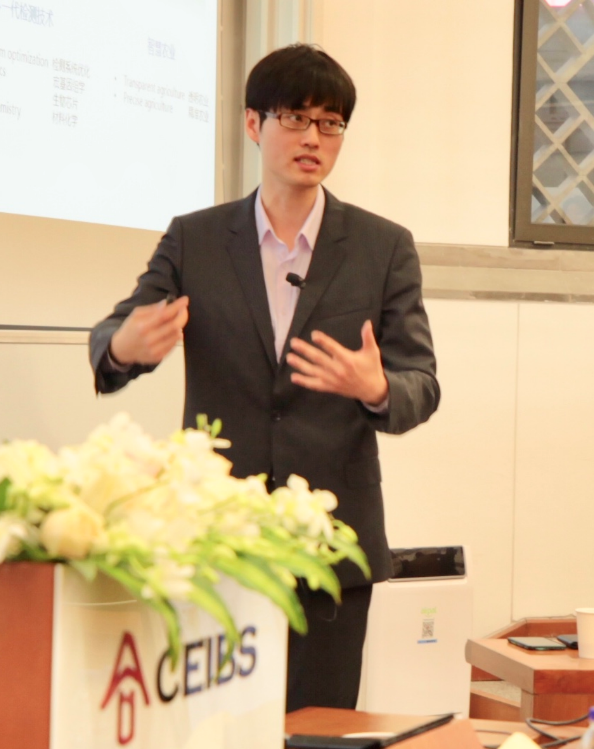 Block chain technology in the food industry
Food security in China is a top concern for IBM, said Dr. Jinfeng Li, a researcher at IBM Industry Solutions, in his keynote speech. He said the global IT giant offers multiple services for clients in the food industry, including heavy metals and agricultural residuals analysis, metagenomics, material chemistry, and traceability systems that use block chain technology. "IBM boosts food safety with software. The most remarkable project on traceability among the food chain that I have seen is the partnership with Walmart and Tsinghua University," he said. "By leveraging block chain technology, every participant in the pork supply chain inputs valuable information such as the type of pork feed, slaughter house and transportation data.  All the information is stored using the non-centralized ledger and block chain technology allows every supply chain participant to have access to increased transparency of information along the chain."
The forum was moderated by CEIBS Professor of Marketing Lydia Price. In her closing remarks she highlighted the role that innovation continues to play in food security along every step of the supply chain process.