Saturday, February 24, 2018
CEIBS MBAs win Roland Berger International MBA Case Competition
February 24, 2018. Barcelona – Four CEIBS first-year MBA students from China, Singapore, United Kingdom and the US successfully fought off strong competition from teams representing other top global business schools to win the 23rd annual Roland Berger International MBA Case Competition held in Barcelona.
Launched by IESE Business School in 1995, this international MBA case competition has become a highly-anticipated annual event on the MBA case competition calendar. Jointly sponsored by IESE and Roland Berger Strategy Consultants, the competition brings together bright minds from the world's leading business schools.
The two-day competition required teams to review a case study on Nokia and develop a strategy for the company's network infrastructure business to roll out 5G coverage.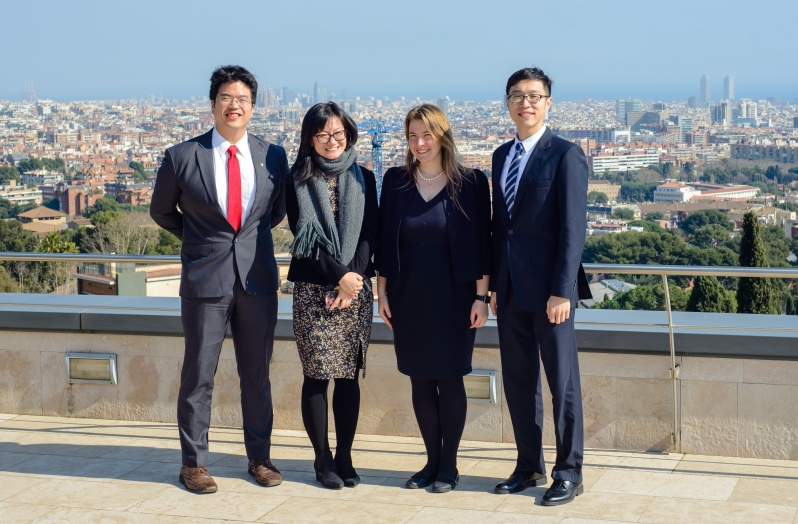 From left: CEIBS MBA team members Dongwei Wang, Yue JIANG, Apricot Wilson, and Yijun Chen.
"The competition was full of challenges. Not only were we expected to develop strategic proposals in a very short time, we also faced stiff competition from other excellent business schools," said MBA 2019 Yijun Chen. "Fortunately, we were each able to use our different strengths, cooperate well, and finally complete the task under pressure."
"I didn't realize how much we have learnt during the MBA until I did the case competition," said MBA 2019 Apricot Wilson. "We had to settle down for 48 hours with only a case study and investor relations material to guide us in formulating a full strategy for Nokia. This pushed me to pull together knowledge from various areas, from accounting to organizational behavior. We didn't have much time to see Barcelona and I think the trip has to be among the busiest 72 hours of my life, but I don't think I could have learnt more in such a short time. The trip covered everything from 5G, to life as a strategy consultant at Roland Berger, to paella making courses; it was certainly a busy and fun experience."