Monday, October 17, 2022
CEIBS claims #2 spot in FT global EMBA ranking for third consecutive year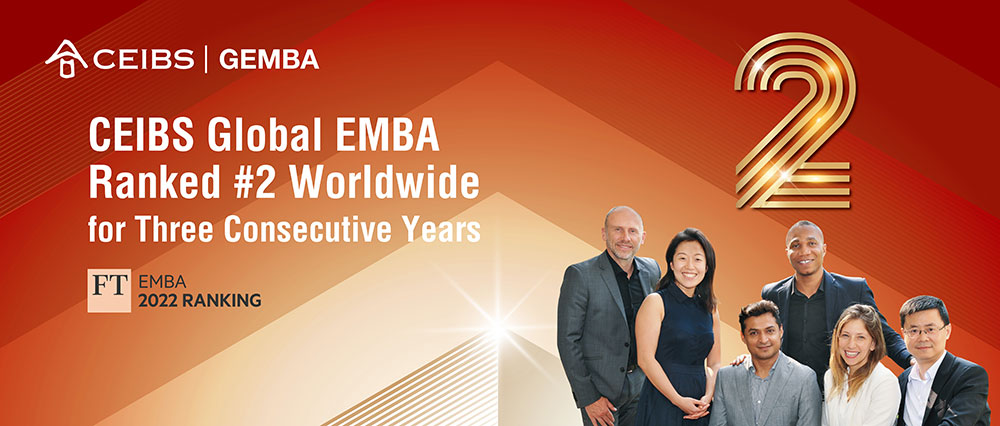 October 17, 2022. Shanghai – CEIBS has once again claimed the #2 spot in the Financial Times' global ranking of Executive MBA programmes for 2022. Today's announcement marks the third consecutive year CEIBS has landed in the #2 position. The school's Global EMBA (GEMBA) programme is now the top-ranked single-school EMBA programme in the world. CEIBS also remained #1 in Asia in the FT's MBA ranking earlier this year.
Wang Hong
CEIBS President
"Despite numerous challenges, this hard-won result reaffirms CEIBS' position as a leading international business school, and is a testament to the school's strengths and global reach. Our Global EMBA programme also plays a vital strategic role in linking China and Europe. Looking forward, inspired and motivated by this achievement, we will continue to educate responsible leaders versed in 'China Depth, Global Breadth,' uphold our motto of 'Conscientiousness, Innovation and Excellence,' and contribute talent and wisdom to global social and economic development."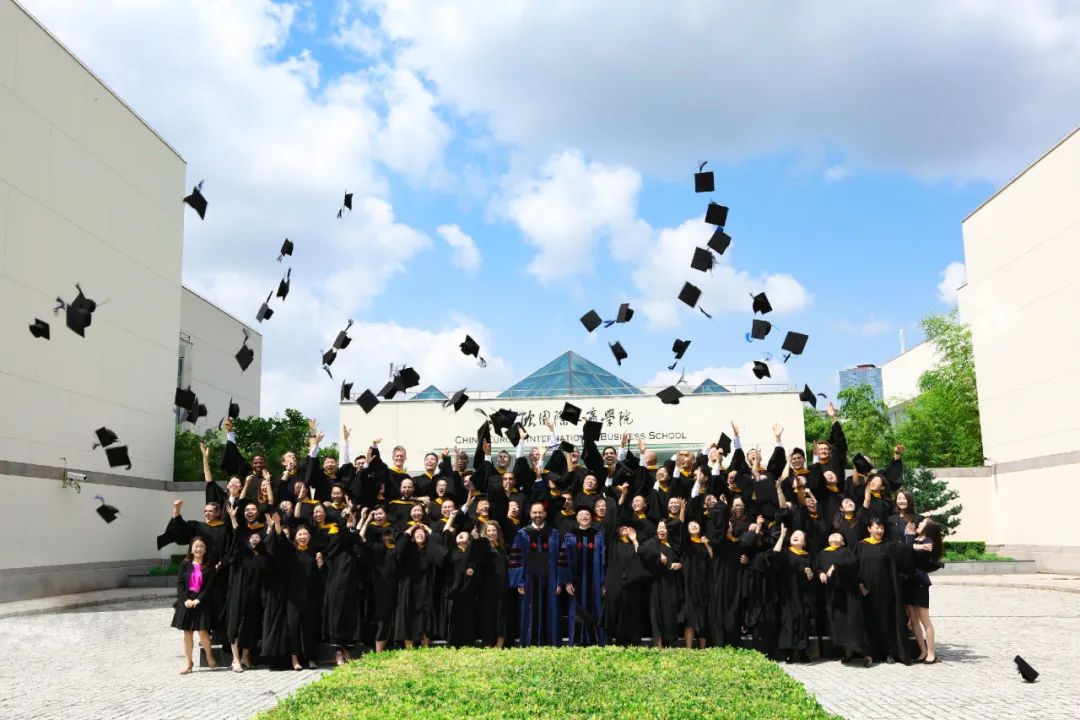 The FT ranking – considered one of the most influential of its kind in the world – comes this year at a time when both businesses and management education are facing a shifting global landscape and changing social and economic needs.
Dominique Turpin
CEIBS President (European)
"That CEIBS has maintained its position in the FT ranking for three straight years is not an easy feat. It shows that we have continued to evolve together with our students and alumni and make meaningful, life-long contributions to their personal and professional growth. At the same time, we must thank our students and alumni for their trust and support in helping to build a vibrant, world-class school community."
In compiling its annual list, the FT factors in a range of criteria from career progress to school diversity to research efforts. CEIBS improved or remained steady according to 13 out of 15 indicators measured this year, while jumping more than 10 spots up the ranking in each of salary increase, aims achieved and ESG rank.
Ding Yuan
CEIBS Vice President and Dean
"The gradual improvements we have made as a school in recent years are the result of the combined efforts of our faculty, staff, students and alumni, as well as our many partners. Moreover, these improvements represent our deep-rooted dedication to promoting excellence in teaching, research and practice and to developing leaders who think beyond the 'now' and consider both their broader aspirations and responsibilities."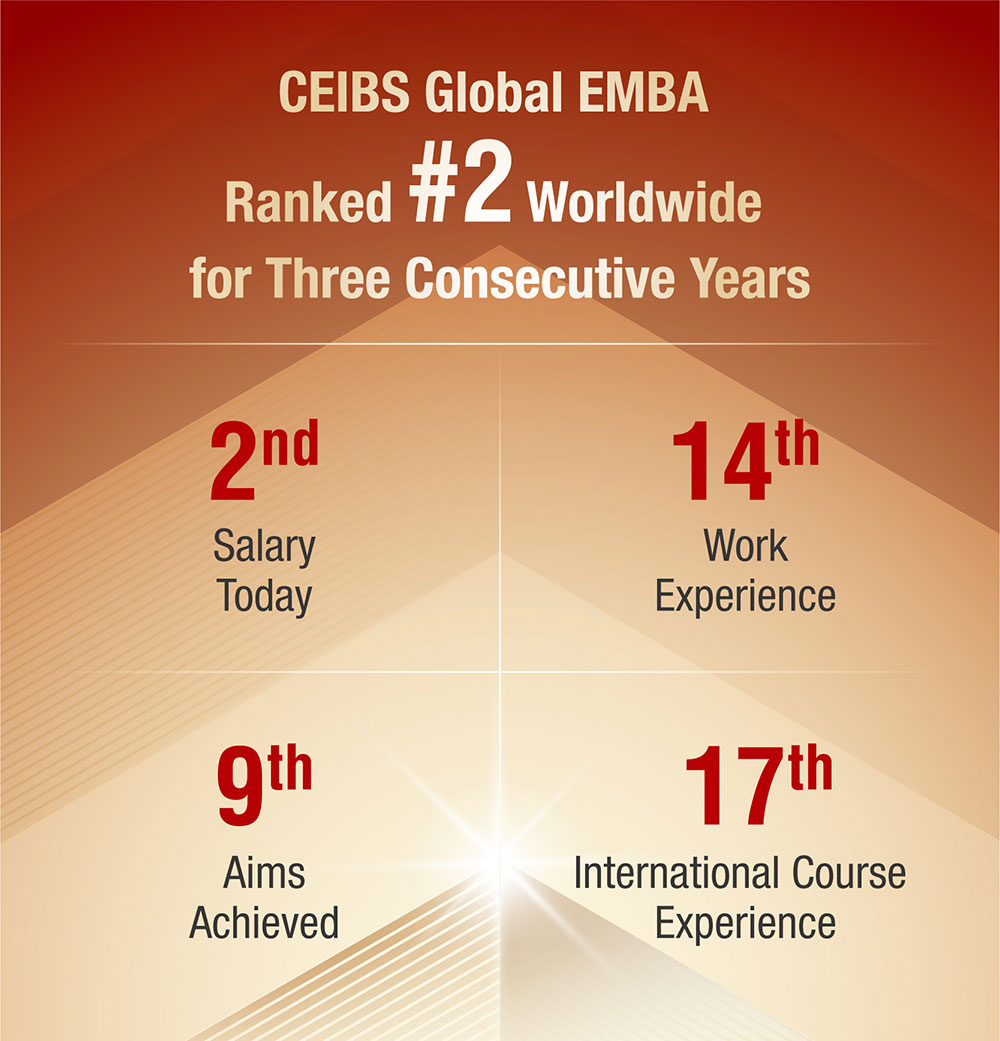 CEIBS ranked #9 in aims achieved (defined as 'the extent to which alumni fulfilled their goals or reasons for doing an EMBA') this year, up from #53 five years ago. The school also reached five-year highs in six other indicators; namely, salary increase, work experience, FT research rank, ESG rank and diversity of both female faculty and international board.
Zhang Weijiong
CEIBS Vice President and Co-Dean
"As the first English-language EMBA on the Chinese mainland, the CEIBS Global EMBA has consistently provided students with unparalleled opportunities to gain business knowledge and enhance their strategic thinking and management capabilities. Our #2 ranking speaks not only to the strength of our faculty, but also to our continuous support of our students and alumni in their on-going career development."
Although not officially used in the ranking calculation, CEIBS also moved up eight positions in overall satisfaction (as rated by the school's alumni).
Bala Ramasamy
CEIBS Associate Dean (GEMBA) and Professor of Economics
"If the 'new normal' is one of increasing uncertainty and disruption, then business leaders must respond by embracing integrity, compassion and responsibility. This goes to the very heart of what we teach in the Global EMBA programme. At the same time, this year's ranking reflects our commitment to providing a meaningful experience for all of our students and to preparing each of our graduating cohorts for the rigours of modern business."
CEIBS Global EMBA places a strong focus on leadership development, challenging and inspiring students through immersive experiences in both the classroom and the real world. The programme also brings together participants from a range of nationalities, industries, functions and backgrounds, offering a diverse mix of perspectives to empower them towards personal and professional transformation.
With just over one month until the opening of the next Global EMBA class, recruitment has entered its final stage, with more than 90 high-achieving executives making up our 2022 cohort.
About CEIBS Global EMBA (GEMBA)
CEIBS Global EMBA (GEMBA) is a part-time English programme that balances 'China Depth' and 'Global Breadth' to develop responsible global business leaders. The programme is a transformational journey, allowing each student to step outside their everyday work environment and see business challenges from a whole new perspective.
With a student body representing nearly 20 countries, the Global EMBA programme provides unparalleled opportunities for participants to plug into China's largest business school alumni network and advance their career and personal development. Since its inception in 1995, the programme has produced more than 2,200 graduates and is rooted in the rapidly changing global business and economic environment. Our Global EMBA is uniquely equipped to nurture responsible global business leaders with a China focus, global perspective and cross-cultural management ability. Learn more here.
About CEIBS
China Europe International Business School (CEIBS) was co-founded by the Chinese government and European Union (EU) in 1994 and has campuses in Shanghai, Beijing, Shenzhen, Accra (Ghana), and Zurich (Switzerland).
CEIBS is committed to educating responsible leaders versed in 'China Depth, Global Breadth' and serves as an important platform for exchange and co-operation between China, Europe and the world.
The school offers MBA, Finance MBA, EMBA, Global EMBA, Hospitality EMBA, DBA (Switzerland) and Executive Education programmes. It has placed in the top tier of the Financial Times' ranking of global MBA programmes for six consecutive years and has been ranked in the top 5 on its global EMBA list for five consecutive years.
CEIBS has more than 26,000 alumni from over 90 countries and regions around the world, and has provided management training for more than 200,000 executives worldwide.