Monday, February 28, 2022
Learning by Practicing: Global EMBA 2019 defends Capstone Projects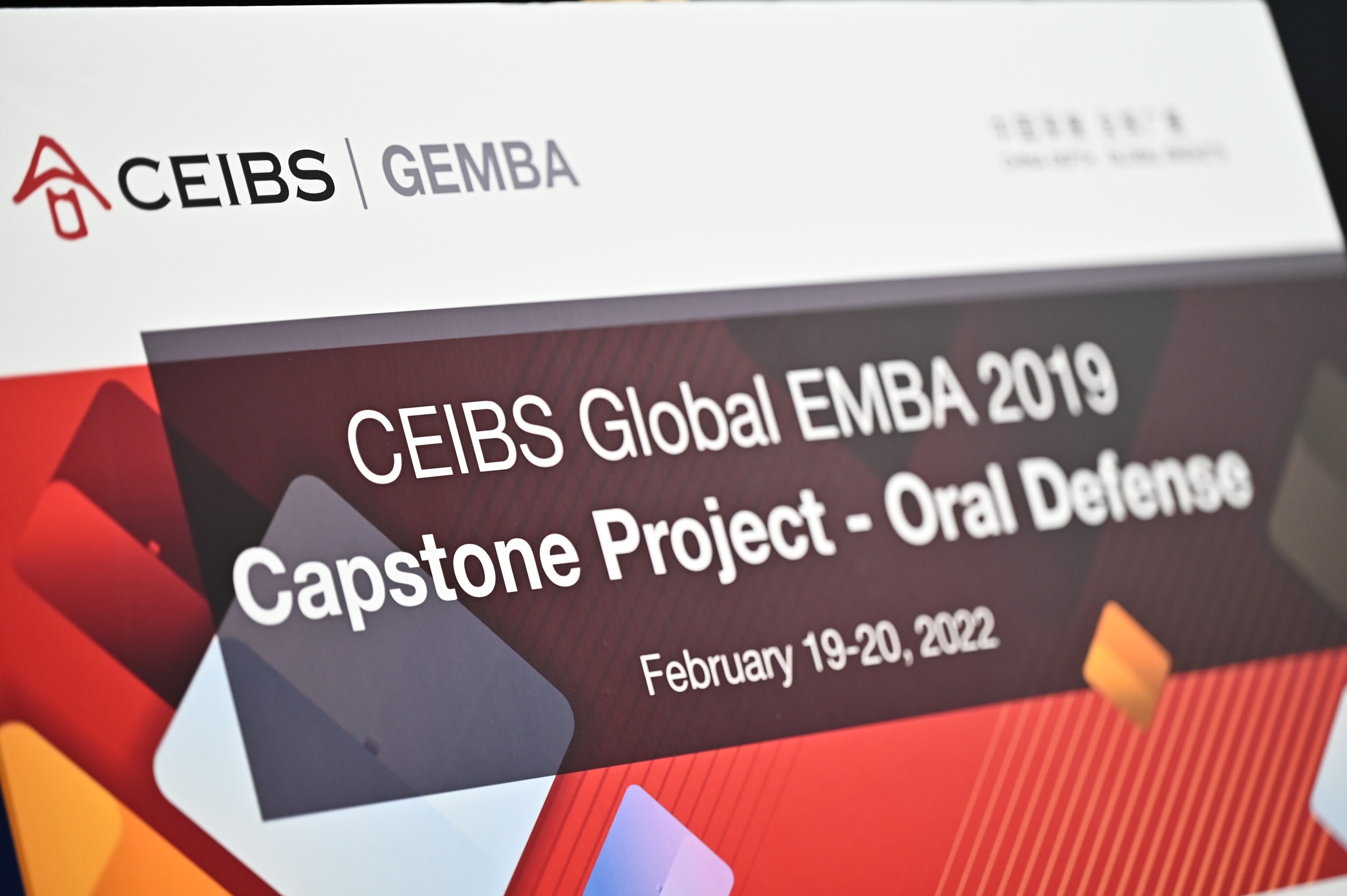 As the name suggests, the Capstone Project is the culmination of the entire Global EMBA programme experience, one that literally 'caps' two years of persistence and hard work in the pursuit of business excellence. For the 13 Capstone Project groups that make up the Global EMBA Class of 2019, February 19-20 was their final showdown with examiners on the Oral Defence Panel.
For each student, this project drew together key elements of everything they have learned during their time at CEIBS in one comprehensive test of their ability to not only grasp business fundamentals, but to weave them together in an intelligent, strategic manner. Looking back on the experience, the overall importance of the Capstone Project has long-term benefits not just for the students themselves, but also their parent companies.
Capping it off for Global EMBA students
During the final 12 months of the programme, Global EMBA students work in teams of 4-6 to create a comprehensive analysis of a real-world business issue or challenge. Between them, the group chooses a highly specific problem faced by a real-world company that is linked to a group member (their employer, for example).
Like the Global EMBA programme itself, the Capstone Project is all about real-world relevance, rather than being a purely theoretical exercise. Tackling a business issue at the strategic level is designed to bring together everything students have learned during their Global EMBA experience. While the programme gives them a solid grounding in all the major business fundamentals, the Capstone Project elevates their understanding of how it all fits together in the real world, allowing them to 'connect the dots' and see business on a much broader level.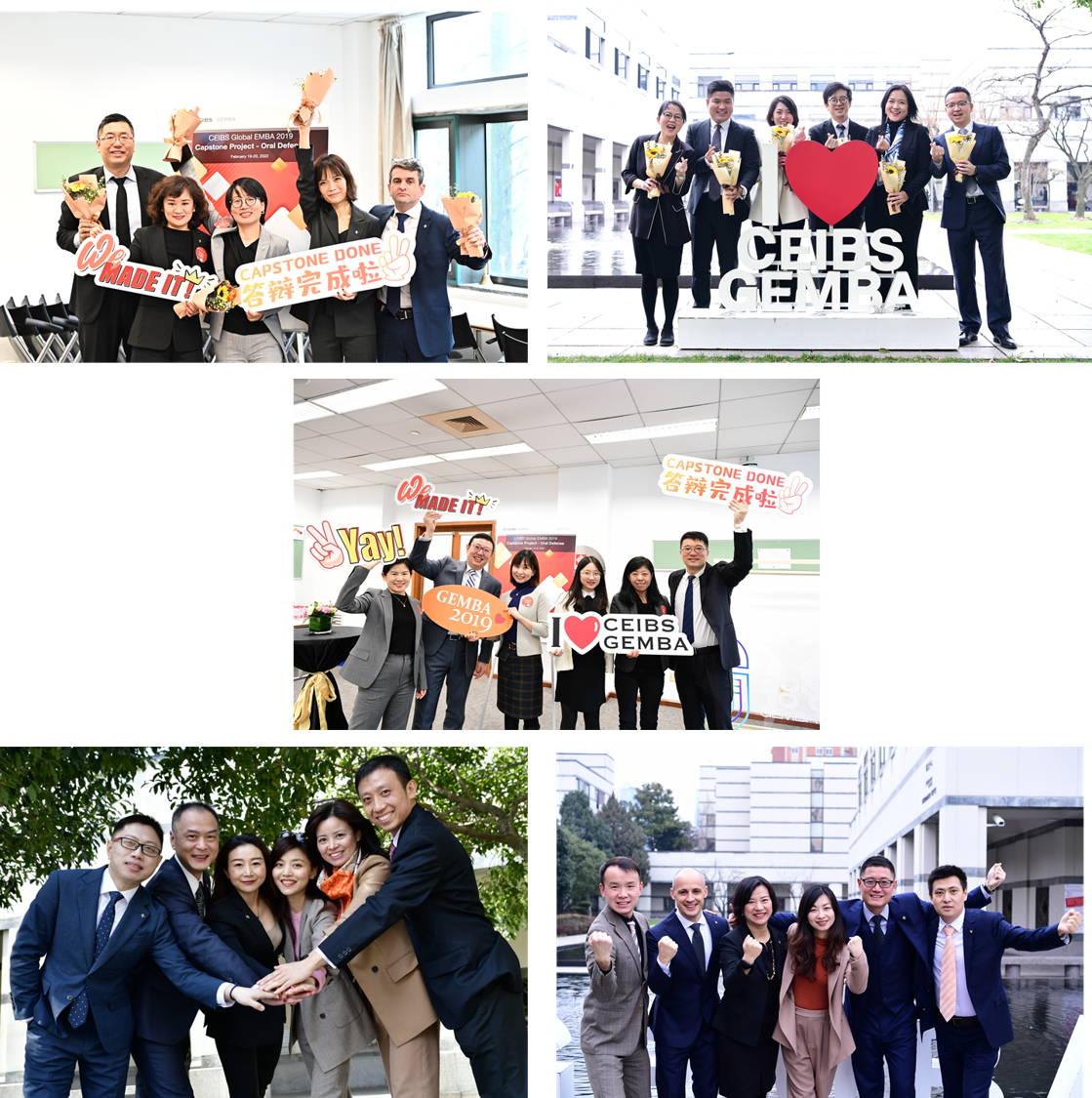 Together, each group will address their chosen problem and construct a comprehensive set of recommendations that are realistic, executable and based on quantifiable research. To get there, each member will have to contribute their unique strengths to the mix. The highly diverse nature of each Global EMBA cohort means that the Capstone Project is like managing a complex, global project team, where team members span a broad range of cultural backgrounds and business functions. This group dynamic is representative of the Global EMBA experience overall, as it will test their leadership capabilities to the fullest, while giving them every opportunity to learn as much as they can from each other's varied experiences.
Aside from the leadership and strategic thinking dimensions, every Capstone Project is also a substantial body of work. All Capstone Project team meetings and individual tasks are done outside of assigned classroom hours, making it another demand to be juggled in addition to regular classes and other work/life commitments.
ReCAPturing an investment
Since Capstone Projects focus on real-world business challenges affecting students' parent companies, this represents another tangible source of ROI for any company sponsoring one of their executives through the Global EMBA programme. Not only do they help their employee become a more responsible, capable and adaptive business leader, they may also end up benefitting from the business consulting expertise of a group of executives tackling an issue of fundamental importance.
This makes the Global EMBA experience a true partnership between the students and their subject company, with both sides standing to make substantial gains.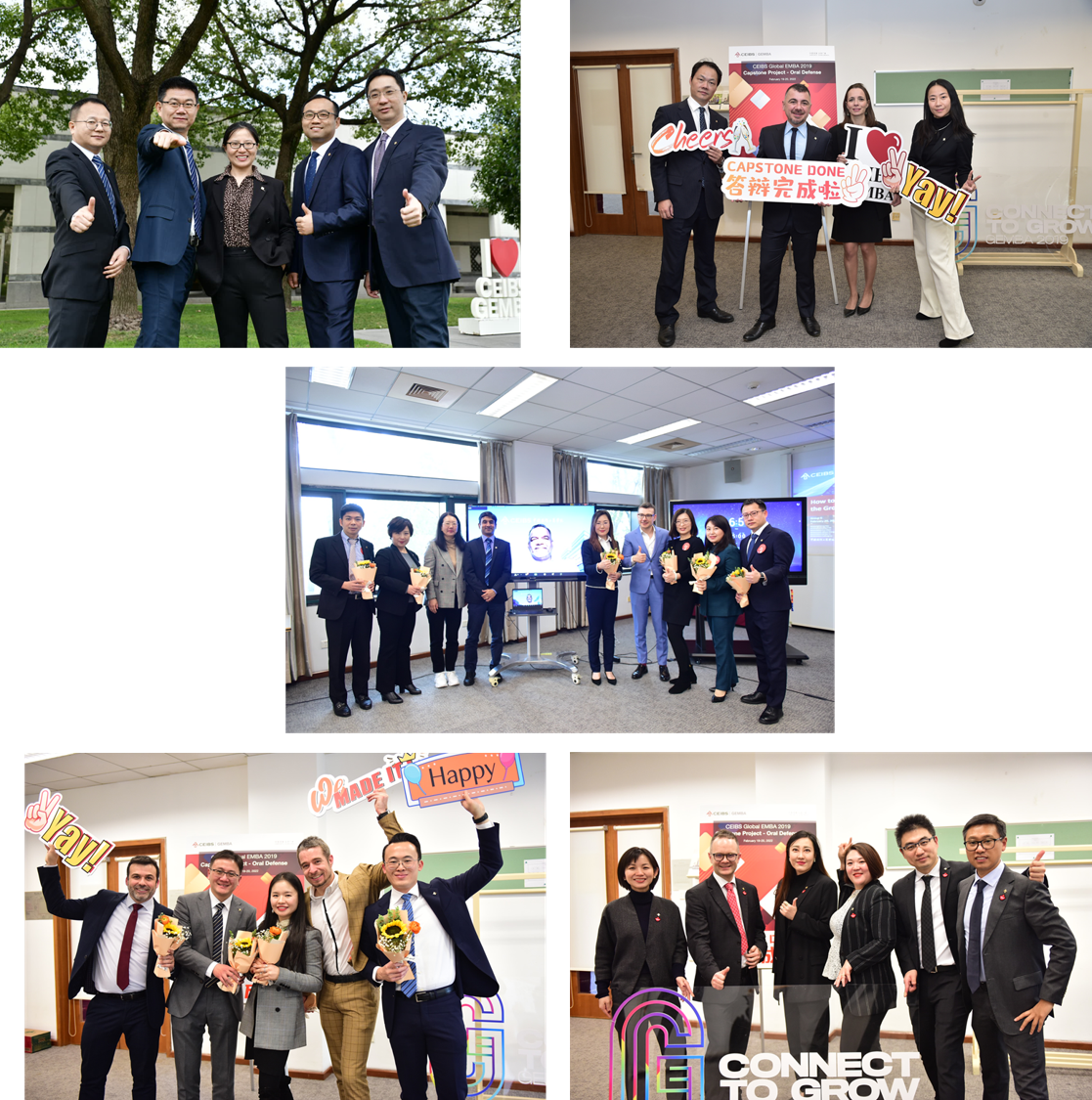 From laying foundations to final preparations: The Oral Defence begins
On February 19-20, 2022, all 13 Capstone Project groups were engaged in a rigorous defence of their projects. On the other side of the table, grilling them on the details, findings and potential flaws of their project, was the Oral Defence Panel. This was made up of three examiners, drawn from CEIBS faculty and CEIBS alumni with experience relevant to the project's target industry and subject matter.
The addition of one senior alum to each panel was a first for 2022. The Global EMBA department was excited to tap into the wealth of experience and insight of our alumni community to improve current students' undertakings.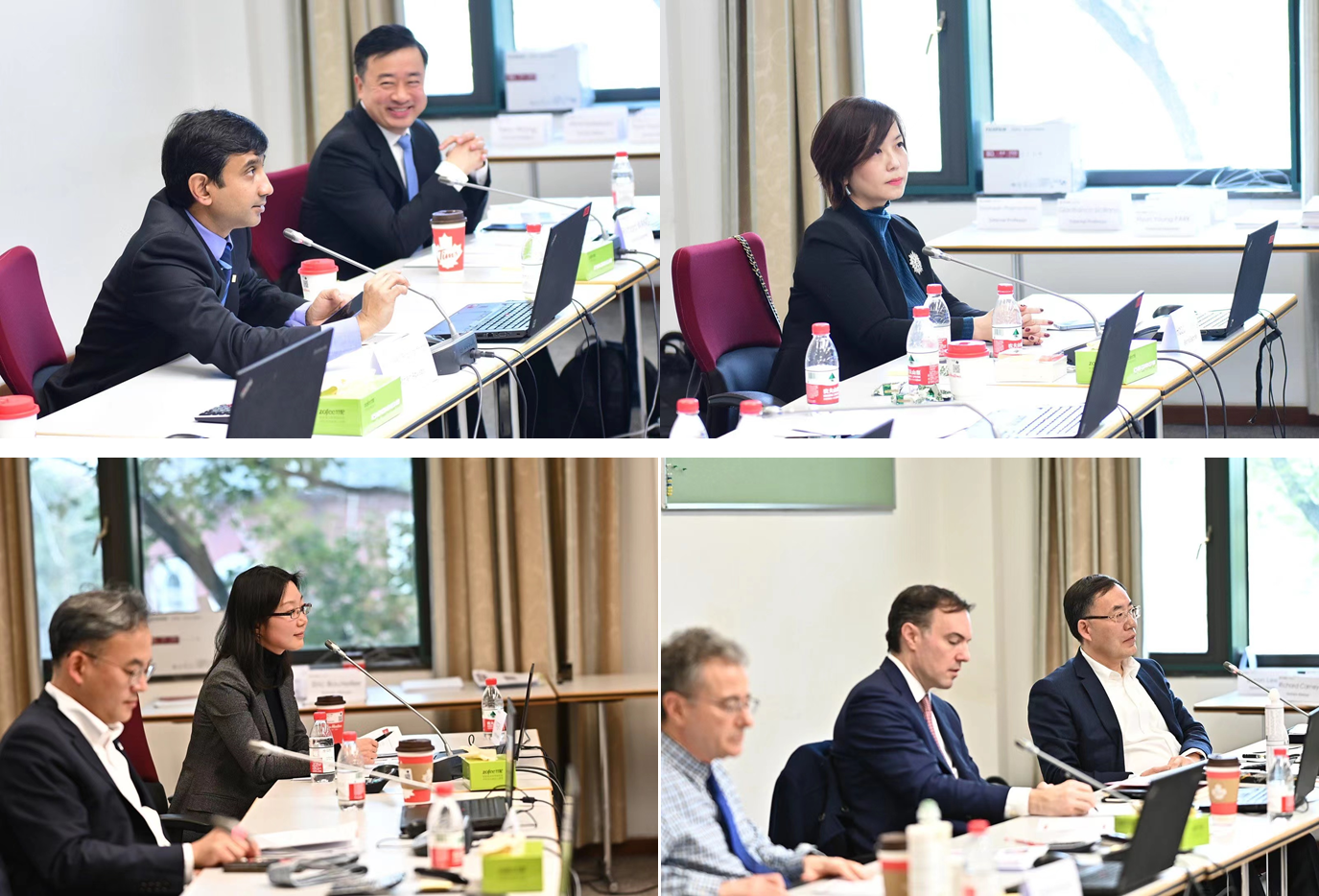 Like the Capstone Project format itself, the Oral Defence is supposed to reflect real-world business realities and considerations. In the real world, proposed solutions to major company-wide issues would be challenged from all angles by senior leaders and appropriately experienced advisors spanning all manner of different functions. Having senior alumni on board with this process reflects this reality, adding to the overall realism – and, hence, value – of the experience.
In the spotlight: Example Capstone Project from Global EMBA 2019
To give a sense of the companies and challenges tackled by Capstone Project teams, here is a sample of three of the projects undertaken by the Global EMBA 2019 class:
CanSinoBio: Keeping pace with COVID-19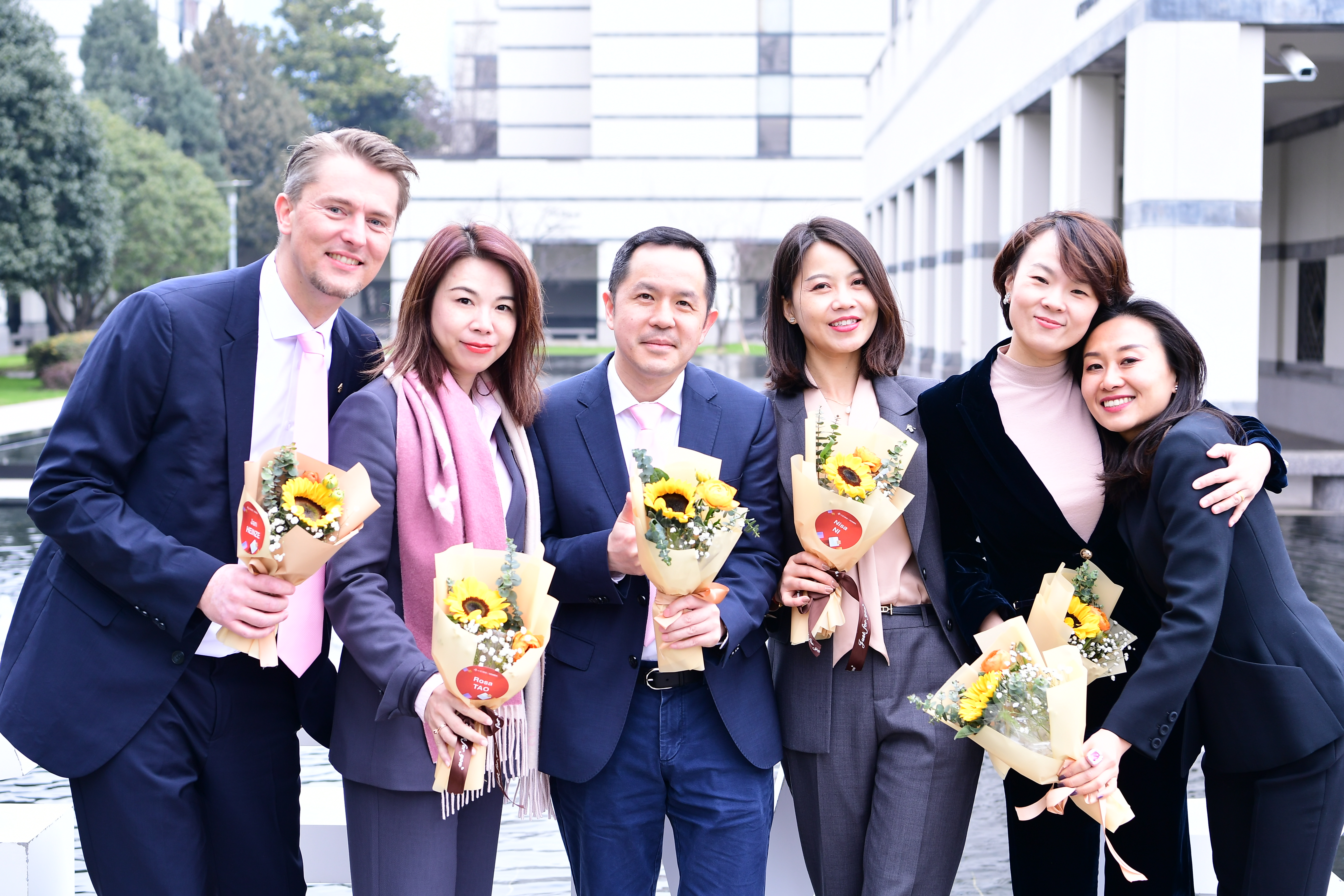 CanSinoBio is a pharmaceutical company at the forefront of the global effort to vaccinate humanity against COVID-19. Having grown at breakneck pace from startup to global company, its four founders have found themselves in near-constant 'firefighting mode' as they rapidly add new resources, R&D and manufacturing capacity, and headcount to the company.
Having interviewed all four founders and a top executive, the project team's recommendations outlined a new organisational design for CanSinoBio, one that would enable the company to transform into a commercialisation-driven, fully-integrated structure, and shift its leadership team's focus away from firefighting and towards capturing long-term value.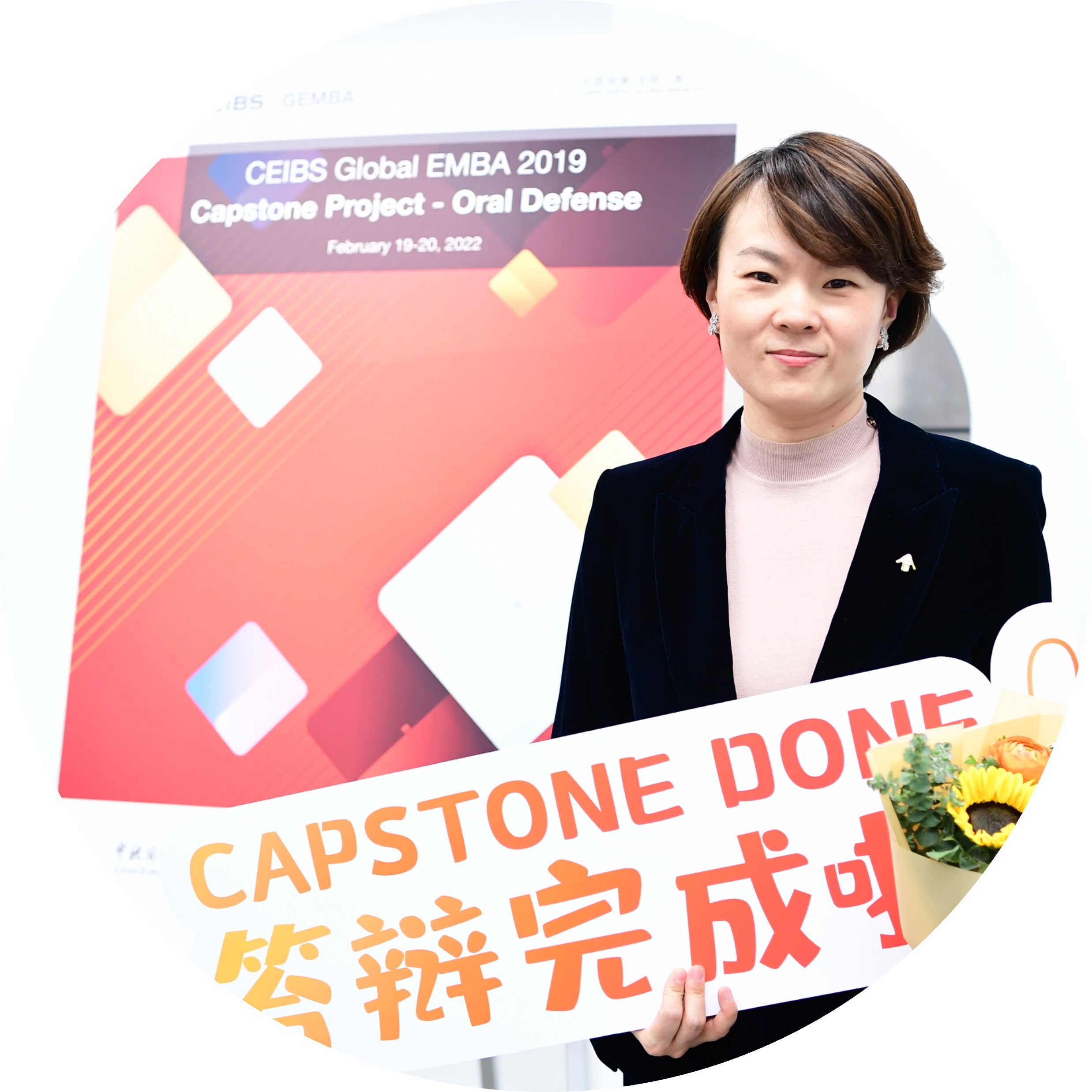 Jeanne Wang
Chief Commercial Officer and Executive Director, CanSinoBio
"From the project's outset, the whole team strove to understand the vision, core values, strategy, long-term objectives and major pain points of the company. Our focus wasn't just to help CanSinoBio build a better, more adaptive organisation structure, but to set the benchmark for other startup biotech companies to grow stronger. As well as the academic element, we thoroughly enjoyed the more personal side to the project. Now, we thoroughly understand what Professor Bala Ramasamy said about Capstone Project turning teammates into lifelong friends!" 
Sika AG: Sealing the deal on NEV market opportunities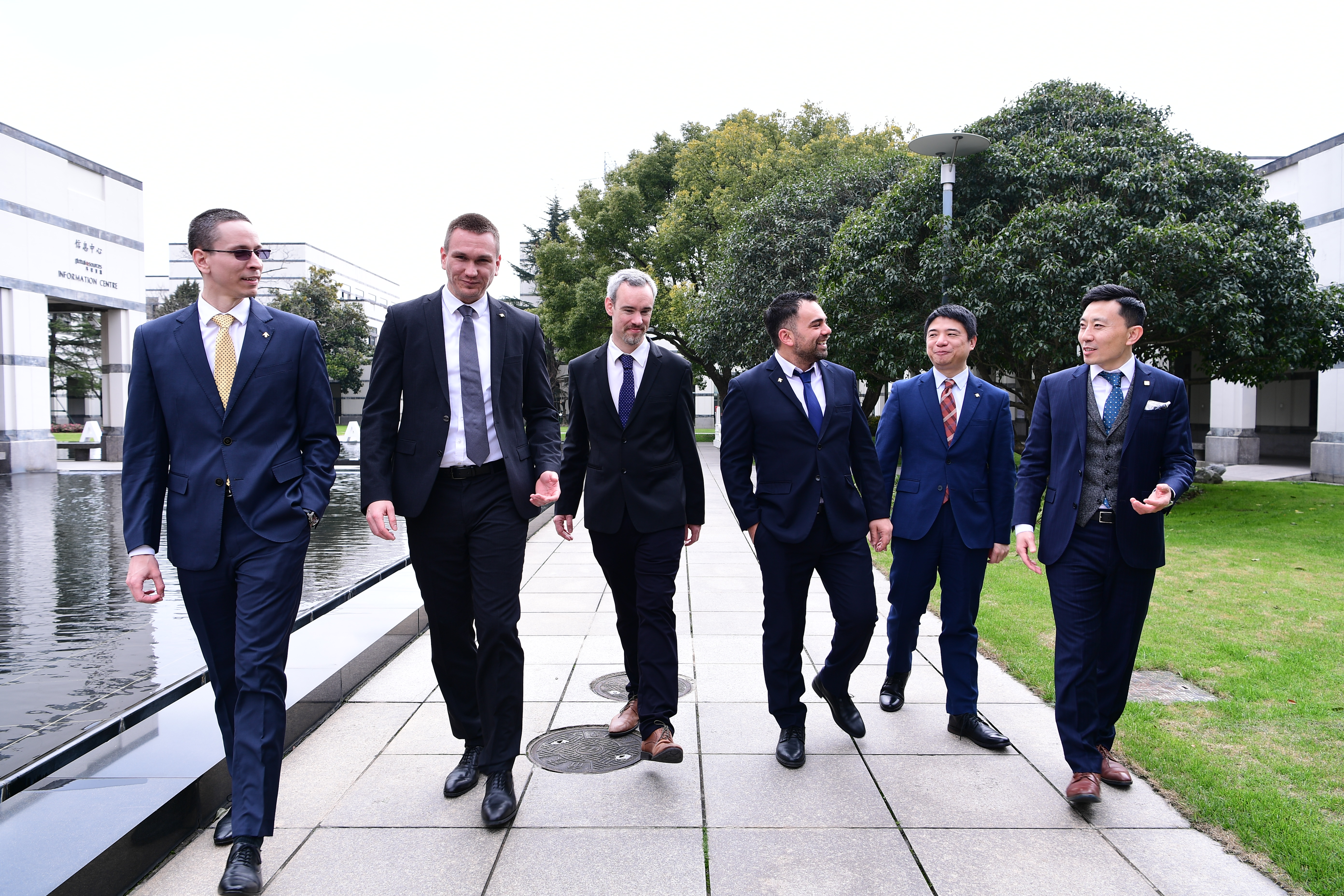 Sika AG is a Swiss chemical manufacturing expert, largely servicing the traditional automotive market. Despite its 100+ years of history and well-established reputation, Sika is under pressure to adjust its strategy in China due to the rise of new energy vehicles (NEVs).
The team who chose Sika for their project subject developed a comprehensive mid-to-long-term strategy for the company's sustainable growth (both economically and environmentally-speaking) in the Chinese NEV passenger car market. Their recommendations anticipate Sika reaching significant annual revenues and leading market share by 2025.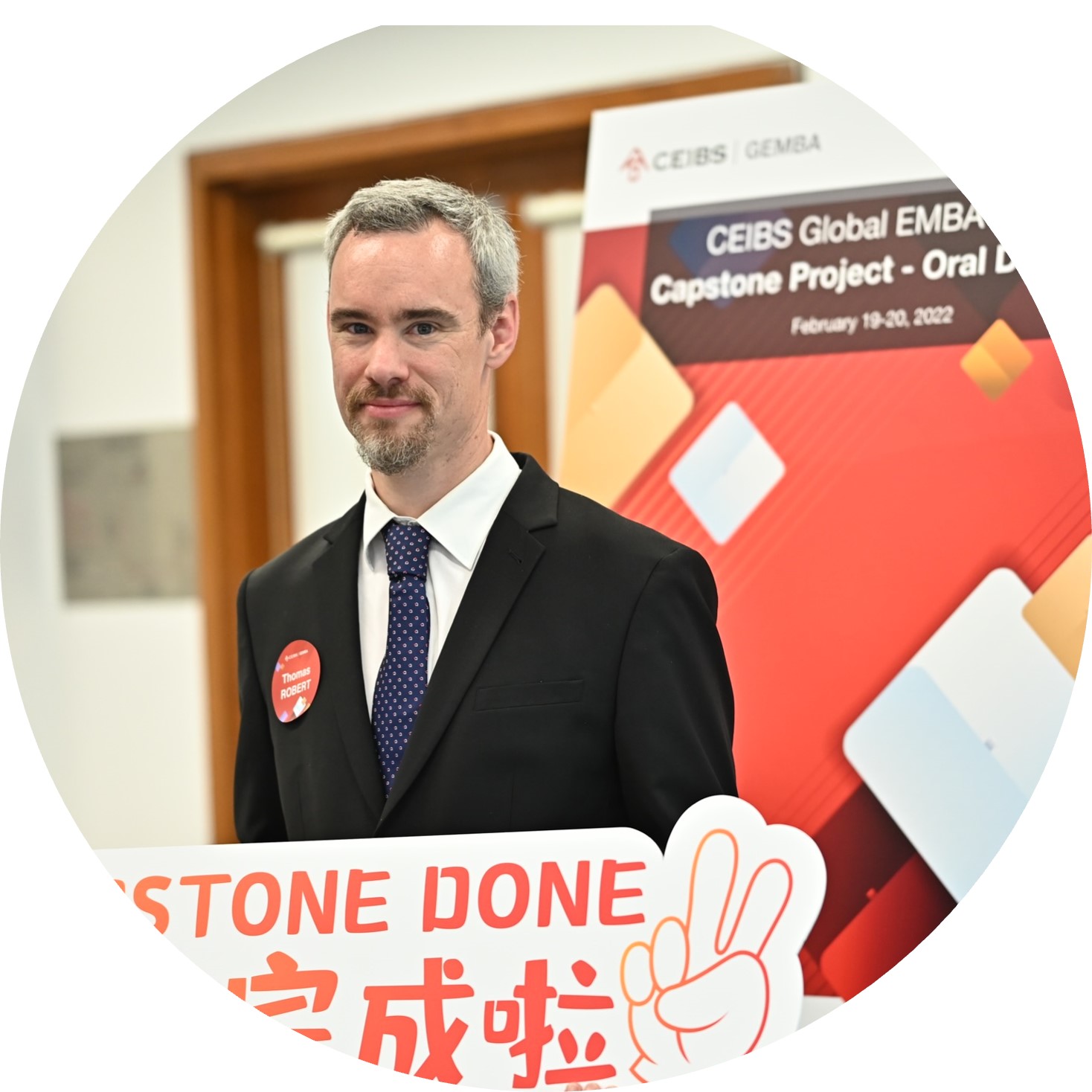 Thomas Robert
Vice President Industry Asia-Pacific, Sika
"The Capstone Project was a great opportunity for me to offer a meaningful and high-quality consulting project to my company. Our team of six motivated and experienced Global EMBA students successfully addressed Sika's pain points in the NEV market through a deep analysis and series of recommendations that are already being applied. As a result, e-market awareness has greatly increased inside the organisation. Sika has begun the hiring process for additional staff dedicated to e-mobility and reinforced its focus on related internal processes and cooperation improvement measures."
Yili iHospital: Keeping online medical care efficient and effective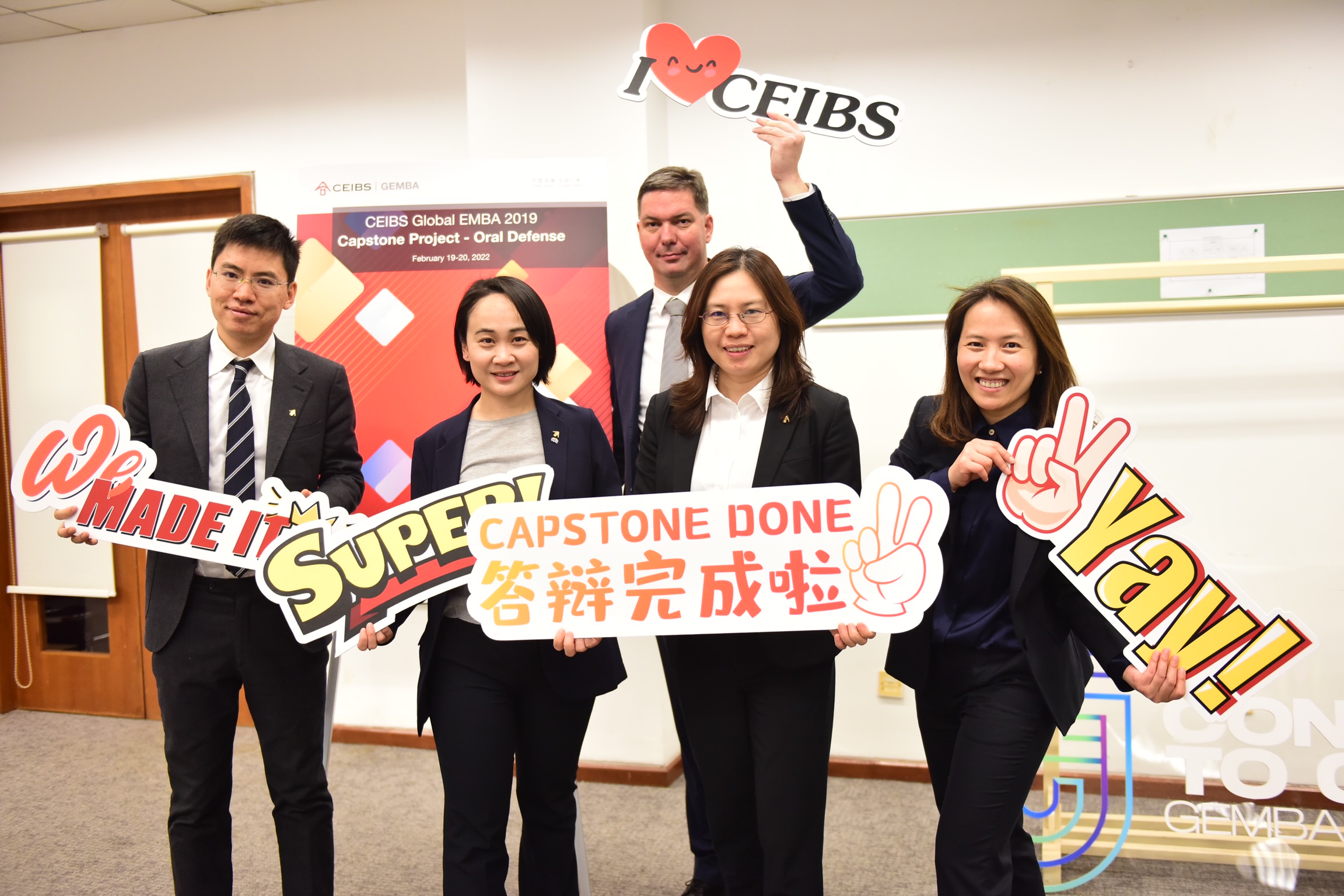 Yili is an 'internet hospital' offshoot of AstraZeneca and Hillhouse Capital. This iHospital follows the 'Acquainted Doctors-Patients' model, where doctors who already know their patients in an offline, face-to-face context can move simple consultations and routine medical services to an online format, without a loss in service levels or patient care. While the operational cost savings of this model are significant, Yili has been experiencing severe efficiency losses across its operations. 
The Global EMBA team working on the Yili project investigated the root causes of these losses in efficiency and satisfaction, and developed a range of potential solutions to address them. These included new service packages, updated promotional models and new services on the iHospital platform itself, all designed to close the revenue gap through a more relevant, targeted and efficient offering.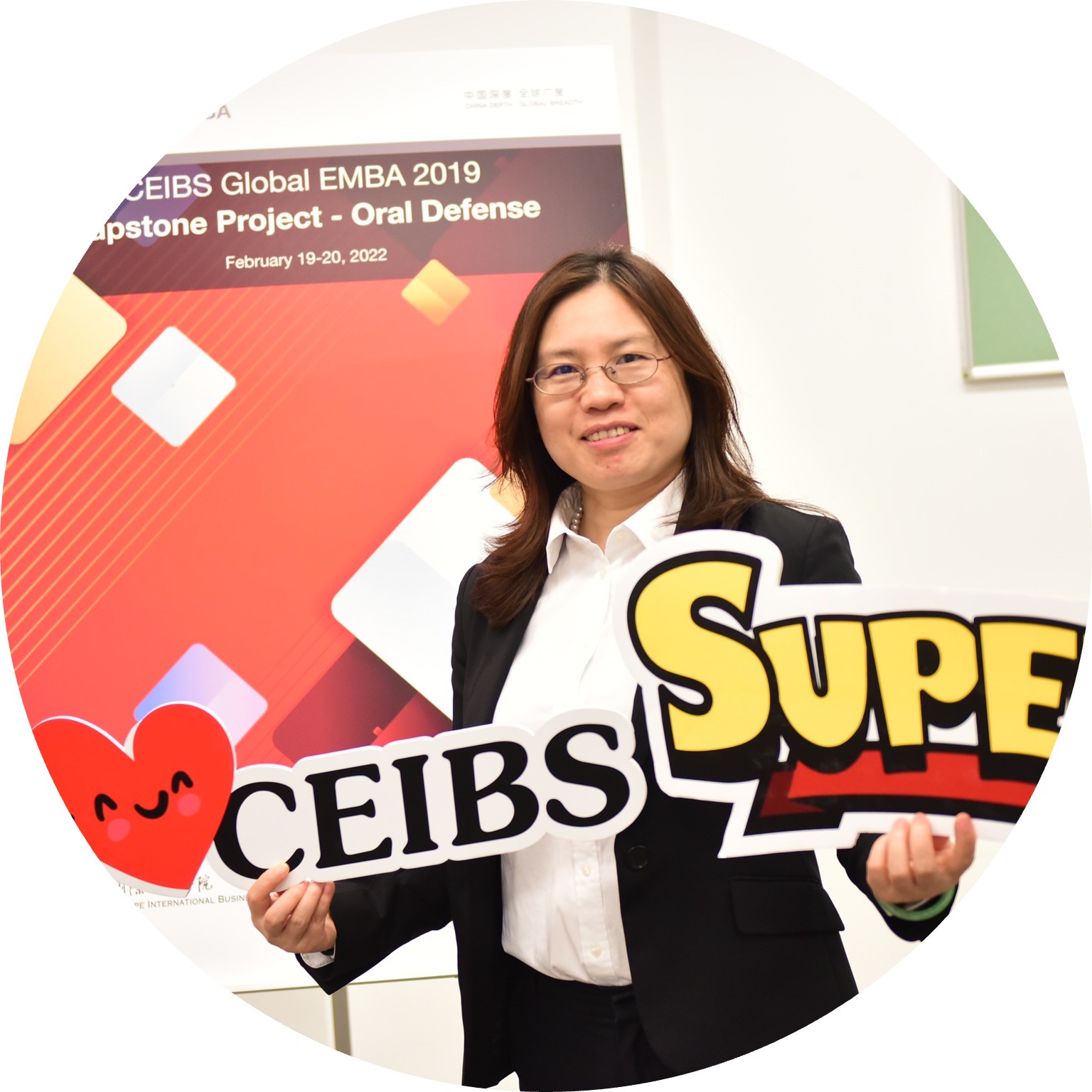 Fu Yingying
Associate VP, AstraZeneca China
"It was such a great learning experience to deliver this project with our incredibly diverse and talented team drawn from different countries, industries and job roles. This range of skills and experience was vital when looking at such a nascent, emerging industry as online healthcare. We quickly managed to assess Yili Hospital's efficiency losses, pointing them towards rectifying their lack of a granular level of measurement in their daily business and operations management. I'm proud of our analysis and recommended upgrades to their app, which Yili will soon be implementing." 
Congratulations, Global EMBA 2019!
Concluding their Capstone Project with the Oral Defence was a major achievement for each and every student, as it represented the final step in a 12-month project that was as demanding as it was rewarding. Not only was it the climax of their Global EMBA experience, it was also the end of a period of intense personal sacrifice that marked a deeply meaningful milestone in their professional and academic development.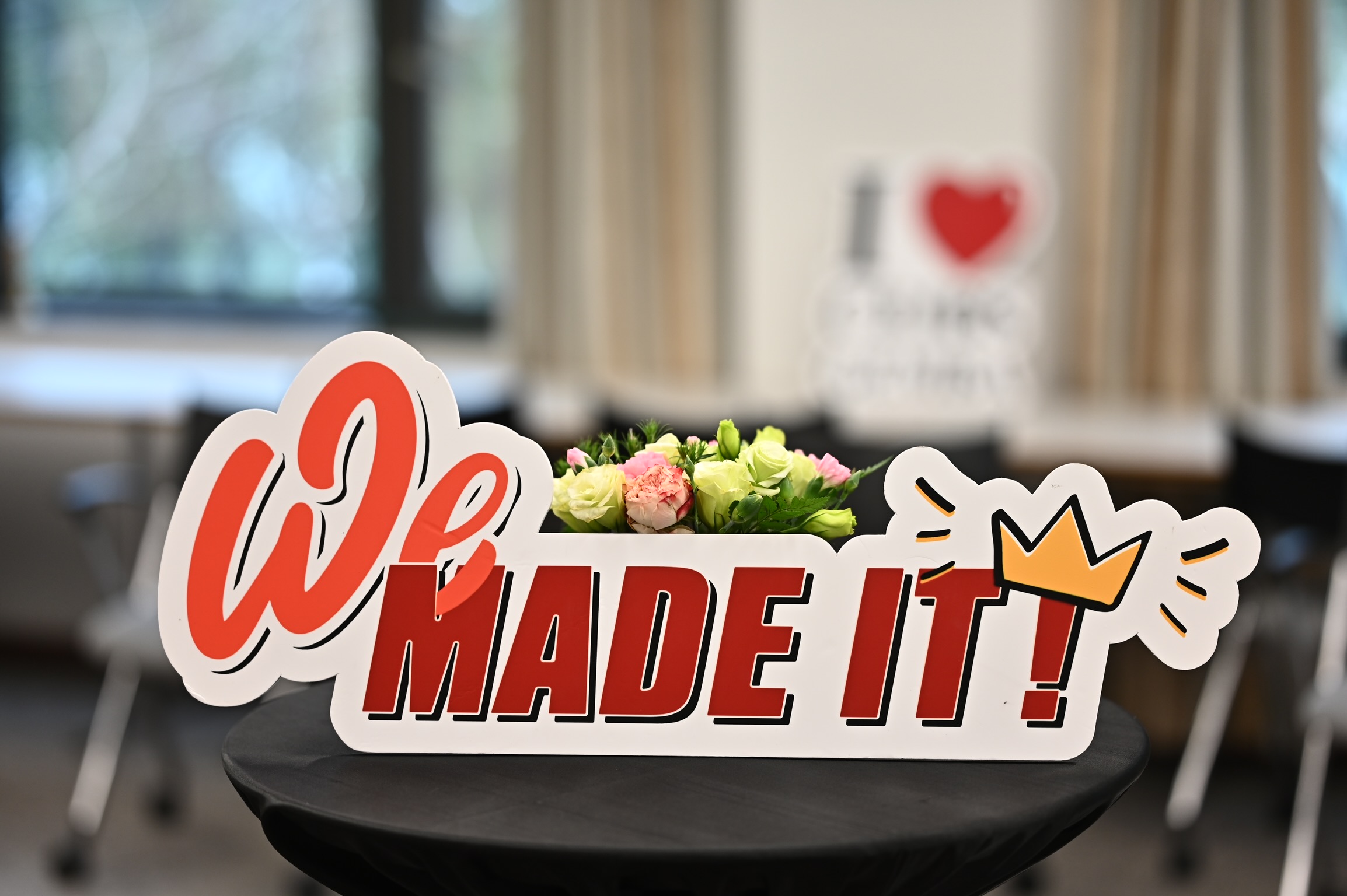 As their time with the programme draws to a close, we hope that their Capstone Project proved every bit as useful and thought-provoking as the rest of their studies so far. Congratulations, Global EMBA 2019s!