Wednesday, February 23, 2022
CEIBS Global EMBA Annual Alumni Community Appreciation
Dear Global EMBA alumni,
We wish you all a very happy start to the Year of the Tiger! As we look ahead to 2022, we also want to briefly look back at 2021, and thank you all for your outstanding contributions to the alumni community, the Global EMBA programme, and CEIBS itself. We are constantly amazed and appreciative at how members of our community continue to demonstrate their commitment to supporting and learning from one another, consistently showing our shared values of resilience, empathy and responsible leadership.
2021 was a stellar year for our community. Not only did we maintain the #2 spot in the Financial Times' Global EMBA ranking and remain in the top five for the fourth consecutive year, we also welcomed a new international cohort of 100 outstanding students to our Shanghai campus. Neither of these major achievements would have been possible without you, our alumni community. 
At every turn, you are essential in strengthening the Global EMBA programme. You are the first in line to offer your time, expertise and resources whenever we ask – often even before we ask! You provide us with invaluable assistance in everything from interviewing prospective applicants to sitting on Capstone Oral Defence Panels, running industry best practice seminars and generally acting as exemplary ambassadors for CEIBS and the Global EMBA programme. This is without mentioning your long (and growing) list of alumni-led initiatives, such as the rapidly expanding Healthcare and Law Clubs.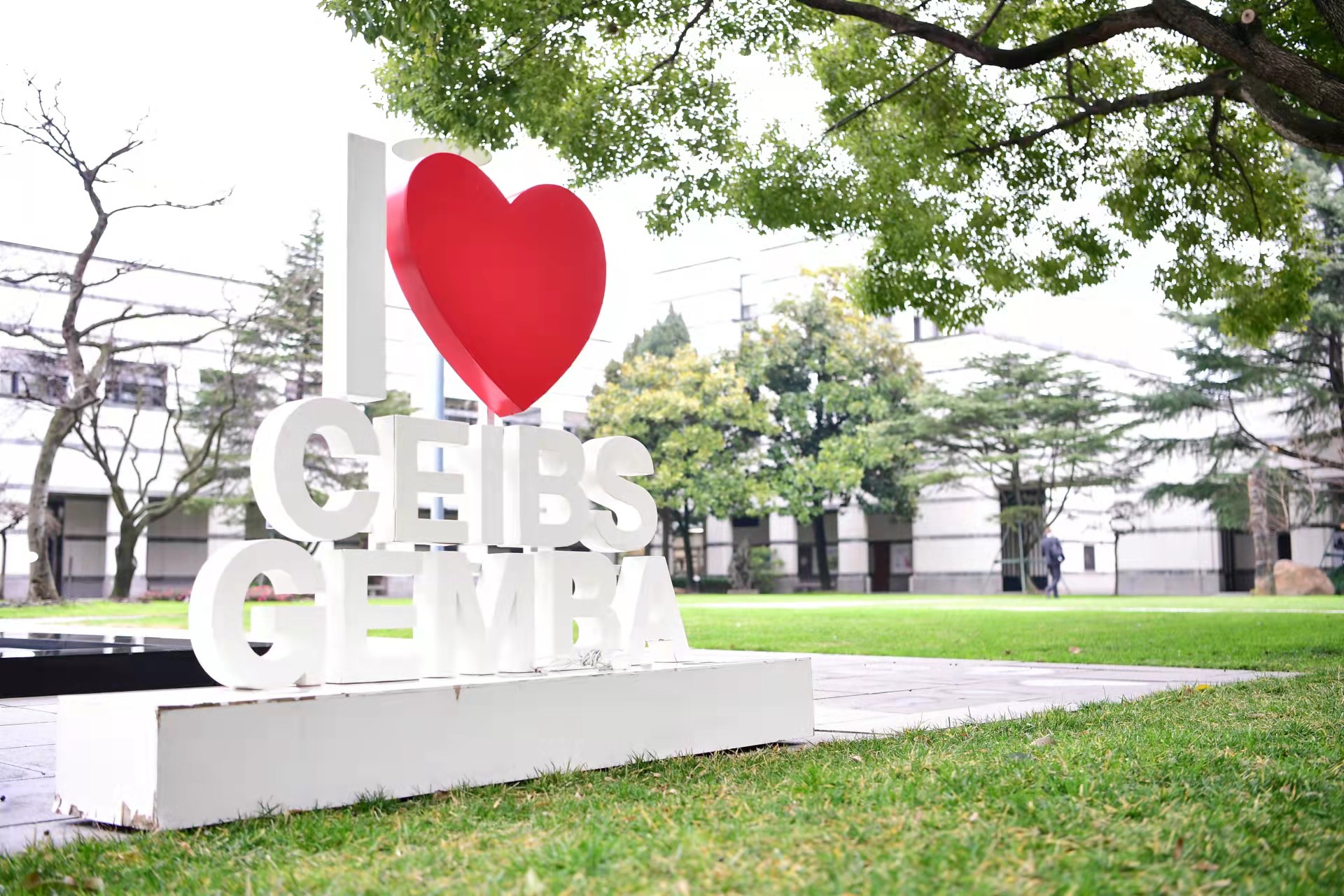 Remarkable as 2021 was, we anticipate an even better 2022. We already have an exciting and expansive schedule of Global EMBA events planned. These range from the academic (such as our continuing series of China Deep Dive modules) to the celebratory (such as the Global EMBA Reunion Day). Events in 2022 include our forthcoming Global EMBA Sports Day in April, and the introduction of new 'GEMBA Plus' courses for alumni. We cannot wait to hear all about your experiences with this brand-new addition to the GEMBA Plus offering.
Another major highlight for 2022 will be the second Global EMBA Annual Symposium. Last year's inaugural event was a resounding success, and explored the most relevant and pressing topics that are shaping business in China, as well as China's impact on the wider business world. We are confident that this year's symposium, which will focus on China's sustainability surge via green financing and innovation, will build on this auspicious start. We look forward to seeing you there.
Once again, we sincerely thank you for everything you have contributed in 2021, and for all you will accomplish in 2022. Always remember that together we can achieve more.
CEIBS Global EMBA Programme
February 23, 2022

Ambassador Excellence Award
The Global EMBA "Ambassador Excellence Award" is given each year to an alumnus/alumna who goes above and beyond the call of duty while representing CEIBS and the Global EMBA programme. Recipients of this award show tireless efforts in liaising with prospective GEMBA candidates and familiarising them with everything the programme has to offer. They also recommend students of the current Global EMBA 2021 class and represent the GEMBA programme in numerous other capacities.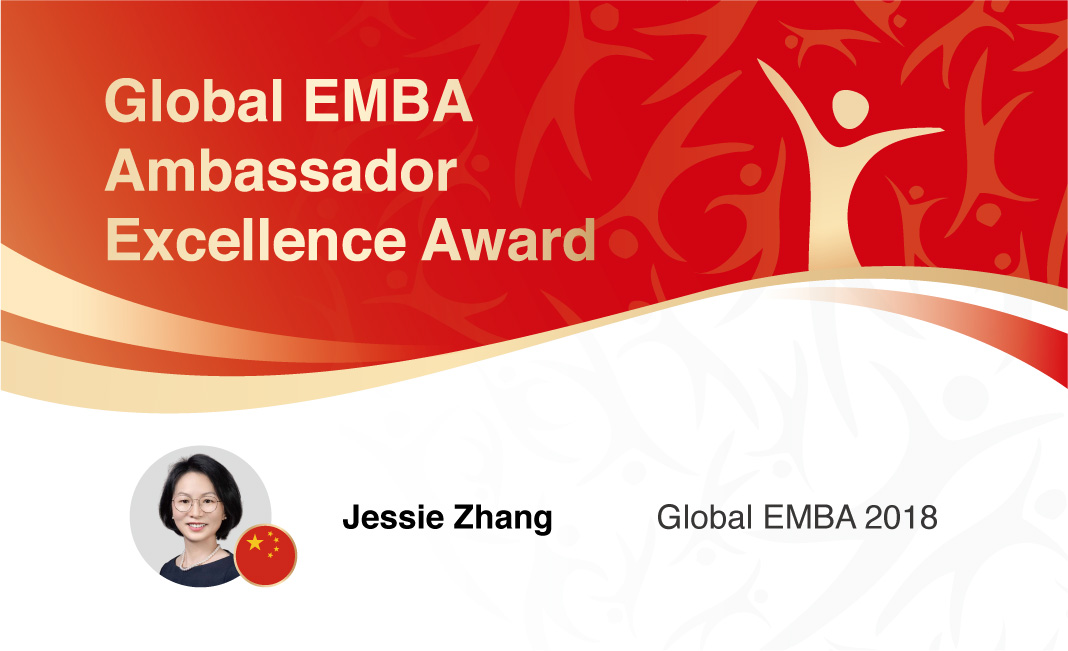 Public Profile Ambassador Award
The Global EMBA "Public Profile Ambassador Award" is dedicated to recognising alumni who strengthen the clarity and appeal of the programme's public-facing communications, and the wider brand of the Global EMBA itself. Given the rapidly evolving business environment in which CEIBS students and alumni operate, this is essential for keeping the Global EMBA offering as relevant and impactful as possible. Winners of this award are recognised for their tireless efforts on various Class Committee Teams, featuring in published CEIBS articles and featurettes, liaising with business organisations for company visits, and providing additional resources for boosting wider awareness of the programme.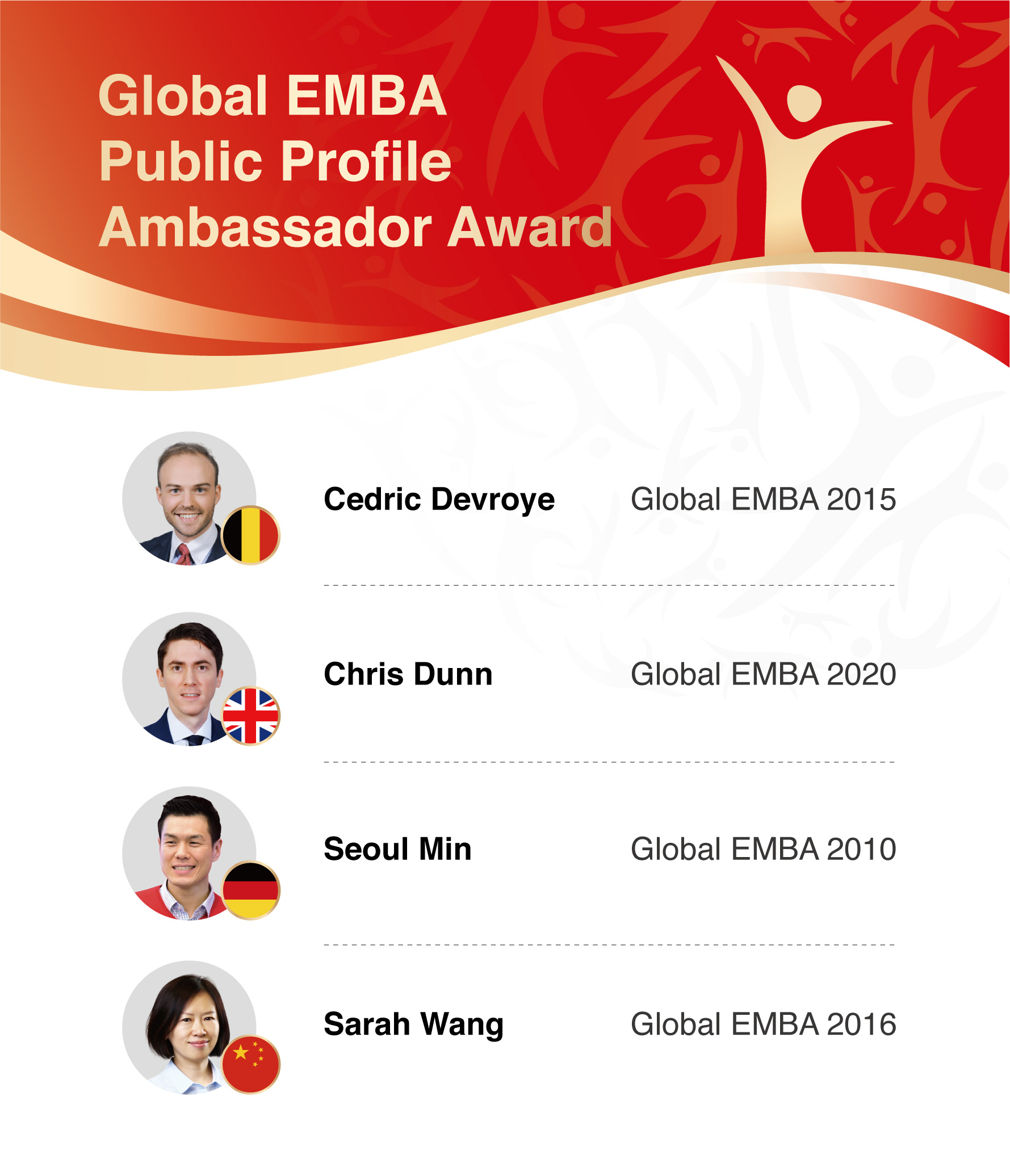 Business Development Ambassador Award
The Global EMBA "Business Development Ambassador Award" is given in recognition of alumni who help shape the future of the programme's interactions with real-world business organisations, keeping it as relevant and true to real-life business conditions as possible. Winners of this award stand out due to their active engagement of students and fellow alumni in unlocking the value of company visits, open days and direct connections to all manner of companies and business-related organisations.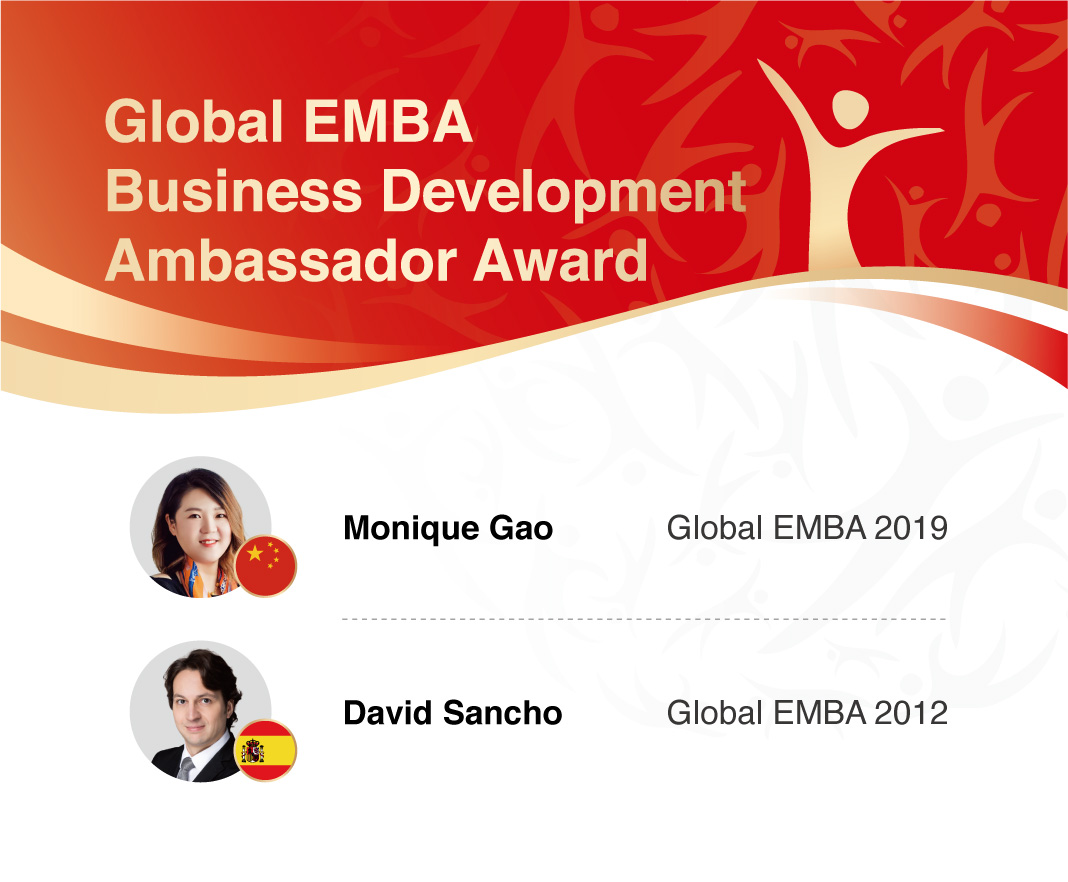 Admission Ambassador Award
The Global EMBA "Admission Ambassador Award" is designed to recognise the invaluable efforts of alumni who contribute their time and expertise to support the Global EMBA admissions process. This is a crucial function of the programme, as it ensures the competitive calibre of admitted students. Winners of this award diligently support our admissions efforts by routinely recommending candidates, assisting with candidate interviews, and joining campus visit days to share their insights and experiences with potential applicants.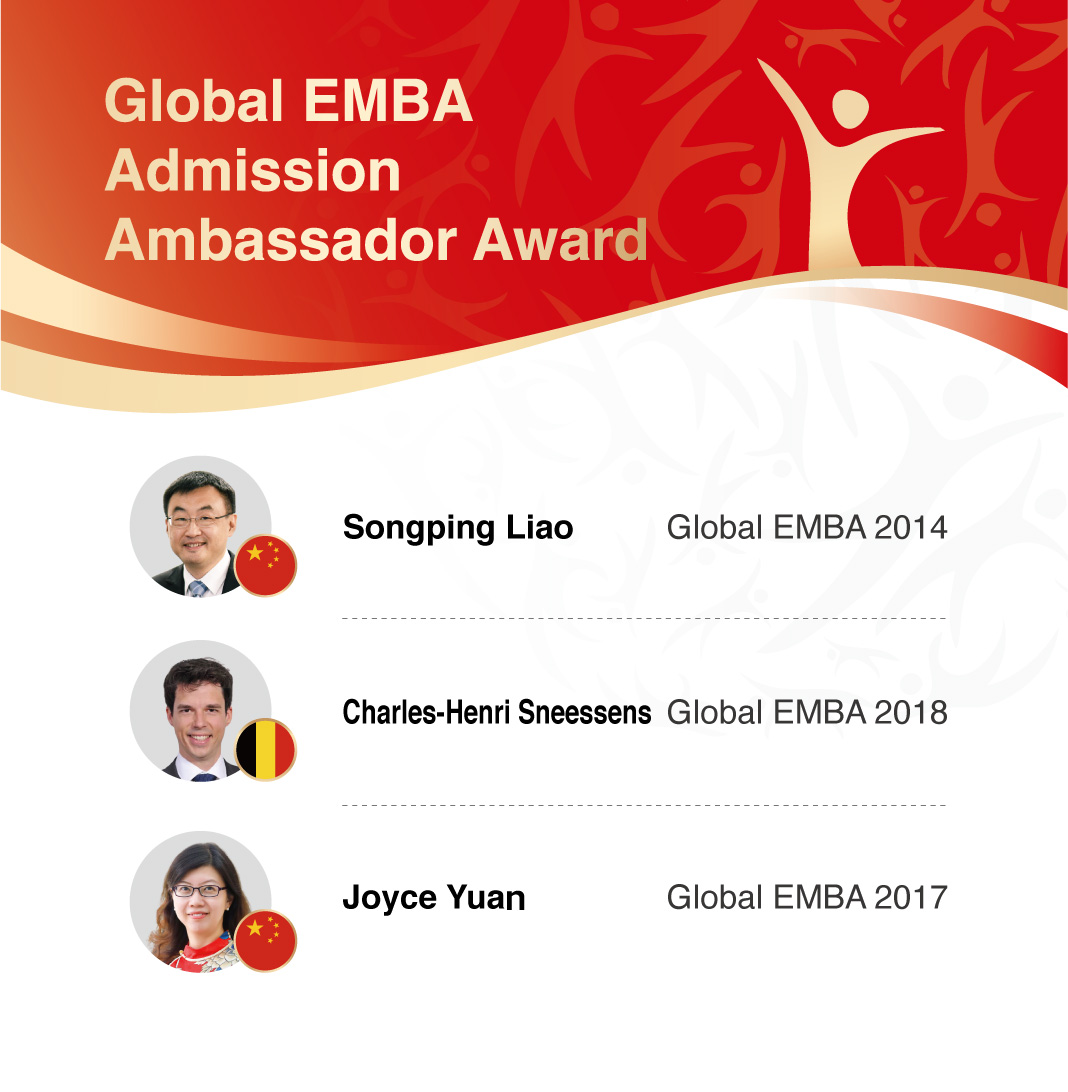 CSR Trailblazer Award
The Global EMBA 2020 CSR Team has taken a comprehensive approach to supporting various CSR ventures and initiatives established by classmates, raising a total of 376,000 RMB while setting up the Global EMBA 2020 Charity Fund in connection with Shanghai United Foundation. The fund was utilised in several worthy charity projects in 2021. These included DEBRA China, which supports children suffering with Epidermolysis Bullosa (EB) disease, the Henan Charity Fund for flood relief measures, the Sichuan Dazu Primary School to support local children's education, and the Shanghai Yiyou Youth Center to help preserve cultural heritage of minorities in mountainous areas.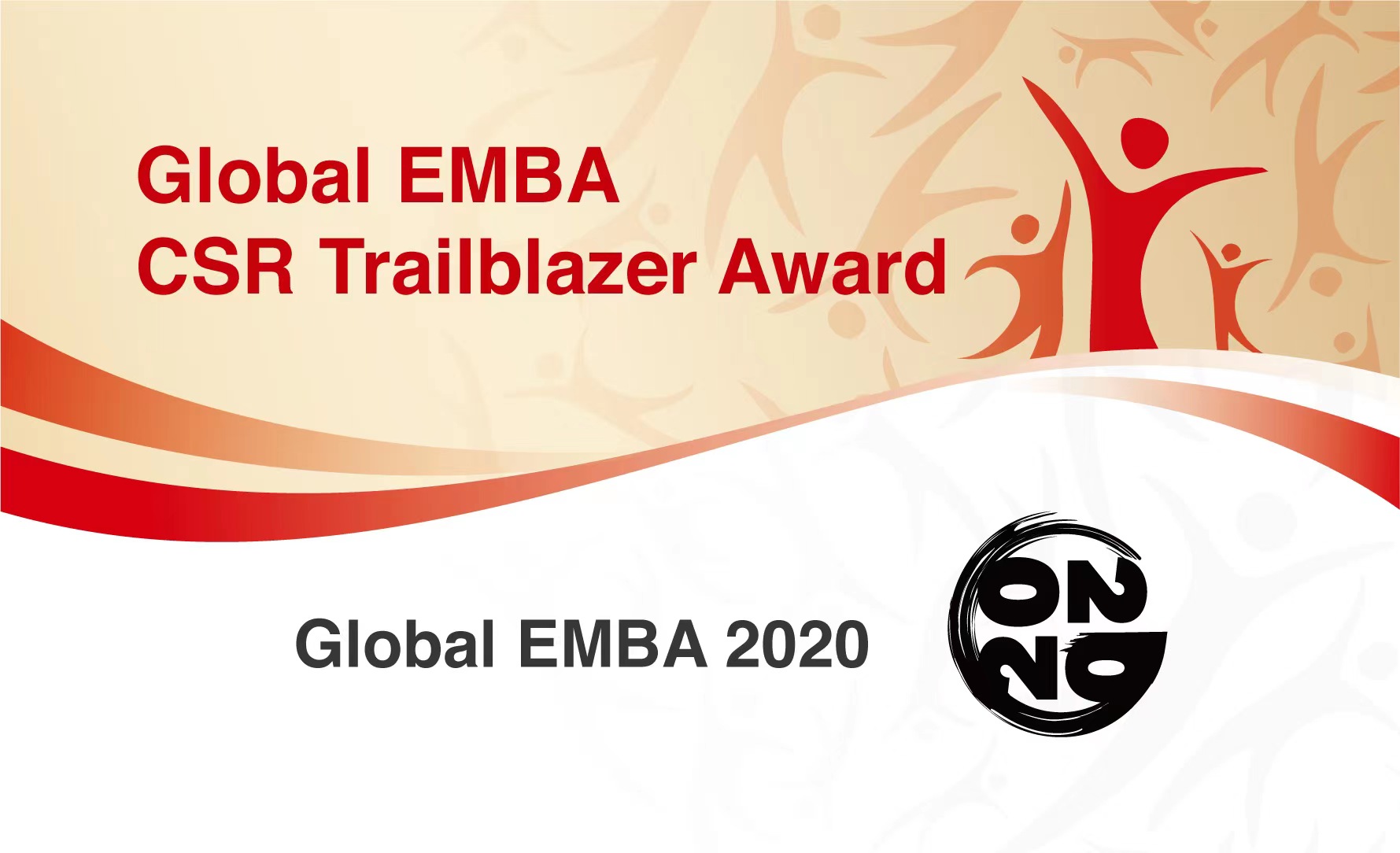 Thank You List
In addition to the award winners above, we would also like to extend our appreciations to the following alumni for their contribution to the Global EMBA community in the year of 2021 (in alphabetical order):


Note: Alumni who win any of the listed Global EMBA Alumni Recognition Awards are not eligible to win another award (from any category) for another three years. Hence, winners from the past three academic years were not eligible to win an award this year.