Saturday, November 06, 2021
100 New Global EMBA Students Launch their Learning Journey
November 6, 2021. Shanghai – Today, 100 students gathered at CEIBS' Shanghai campus to begin their opening module and be formally inducted into the Global EMBA programme. It is always a special time at CEIBS whenever a new class begins its studies, and this weekend was no different.
In formally opening the programme, CEIBS Vice President and Dean Ding Yuan gave the students a warm welcome on the first morning.
"As you know, we are facing a lot of changes in this new world both for business but also in the broader international context. We are all asking ourselves how should we cope in this new environment?" Prof. Ding said. "Increasingly, it is important to reflect on how we can impact others – not just shareholders and investors, but society as a whole. These are the new questions for our business leaders and I am sure that in the next two years of studies and exchanges with student colleagues and professors you will develop your thinking in the right direction. I wish you a very successful learning journey and professional life."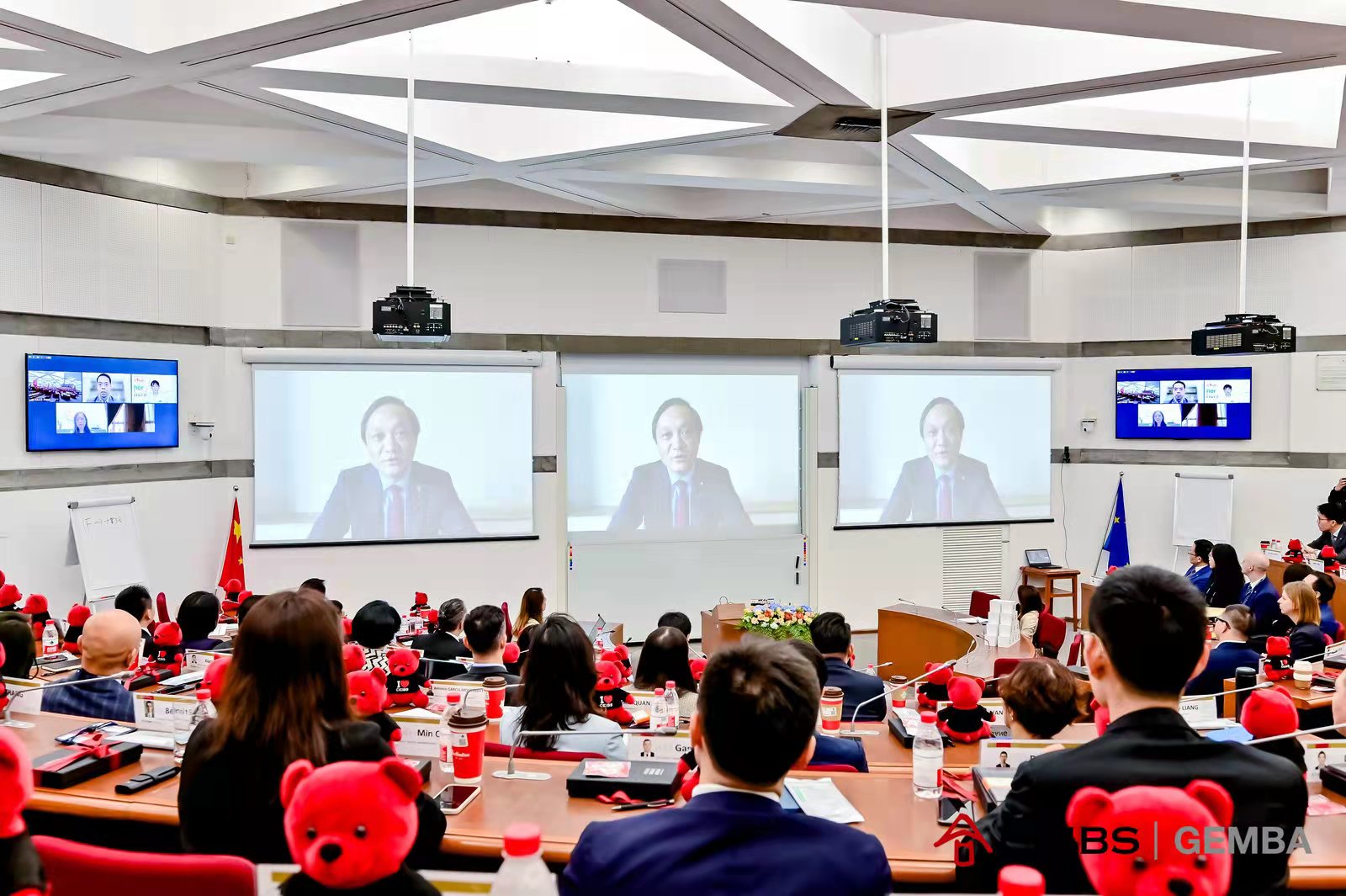 CEIBS Vice President and Dean Ding Yuan
After a first day filled with introductions, networking and introductory lectures, the class convened for the opening ceremony and banquet. During the event, CEIBS Associate Dean and Global EMBA Director Professor Bala Ramasamy welcomed the students and highlighted the need for all students at CEIBS to enter into their learning journey with the understanding that they are here to deepen their sense of responsible leadership, as well as their business knowledge and capabilities.
"We are delighted to welcome you all to CEIBS as you strike out on another branching path of your lifelong learning journey. Before you begin what will hopefully be a transformative couple of years, pause for a moment and reflect on the end of your time here, and what kind of business leader you want to be when you leave," Prof. Ramasamy told the group. "There is a desperate need, globally, for responsible leadership, across every industry and function. Increasingly, the world is waking up to the necessity of taking sustainable, responsible actions to solve our shared economic and environmental problems – though perhaps not fast enough. It falls to leaders like you to speed this process up, to encourage and nurture the kind of organisational changes that responsible leadership dictates."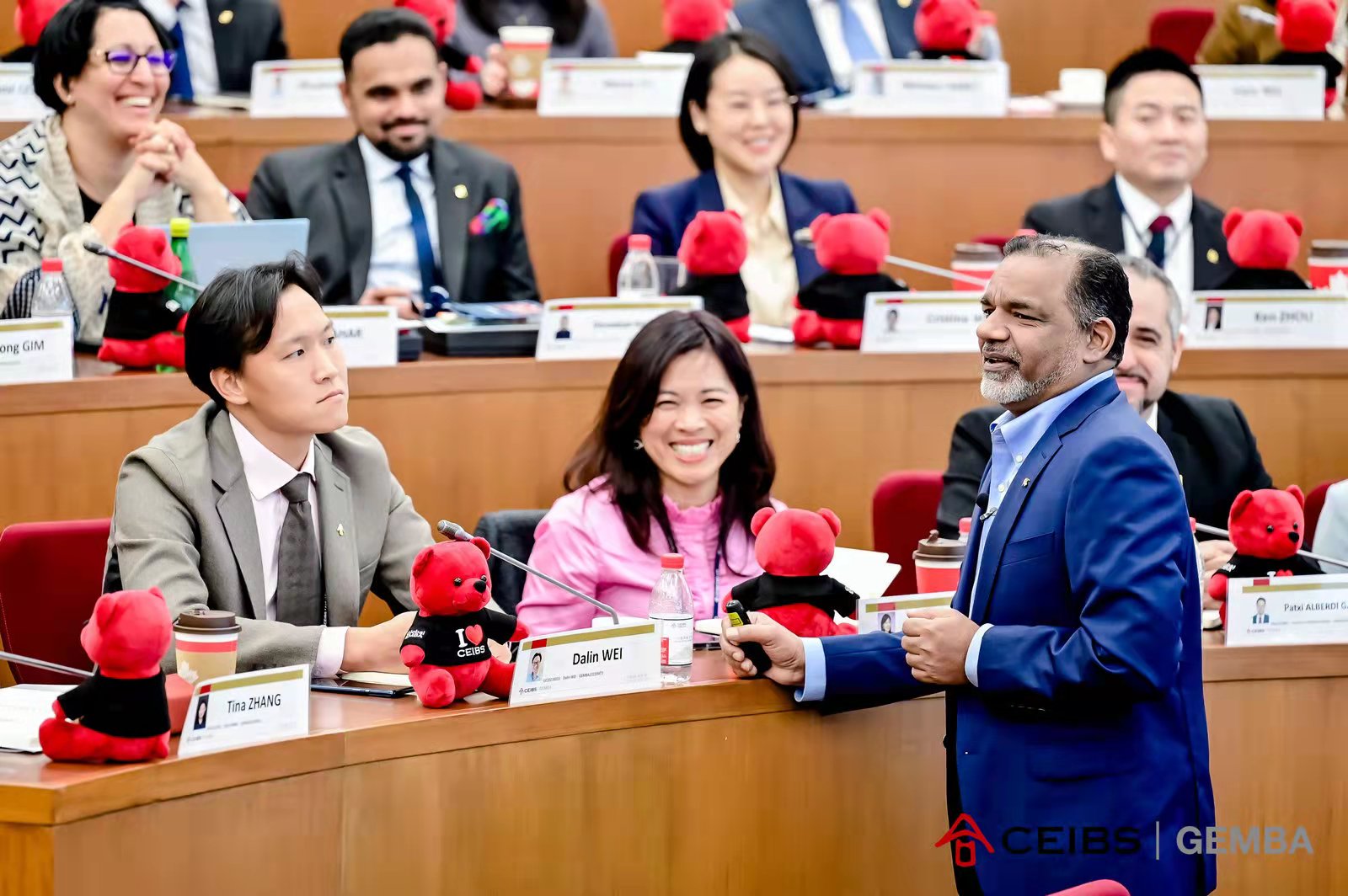 CEIBS Associate Dean and Global EMBA Director Professor Bala Ramasamy
Global EMBA 2021 - A truly diverse class
The latest intake of Global EMBA students is a highly diverse and accomplished class. With an average age of 39, students have 16 years of work experience on average. Over half (53.5%) of the students already hold a Master's degree or higher.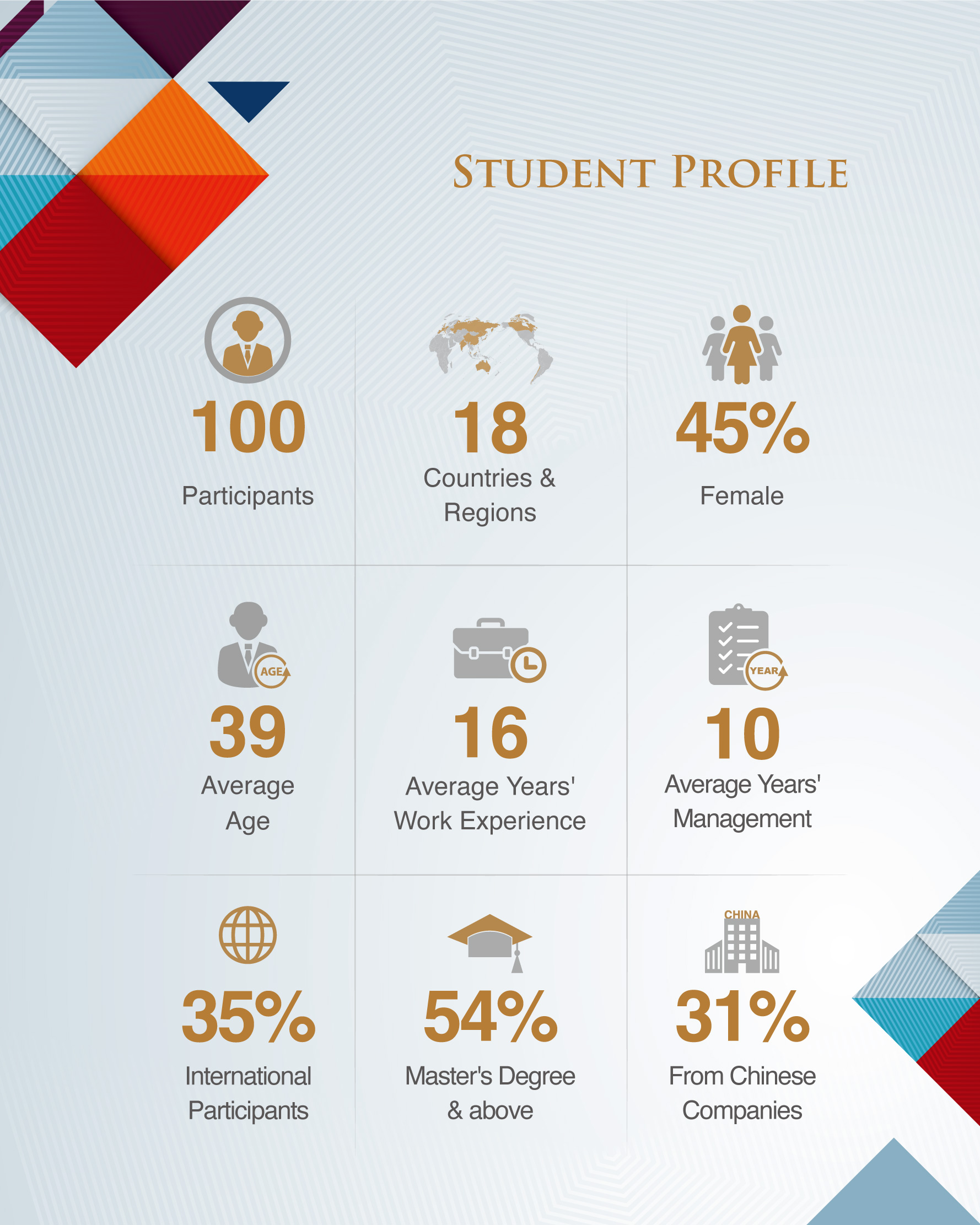 The group is also drawn from highly diverse backgrounds, not only in terms of of nationality, but also gender, industry and company type. 35% are international students, originating from 18 countries and regions across five continents. 45% are female, an all-time high for the programme.
One third of this year's students are currently working for Chinese companies. This is an exciting development, as it further diversifies the class make-up while also highlighting the accelerating trend of big-name Chinese companies aiming to develop the global outlook of their key executives. With students representing Alibaba, Huawei, CTrip, Jingdong (JD) and more, they will all be better positioned to look for inspiring examples of corporate innovation both within China and outside of it.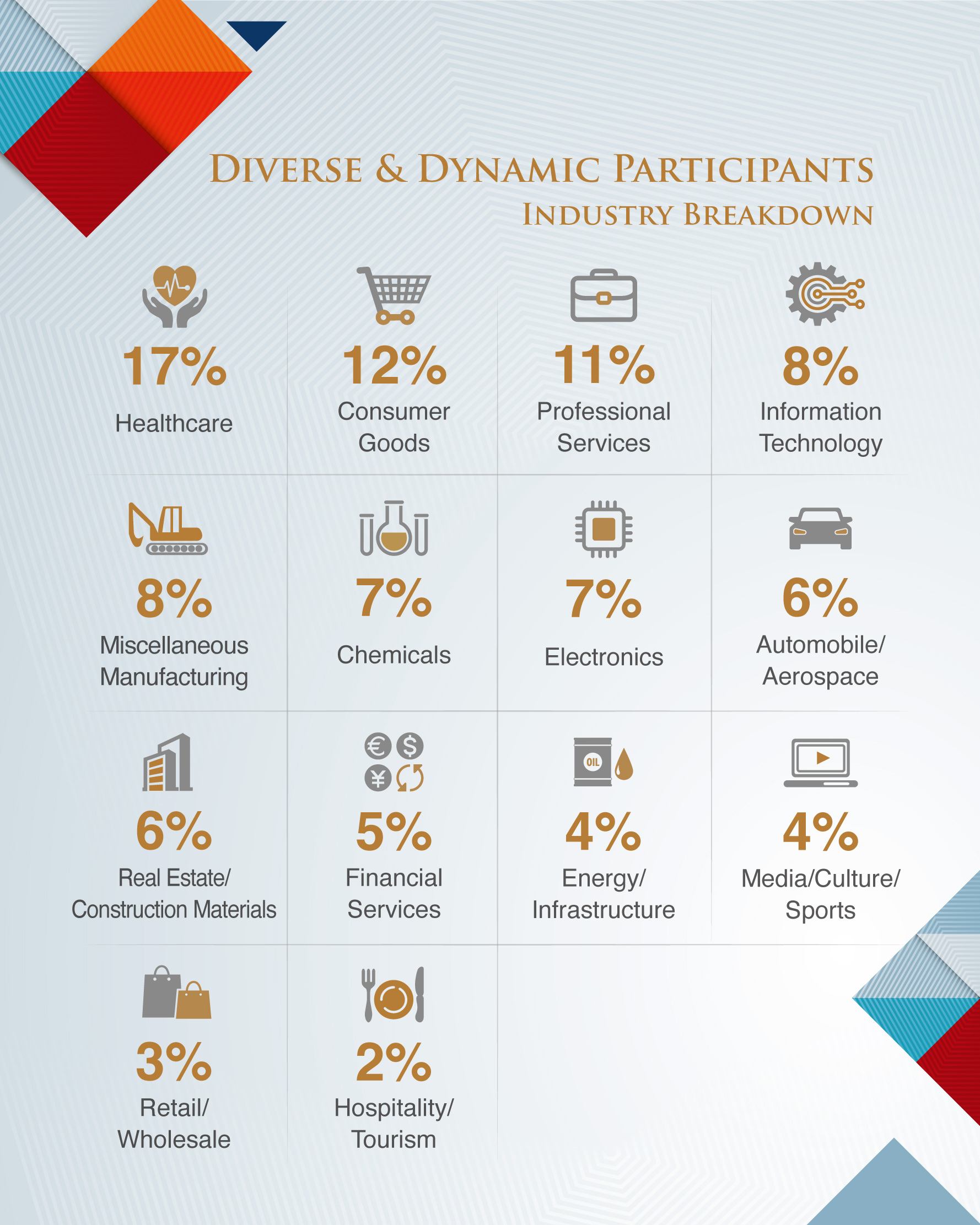 Numbering a full 100 members, the programme has returned to its pre-pandemic class size. This is another cause for celebration, as it demonstrates the confidence and resilience of both the Global EMBA programme and the Chinese economy. It also shows that students see the value in bolstering their management education in order to overcome the challenges and uncertainty that the pandemic has brought globally.
Getting to know one another
As dictated by tradition, the programme's opening ceremony gave representatives from the incoming class the chance to give speeches alongside students from other Global EMBA cohorts.
Representing Class 2 of the new cohort, Cartier China Head of FP&A Cécile Français shared some of her expectations for the journey ahead.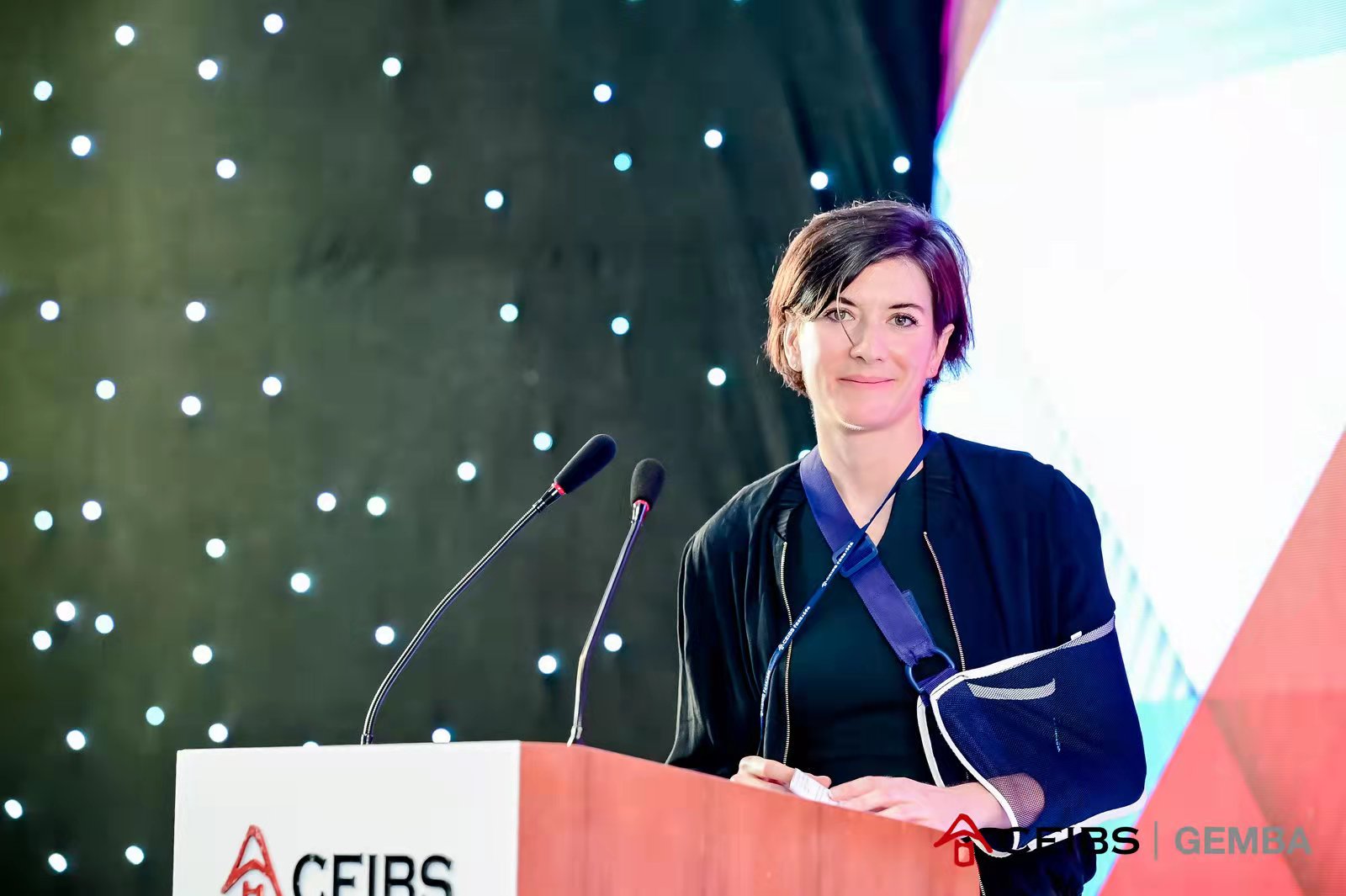 Cécile Français, CEIBS Global EMBA 2021
"Sharing, discovering, exploring, daring, risking, trusting, learning, transforming, creating – I expect the deep meaning of all those words to be explored in the coming days, weeks, and months. Together we embark on this journey of becoming the leaders of tomorrow, facing the new challenges of our generation." 
Representing Class 1 of the new cohort, Shanghai Lingwei Intelligence Partnership Enterprise Founder and CEO Heling GU also expressed his ambitions and expectations for the programme.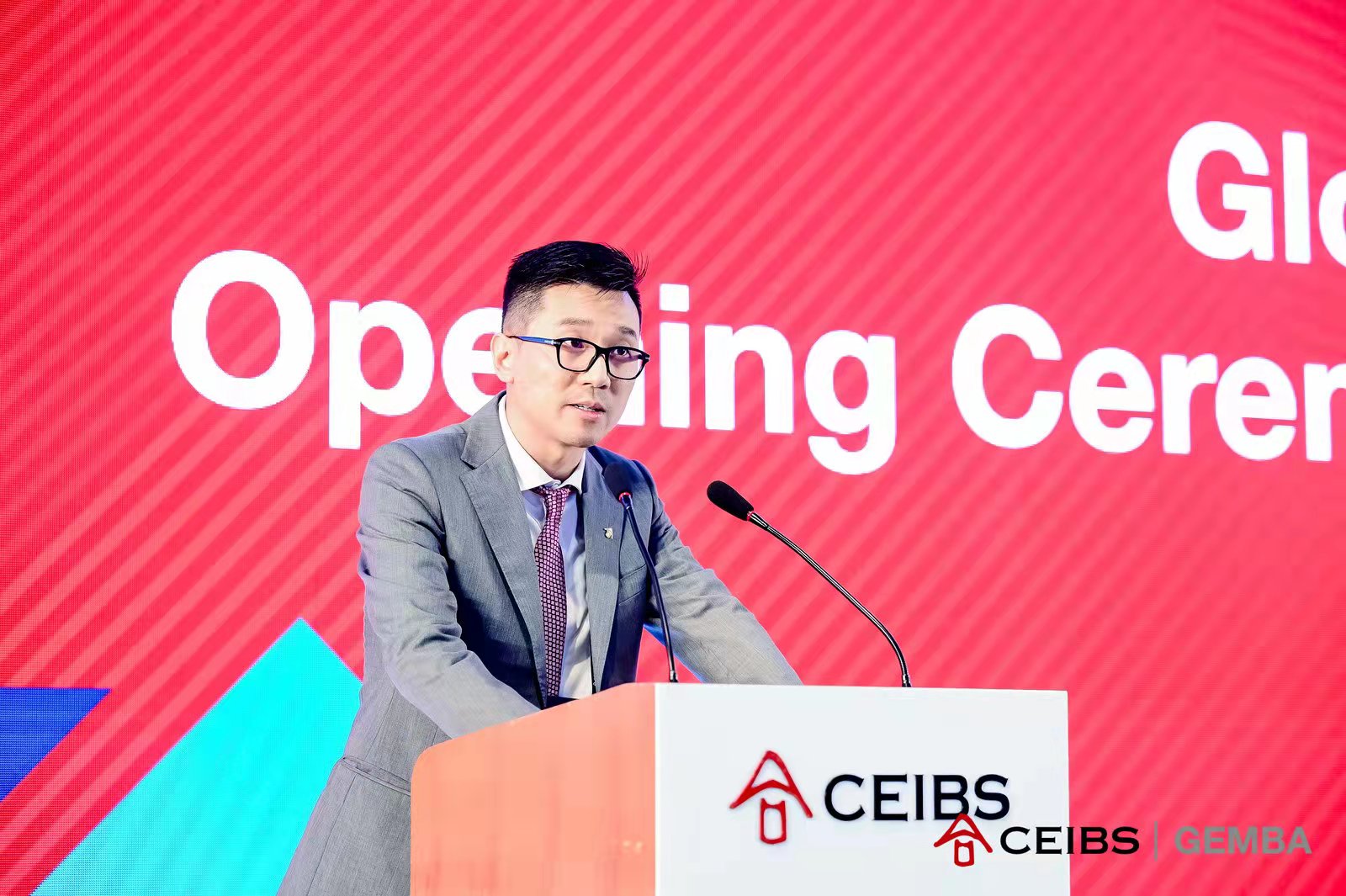 Heling GU, CEIBS Global EMBA 2021
"I am here to realise my goals of returning to school having experienced the complex commercial world, joining a big CEIBS family and linking up with elites of all kinds of backgrounds," he said. "I'm anticipating our professors' systematic knowledge to gain deeper insights and to address bigger challenges in the future."
The audience also heard from CFO of Pandora China and Global EMBA 2019's Rosa Tao and Global EMBA 2020's Chris Dunn MBE, Deputy Director (China Region), UK Department for International Trade. Between the speeches, the Global EMBA 2021 class were treated to a short welcome video that shared some key highlights of the incoming cohort. The class was then given an introduction from a selection of Global EMBA alumni about some of the opportunities and perspectives that they can expect through the CEIBS and Global EMBA community over the forthcoming 20 months, from sports groups to the Gobi Desert Challenge and from gaining new insights from company visits to industry groups.
The welcome banquet - A final celebration before the work starts
With the formal part of the opening module's welcome address over, the 2021 class were able to relax, mingle and enjoy an evening banquet. This was a chance for all of the incoming students to not only strike up friendships with their classmates, but to also connect with the wider Global EMBA community. Nearly 70 alumni (dating back as far as the Class of 1996) were in attendance, together with a dozen CEIBS faculty members, to celebrate the arrival of the 2021 class and to introduce them to the unique community and culture that the Global EMBA programme espouses. They were all eager to impart their wisdom and offer advice on various parts of the programme as well as more general elements of life at CEIBS.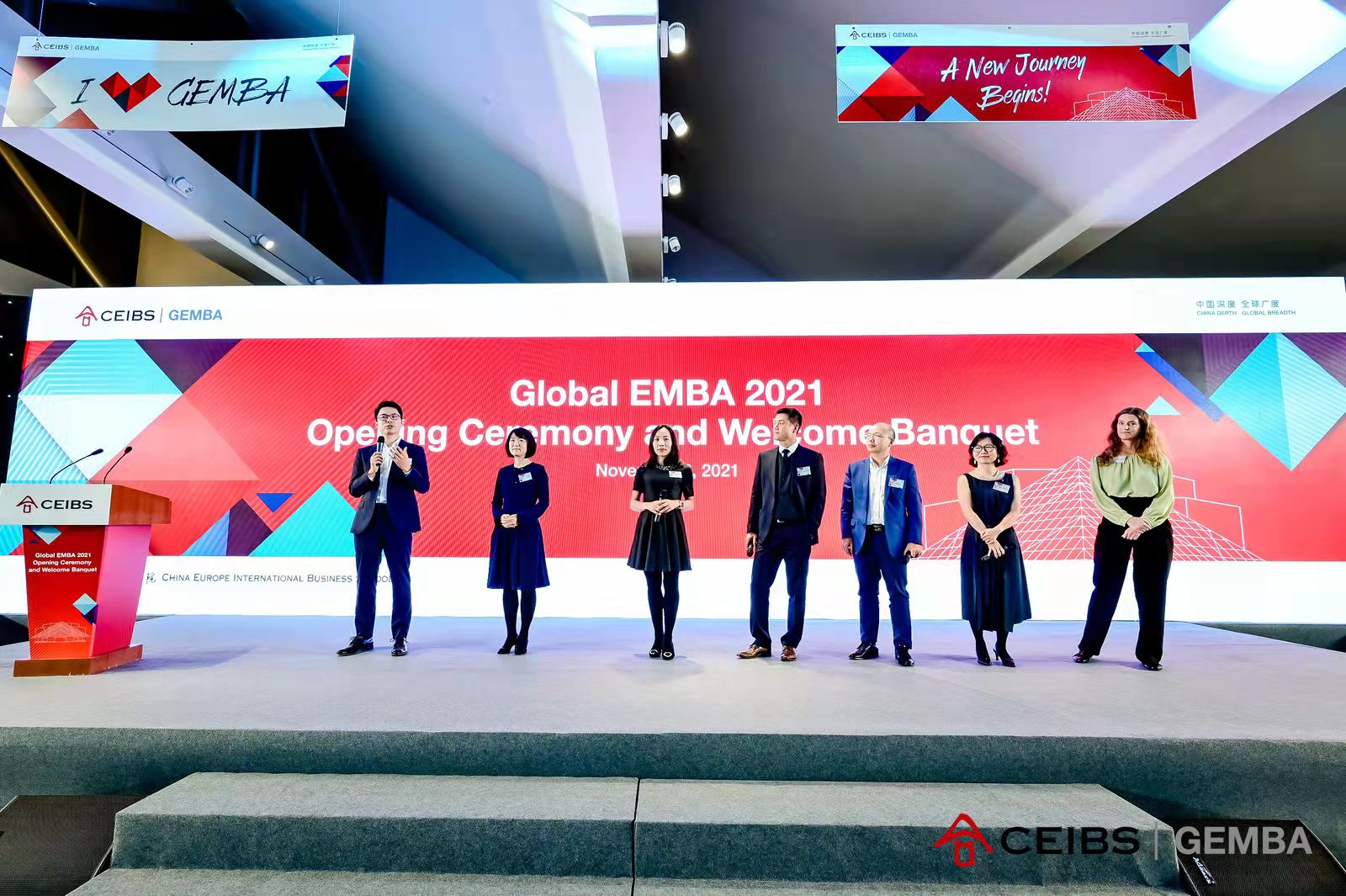 CEIBS Global EMBA Alumni 
Fully inducted, registered and welcomed into CEIBS and the Global EMBA programme, the students of the 2021 class now have an intense eight-day module ahead of them, led by CEIBS Professor of Management Katherine Xin. The opening module blends classroom learning with practical activities that are both physically and emotionally demanding. Chief amongst these are the varied experiential leadership activities, where students will take an in-depth look at their own leadership capabilities and shortcomings with the guidance of expert leadership coaches. The outdoor pursuits day is another invaluable chance for students to put their leadership skills to the test far beyond the comfy confines of the classroom or boardroom.
We are delighted to welcome all 100 members of the Global EMBA 2021 class to CEIBS. We wish them every measure of success, satisfaction and enjoyment on their learning journey!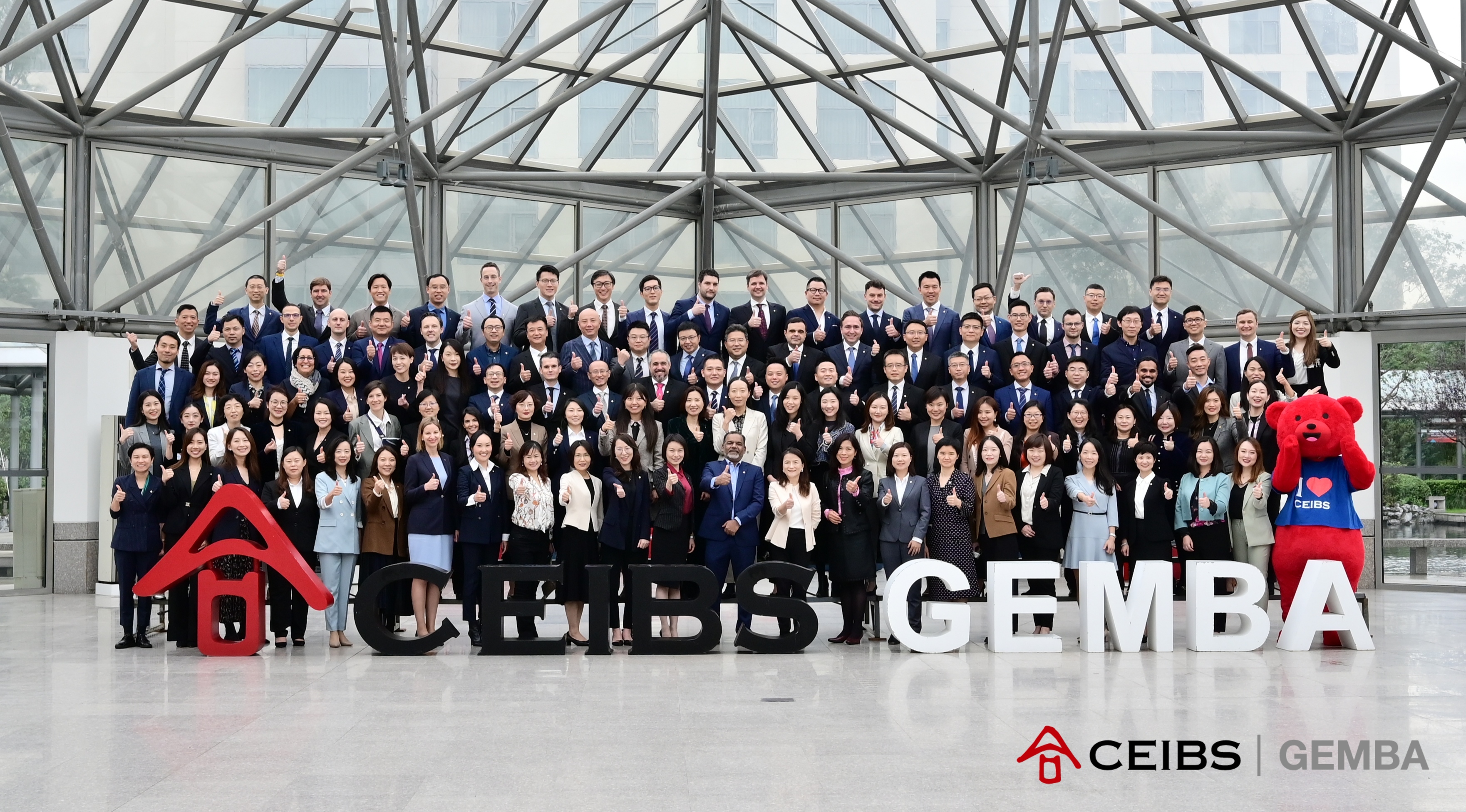 CEIBS Global EMBA 2021 Class Photo