Tuesday, September 28, 2021
New book delivers roadmap for corporate-startup partnership success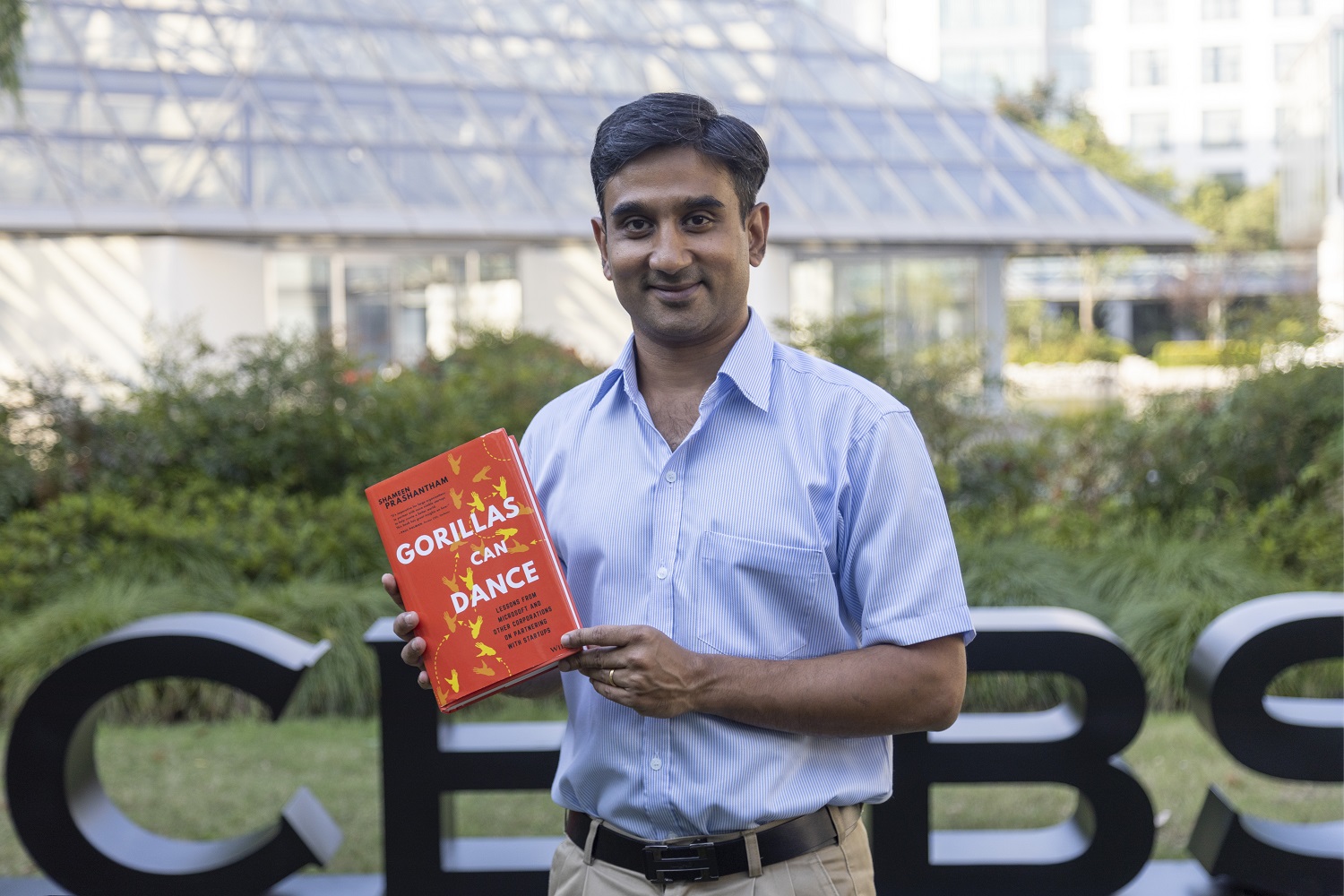 "It is imperative for the larger organisations to partner effectively with the more nimble startups to help create a better world for all. This book has some great insights on the how."
— Paul Polman, Former CEO, Unilever
September 28, 2021. Shanghai – Corporate-startup partnerships offer great potential, but aren't always straight forward, according to a new book by CEIBS MBA Director and Professor of International Business and Strategy Shameen Prashantham.
Gorillas Can Dance: Lessons from Microsoft and Other Corporations on Partnering with Startups draws on more than a decade of international research in exploring the why, how, and where of effective corporate-startup partnering.
As Prof. Prashantham explains, increased disruption and a fast-changing environment have now made it imperative for corporations to engage with startups. Moreover, a growing trend towards doing so has shown that partnering is more than just a passing fad.
"I think by now most big companies have realised that they have to be more entrepreneurial, and that partnering with startups is one way to do this. Now, people are grappling with, but how do we do it? How do we really make this work?" he says.
Partnering is great, but not always easy
As Prof. Prashantham's book notes, corporate-startup partnerships can lead to new opportunities and more revenue, while generating new ideas, alternative approaches and business models. That said, while partnering sounds great, it is not always easy.
"The first thing to recognise is that partnering with startups is non-trivial. Many companies have developed good partnering capabilities when it comes to other big companies, but it's important to understand that when you're dealing with startups you may need to do things in a different way," he explains.
Furthermore, partnerships between corporations and startups often prove to be what Prof. Prashantham describes as a double-edged sword. On one hand, their differences are what make them attractive to one another; on the other hand, these differences can also make it difficult to work together.
"They often want to achieve different things at different time scales, and there are different types of hierarchies on both sides, making it difficult to find role counterparts. Big companies also see an ocean of startups out there, and they're not clear which ones are worthy of their attention," he says.
Indeed, much of the focus of Gorillas Can Dance is aimed at shedding light on how companies can better understand and address these challenges. For one, Prof. Prashantham states, partners should seek to clarify their synergies. While that may seem obvious, in practice, it often isn't.
"Making clear what the win-win is and creating interfaces so that startups know who their first port of call should be are important. Experienced corporations also cultivate exemplars – success stories – so that it becomes evident where managers should be focusing their attention," he says.
Scope for social, global impact
Gorillas Can Dance further makes the point that, in today's globalized world, corporations now have the prospect of partnering with startups across different locations – from Silicon Valley to the Middle East and from Beijing to Africa. Emerging economies, in particular, offer great potential and many corporations are now vying for the attention of local startups in these regions.
"I hope managers don't lose sight of the huge advantage that they have, especially when they're part of a large multinational, to tap into different startup ecosystems around the world," Prof. Prashantham says.
In addition to jointly creating economic value, Prof. Prashantham highlights the role corporations and startups can play as a force for good in the world. And, perhaps nowhere is the need for social and environmental impact more apparent than in the challenges represented by the United Nation's 17 Sustainable Development Goals.
"I sincerely hope that in the current UN Decade of Action, where the world really needs to do its very best to advance the sustainable development goals, that corporate-startup partnering will play a very important part. SDG 17 is, in fact, about partnering for the goals," he says.
Ultimately, whether thinking or acting either globally or locally, Gorillas Can Dance delivers the message that large corporations should embrace the challenges at hand, keep an open mind and look beyond their own backyard for answers.
"One of the ways companies can navigate this very complex world is by recognising that they don't have to do it all themselves. Partnering with other companies, dissimilar others and non-traditional allies is very much part of how we can come up with the creative solutions that we need. And boy, do we need them," Prof. Prashantham says.
Gorillas Can Dance: Lessons from Microsoft and Other Corporations on Partnering with Startups is published by Wiley. It is now available in print form in North America and will be available in Europe on November 23. It is also available in e-book format via Wiley.com here. Watch the complete video interview with Professor Shameen Prashantham about his book here. For more details, please visit the official Gorillas Can Dance website here.