Faculty & Research
---
Knowledge creation on China, from proven China experts.

Faculty & Research
---
Knowledge creation on China, from proven China experts.

Faculty & Research
---
Knowledge creation on China, from proven China experts.
Friday, August 27, 2021
One Year On: Have Businesses Fully Recovered in China?
Insights from the 2021 China Business Survey Report
Amidst the far-flung global consequences of the COVID-19 pandemic in 2020, China was the only major economy to register positive economic growth. According to the World Economic Outlook released by the International Monetary Fund in April 2021, worldwide economic recovery is around the corner and world trade in general is upbeat. Admittedly, China enjoyed a relatively fast economic recovery thanks to effective measures to contain the epidemic, yet the trajectories of recovery differ amongst various industries and enterprises.
Earlier this year, we conducted an online survey of 1,188 executives (95% of whom were CEIBS alumni or students) to probe into the operations of China-based enterprises during the epidemic and adjustments they made in response. The results were published in the 2021 China Business Survey Report.
Manufacturing Exceeds Services in Terms of Operating Revenues and Recovery
The official PMIs (Purchasing Manager Index) for manufacturing and services indicated signs of recovery for both sectors from March 2020, and a sustained rise thereafter. However, the manufacturing industry has outperformed the service sector in terms of overall operating revenues in 2020. Due to the impact of the epidemic, the business activities of the service sector in China suffered a heavy toll and will require longer to recover before returning to their pre-epidemic levels in terms of operating revenues.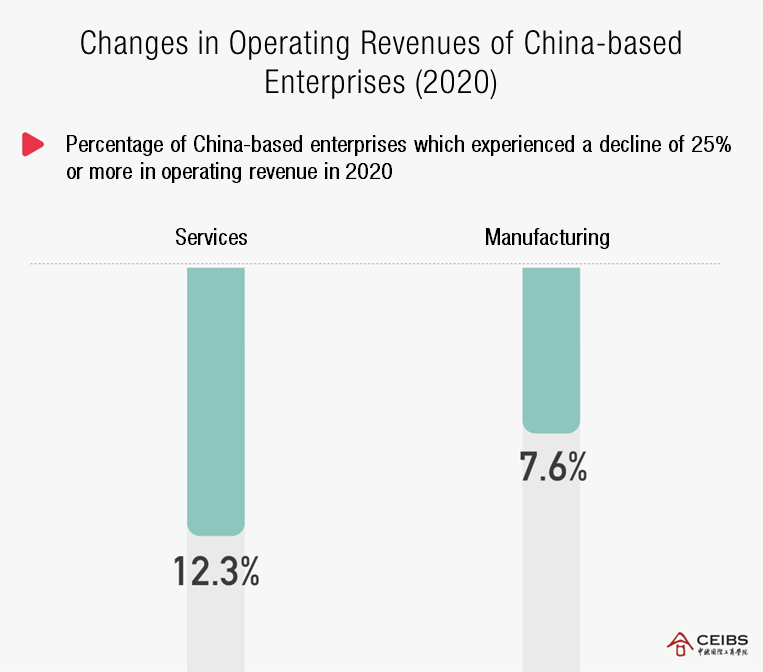 The heaviest hit segments of the service sector have been catering, accommodation and tourism, education, logistics, transportation and warehousing, as well as culture, entertainment and recreation.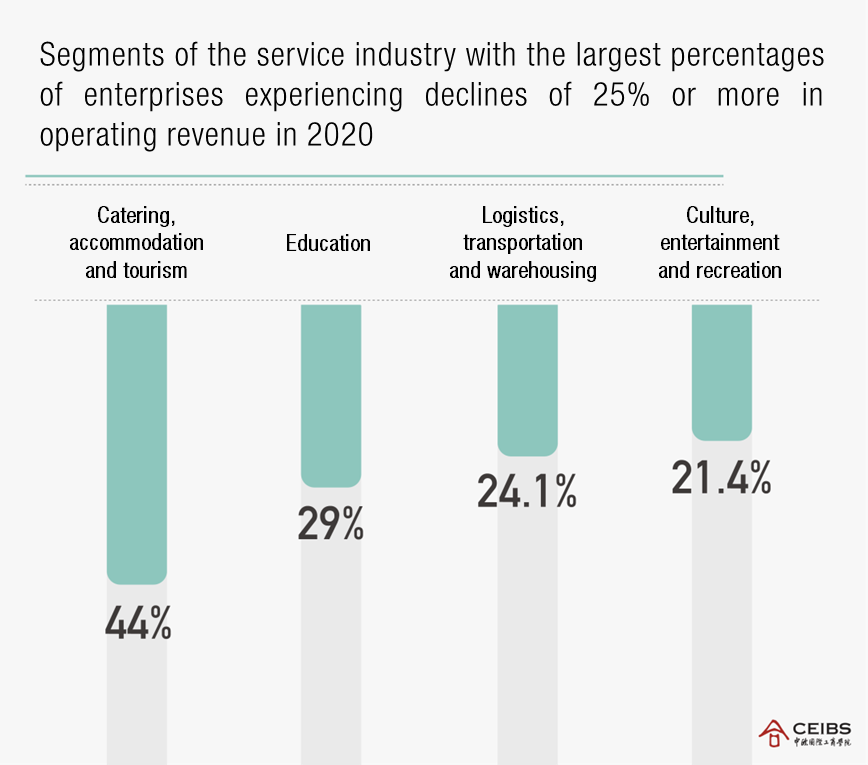 In manufacturing, the segments with the largest share of enterprises that have witnessed a decline of 25% or more are agriculture, forestry, animal husbandry, fishery and mining, medical products and devices, and consumption goods.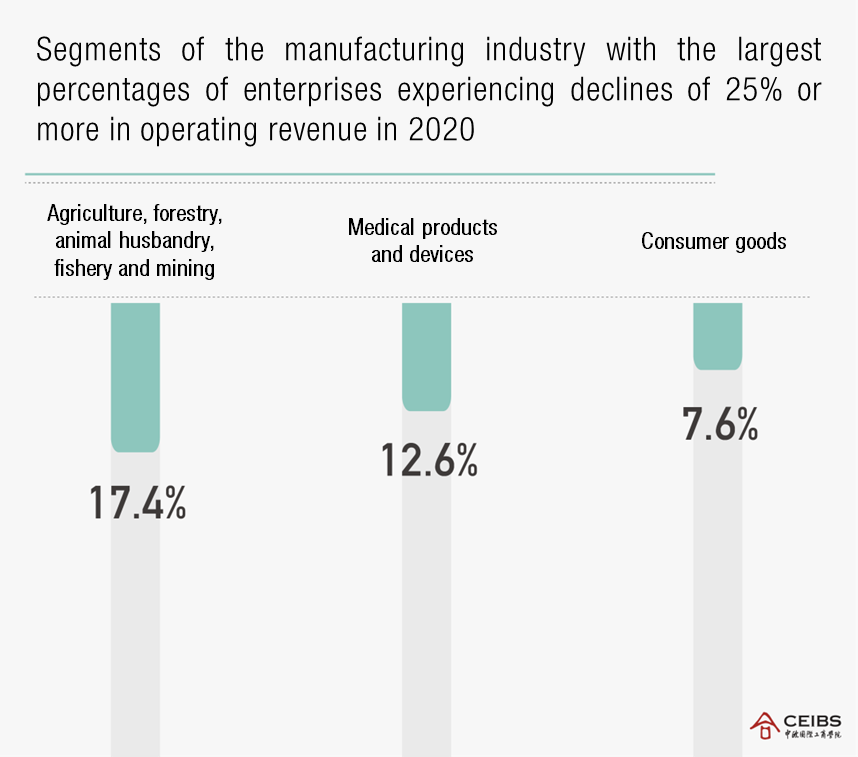 The Chinese Business Report 2020 (last year's edition of the report) predicted revenues for both manufacturing and services would recover to 80% of their pre-epidemic levels within a relatively short time, with 42% and 48% of such enterprises respectively being able to resume 80% of their business activities in China by the end of 2020 Q2.
However, our investigation this year has shown that by the end of that time, only 40.7% of manufacturing enterprises saw their business activities restored by 80%, while the service sector was even lower, standing at a mere 34.8%.
In addition, at the time of our research (in April 2021), 6.6% of manufacturing enterprises and 9.6% of service companies were still below 80% of their normal operating levels, indicating the impact of the pandemic has endured longer than expected.
Supply Chains: The "Hardest Nuts to Crack" During the Epidemic
Last year's report also showed the manufacturing sector's biggest operational difficulty was in their global and domestic supply chains. This year's data seems to provide more evidence of this; however, there not been much difference in the amplitude of negative impact that these companies' supply chains have suffered on the international and domestic fronts, indicating that China's pandemic control measures have not resulted in any significant regional differences as far as supply chains are concerned.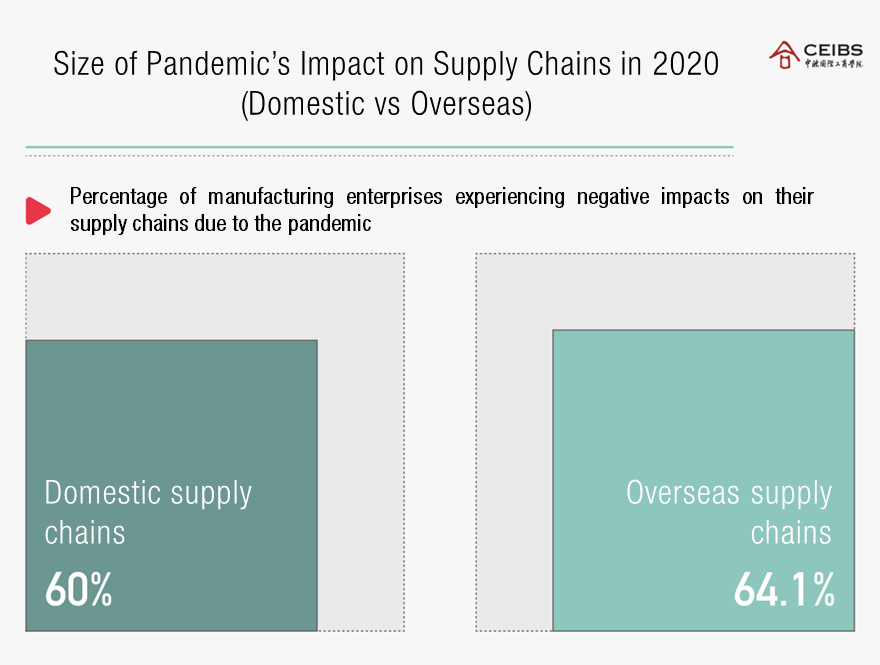 Human Resources: Are Enterprises Laying Off Employees During the Pandemic?
Last year's report showed that in terms of human resources management, most enterprises abstained from layoffs and pay cuts. This year's survey has shown that the overall situation of the labour market is better than expected, with no massive unemployment and even an expansion of recruitment in some sectors and enterprises. It is also in this sense that we have again concluded that the recovery in services is even more unstable than in manufacturing.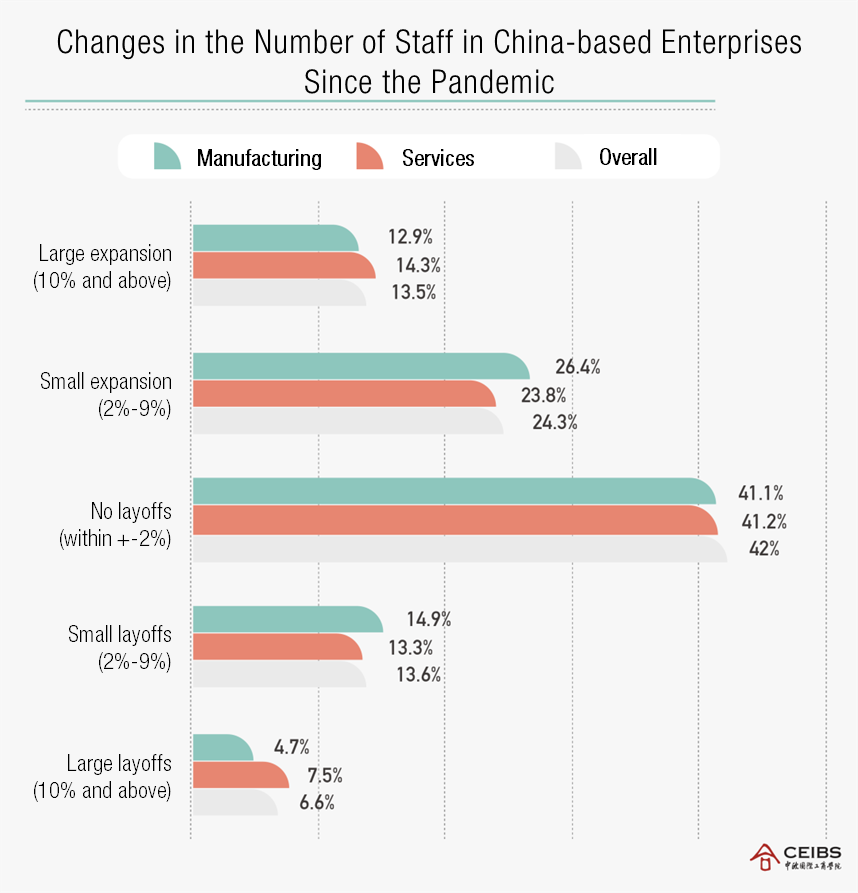 Compensation: The Part That Concerns Employees Most
It is worth noting that this year more than 40% enterprises have awarded pay rises. Still, the momentum of recovery is stronger on the manufacturing side.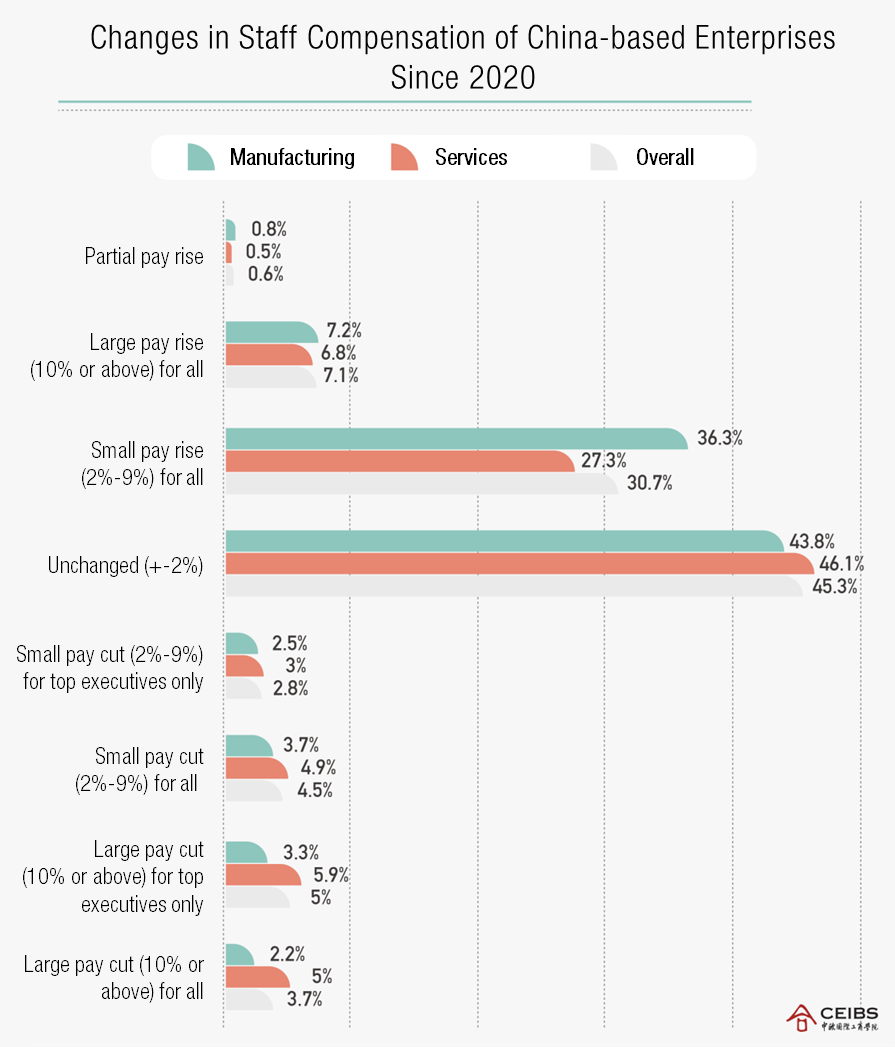 Confidence in Doing Business in China
In this year's report, we also focused on enterprises' concerns over social, economic and other external changes that could influence their operations in China, as well as executives' confidence in their success for the next few years.
We have found that manufacturing and services enterprises have focused on three major factors concerning their operations in China in 2021. These are 1) policy implications for the company's businesses, 2) China's relations with the US and the West, and 3) the effectiveness of epidemic controls in China.
At the same time, the top concern for foreign ventures doing business in China over next five years is how relationships between China and Western countries will evolve. Most foreign ventures, private companies and SOEs have considered the business environment in China to have improved over the past five years. However, depending on their ownership structure, companies offered different opinions when it came to evaluating the international environment that they face when doing business in China, with over 40% of enterprises perceiving a deteriorating trend in the international operating environment. Private enterprises were the most critical, with 8.5% believing the international environment has significantly deteriorated.
Although confidence in doing business in the short term has improved over last year's survey, long-term confidence remains largely unchanged.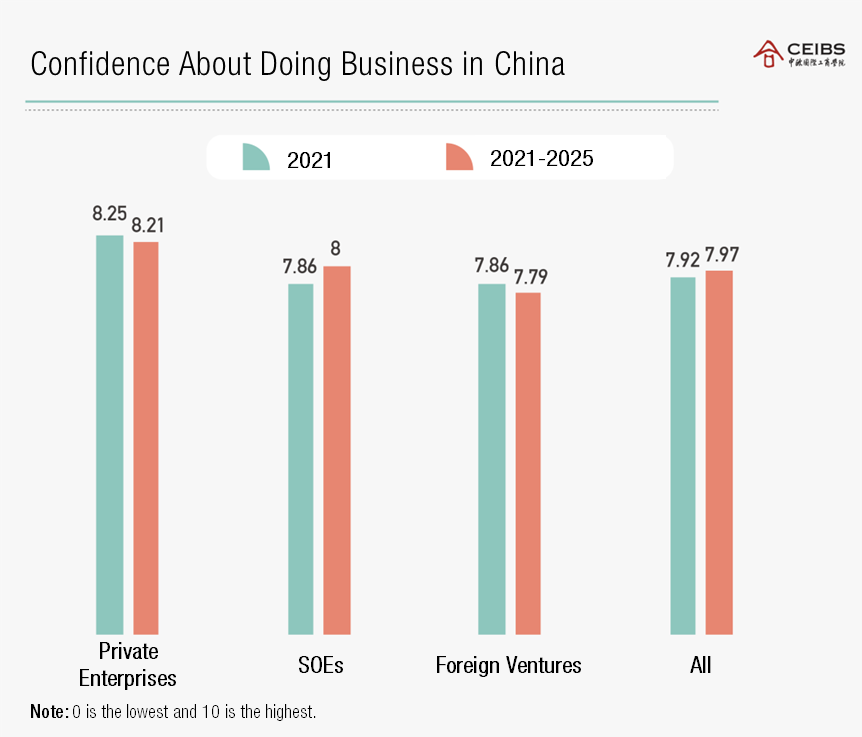 Finally, by industry, we also saw that confidence has skyrocketed in services, catering, real estate, logistics and retailing, but has fallen in education for the next 5 years.
Manufacturing has seen a significant improvement in short-term confidence, and in the sectors of communication, agriculture, forestry, animal husbandry, fishery, mining, mechanical equipment, automobile manufacturing, and transportation have also shot up significantly. The long-term confidence rating remains largely the same as last year.
Based on our report, we can see that although the trajectories of various China-based enterprises differ, with the service sector bearing the brunt of the difficulties, in general recovery is still anticipated. In the medium-to-long run, China will still be one of the most vibrant markets in the world, and executives' responses to this survey largely demonstrate firm confidence in the future of China's economy.
Editors: Cameron Wilson and Michael Thede
Howei Wu is an Assistant Professor of Economics at CEIBS. Bin Xu is a Professor of Economics and Finance, and Dongsheng Zhou is a Professor of Marketing. All three are full-time faculty at CEIBS.