Saturday, April 22, 2023
CEIBS Celebrates MBA 2023 Graduation
The CEIBS MBA Class of 2023 enjoyed their long-awaited graduation day ceremony this weekend, the culmination of a lot of hard work undertaken during some of the most volatile years in modern history.
With the worst of the pandemic and subsequent lockdown events seemingly behind us, it was the first MBA graduation event to be held on campus without COVID-related restrictions since 2019 – a welcome contrast for everyone involved.
Joining them to mark this special moment of transition from students to alumni were more than 20 CEIBS faculty, senior leadership, and mentors, as well as the MBA programme's office staff.
Serving as the host for the celebrations, MBA Programme Director and Professor of International Business and Strategy Shameen Prashantham welcomed everyone to the Shanghai campus and introduced the gathered speakers before turning things over to the school's Presidents and Vice Presidents to deliver their congratulations and best wishes.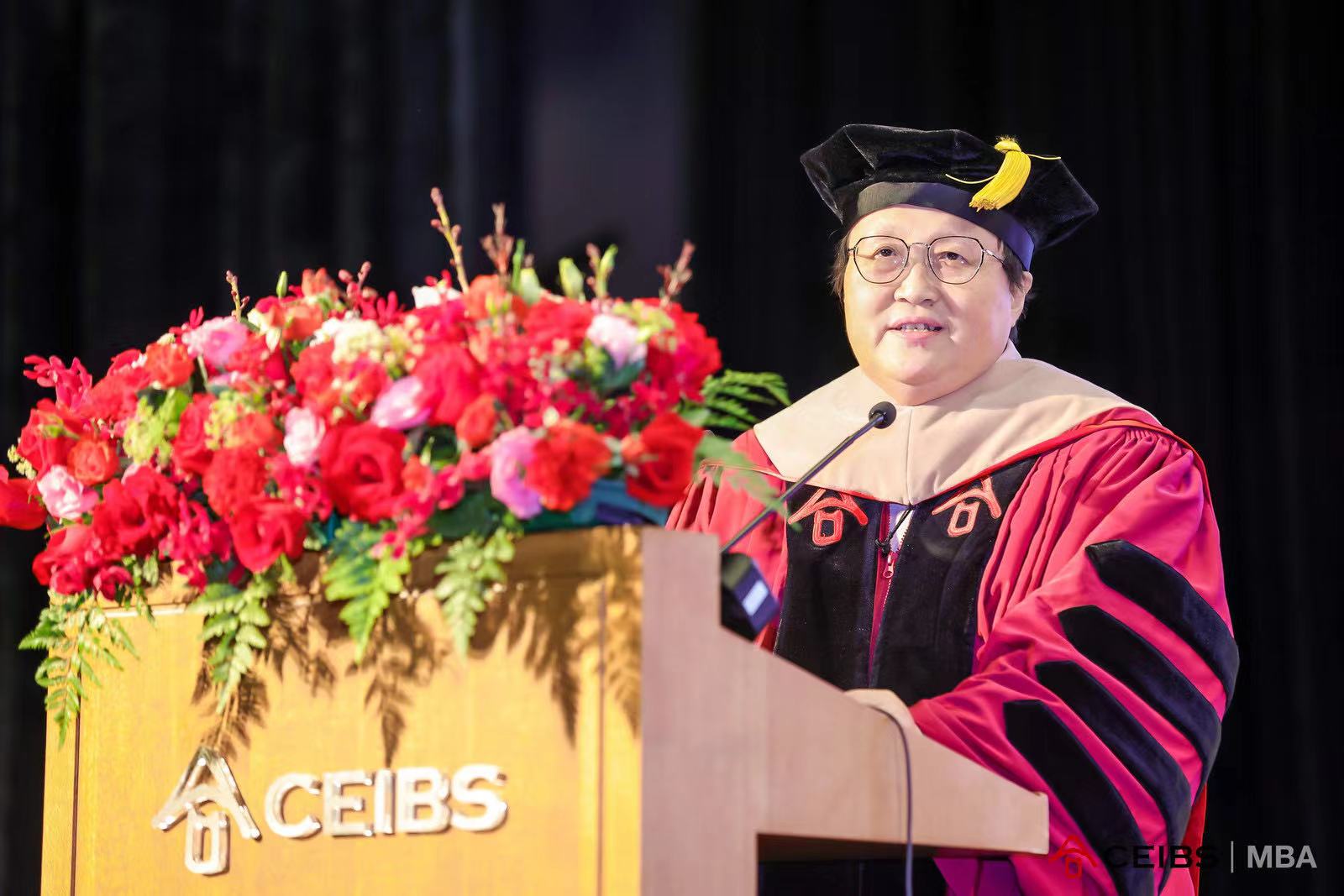 CEIBS President Wang Hong
The first address was from CEIBS President Wang Hong, who congratulated the graduates on overcoming difficulties and reaching their graduation, while putting forward three hopes.
"For CEIBS' brand and reputation, you are the defenders, you are the messengers, you are the strivers, you are the fighters, and you are the leaders. In the future, CEIBS depends on you to defend it; the development of CEIBS depends on you to contribute, and the reputation of CEIBS depends on you to spread awareness," President Wang said.
"China is a responsible nation and the world's second largest economy. In the face of today's complicated world and the development of global integration, we should take economic development, social stability, people's happiness and the pursuit of a better life as our own responsibility. Everyone of you needs to fight for the development of the Chinese economy, Asian and European economies and global economy, making it growth along the road of the human economic community! I sincerely hope that our graduates will share in both glory and disgrace and strive together with CEIBS," she added.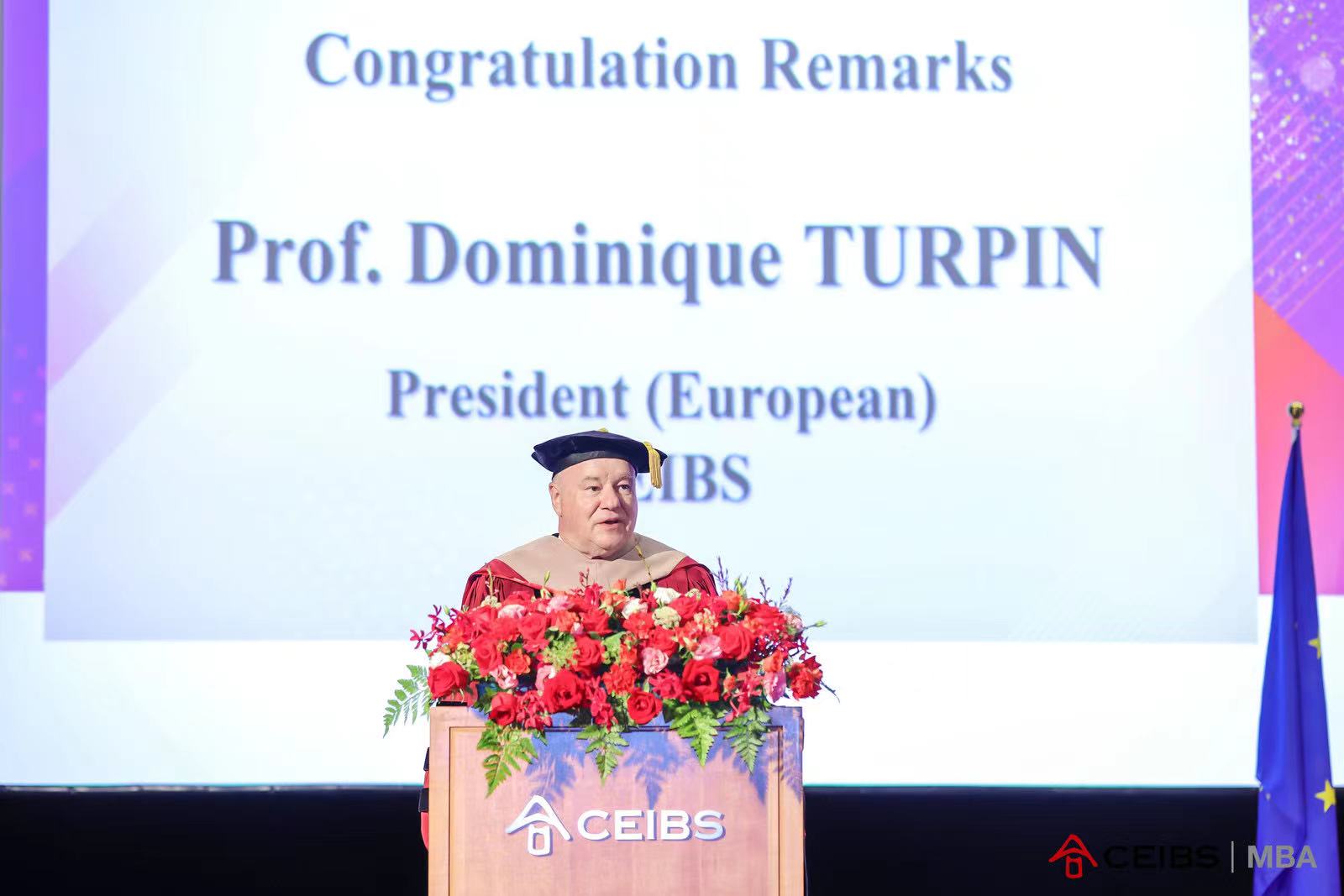 CEIBS President (European) Dominique Turpin
Building on the theme of working towards a more harmonious future, CEIBS President (European) Dominique Turpin then gave a speech in which he asked the graduates to remember their personal values as well as CEIBS' wider aim to promote responsible leadership across the world. His address focused on the good that comes from curiosity when it is blended with responsibility.
"When you think back on your CEIBS MBA experience five, ten or twenty-five years from now, what will truly stand out from what you have learned at CEIBS? Let me volunteer three things: Being a responsible leader, putting forward your personal values, and maintaining a curious, open attitude. Here at CEIBS, the whole art of teaching is the art of awakening the natural curiosity of young minds for the purpose of satisfying them afterwards. With all you have learned here, I have no doubt that you are fully prepared to be successful and make a positive impact on the lives of others," President Turpin said.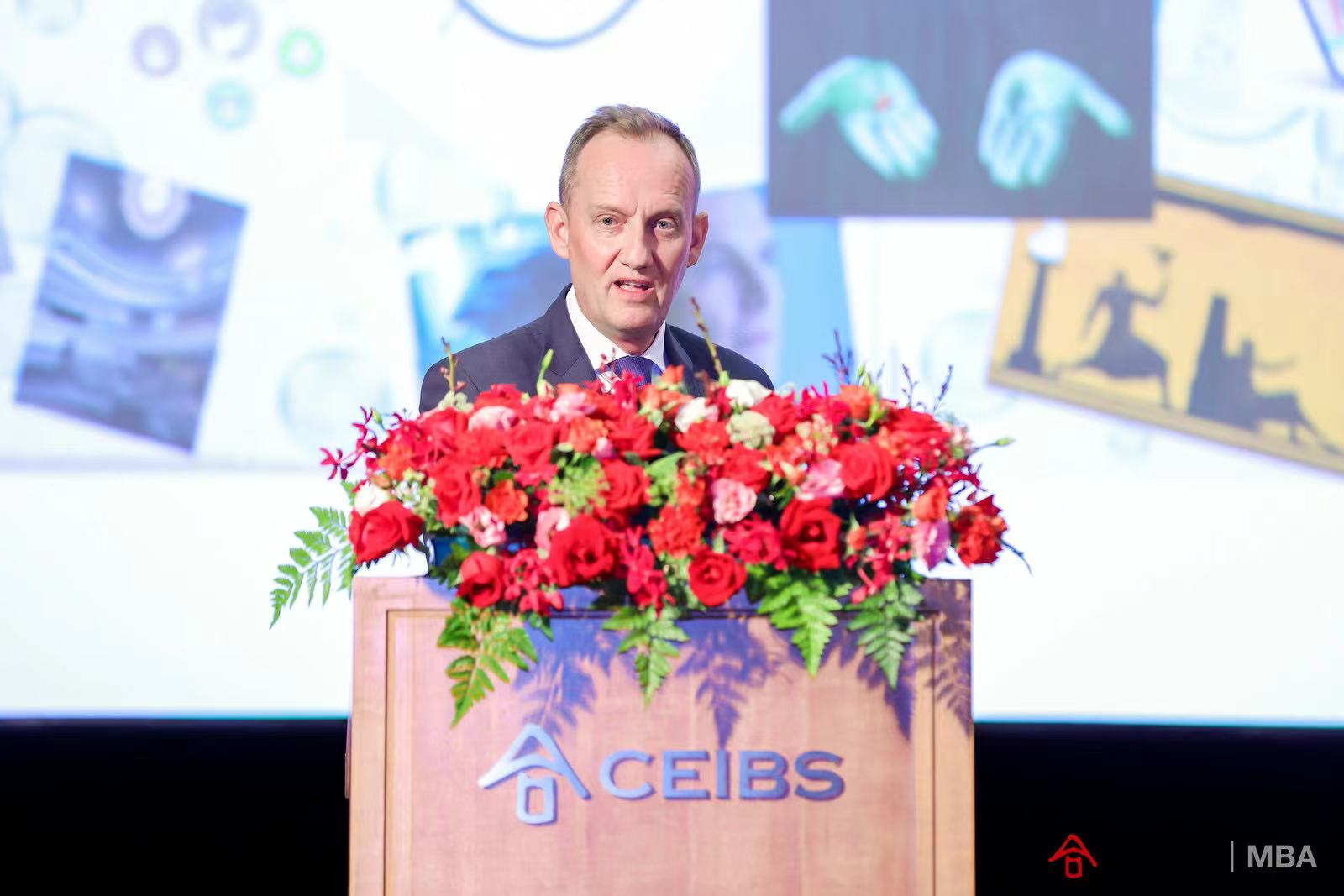 President and CEO of Air Liquide (Greater China) Nicholas Poirot
Keeping with MBA graduation tradition to have a leading China-based executive deliver an insightful speech to the soon-to-be alumni, President and CEO of Air Liquide (Greater China) Nicholas Poirot shared with the graduates his thoughts on what is necessary for business leaders to remember about themselves to stay grounded in this increasingly complicated and fast-paced global business environment.
"China is a great example of how time moves differently, how business works differently, across the world. You, too, are different now from the start of your studies, your minds have been broadened by the experience. Never underestimate the value of this. I was taught from a young age the phrase 'Homo unius libri' – I fear the man of one book. Be sure to value every experience as you change jobs, move countries and attempt new challenges. Diversity of experience as well as personal diversity is what helps us forge deeper connections in business and in life," he said.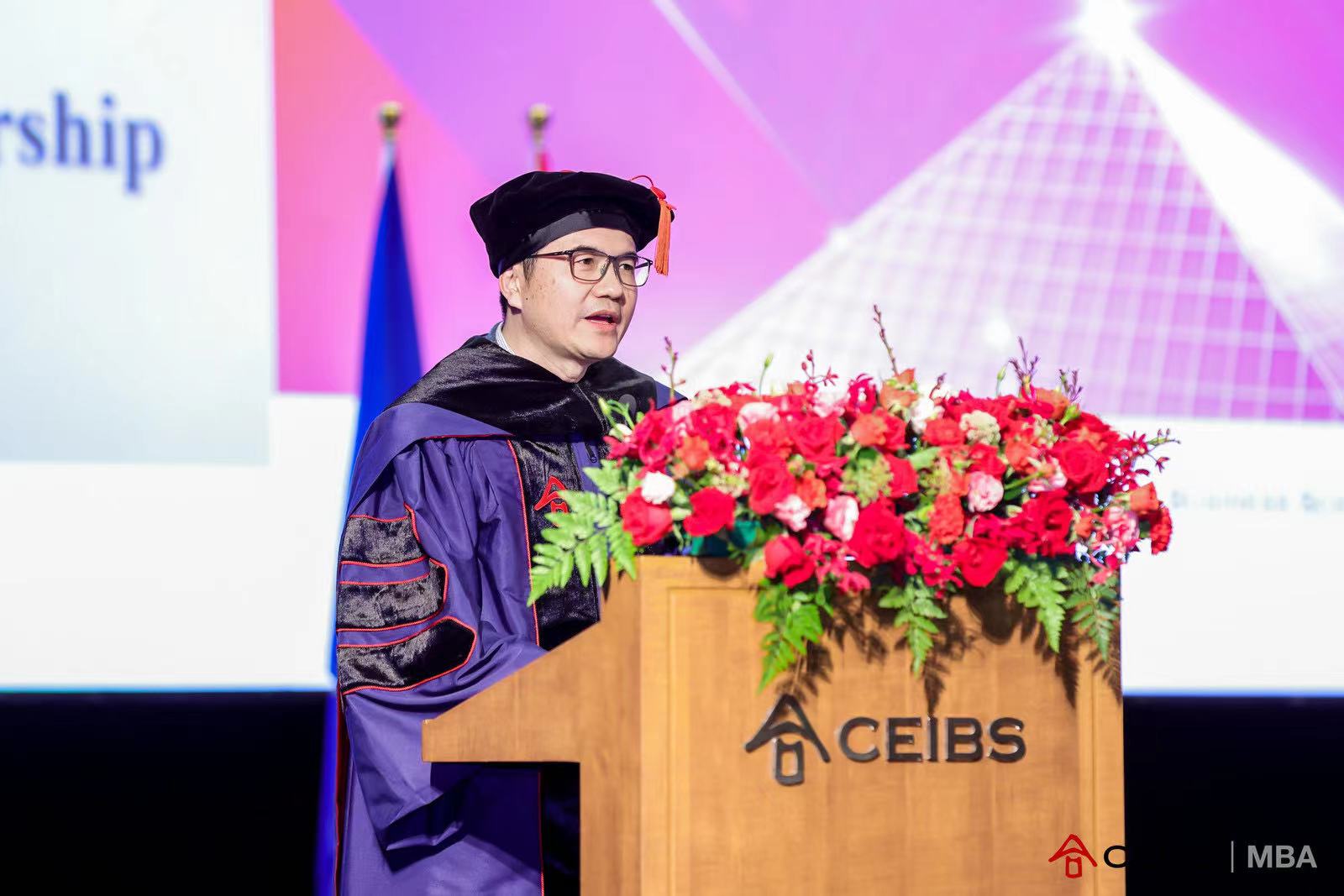 Associate Professor of Entrepreneurship Terry Wang
A final faculty representative speech came from Associate Professor of Entrepreneurship Terry Wang, who urged the graduates to consider their approach to taking risks, considering growth industries, and maintaining the mental flexibility to try new roles and companies.
"By observing MBA classes over the past 20 years, I can see that entrepreneurship is not for everyone. One commonality is that entrepreneurs are more comfortable with uncertainty compared with non-entrepreneurs. So, consider trying entrepreneurship, and certainly try to be less uncertainty-averse when you are young. Don't wait too long, or you'll become more averse to it over time, just like me," he said.
Invaluable advice, fond farewells
Though the Class of 2023 will no doubt go on to forge even closer links as part of the ever-growing CEIBS alumni community, this was a chance for two of their classmates to mark the moment with a heartfelt message of encouragement for their shared future.
Rena Fan
First, Rena Fan called on her peers to always remain true to themselves in good times and bad, no matter what the business world throws at them.
"I once asked a wise mentor, the same person who convinced me to apply to this programme, 'What is the value of an MBA?' He told me it would change my life, my whole world view, and it would make me feel like I could do anything. Essentially, the value of an MBA is based on self-discovery. Self-knowledge, not self-conceit or self-abasement, is our navigator that sets our course in this uncertain world. Through this MBA, I have had the rare opportunity to know my true self through every lesson, every discussion with all of you," she said.
Connor Bralla
Closely echoing Rena's sentiments, Connor Bralla then took the stage and mused on the nature and ultimate meaning of higher learning, and how the process indelibly marks our way of thinking.
"After innumerable case studies, company visits exams, group meetings, presentations, internships, job searches, club events, karaoke nights, impromptu concerts and more, what was the point of this exhausting exercise that is our MBA journey? I offer three answers: Regardless of what we learned and retained, we have unquestionably developed our capacity to learn. Furthermore, we have increased our awareness of the knowledge that's waiting for us out there. Finally, it is our relationships with others that give our lives meaning – and the relationships that were formed and deepened here will be invaluable as we venture out into a changing world," he reflected.
Recognising the pursuit of excellence
While every graduate should be rightly proud of their remarkable achievements during their time at CEIBS, graduation day is also a chance to highlight the exemplary efforts of a select few. Assisted by CEIBS Vice President and Dean Frank Bournois, Vice President and Co-Dean Zhang Weijiong, and MBA Administration Director Michelle Zhu, Prof. Prashantham was delighted to honour the recipients of four categories of awards this year.
The deserving winners of the awards this year were as follows:
CEIBS MBA 2023 MBA Office Special Recognition Award
Adam Jin, 

Nelson Urena, 

Toto Yao, 

Heity Zhang, 

Sam Li, 

Jing Li, 

Demi Chen, 

Richard Sun, 

Edward Tang, 

Will Han, 

Fred Hu and 

Inaki Pasman
CEIBS MBA 20203 Student Leader Award
Jing Li

, 

Karen Xi and 

Jake Tang 
Outstanding Graduate Award
Leo Zhu, 

Connor Bralla, 

Shelly Qiu, 

Eleni Petri, 

Archie Preston, 

Yoshitatsu Kano, 

Yangyang Guo, 

Victor Yu, 

Aldo Santoro and 

Sabine Neuhaus
CEIBS Special Contribution Award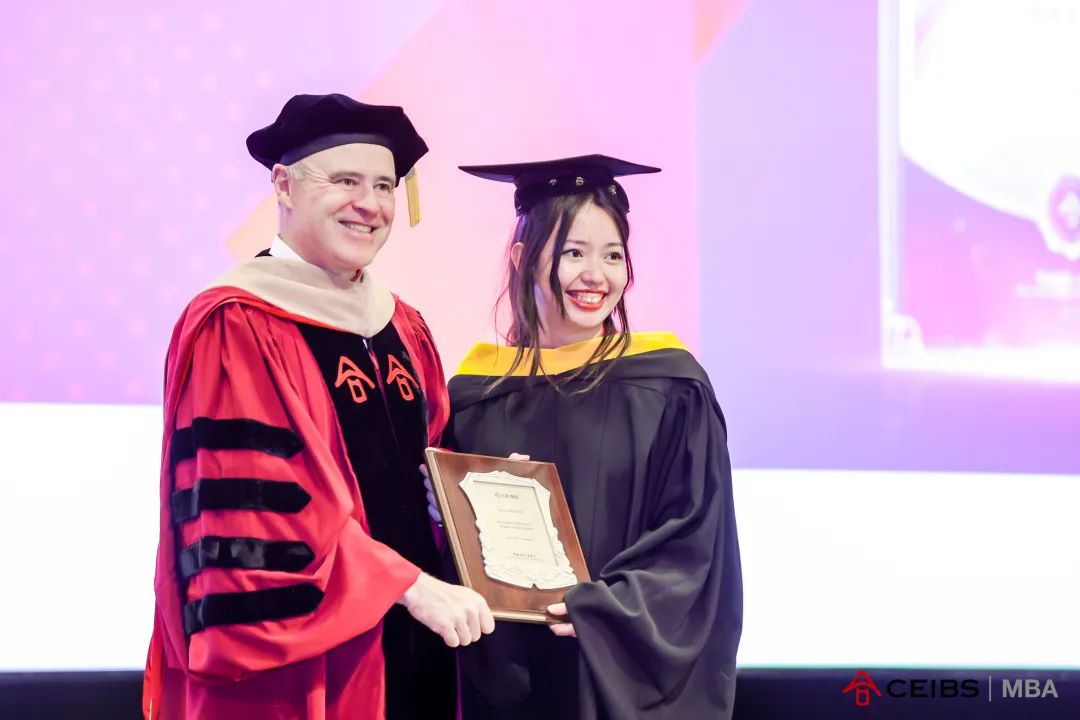 Vice President and Dean Frank Bournois presents CEIBS Special Contribution Award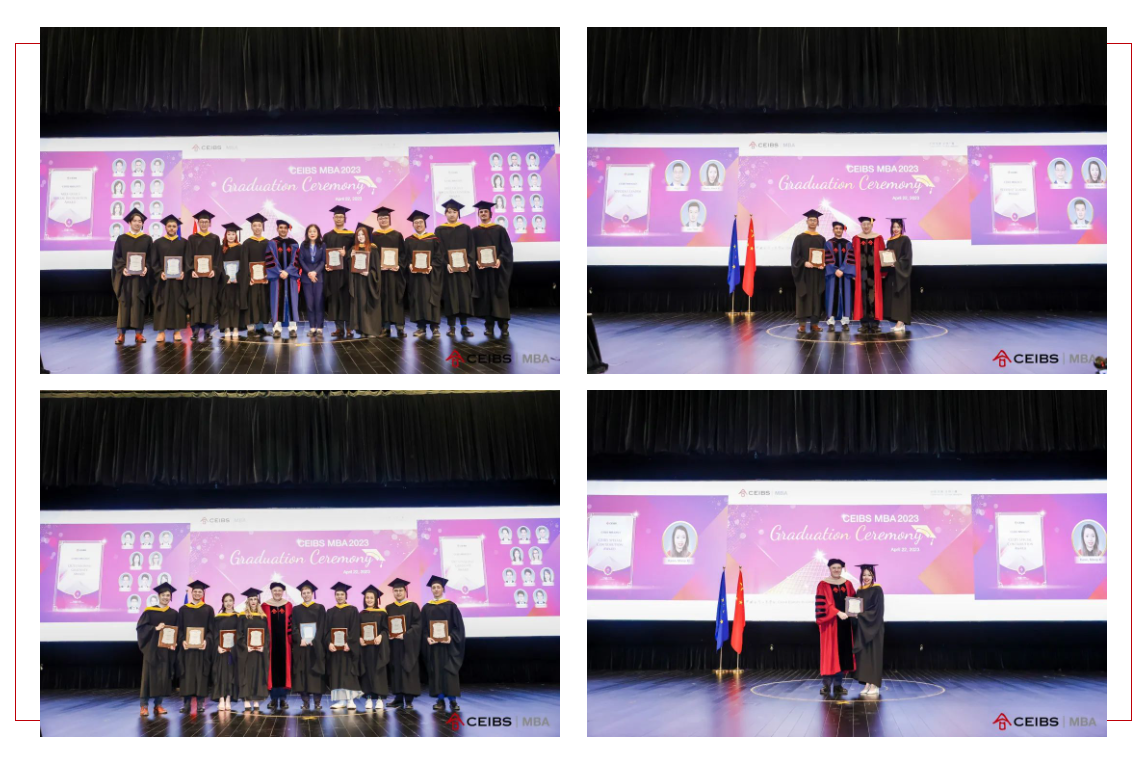 Award presentation
Launching the next chapter – Students become CEIBS alumni
MBA Programme Director and Professor of International Business and Strategy Shameen Prashantham
Having heard from their professors, peers and guest speakers, it was time to close the formal ceremony and induct the Class of 2023 into the CEIBS alumni community. Before doing so, Prof. Prashantham shared some final thoughts with the graduates as they prepared to receive their degrees.
 "I fondly remember the day I welcomed you to CEIBS during your opening ceremony in October 2021, fervently hoping that the worst of COVID was behind us. Alas, that was not to be. Yet, you have persevered, cooperated, and made the most of the opportunities presented to you. Now, you are launching your post-MBA careers at a time when the world is grappling with many challenges regarding global business, society and climate. If you can survive in such uncertain times, you are certain to thrive when a more benign environment arises. So, take care, stay well, and pursue excellence as responsible leaders with China Depth and Global Breadth," he said.
Student performance
Then followed the official conferment of the degrees, with the honour falling to Prof. Zhang. The final flourish, the Class of 2023 then collectively 'turned the tassel' of their mortar boards, a symbolic gesture that signifies the official crossing over from student to graduate.
Vice President, Co-Dean and Professor of Strategy Weijiong Zhang
All that remains to be said is a sincere congratulations to the newly minted alumni of the CEIBS MBA programme. We wish you the very best of luck as you forge the next stage of your careers, enriched with knowledge, enhanced by your unique trials, and emboldened by your achievements.
As you launch forth into an uncertain world, please remember that CEIBS is always there to support you in all your endeavours.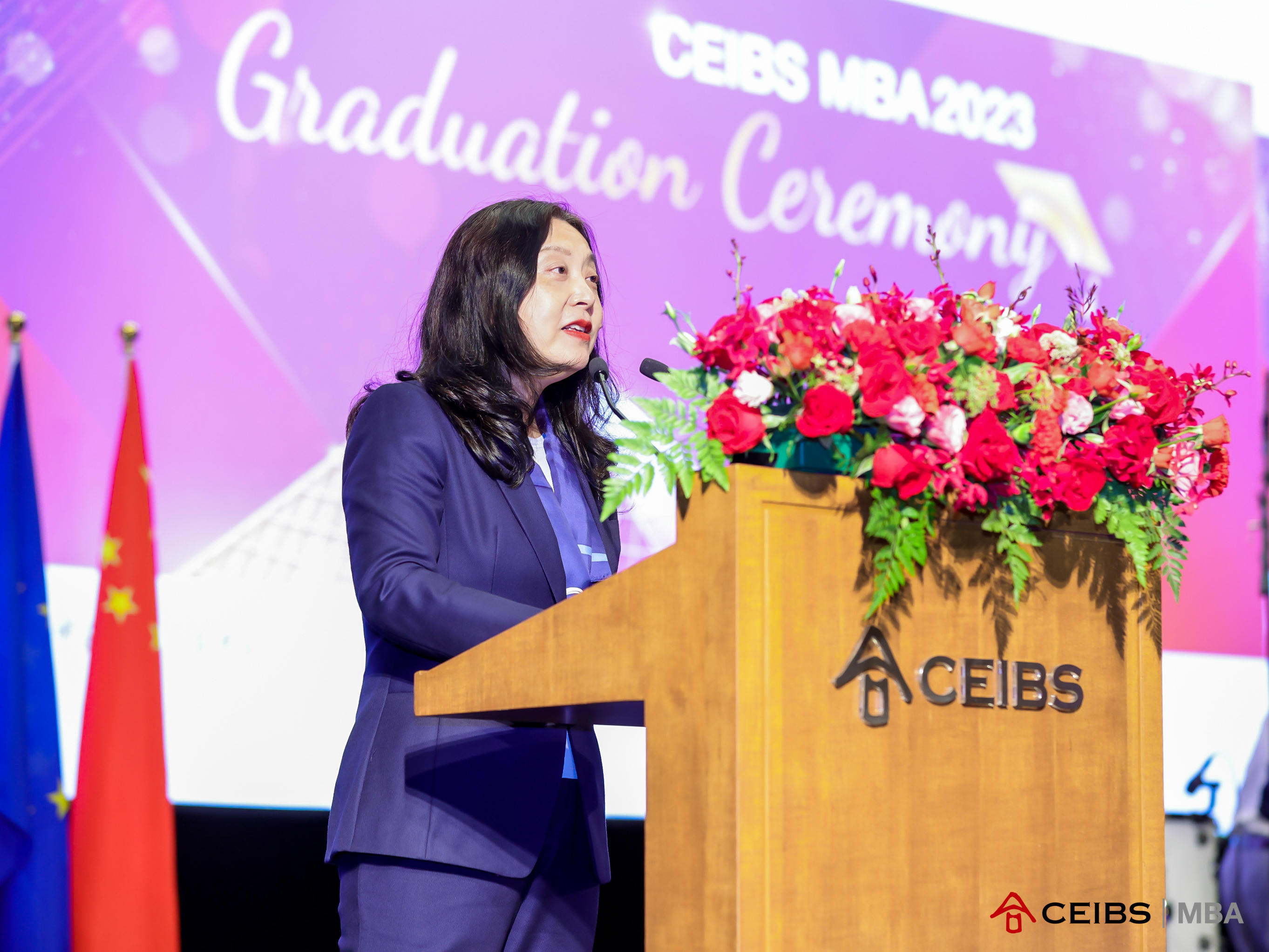 MBA Administration Director Michelle Zhu