MBA Career Exploration Programme Wraps up in Shanghai
Thursday, September 12, 2019
MBA Career Exploration Programme Wraps up in Shanghai
September 12, 2019. Shanghai – The CEIBS Career Development Center today wrapped up its 5-day Career Exploration Programme, with senior business leaders and corporate leaders from different industries sharing their insights with MBA students. The programme exists to help students better understand the trends and potential talent recruitment needs of various sectors, so they can establish their career goals and development plans. Lectures covered numerous industries popular with MBA graduates, including technology, finance (PE/VC, investment banking, investment), industrial products, healthcare, consulting and consumer goods. Speakers also discussed core business functions such as digital marketing, B2B marketing and strategic planning.
John Shen, Managing Director, Accenture Strategy Greater China
In a presentation on management consulting, Accenture Strategy Greater China Managing Director and CEIBS MBA2001 alumnus John Shen, introduced some of the latest market trends, personnel and major players as well as impact rapid developments in technology have had on the industry. Drawing from his own experience, he outlined the qualifications of a good consultant – including the ability to solve complex problems, strong logical thinking ability, clear framework-thinking approaches, strong curiosity, cross-industry learning ability and cross-disciplinary communication skills. John also encouraged students who are interested in the consulting industry to strengthen their study habits and self-learning awareness. With advancements in technology, he told the group, the consulting industry is changing too and consultants need to keep up with these changes.
Aurora Liu, Digital Marketing Director, Nike Greater China
Nike Greater China Digital Marketing Director and CEIBS MBA2014 alumna Aurora Liu has extensive digital marketing experience. In her view, she explained to students, under the influence of technology, many industries are experiencing new changes. From early online players such as the Tianya Forum and Baidu Posting Bar to the explosive growth of mobile internet to the full application of 4G (and, soon, 5G) and short video content, digital marketing has formed its own unique ecosystem. In addition, she said, marketing professionals must be empathetic and understand the needs of customers in order to express unique ideas and must have the ability to constantly reinvent themselves in innovative ways.
Sophia Xu, Vertical BU Director, Industrial Group, Fortive
Fortive Industrial Group Vertical BU Director and CEIBS MBA2009 alumna Sophia Xu has rich practical experience in the field of B2B marketing. In explaining the value chain of B2B marketing, she introduced the characteristics of marketing in the B2B field and shared some of the challenges practitioners face. She encouraged students to be prepared for this area very well. Sophia own career path involved successfully pivoting from an engineering background into B2B marketing and her sharing resonated with those students seeking to make a similar transformation.
Robert Chris Asprer, Head of Commercial Strategy and Innovation, Johnson & Johnson
Johnson & Johnson Head of Commercial Strategy and Innovation Robert Chris Asprer shared with the students the relationship between the healthcare industry and personal responsibility. During his session, he stated that he believes that the healthcare industry needs enthusiasm, because it is the only sector related to care, and everything in healthcare is related to personal responsibility. Robert then introduced the healthcare industry's components along with a high-end version of the healthcare system framework. He said he believes that healthcare in China is a huge market with many opportunities and he welcomed more MBA students to join the industry.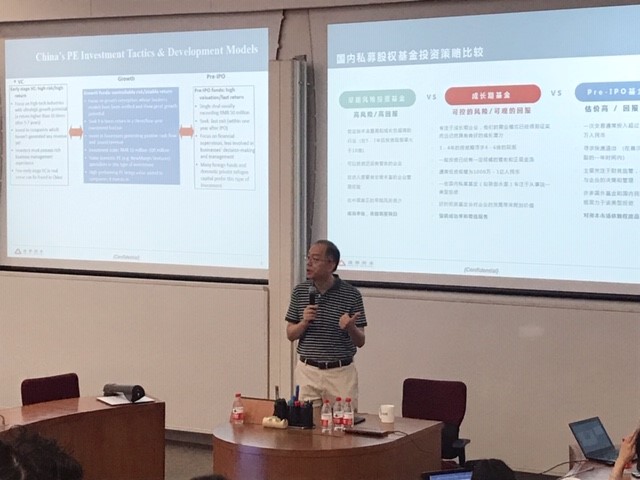 Greg Ye, Founder & Managing Partner, Delta Capital
Delta Capital Founder & Managing Partner Greg Ye has more than 20 years of experience in financing and investment. During his session, he shared with the students the characteristics of the PE/VC industry and discussed some of the differences between the Chinese and US markets. The industry's current challenges, he said, include the slowing down of economic growth, investment bubbles in the internet industry and increased financing difficulties. However, he said, the decline in valuation and competition would also lead to opportunities. Furthermore, he suggested that students strengthen their financial skills, attach importance to analytical skills training, improve their soft skills and establish a good attitude towards the PE/VC industry.
Che Yan, Vaccines Marketing Lead, Pfizer Biopharma (China)
As the marketing leader of Pfizer's vaccine business, Dr. Che Yan shared her experience in managing strategic teams in a Fortune 500 company. She mentioned many challenges needed to be addressed in strategic positions, including how to manage strategic teams, communicate with the senior management and coordinate the implementation of the strategic plan as well as how MNCs implement localisation and business integration.
Dr. Che also said that strategy is not the "office work" that many people imagine, but instead requires going to the front line in order to understand the market environment and customer needs. She said that she hopes that students who are interested in strategic positions remember this when it comes to helping their companies achieve their strategy aims.
Kevin Xie, Managing Director, Head of Healthcare and Life Science, China Renaissance
During his talk, China Renaissance Head of Healthcare and Life Science Managing Director Kevin Xie introduced the lifestyle of investment bankers, developments and changes in the industry, as well as his understanding of the investment business in a Chinese context. He stated that when conducting investment banking business, enthusiasm and mission serve as the foundation in the long run. He added that hopes that students who are interested in investment banking in China embrace entrepreneurship, pursue excellence and remember their mission in their career.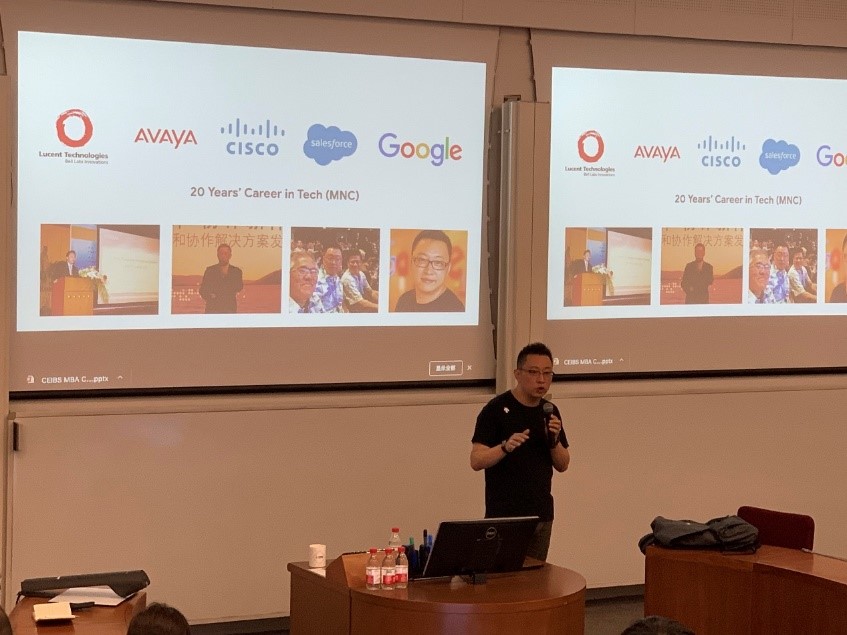 George Mao, Head of Sales, Google Customer Solutions
In another session, Google Customer Solutions Head of Sales George Mao talked to students about his career progression over the past 20 years in the technology industry. George noted that typical non-technology functions in the industry include sales, marketing, product specialisation, strategy and operations, channel and business development and finance. Even for students with an interest in pursuing a career in the technology industry, but who lack a technological background, George encouraged them to apply for positions in the field, adding that hard requirements would not prevent them from succeeding. He also said that the technology industry welcomes students who are smart, passionate, who are willing to continuously learn and reinvent themselves. Ultimately, to be a good fit into the technology industry, he said, students should have a better understanding of themselves and build their core competencies during their MBA study.
Eric Yi, Managing Director of CICC Capital Management Ltd., Deputy General Manager of CICC Genesis Fund
Managing Director of CICC Capital Management Ltd., Deputy General Manager of CICC Genesis Fund and CEIBS MBA2002 alumnus Eric Yi shared with students his thoughts and learnings from his experiences in investment. From his perspective, he said, investing in the public market is a good starting point, but students should also prepare to lose money and treat the experience as a good learning opportunity. At the same time, he said that students should pursue a higher purpose in life instead of just short-term progress. Eric also said that students should not worry if they lack a clear direction and that basic homework is required by most people in order to understand what they want to do in life. Moreover, he said, learning by doing is necessary to become a good investor.
The Career Exploration Programme was organised by Career Development Center and was well attended by MBA students, with every session a full house. MBA2021 student Martin Ma commented that, "The insights from different industries have benefited us a lot and will help us plan our future careers and achieve our goals."
The 2019-2020 recruitment season is currently open. Recruiters with full-time or internship opportunities are welcome to contact the Career Development Center to discuss opportunities for collaboration.
Contact details: +86-21-2890 5142 or cdc@ceibs.edu.