Meet the MBA2021 Student Committee
Thursday, September 12, 2019
Meet the MBA2021 Student Committee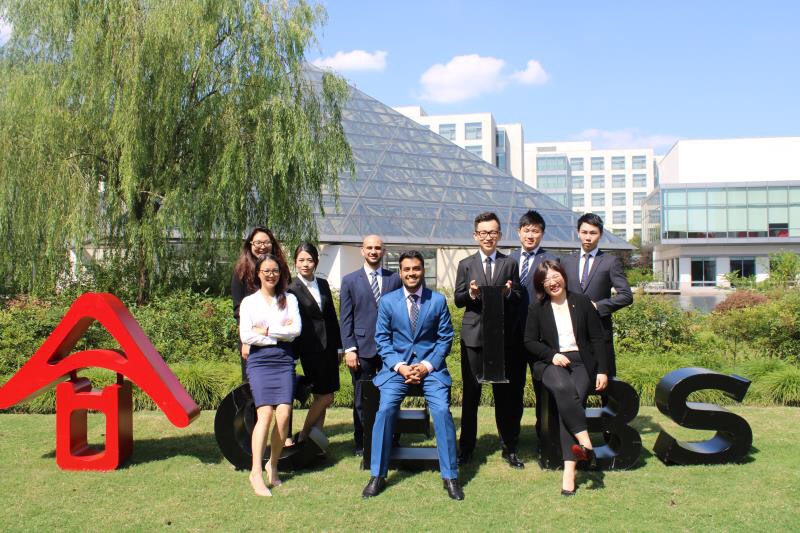 September 12, 2019. Shanghai – The new Student Committee serving the CEIBS MBA Class of 2021 was elected today. Following weeks of campaigning, culminating in last night's election presentations, the nine-member strong team led by Kunal Datt (President) and Willa Xu (Vice President) were voted in by their MBA peers. The group, including representatives from China, India, USA and Morocco/Italy, will go on to play an important role in linking the student body with the MBA office.
In accepting his role, newly elected MBA2021 Student Committee President Kunal Datt commended his peers on the opposing team before commenting on the task that lies ahead. "Our vision is to assist the leaders of tomorrow in unlocking their true potential. We are here to ensure that the core values of CEIBS are reflected in in each and every MBA 2021 student," he said. "We want to encourage students to speak up and contribute to endeavours that will improve the lives of people around them on campus. Most importantly, we will lead with sincerity, humility and empathy to foster a healthy, cohesive relationship between students, faculty and school administration."
MBA 2021 Student Committee Vice President Willa Xu added to Kunal's words by outlining the group's commitment to serving their cohort. "Each member of our team is committed to serving the student community. We will be the enablers of our batch and help people overcome challenges, achieve personal goals and most importantly make lasting memories with each other," he said. "We are fortunate to have the opportunity to serve this batch. As a response to our batch's trust, we will, to the best of our abilities, serve and leave nothing short in making the 18 months on campus memorable."
Read on to get to know the Student Committee along with the roles they will play to support the student body.
MBA2021 Student Committee from left to right. Back row: Jun Wu, Spike Wang, Eva Zhang, Xibei Liu. Front row: Amy Lu, Daisy Yin, Kunal Datt, Willa Xu, Amine Ghanname.  
Kunal Datt (戴坤) – President
"Born and raised in India, I graduated from the University of Pune with a Bachelor's in Electronics and Telecommunication Engineering and first class honours. I then pursued an Advanced Master's in Financial Techniques at ESSEC in France and Singapore. After graduating, I was employed in investment banking and investment management for 5 years, working on numerous transactions across debt, equity, private equity and M&A. I'm also passionate about sports, traveling and food. As President, I will be an advocate between the students and the school and facilitate student endeavours to build a cohesive MBA community."
Willa Xu (徐帆) – Vice-President
"I come from the heart of China – Beijing. I have worked in auditing and consulting since graduation. As a CICPA, I have successfully built a strong foundation in corporate finance and management. My previous job also allowed me ample access to entrepreneurs whose passion inspired me to find and follow my own dreams. As Vice President, I will work closely with the MBA office and clubs to improve and strengthen the relationships they have with our classmates. I hope to help our batch make the most out of their CEIBS experience and graduate with wonderful memories."
Daisy Yin (尹金銮) – Treasurer
"I was born in Yunnan province and moved to Shanghai in 2006 to study at Shanghai University of Finance and Economics. After graduation, I stayed in Shanghai. Before CEIBS, I worked in corporate finance for nine years. My experience in financial analysis, costing and budgeting makes me a perfect fit for Treasurer. I will fully support the MBA office, clubs, and student committee in effective cost management and procedural improvements. I want to make sure we maximise the utilities of all resources and enjoy our time at CEIBS to the fullest!"
Xibei Liu (刘西贝) – Campus Affairs Director
"I am from Lanzhou in Gansu Province. I studied Business Administration and Public Relations at Drexel University. After graduation, I joined New Oriental as a programme manager, teacher and coach. My experience will allow me to effectively serve as the bridge between the MBA office and the study body. As Campus Affairs Director, I will ensure constant communication and facilitate to improve the campus experience. I will build a better campus for our batch and all the batches to come!"
Spike Wang (王洽之) – Communications Director
"Born and raised in Hangzhou, I spent nine years of my life studying and working in Japan. Before CEIBS, I worked in Mitsubishi UFJ Morgan Stanley Securities' Investment Banking department. At CEIBS, I wish to actively engage with my classmates and learn from their experiences and perspectives. I also want to expand my knowledge of different industries in China. I am a basketball fan who loves watching movies and travelling, and my most important values are open-mindedness and team spirit. As Communications Director, I will produce intriguing and relevant materials that add splashes of colours to everyone's lives."
Eva Zhang (张芷涵) – Social Activities Director
"I was born in Guangzhou and moved to Los Angeles during elementary school. Upon graduating from Emory University, I wanted to challenge myself with the vast opportunities in the Far East. After years of working in manufacturing and real estate, I made one of the best decisions of my life and ended up at CEIBS, studying alongside 172 other incredible individuals. My curiosity has allowed me to develop a constantly growing list of interests. As Social Activities Director, I have one goal: for all of us to build lasting relationships and memories that we will cherish for life. GO MBA2021!"
Amine Ghanname (艾铭) – Academic and Professional Culture Comitte Chair (APCC)
"I was born in Morocco and raised in a small town of 10,000 people before studying Finance at the University of Brescia. Upon graduation, I joined several firms focusing on renewable energy and worked in the education industry before I decided to start my venture. My keen interest in markets and impact investing pushed me to enrol at CEIBS for my MBA. As a member of the newly elected student committee, I am looking forward to sharing my experience with the rest of the batch and cooperate to build a friendlier academic environment."
Jun Wu (吴嘉杰) – External Affairs Director
"Born in China and raised in the United States, I graduated with a Bachelor's degree from UCSD and a Master's from Duke University's Fuqua School of Business. Since then, I has made it a point to gain diverse experiences, working in consulting projects for Grupo Torre Medica, TCL Capital and Noah Wealth Management before joining Proctor & Gamble as a research manager. Since leaving P&G, I have been involved in real estate, investment, resourcing and strategy. In the next 18 months at CEIBS, I hope, as External Affairs Director, to bridge different industries and people and expand CEIBS' global footprint."
Amy Lu (陆琨) – Career Development Director
"I was born in Chengdu and received my Bachelor's degree in Aerodynamics Engineering from Tsinghua University. Since graduation, I have explored different industries and functions – as an engineer at AVIC, a consultant at IBM, a COO of a fintech start-up and an investment manager at Jiuding Capital. I choose CEIBS for its "China depth, Global breadth" vision. I believe CEIBS will be great at preparing me for future challenges, and I am thrilled to be a part of the student committee. Elected as Career Development Director, I am eager to assist the CDC and serve the student body, providing more opportunities and expanding the recruiter pool."