CEIBS MBAs Host TEDxCEIBS 2019
Saturday, May 25, 2019
CEIBS MBAs Host TEDxCEIBS 2019
May 25, 2019. Shanghai – Eight inspirational leaders from worlds as diverse as politics, music, sports, internet, luxury retail, medicine, and engineering took to the stage at CEIBS Conference Centre this evening to share how they interpret this year's TEDxCEIBS theme – 'Bridge'. CEIBS Vice President and Co-Dean Zhang Weijiong, Associate Dean and MBA Programme Director Juan Fernandez, and Associate Dean (Europe) Katherine Xin were amongst the 800 strong audience who watched along with more than 30,000 viewers who streamed the event online via Youku. Read on for highlights from the talks:
Former Prime Minister of France and Distinguished Professor at CEIBS Dominique De Villepin opened this year's TEDxCEIBS by highlighting the importance of art and culture in building bridges. "At the end of a long day in politics, you are faced with a choice – do you take a five minute break to have a glass of wine, or appreciate to the beauty of a painting?" he asked. "I chose the painting every time. Art and culture gives us a source of identity, it separates us from the robots, and helps us to reflect on the world. The soft power we can nurture from appreciating art and culture equips us with the best response to rising global tensions."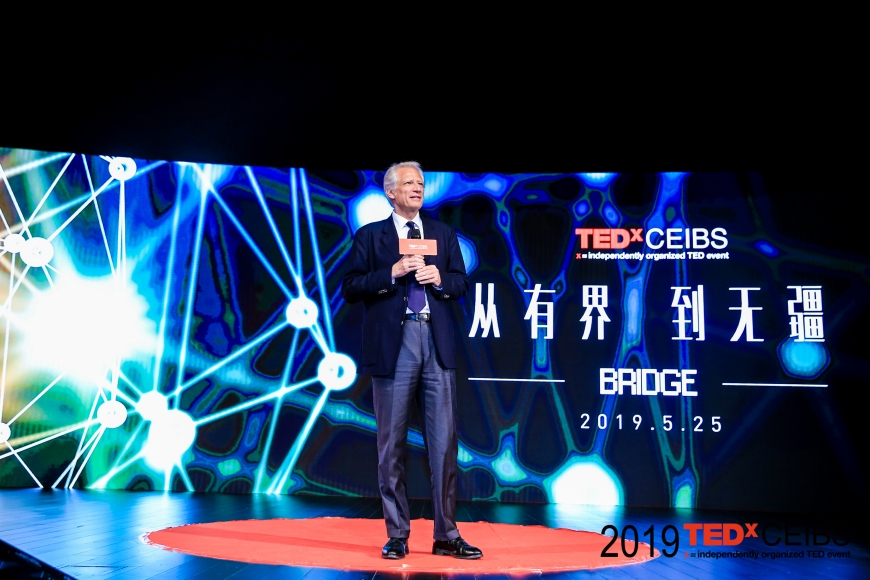 Vice President of Luxottica Joyce Deng shared some valuable and sometimes painful lessons from working at the forefront of branding in the golden age of fashion in China. Starting with a failed case of helping eBay to enter the Chinese market, Joyce reflected on how the experience forced her to change her mind-set from throwing money at advertising to adopting an integrated approach. "You can't control every touch point, but once there is a bridge that links the brand and the customer with a true sense of feeling, then there is a chance that its true spirit can be sustained," she said.
Cellist and Tourism Ambassador of Croatia Ana Rucner dazzled the audience with an energetic solo performance of Beethoven's "Ode to Joy" on her electric cello. As a tourism ambassador for Croatia and Beijing, she shared some of her own lessons from crossing many bridges in the world. "I was born into a family of musicians, but my path from a traditional orchestra to winning awards for music videos hasn't been easy," she said. "In pursuit of success, self-confidence is only a feeling and you need to work on it. You then need to be committed, but at the same time, never forget your anchor of support." Ana finished her talk with a performance of Beethoven's "2nd Destiny (Fifth Symphony)" which was accompanied by a backing video of the Great Wall of China and the Walls of Ston in Croatia.
Chief Technology Officer of Cainiao Network Gu Xuemei spoke about how connectivity works in large scale internet services. Given her rich experience working at Google, Alibaba, and now Cainiao, Gu shared how the internet, combined with the power of AI and big data, gives us a complete feedback loop to continuously refine efficiency. "As a scientist, I liken the internet to nature," said Gu. "You have a rich and complex ecosystem of social development that is ever changing due to the nature of competition." 
Design Engineer Lin Wei was the only speaker this evening who shared insights on the process of building a physical bridge, in this case the world's longest sea crossing bridge – the 55km long Hong Kong-Zhuhai-Macao Bridge (HZMB). Amongst the many complexities involved in the project, it was connecting the two sides of the undersea tunnel portion that presented Lin and his colleagues with some of the biggest challenges. "The solution we came up with was to sink the connecting segment and drain the water," said Lin. "This required both precision engineering and a very brave welder who had the confidence to tackle the project without melting the rubber aspects of the tunnel". After the bridge opened in October 2018, Lin reflected on how the project has given him the confidence to reach for the unreachable in the future. "We are ordinary people, doing ordinary jobs, but if we approach each problem in the right way, anything is possible," he said.
Promoter of Floorball Chen Xin described herself as a restless PE teacher during her talk. "If the goal of education is to create impact, then the goal of physical education is to teach students about grit," shared Chen. Speaking from her own experience, Chen suffered with asthma growing up and was warned against playing sports by her doctor. Going against his advice, she got involved in taekwondo at university, something she credits with making her both mentally tougher and for making her into the strong woman that she is today. "I benefitted from embracing sports in my education and came across floorball when I was thinking about what sports could help young people in China," said Chen. "Now, since establishing China's Floorball association, we have trained over 2000 teaches across 28 cities in China."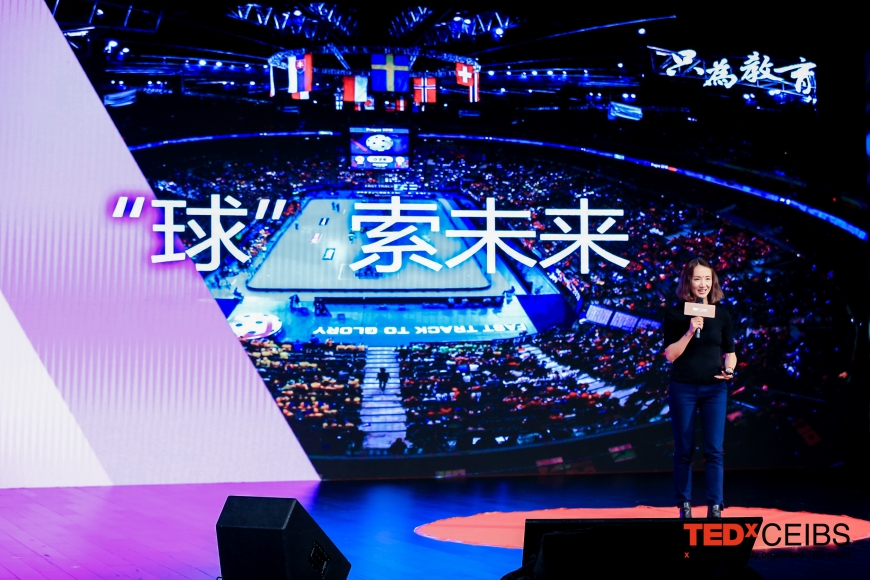 About TEDxCEIBS 
In the spirit of ideas worth spreading, TEDx is a programme of local, independently-organised events that bring people together to share a TED-like experience. At a TEDx event, TEDTalks video and live speakers combine to spark deep discussion and connection among a small group. These local, independently-organised events are branded TEDx, where x = independently organised TED event, following requirements outlined by TED.
CEIBS MBA students have hosted TEDxCEIBS since 2013, sharing thought-provoking ideas with members of the CEIBS community and the wider public.