CEIBS MBA Ranking Celebration
Tuesday, February 19, 2019
CEIBS MBA Ranking Celebration
~ Looking back and looking forward
February 19, 2019. Shanghai – Nearly 100 CEIBS MBA students, alumni, recruiters, mentors, faculty, and staff came together today to celebrate the school's record high #5 position in the Financial Times' annual ranking of the world's top 100 full-time MBA programmes. Leading the celebration were CEIBS President (European) Dipak Jain, Vice President and Dean Ding Yuan, Vice President and Co-Dean Zhang Weijiong, and Associate Dean and MBA Programme Director Juan Fernandez.
Prior to joining CEIBS in 2018, Professor Jain served as both Dean of Kellogg School of Business and INSEAD. During his time at Kellogg, he participated in celebrating the school's 100th anniversary. While at INSEAD, he celebrated the school's 50th anniversary. Now, as President (European) at CEIBS, he will also be part of the school's 25th anniversary celebrations. "Some people are born lucky," he said. "It is good to celebrate occasions like today, but the challenge now is how we move forward as a school. [In particular,] we will need to strengthen our three pillars of academic excellence, business relevance, and social significance."
Professor Juan began by thanking his professors, former MBA Directors Dr. Lydia Price and Dr. Chen Shimin, for their guidance and contributions. "The MBA programme is, as always, a work in progress," he said. "This year, we are looking forward to rolling out exciting new initiatives such as overseas electives in Silicon Valley, as well as at our campuses in Zurich and Accra."
Associate Dean (Research), Professor of Economics and Finance, and winner of four teaching excellence awards, Dr. Xu Bin shared photos and memories from his own 15 year journey with the CEIBS. He also expressed his confidence in the school's future given its leadership, strategic direction, and the strength of China's economy.
As a recruiter of MBA graduates at industrial gas multinational Air Liquide, HR Vice President for Greater China Jasmine Wu shared her thoughts on why the company continues to recruit CEIBS alumni. "Talent is the most important asset of any company," she said. "And, we can always rely on CEIBS graduates to be brave, analytical, and proactive in the workplace."
CEIBS MBA 2001 alum and EasyFinance Management Consulting CEO Marshall Ma worked as a pilot before he enrolled in MBA programme. Speaking on behalf of his fellow alumni, Marshall praised the school for developing a strong alumni network that allows graduates to share in CEIBS' bright future.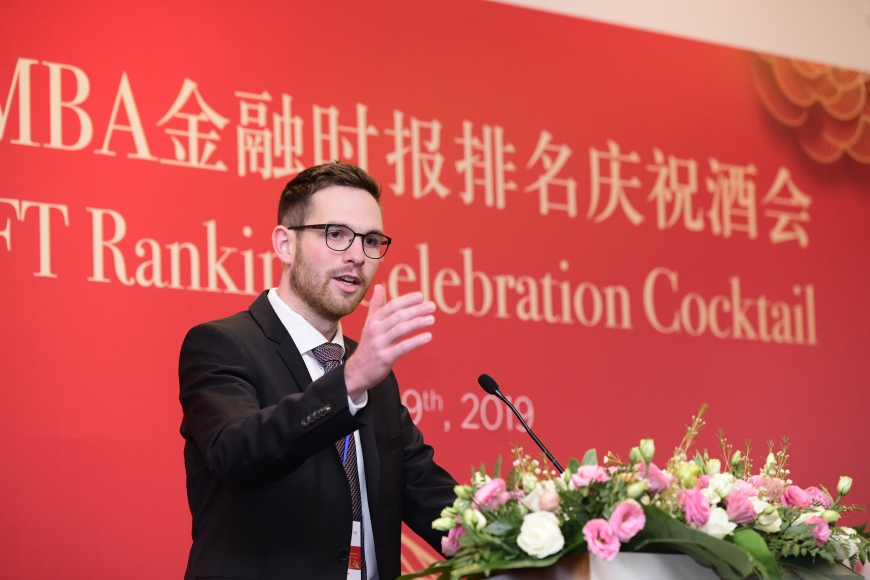 MBA 2020 student and Student Ambassador President Paul Walprecht concluded the speeches by expressing his pride in the increasing amount of recognition CEIBS has received on the global stage. He also highlighted the responsibility that he and his fellow classmates will embrace to care for the present and future of the MBA programme.
Celebrations continued well into the evening as MBA alumni and students shared memories and highlights from their time on campus.