Globalisation Lessons from Nanjing
Monday, October 29, 2018
Globalisation Lessons from Nanjing
~ MBA China Module on 'The Globalisation of Chinese Companies'
October 29, 2018. Nanjing – CEIBS MBA students and faculty visited the historic Chinese city of Nanjing as part of the MBA China module on 'The Globalisation of Chinese Companies'. The group included 26 MBA 2020 students and was led by Associate Professor of International Business and Strategy Dr. Shameen Prashantham and Lecturer of Strategy Dr. Guo Bai. The dual focus of the trip was to learn about the different strategies Chinese enterprises utilise to go global as well as how these companies bring resources, brands, technology, and skills acquired internationally back to China.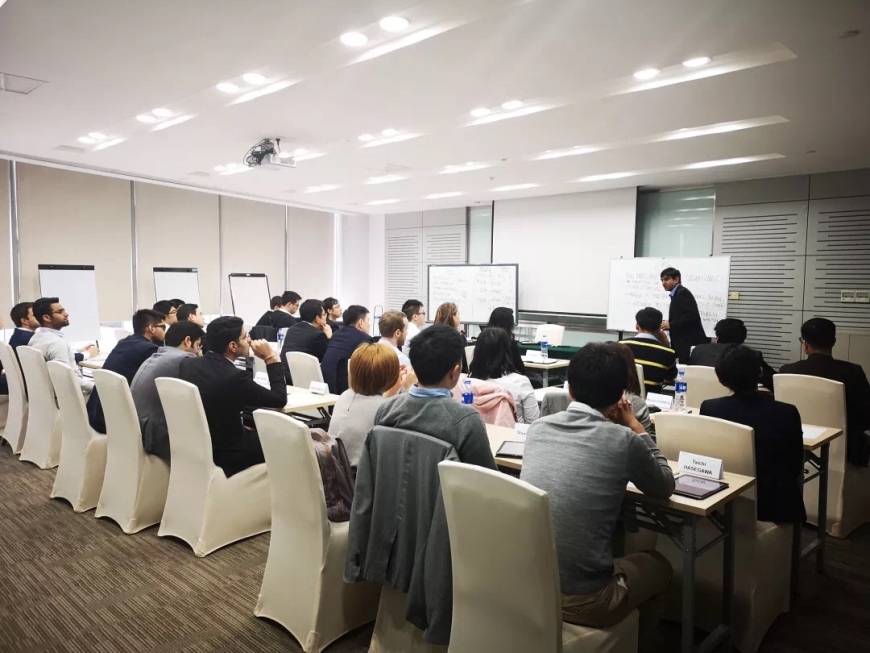 After checking in on the first day, students made their way to the hotel's banquet hall where they were met by four esteemed CEIBS MBA alumni, Jun He (EMBA10), a general manager at SUMEC Textile & Light Industries; David Fan (MBA01), Chairman of Nanjing Moonlight Optics; Haichuan Qian (EMBA08), co-founder of Jiangsu Yin Cheng Network Technology; and Zheng Huang (HEMBA2018), the general manager overseeing the Nanjing Crowne Plaza. Students were then given the opportunity to chat with the alums over dinner about the impact CEIBS' MBA programme has had on their careers as well as their perspectives on the growing trend of Chinese enterprises going global.
Chervon
The next day, the group set out to meet with executives at Chervon, an electric tools company that has transitioned from manufacturer to building its own brand. The visit was especially interesting as students had previously learnt about the company's history and internationalisation challenges in the pre-course reading. Getting to meet Peter Pan (CEO 2008), the founder and Chairman of the company was a bit like meeting a celebrity to many of the students. Having the opportunity to directly ask the man who had gone through so much to build the company from an OEM, to an ODM, and finally to an OBM was an unparalleled step towards learning how a China-founded company was able to not only expand internationally through acquisition, but then to take and integrate learnings back home to build their own brand Devon.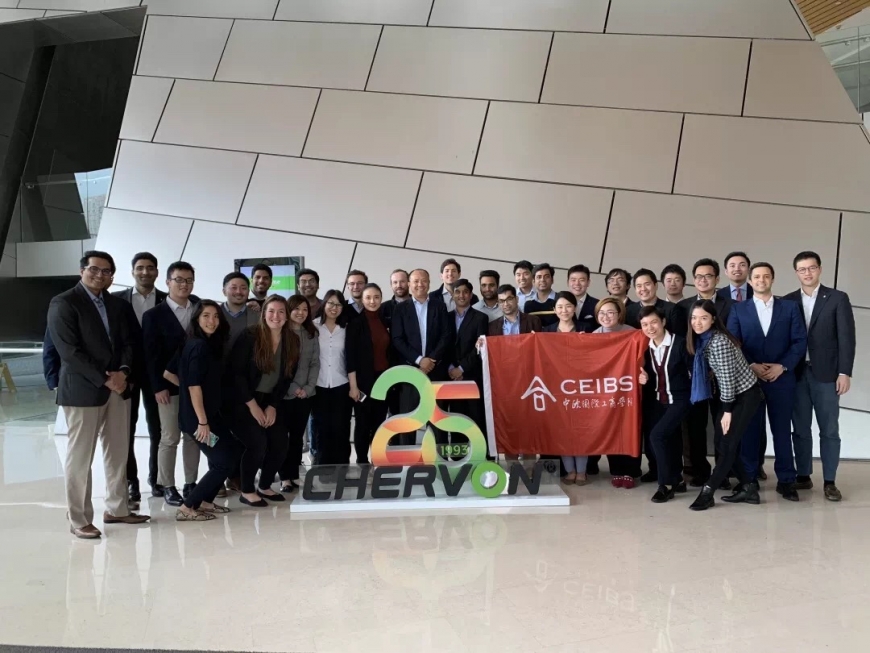 LandSea and Suning
Day two gave students a chance to appreciate other business models beginning with a trip to LandSea, a real estate company that has expanded into developing technologies to make houses more digitally connected and environmentally friendly. The tour began with a look at the different technology LandSea is currently using in its properties as well as technology that is still in development. Visiting LandSea provided a much different perspective on the challenges Chinese companies face as they work to expand internationally. After starting out in real estate, the company quickly realised how saturated the international market was and how they would have to differentiate themselves through innovation and diversified revenue streams in order to compete. Students were then given a tour of an actual community built by LandSea. One of the most interesting housing designs in development at LandSea is the "passive house" which is a home or apartment that uses as few resources as possible for heating, cooling, and ventilation, with the goal to one day make a home completely reliant only on the surrounding environment.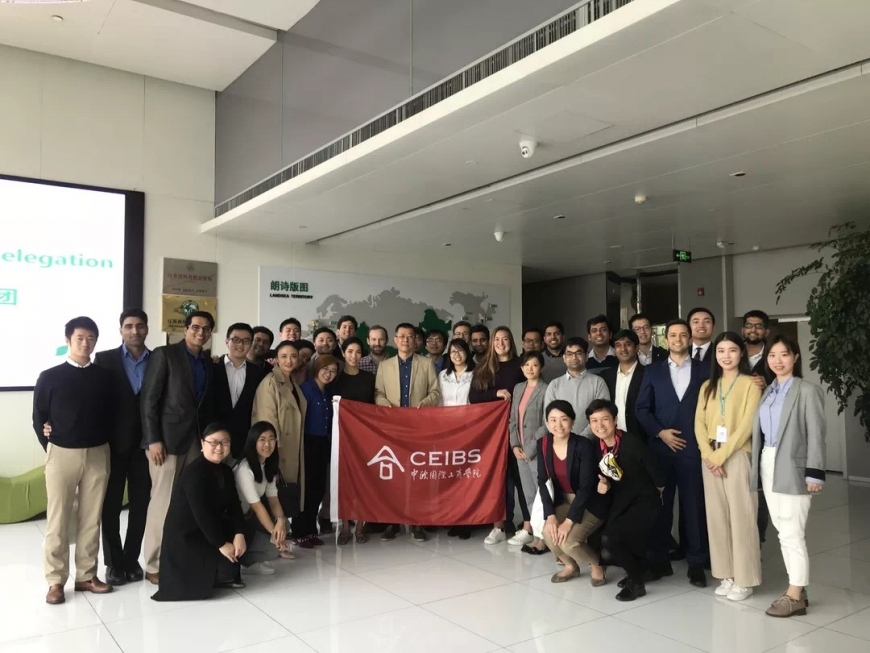 That afternoon, students visited the headquarters of Suning, one of the fastest growing appliance-focused e-commerce companies in China. Many of the students were blown away by the futuristic design and feel of the company's welcome centre. From the enormous wall-to-wall LED screens, students learnt about the company's humble beginnings in air conditioning to its recent international expansion and revenue stream diversification.
One of the most memorable parts of the tour involved seeing what Suning is doing in the sports industry and students were given the opportunity to pose for a photo next to a replica of the Champions League trophy won by the Suning-sponsored team Inter Milan. The visit to Suning taught the students how internet giants like Suning, Alibaba, and JD are making the next move by going offline, as illustrated by Suning's plan to open 100,000 small retail stores by the year 2020.
Advantech
On the third and final day of the trip, students visited the nearby city of Kunshan for a tour of Advantech, one of the premier Chinese companies in innovating devices for the Internet of Things (IoT). From the pre-assigned case reading, students had already learnt about how Advantech started out as computer manufacturing company in Taiwan, and due to an extremely innovation-focused Founder and Chairman, KC Liu, was able to set itself ahead of the curve and begin developing devices, software, and solutions for the coming technological revolution that is the Internet of Things (IoT). Students were taken to the company's exhibition centre where they got to see the many different applications Advantech's devices are being used for – from manufacturing, to healthcare, to logistics, and even to whole cities being connected by devices communicating, collecting data, and performing analysis. Later on, the students were taken to one of the manufacturing centres where they got to experience first-hand the manufacturing process for their devices. This tour was especially interesting for the students because many of the issues related to how work-in-progress goods flow and where bottlenecks appear are currently in discussion as part of the core module in Operations Management.
Many international students come to CEIBS looking for an opportunity to take part in the rapid expansion and globalisation many Chinese companies are currently going through. The Nanjing module was perfect way for international students at CEIBS to gain hands-on experience learning about what Chinese firms can gain from internationalising, the different strategies these firms employ to go abroad, and how these firms use internationalisation to gain a competitive advantage both at home as well as overseas. After completing this module, CEIBS international students will be much more prepared to take on jobs at growing Chinese companies and to aid them with their international expansion.