Leading Through Innovation
Friday, June 8, 2018
Leading Through Innovation
~ CEIBS Hosts MBA Recruiter Appreciation Event 2018
June 8, 2018. Shanghai – Nearly 100 long-term recruiters and new partners joined the 2018 CEIBS MBA Recruiter Appreciation Event, a historic high. Today's event, held at the school's Shanghai Campus, had representatives from firms including 3M, ABInBev, Adidas, Alibaba Group, A.T. Kearney, Bain, Carrefour, Citibank, Corning, CreditEase, Eddingpharm, EF, Eli Lilly, Ford, Fosun, Geely, Honeywell, IBM, Industrial Securities, Legend Capital, L'Oreal, Merck, Microsoft, Morgan Stanley Huaxin Securities, Roland Berger, Sanofi, SBCVC, Tencent and Walmart.
CEIBS President Li Mingjun got the event underway by saying how much the school appreciates the continuous and strong support recruiters have given to CEIBS. He also spoke of the wish to further strengthen the school's relationship with employers and to discuss future talent requirements. There is growing global recognition of the quality of CEIBS MBA graduates and the programme has earned a reputation among the world's best. In January, it was ranked No. 1 in Asia and No. 8 globally by the Financial Times. The MBA programme is designed against the backdrop of today's fast-changing world, which is often filled with uncertainty; one where talented professionals need to be able to think globally, be adept at cross cultural communication and possess strong leadership skills. President Li highlighted the school's efforts to cultivate this type of talent through its role as a knowledge creator, case developer and platform for both academia and the world of business.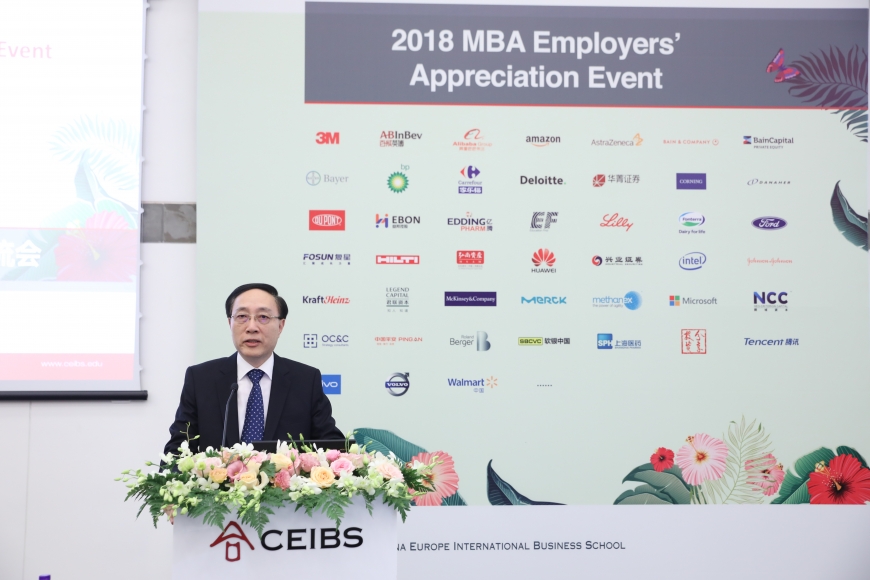 CEIBS President Li Mingjun giving opening remarks
Associate Dean and MBA Director Professor Juan Fernandez also thanked the recruiters for their ongoing support of the MBA programme. In his keynote speech titled "Leading Through Innovation", he highlighted the key findings from CEIBS' China Business Survey 2017 and shared the significance of what will be the future driving force in the Chinese economy – innovation. He also urged the audience to reflect on the question "What story is your company telling?" as a fundamental issue to consider at the start of any new stage of innovation.
Assistant Director of CEIBS MBA Career Development Centre (CDC) Jennifer Zhao followed with an introduction of the channels the school provides to engage recruiters in hiring talents and collaborating in employer branding promotion.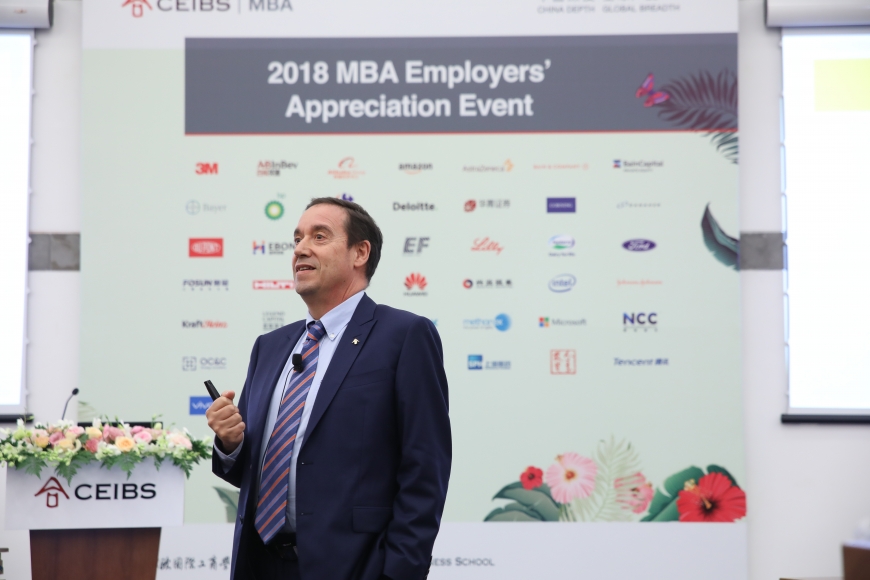 CEIBS Associate Dean, MBA Director Juan Fernandez during the keynote speech
One highlight of the event was the presentation of the following awards to recruiters from around 40 companies: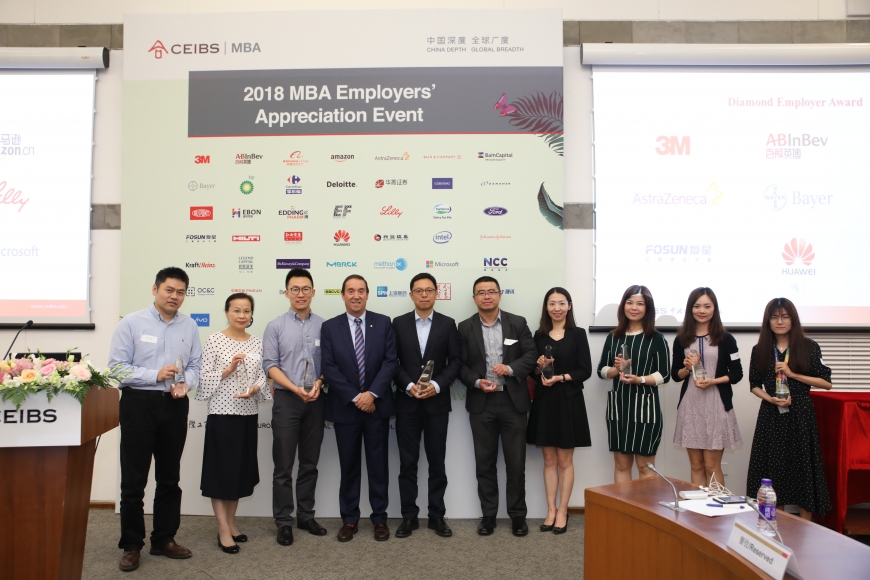 Diamond Employers Award Recipients
Diamond Employer Award
Recognises those that have recruited the largest number of CEIBS graduates in the past three years.
3M, ABInBev, Amazon, AstraZeneca, Bayer, Eli Lilly, Fosun, Huawei, Microsoft
2017 Golden Employer Award
Recognises the greatest contribution in recruiting the MBA 2017 cohort
Danaher, Intel, Roland Berger, Shanghai Pharmaceutical, Share Capital
2017/18 Best New Employer Award
Recognises new recruiters who have recruited graduates for the first time
China Renaissance, EBON, Eddingpharm, Fonterra, Methanex, Neo-Criterion Capital, OC&C Strategy Consultants, vivo, Walmart
2017 Best Campus Event Award
Recognises the most popular campus presentations
Bain Capital, BP, Carrefour, Corning, Hilti, HSAM, Johnson & Johnson, Kraft Heinz, Monitor Deloitte, Tencent
Loyal Partner Award
Recognises the great support of long-term partners
Alibaba Group, Bain & Company, DuPont, EF, Ford, Industrial Securities, Legend Capital, Merck, McKinsey & Company, Ping'An Asset Management, SBCVC, Volvo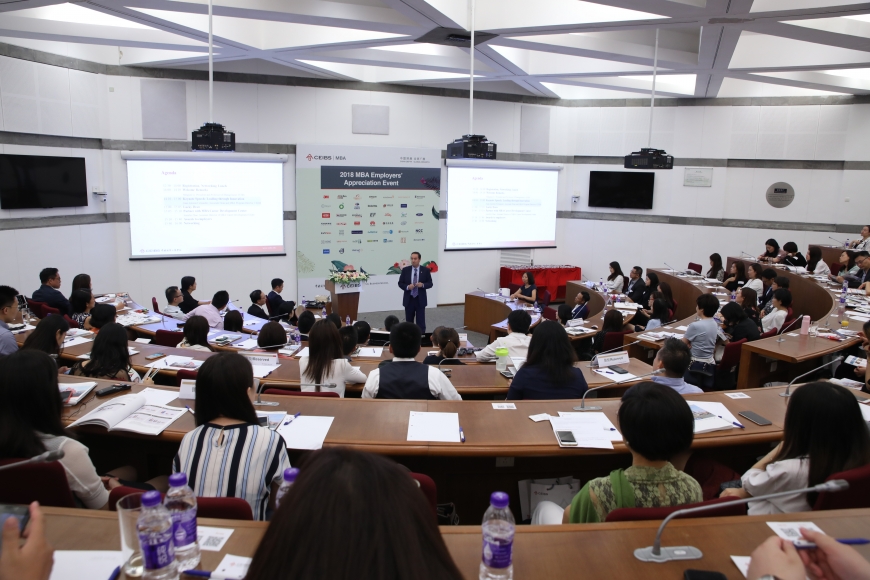 The CEIBS MBA Programme was the first to establish a dedicated Career Development Centre (CDC) in mainland China, aiming to enhance students' career development capabilities and career goals. Global recognition of the quality of CEIBS MBA graduates is not only a product of their overall skill, deep understanding of China and international perspectives, but also reflects the comprehensive support that is provided by the school and the CDC. The MBA2018 recruiting season kicks off in August, 2018. Those interested in learning more about recruitment opportunities with CEIBS can contact us at cdc@ceibs.edu or +86 21 2890 5142.