Saturday, April 15, 2023
Never Say Goodbye: Global EMBA 2019 & 2020 Graduation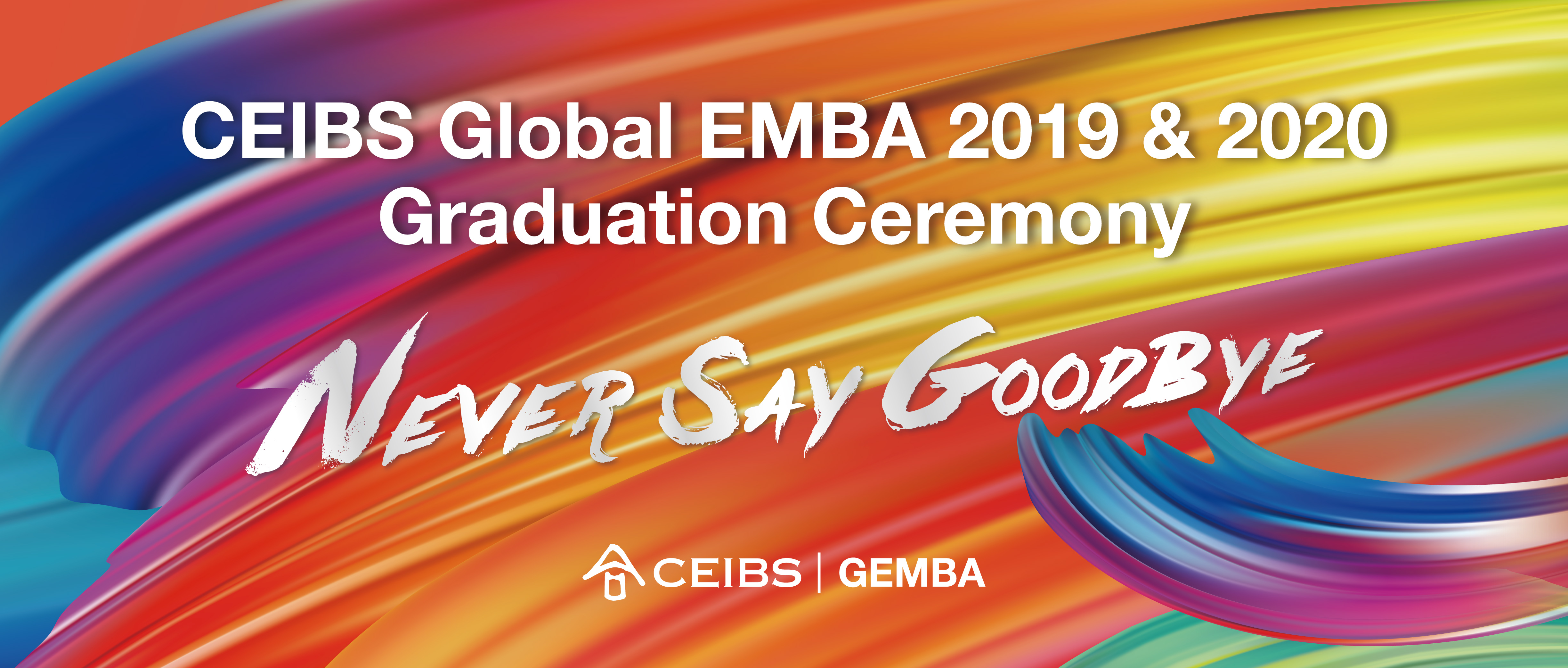 Nearly 130 CEIBS Global EMBA students from 18 countries and regions across the world came together this weekend for the biggest graduation ceremony in the programme's history. Most of the graduates from the GEMBA 2019 and 2020 cohorts gathered at CEIBS Shanghai Campus, with another seven joining the ceremony online from our Zurich campus and a further six remotely accessing the livestream from their homes around the world.
The hybrid, multi-campus and livestreamed graduation ceremony was also witnessed by our graduates' friends and family members. After three years of extreme disruption and difficulty caused by COVID-19, it was a fitting way to mark the unwavering support shown by those closest to the graduating students.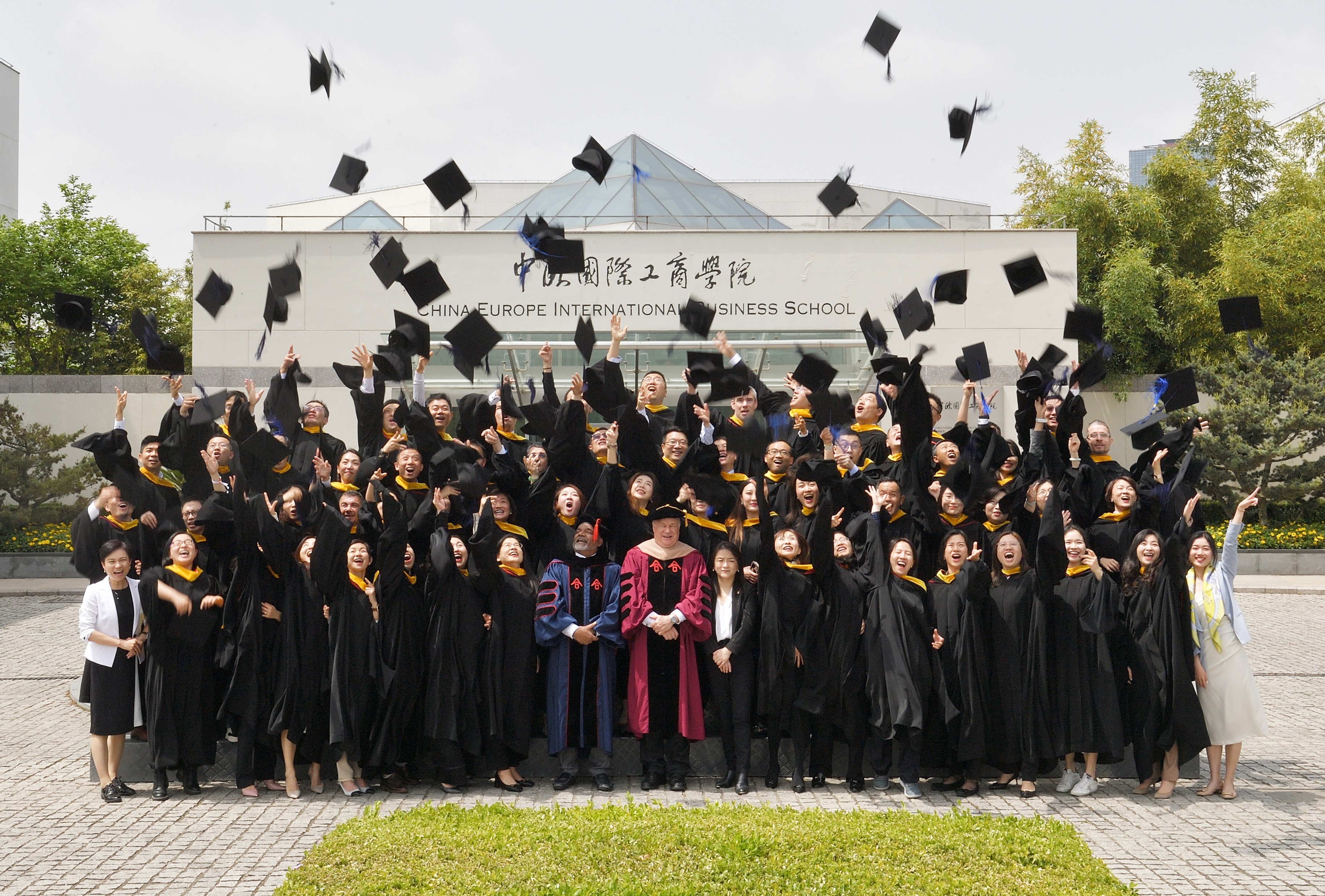 Our GEMBA 2019 cohort
Our GEMBA 2020 cohort
Words of encouragement and reflection: Addresses from CEIBS faculty and leadership
This year's graduating classes were joined by CEIBS professors and school leaders, including CEIBS President Wang Hong, CEIBS President (European) Dominique Turpin, newly appointed Vice President and Dean Frank Bournois and Vice President and Co-Dean Zhang Weijiong.
Speaking via a video message, President Wang Hong congratulated the GEMBAs for reaching a significant milestone in their learning journey. 
"With internationalisation in its DNA, CEIBS is committed to building a platform for economic and cultural exchange between China, Europe and the rest of the world. This is reflected in our positioning as 'China Depth, Global Breadth'. All of you best exemplify this positioning. I sincerely hope you will remember that CEIBS will always be a firm anchor and source of support for you. The school and its alumni will always care for and support each other, and we will move forward as a win-win community," President Wang said.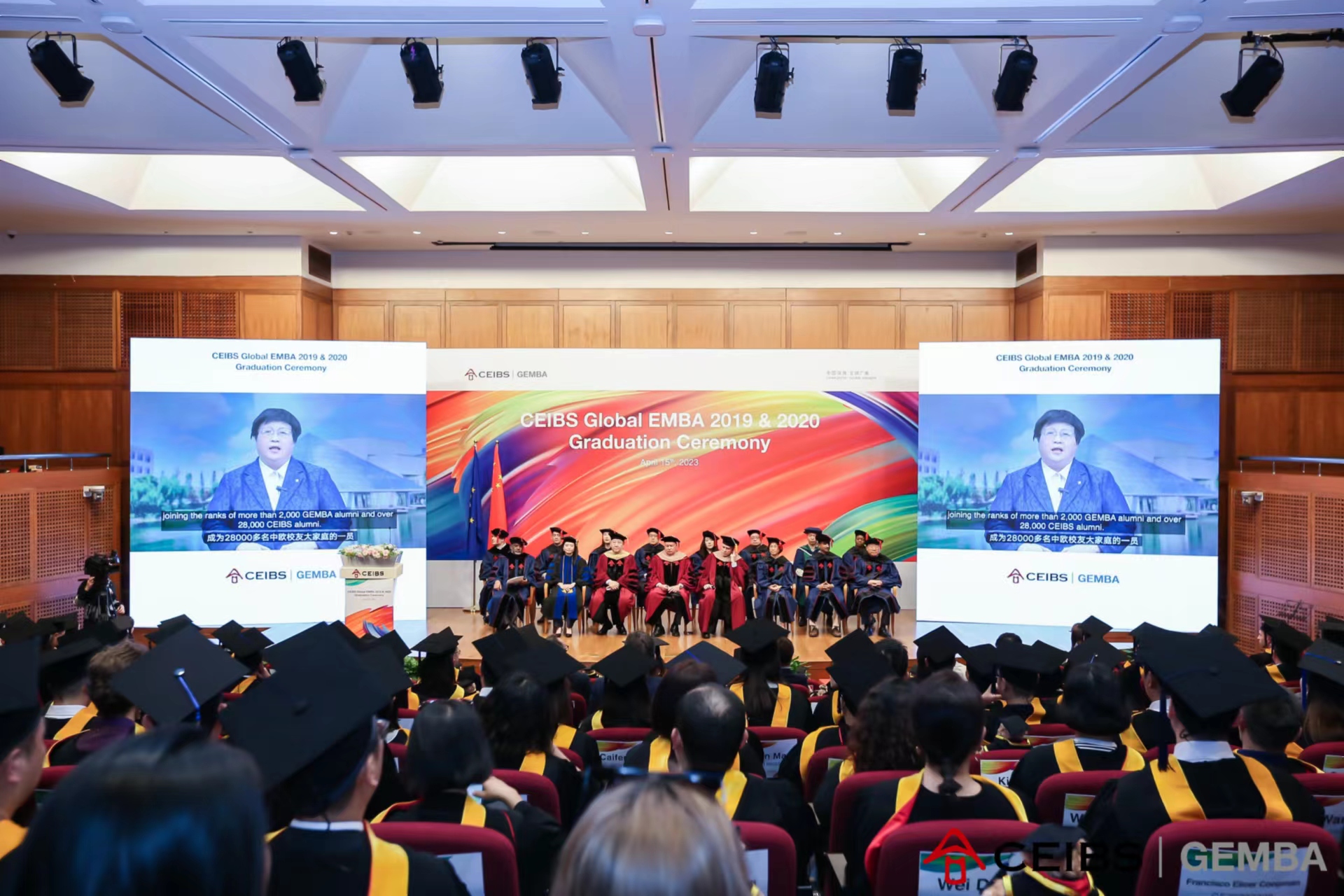 CEIBS President Wang Hong
Next came some words of wisdom from CEIBS President (European) Dominique Turpin, who recognised the outstanding efforts of those supporting the graduates, as well as the graduates themselves.
"Today marks beginning of a new chapter in your life. I want to thank your spouses, families and loved ones for helping you through the impositions placed on upon you by the pandemic, and for supporting your participation in this rigorous and time-consuming programme. I also want to thank Professor Bala, the faulty and the office team for working so hard to provide you with an optimal experience in the most difficult of circumstances," President Turpin said.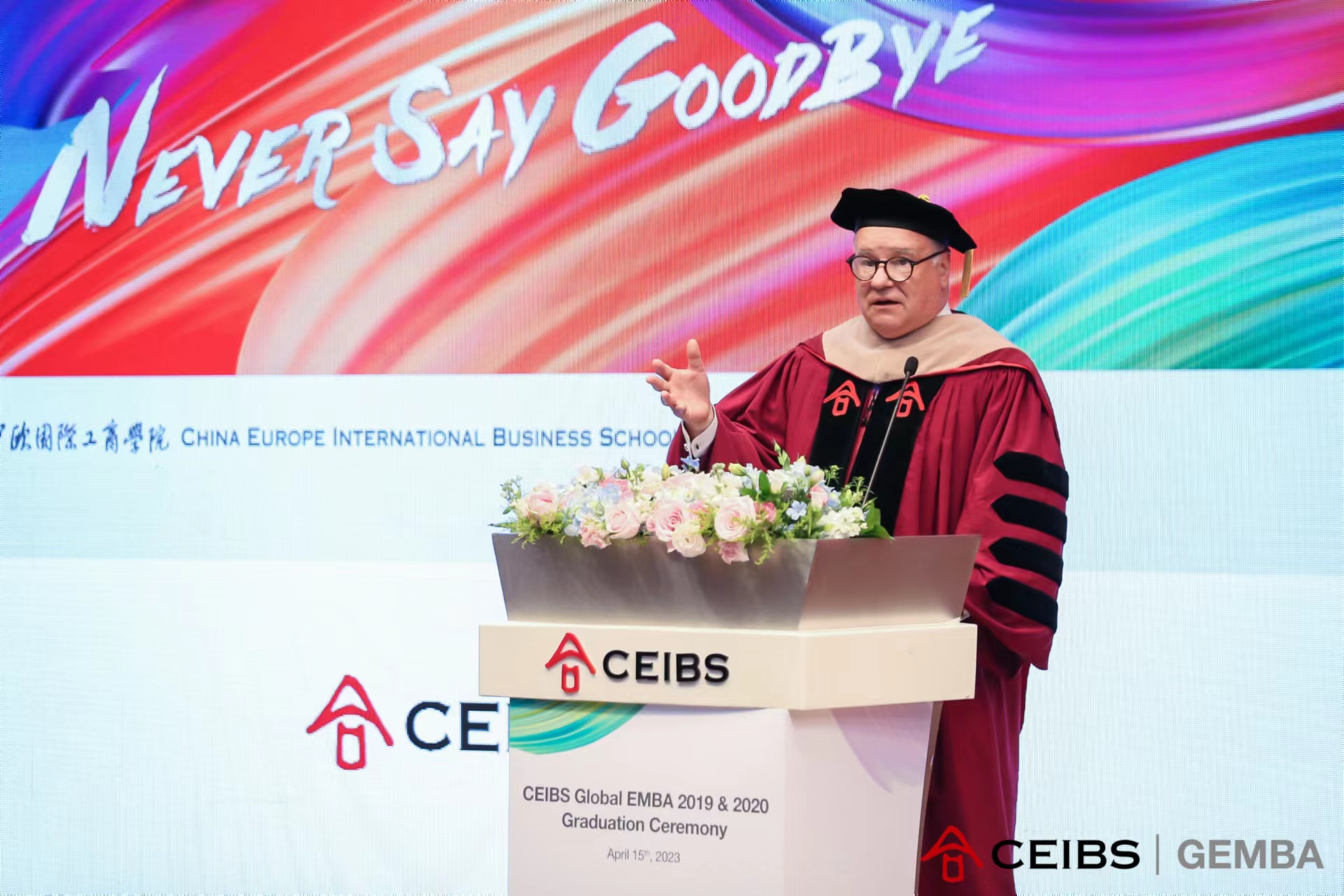 CEIBS President (European) Dominique Turpin
"As alumni, you are ambassadors for the school and your success is our success, and vice versa. Remember to lead by example, be responsible leaders and to always be humble. Your persistence and dedication has undoubtedly paid off, but please remember that the learning journey never ends," he went on.
Vice President and Dean Frank Bournois then briefly summarised how their GEMBA studies will undoubtably place the graduates in a stronger position to lead effectively yet responsibly in the next chapter of their lives and careers.
"You have studied in a unique environment because GEMBA is also a singular programme that combines global perspectives with a strong focus on emerging economies. You have been exposed to the many facets of diversity and you now know how to manage them. Your leadership skills have been constantly developed during your journey. You have shared a lot with your classmates, and you now know yourselves better," Prof. Bournois said.
CEIBS Vice President and Dean Frank Bournois
"After this programme you are no longer just very good managers, you have grown into great leaders. Because you have studied at CEIBS, people will identify with your global vision, your modern thinking, your sensitivity to sustainable business models and, above all else, your demonstration of responsible leadership. As you go forward into the next chapter, remember that education and leadership are indispensable to each other," he added.
Vice President and Co-Dean Zhang Weijiong then reminded all the gathered graduates that success in business is about having the flexibility of mindset to see challenges as opportunities.
"You don't need me to tell you how severely the pandemic impacted your GEMBA learning journey – you have experienced it first-hand. However, instead of being overwhelmed by these challenges, you overcame them. Individually and as classmates, you saw the pandemic as the ultimate opportunity to do what GEMBA is really all about – learning how to adapt to changing global business realities. This is what a modern business leader requires above all – a mind that is open enough to see new ways of doing things and agile enough to successfully adopt them," Prof. Zhang said.
CEIBS Vice President and Co-Dean Zhang Weijiong
Associate Professor of Finance Viktar Fedaseyeu then gave a speech in which he warmly congratulated the graduates on their perseverance while encouraging them to maintain that attitude as they look to the future.
"Sometimes, the difference between expectations and reality is very large. Your GEMBA journey was a lot longer and far more challenging than you envisioned before COVID-19 struck. And, yet, you persevered both with your studies and with your professional growth. Some of the most insightful classroom discussions we had revolved around your experiences and your ability to see beyond the immediate and into the future. Regarding your future, remember that not every tomorrow can be brighter than today, and that's okay. What matters in the end is not just tomorrow but the many tomorrows that will follow," Prof. Viktar said.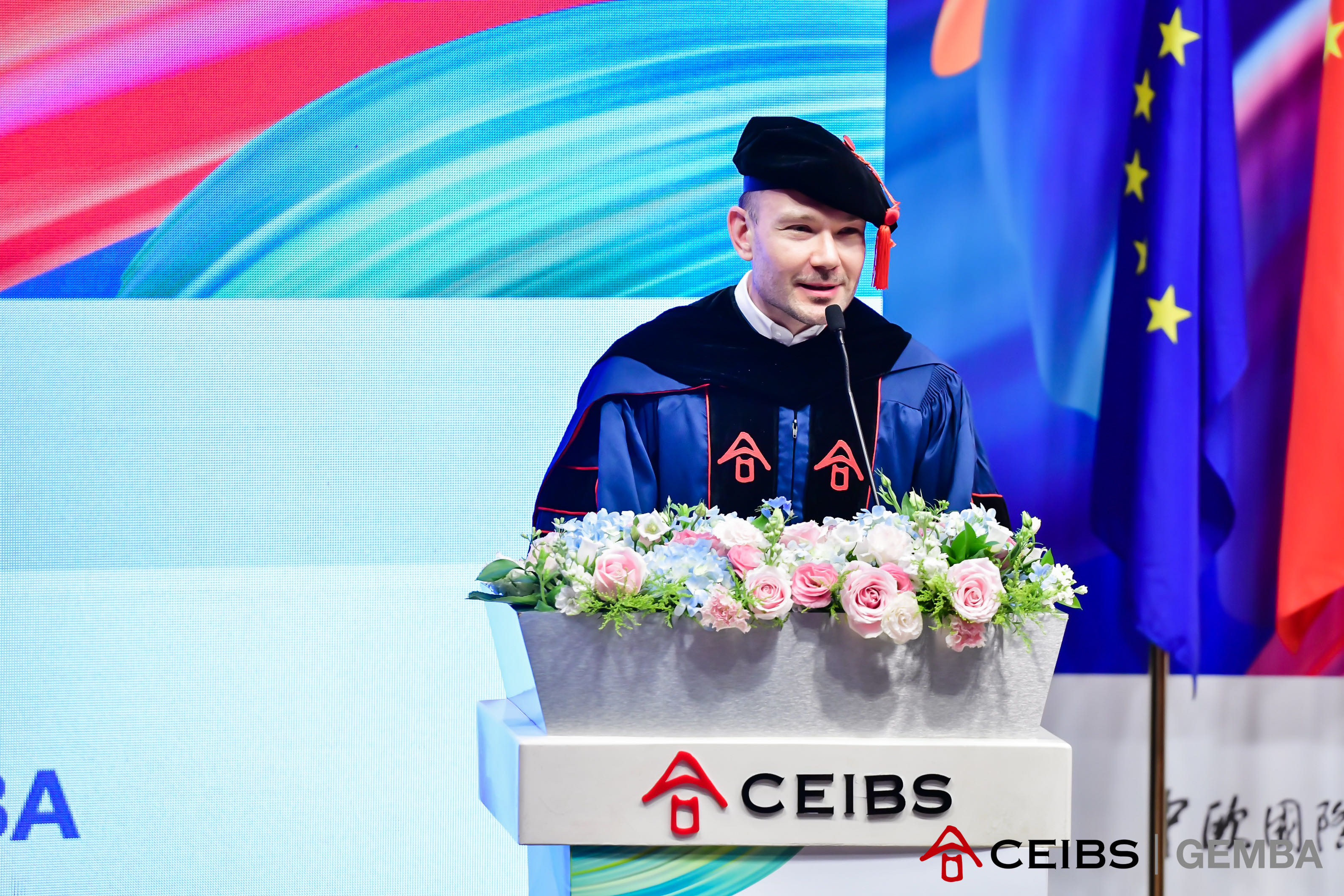 CEIBS Associate Professor of Finance Viktar Fedaseyeu
"And those tomorrows, with our hard work and entrepreneurial spirit, will keep making the world a better place. For you, our dear graduates, today marks the beginning of an exciting journey of being CEIBS alumni, and CEIBS will always have your back," he concluded.
Good times revisited
Following the speeches from faculty and school leadership, the graduates were treated to a trip down memory lane with a short video prepared by the GEMBA department. The video highlighted just a few of the many great moments and milestones that they experienced as classmates. These included insightful company trips, passionate classroom debates and, of course, well-deserved celebratory events and gatherings.
Fond memories and future wishes: Addresses from GEMBA class representatives
As is customary at GEMBA graduation ceremonies, representatives of both classes were given the opportunity to address their cohorts and professors.
Representing the GEMBA Class 2019, Managing Director of Allbirds China Brandy Yu gave a touchingly personal speech outlining her journey into the more entrepreneurial aspects of business, and how her friends and peers have helped her learn so much in such a relatively short space of time. In closing, she asked her classmates and fellow GEMBA alumni to think carefully about how they can put their newfound abilities to good use for the world.
Managing Director of Allbirds China Brandy Yu (GEMBA 2019)
"The ending note of Professor Hwang Yuhchang's class 'Do well by doing good' was such a moment of elevation and enlightenment for me. It resonates so well that ESG has been embedded into future business and corporate strategy – the ultimate imperative is to make the world a better place to live in. How we can contribute to that better world is an open question we are yet to answer," Brandy said.
Next to address the audience was GEMBA 2020's Richard Jin, Head of Data & Outcomes – Unilever UNITE, Mindshare China. His speech focused on the importance of cooperation and mutual support in life as well as business.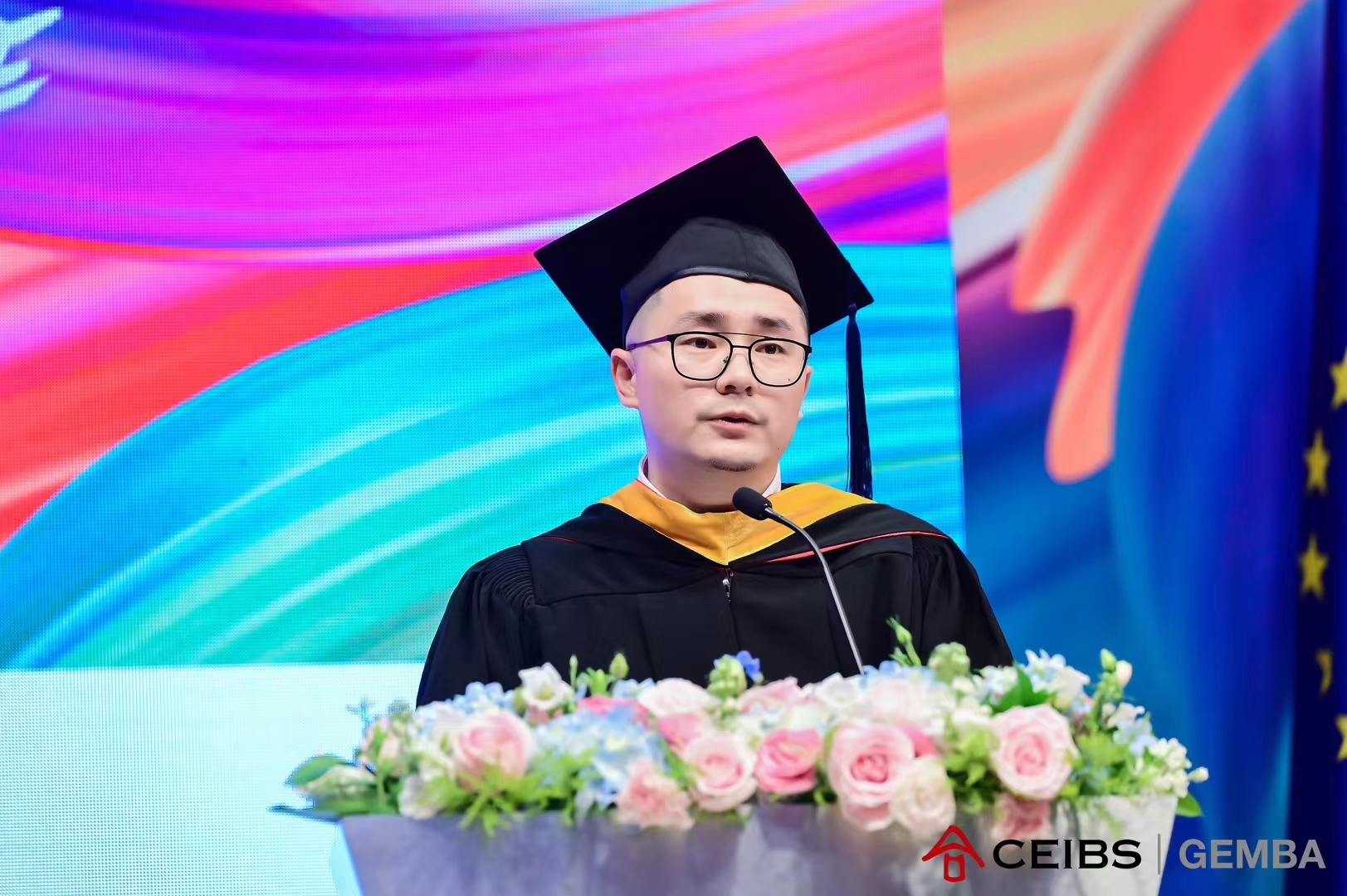 Head of Data & Outcomes, Unilever UNITE, Mindshare China Richard Jin (GEMBA 2020)
"I learned that the right balance of caring and daring can truly bring the best out of people. As students here, we have juggled full-time work and studying while facing lockdowns and business downturns. We coped with these challenges by supporting our cohort brothers and sisters while striving to make the most of our GEMBA experience. This unyielding process has shaped us into better versions of ourselves, into sharper professionals, more effective leaders, closer friends, and better people," Richard said.
Amazon ICQA Operations Manager Gennaro Buonomo (GEMBA 2020) then took to the stage. His speech captured the spirit of one of the programme's core functions – to produce a deep seated curiosity and hunger for learning in its students.
Amazon ICQA Operations Manager Gennaro Buonomo (GEMBA 2020)
"It has been a transformative journey, one that allowed us to learn, challenge ourselves, and gain the confidence to embrace change and pursue new opportunities beyond our comfort zone. We have been exposed to a diverse array of ideas, perspectives, and cultures. We have engaged in robust discussions, debated different viewpoints, and worked with classmates from all walks of life. This has taught us the value of listening, understanding, and respecting differing opinions. It has shown us that true learning and growth come from open-mindedness, humility, and the willingness to learn from others," Gennaro said.
A moment of reflection and celebration
While all of the students from both classes managed to graduate under the most difficult of circumstances, every graduation ceremony provides the opportunity to highlight the exceptional efforts of a select few. This year, there were two graduate awards to be conferred on the deserving members of each class.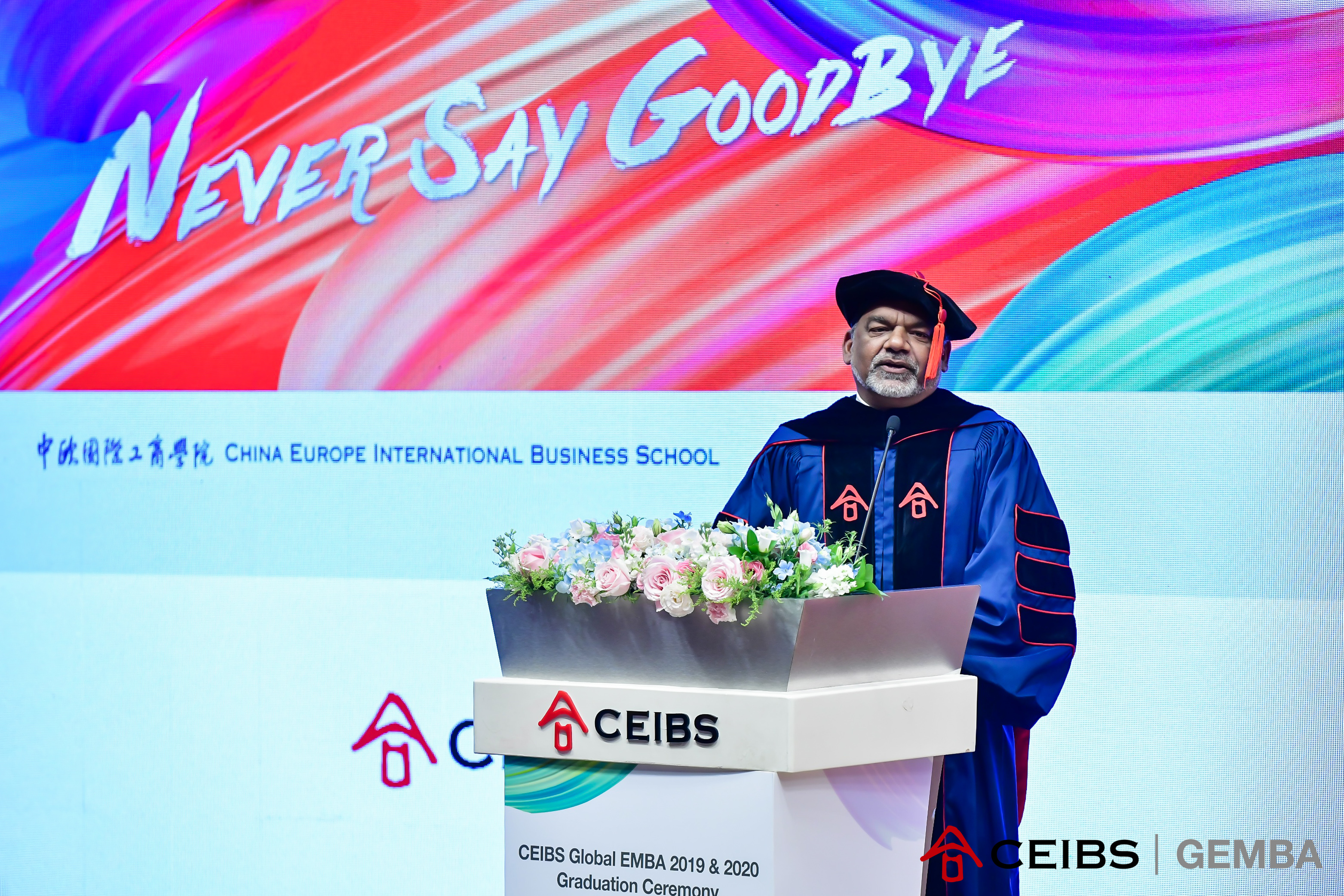 CEIBS Associate Dean (GEMBA) and Professor of Economics Bala Ramasamy
The Academic Excellence Award was established to celebrate students who achieve the highest GPAs in their GEMBA class. To introduce this section of the ceremony, the event host CEIBS Associate Dean (GEMBA) and Professor of Economics Bala Ramasamy shared a few heartfelt words.
"On this special day, we all miss the presence of a very important person, my dear friend, Prof. Nikos Tsikriktsis, who welcomed both the GEMBA 2019 and GEMBA 2020 cohorts to CEIBS on your opening day. I know he would be so happy and proud to see what you have achieved together," Prof. Bala said.
"For those who didn't know him, Prof. Tsikriktsis served as Associate Dean and Global EMBA Director from September 2014 until January 2021, and was a much-loved faculty member and figure in the CEIBS community. He passed away in May 2021 due to illness and all of us at the school miss him dearly. This award is a fitting tribute to the man himself and to the general pursuit of academic excellence," he continued.
The Outstanding Graduate Award is a recent innovation that highlights those graduates who have managed to not only maintain a consistently high GPA, but also contribute greatly to the GEMBA programme and the wider CEIBS community. Such contributions may range from organising company visits, to founding and leading school clubs, hosting CSR events or many other actions that enrich life at CEIBS.
This year's winners of the two awards were:
Academic Excellence Award winners
Tobias Machus (GEMBA 2019)
Jeremy Rigaud (GEMBA 2020)
Marcus Dobermann (GEMBA 2020)
Outstanding Graduate Award winners
Guirong Li (GEMBA 2019)
Brandy Yu (GEMBA 2019)
Kirk Xu (GEMBA 2019)
Christopher Dunn (GEMBA 2020)
Anita Jiang (GEMBA 2020)
Richard Jin (GEMBA 2020)
Vincent Tong (GEMBA 2020)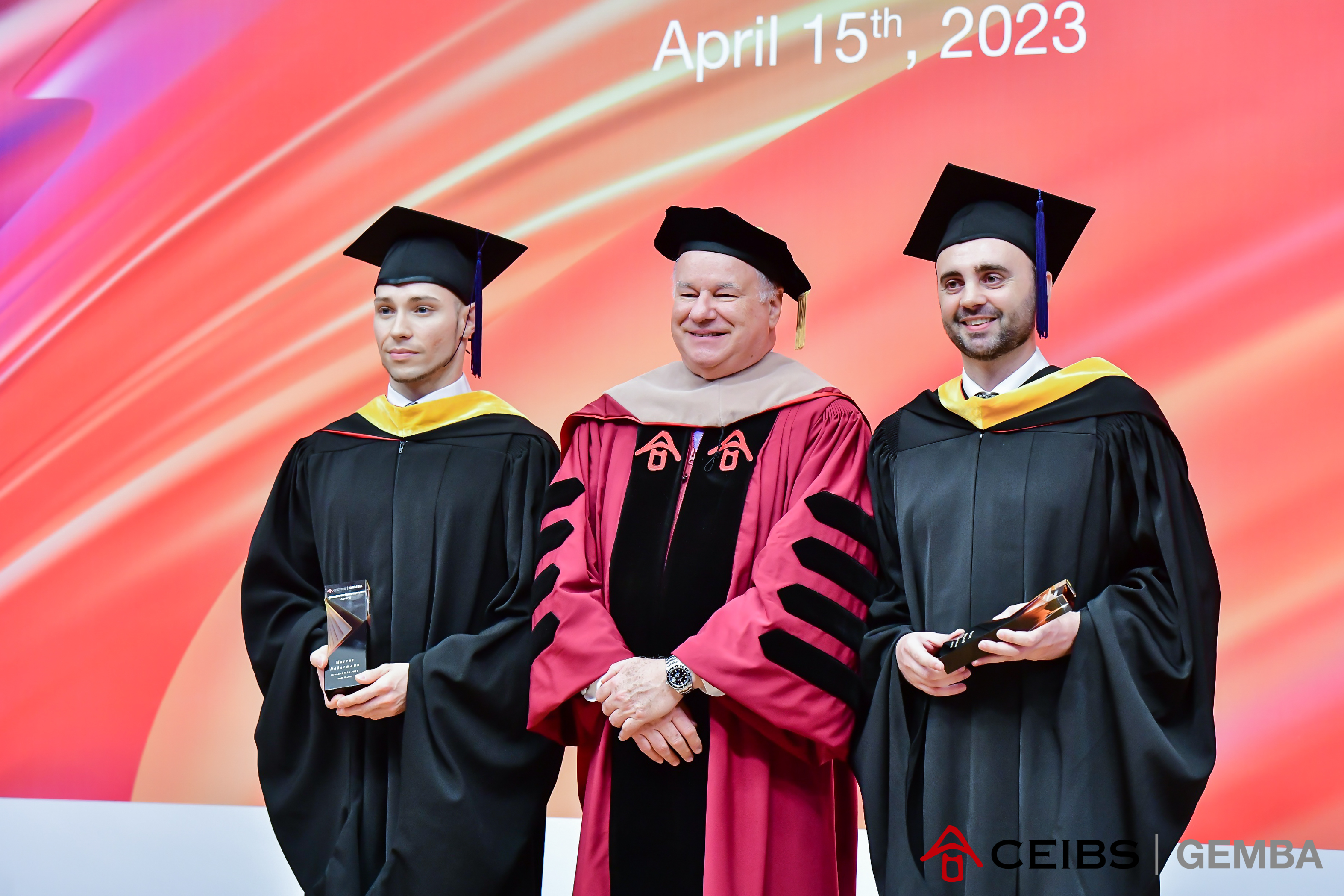 Award presentation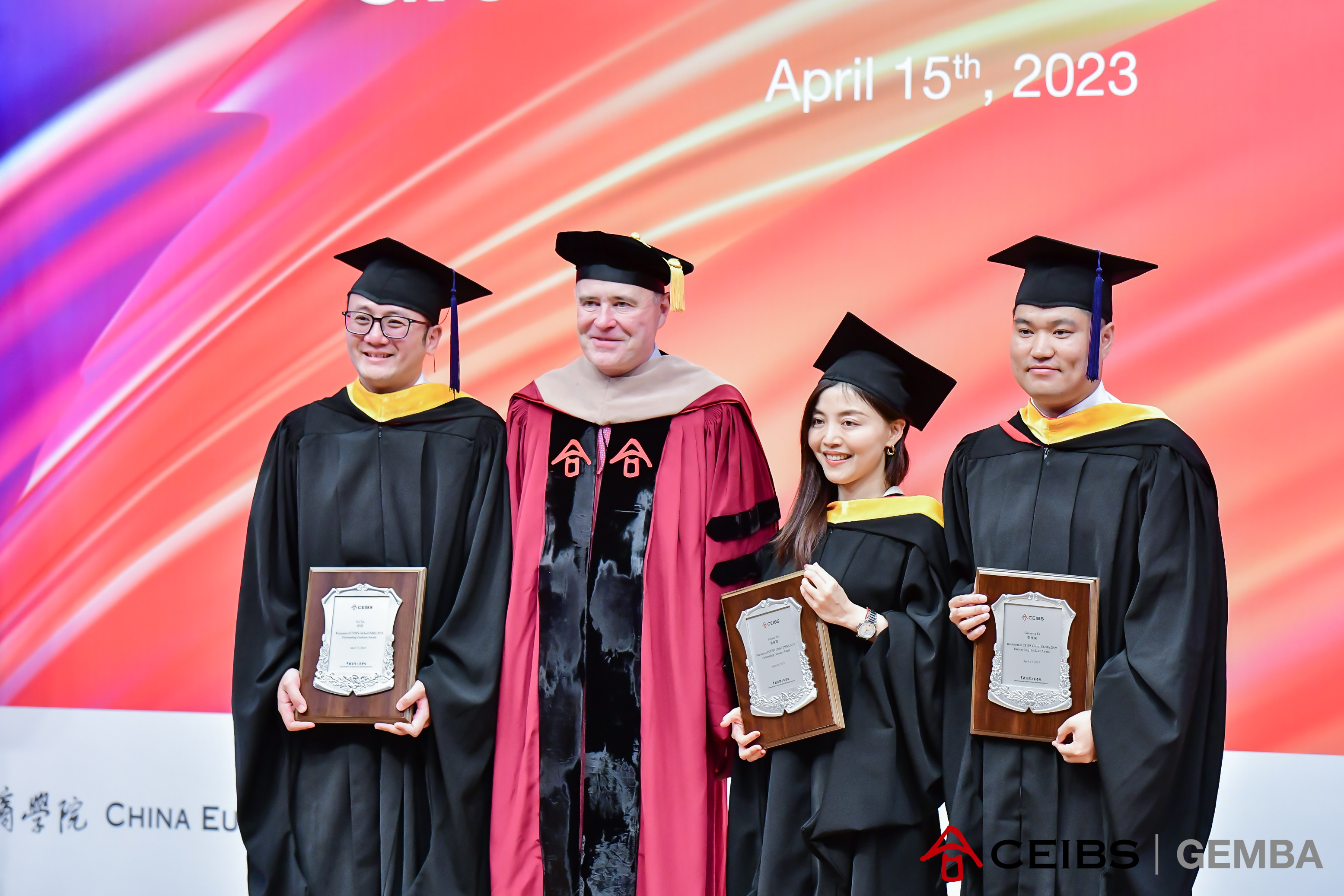 Award presentation
Award presentation
Turning the tassel to start a new chapter
Before the degree conferment part of the ceremony, both classes enjoyed a proud moment as they made their official class gift donations. For the GEMBA 2019 class, this was the naming of a pillar in one of the school's corridors in their honour, while the GEMBA 2020 class gift was commemorated on one of the shelves of the CEIBS Library.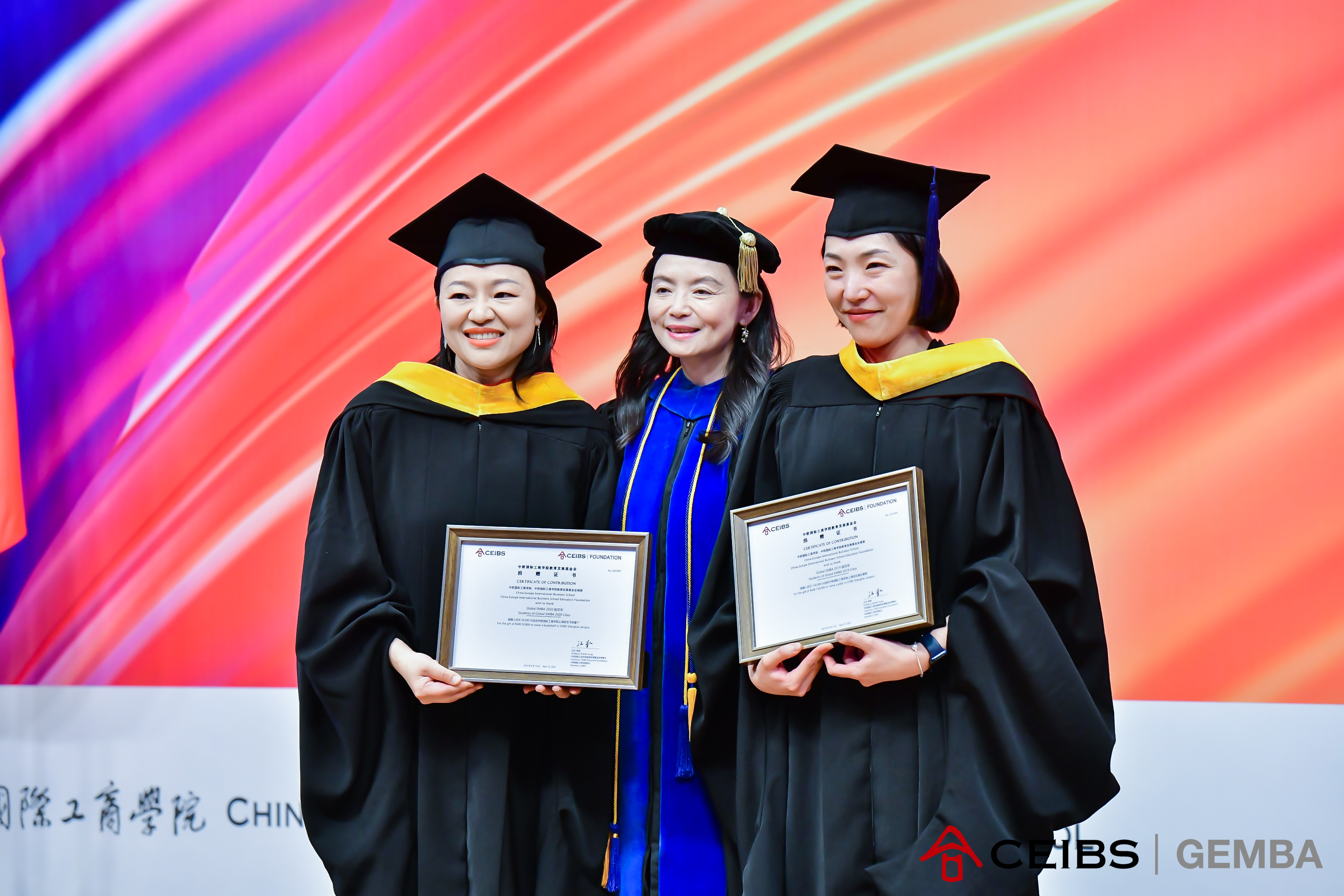 Professor Katherine Xin presents certificates for class gift donations
Finally, it was time to begin the process of officially conferring the long-awaited degree certificates on the new graduates. Starting with those in Zurich, each graduate was given a moment to enjoy the bestowment of their degree by Assistant Professor of Accounting Gianfranco Siciliano and CEO of Zurich Campus Dr. Robert Straw. This was followed by the other six students who joined the ceremony remotely from overseas, and finally the majority of the classes received their degrees in person from Professors Dominique Turpin, Frank Bournois, Bala Ramasamy, and Katherine Xin.
With the final turning of the tassel, the ceremony was concluded and the graduates had officially completed their GEMBA studies, becoming alumni in the process.
Looking forward while also looking back
A guiding principle of the GEMBA programme is that learning must be a constant feature in one's life. Students, alumni, professors – everyone should maintain a healthy eagerness to seek out new opportunities to learn, to test the validity of their existing knowledge, and to always remain open to entirely new business approaches and mindsets.
Even though learning is a lifelong journey, it is always important to mark major milestones along the way. The GEMBA programme is, by design, rigorously academic, and graduating under the challenging global conditions of the past three years represents a remarkable achievement for which every member of the GEMBA 2019 and 2020 classes should feel a deep sense of pride.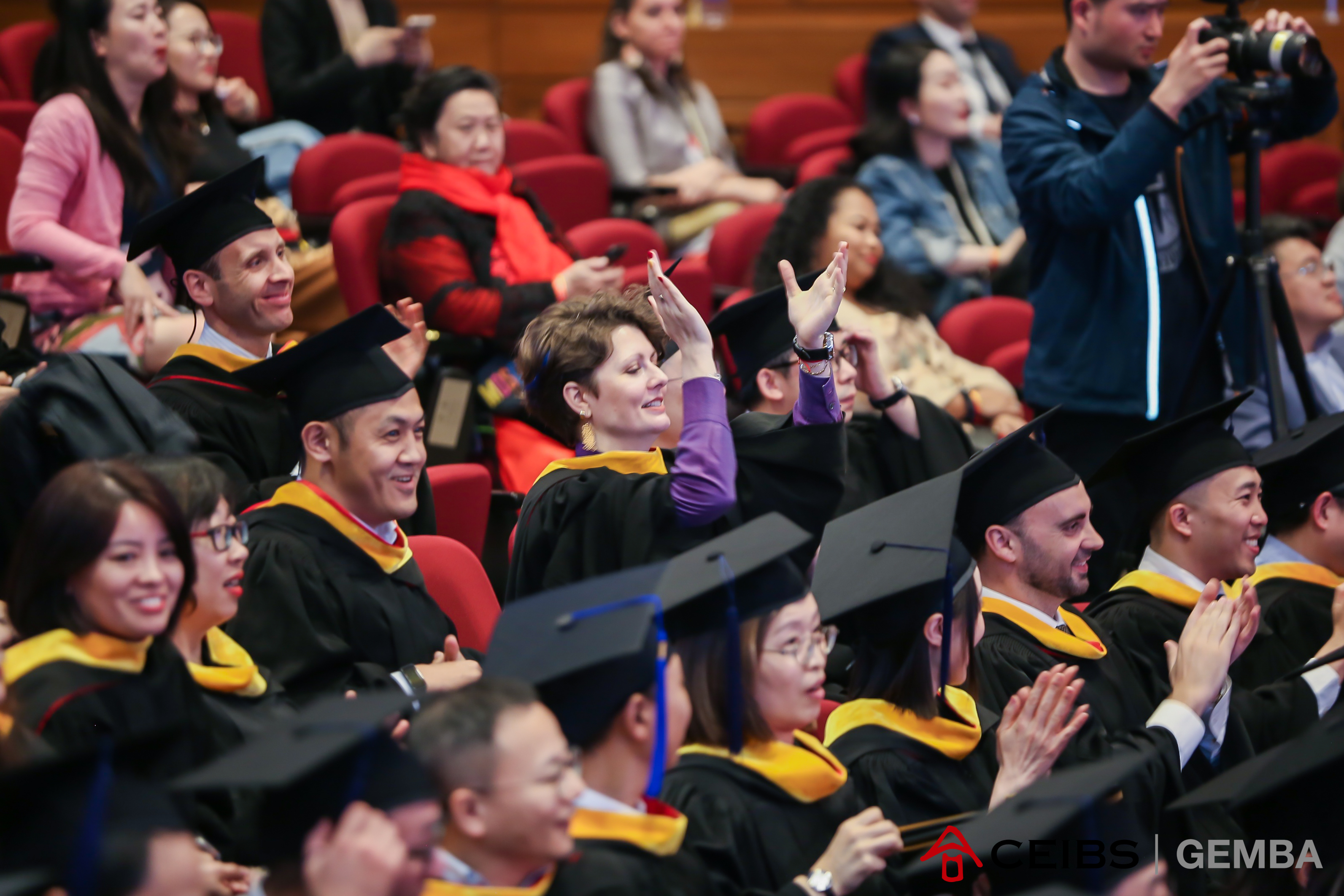 The clear message to our newest CEIBS alumni from their professors and peers is not only to use the skills and knowledge they have gained at CEIBS, but also to maintain the same spirit of collaboration, openness and curiosity that has served them so well during their years of study.
Once again, we congratulate the 2019 and 2020 cohorts, and wish them the very best of luck in the next chapters of their lives! Never say goodbye!