Friday, May 12, 2023
New book offers wealth of inspiring quotes on business, life and more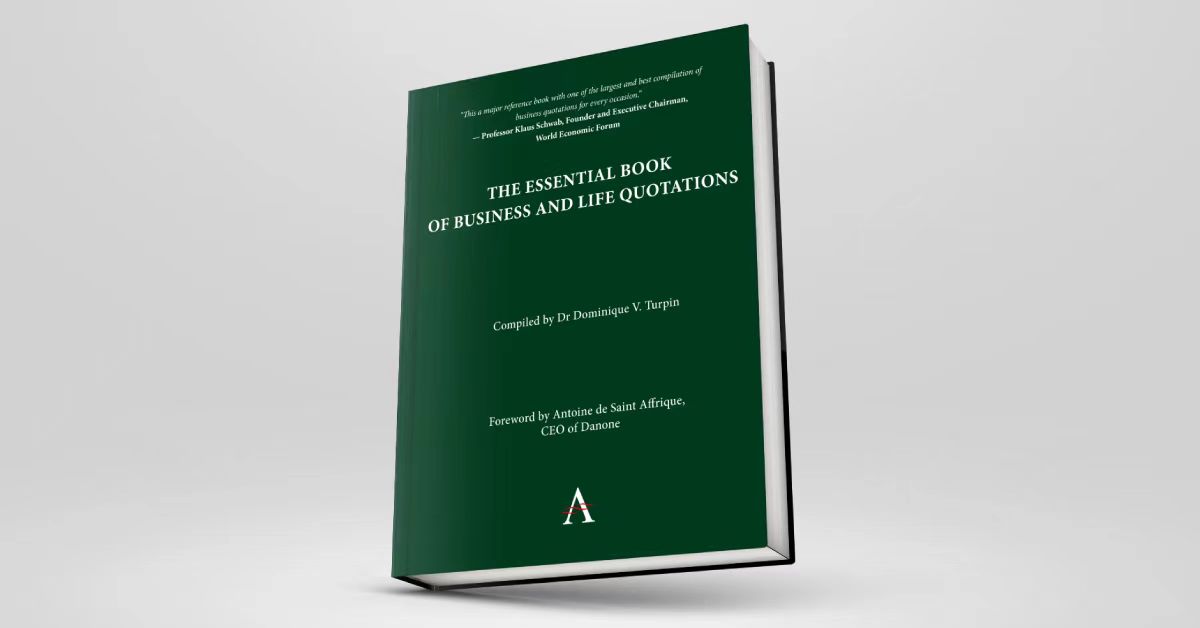 May 12, 2023. Shanghai – A new book compiled by CEIBS President (European) and Professor of Marketing Dominique Turpin offers a wealth of inspiration for executives, academics and those interested in reflecting on some of the best things ever said.
The Essential Book of Business and Life Quotations includes more than 10,000 unique and original quotes – almost all of them properly sourced – on everything from Aristotle and accountability to Zoom (the video conferencing software) and Mark Zuckerberg.
"It's a kind of summary of what I've learned in my life, both from a business point of view, but also from life, because every business is about people," Prof. Turpin says.
The 900-plus-page book began as a good study habit more than 35 years ago, when Prof. Turpin first started out as a professor at IMD in Switzerland.
"I was 29 years old and I didn't have much teaching experience, so I was asked to attend an executive programme for five weeks. When I was studying there, I would take notes of what the professor would say. I would highlight all the readings and so on," he says.
Soon, Prof. Turpin says he was regularly collecting quotes – sometimes one a week, sometimes three per day – from other speakers and writers he encountered. He was also motivated to accurately source what he heard and read after coming across numerous fake quotations attributed to the likes of Mark Twain, Winston Churchill and other notable figures.
"One day, I was attending a presentation by a colleague and I saw a quote that was supposed to be from Einstein. And, I thought to myself, 'Did Einstein really said that?' Later, I went to see this colleague and I said, 'I know that was not really from Einstein. I have the right source'," he says.
Over time, not only did he accumulate thousands of quotes, he also developed a reputation as someone who always had just the right quote for any occasion.
"My colleagues were regularly coming to me and saying, 'Do you have a quote on crisis?' or 'Do you have a quote on leadership?' or 'Do you have a quote on this and that?' And, then one of my colleagues said, 'You should publish a book,'" Prof. Turpin says.
The Essential Book of Business and Life Quotations stands out from other quotation books for a couple of reasons. For one, it contains a large number of original quotes which have never been published before.
"The challenge was really to get the approval from every living person I was quoting. But, to my surprise, actually 99.9% of them said 'Yes'," Prof. Turpin says.
The book also contains quotes on a wide range of topics not usually found in traditional books of quotations, such as COVID-19, digital transformation, sustainability and fake news, plus many more timeless subjects.
"I know that this book, I can pass it to my children and my grandchildren. I think there are still a few things that will be valid in 50-100 years," he says.
Prof. Turpin adds that the book makes for a great gift and will appeal to just about anyone – from senior executives looking to pepper their speeches with inspiring quotes to academics looking to add some colour to their presentations to casual readers looking for some weekend enlightenment.
"You can sit with a cup of coffee any time of the day on a train or at home, and you can open it at any page and read a couple of these quotes. I've tried to select the wittiest ones and the shortest ones, so you don't have to think twice about the interpretation of the meaning," he says.
Since it was first published earlier this year, there has been a steady stream of interest in the book. While he has received a wave of positive feedback, Prof. Turpin admits there is one question he gets more than any other.
"Can I choose a favourite quote? This is the question that everybody asks! I think it depends very much on the occasion, but I couldn't give you one answer because there are so many of them. Out of 10,000, it would be very difficult to pick one," he says.
The Essential Book of Business and Life Quotations is published by Anthem Press. Learn more here.