Friday, December 09, 2022
Three CEIBS faculty named as top scientists by research tracking site Research.com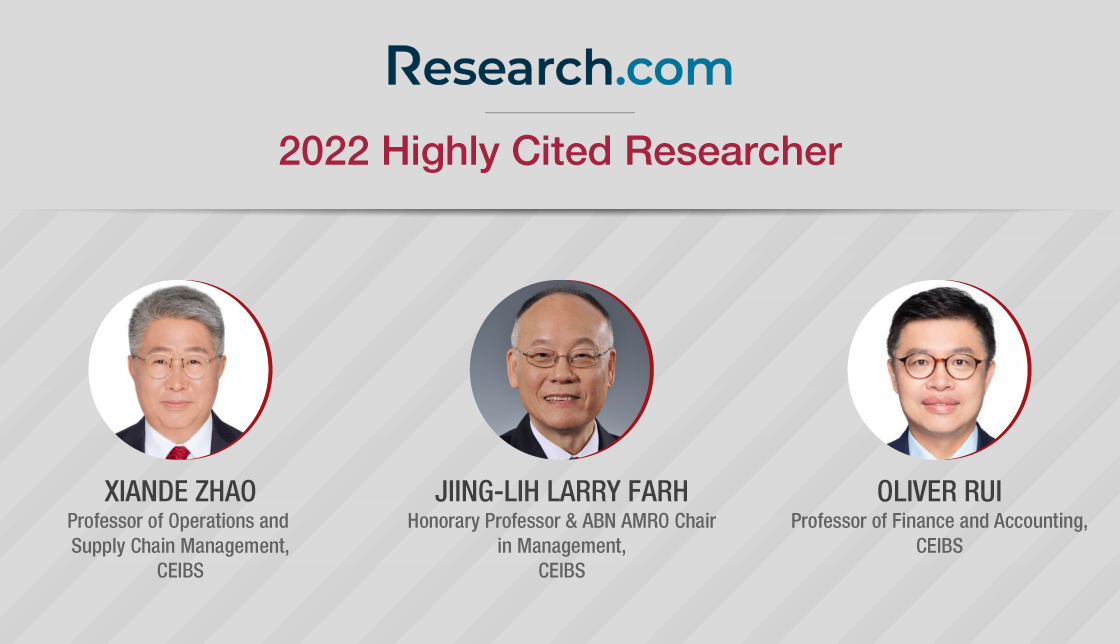 December 9, 2022. Shanghai – A trio of CEIBS faculty have been listed as highly cited academics by Research.com, a website dedicated to publicising the work of scientists from the field of social sciences and humanities and other major research disciplines.
CEIBS Professor of Operations and Supply Chain Management Zhao Xiande, Honorary Professor Jiing-Lih Larry Farh and Professor of Finance & Accounting Oliver Rui were each named top scholars according to the website, which uses information from Microsoft Academics (the world's largest open bibliometric database) to measure the impact of individuals' research.
Prof. Zhao has an H-index (a metric used to measure the productivity and impact of publications) of 65 with 15,913 citations; Prof. Farh has an H-index of 46 with 21,709 citations; and Prof. Rui has an H-index of 42nd with 11,544 citations. Other metrics are taken into consideration for the ranking, including the number of publications made by each academic.
Among the influential papers picked up by the ranking was Prof. Zhao's "The impact of supply chain integration on performance: A contingency and configuration approach," which has been citied some 2,956 times since its publication in Journal of Operations Management in 2010 according to Research.com. Prof Farh's "Impetus for action: A cultural analysis of justice and organizational citizenship behaviour in Chinese society" also drew acclaim in the ranking, with 2,039 citations following its original publication in 1997 in Administrative Science Quarterly.
Meanwhile, Prof. Rui's 2006 paper on "Ownership structure, corporate governance, and fraud: Evidence from China" published in Journal of Corporate Finance was cited 964 times, according to Research.com.
Learn more about Prof. Zhao, Prof. Farh and Prof. Rui's teaching and research interests on our faculty profile page here or get more CEIBS faculty knowledge here.