Thursday, June 10, 2021
CEIBS 2021 Innovation Survey: Focus on competition driving innovation in China
June 10, 2021. Shanghai – Intense competition, the need to attract and retain top talent and the desire to gain first mover advantage are amongst the most important reasons companies need to innovate, according to a recently-released survey of business leaders.
"If you want to survive in China – and probably in other markets – you need to innovate. You can't stop. Otherwise your competitors will eat your market and you will have a slow death," CEIBS Professor Juan Fernandez says.
The CEIBS 2021 Innovation Survey, which collected feedback from 950 respondents across a variety of industries and functions, was co-authored by Prof. Fernandez along with CEIBS Professors Emily David and Sophie Chen and University of Zaragoza (Spain) doctoral candidate Maria J. Puyuelo. 95% of respondents worked for companies located in China.
"We really wanted to use the survey to get a better understanding of how those operating in China and elsewhere view innovation and what companies are currently doing to help foster innovative climates," Prof. Chen explains.
Accelerating changes in technology and shifting consumer wants and needs also ranked high on the list of reasons why those surveyed believe their organisations have begun to take innovation more seriously.
"There have been so many changes in China over the past few years – more competition, Chinese customers are more demanding, the digital revolution – and they are forcing companies to think new ways of doing business," Prof. Fernandez says.
Fig. 1: Why is having an innovative culture important for your company?
As the survey itself suggests, when it comes to getting people and organisations to pursue innovation, it takes more than just implementing new rules, regulations and processes.
"Like any kind of organisational change, you have to create a burning platform. You need to ask, why is this necessary? What is the biggest impetus that says you need to pursue innovation?" Prof. David says.
As part of the project, the team created an "innovation index" that factors in organisational policies and practices, leader behaviours and priorities and employee norms and behaviours in order to gauge (on a scale of 1 to 5) the degree to which companies have developed an innovative culture.
"Amongst other things, we saw clear differences across industries. Those in healthcare, services and tech, for example, reported really high levels of innovation, whereas sectors like energy and finance tended to report lower levels," Prof. Chen says.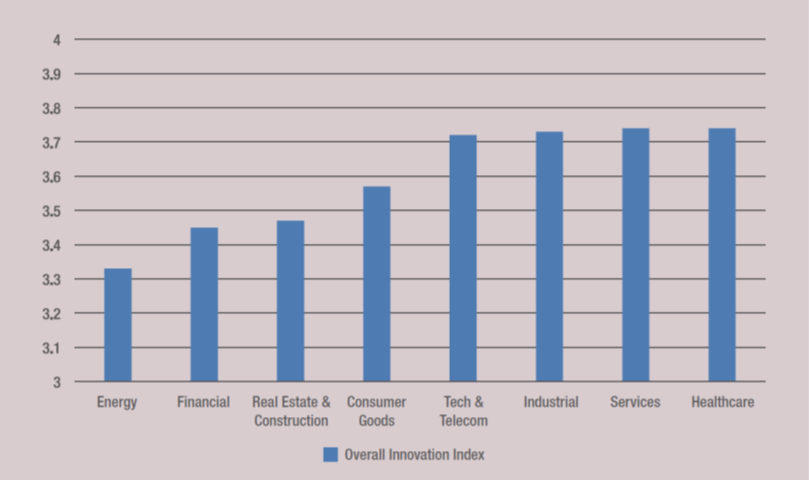 Overall innovation index by industry
The research also dug into some important outcomes associated with innovation, such as the impact that innovation has on employee attitudes and turnover rates. With regards to employee attitudes, the team notes that not all of the factors measured had the same effect.
"We found that, while organisational practices and leader priorities did affect the likelihood that respondents believed innovation was critical for their organisation, the impact of employee norms was weaker," Prof. Chen says.
Furthermore, when it came to staff turnover rates, they also found that innovation levels played an important role in predicting whether employees intended to stay or leave their organisation.
"Our results show that higher levels of innovation significantly increase the likelihood that employees will stay with their company. Thus, managers should work hard to foster innovation as a way to retain talent," Prof. David says.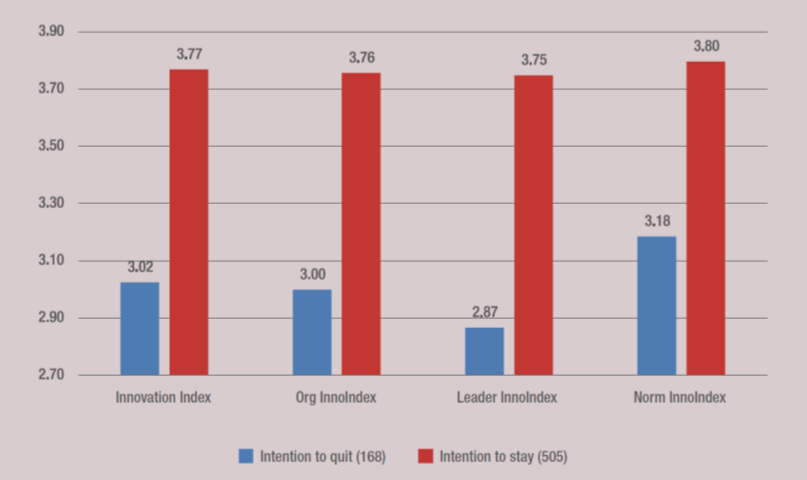 Innovations indices predicting whether respondents intended to quit their job
Indeed, as prior research suggests, practices such as hiring diverse teams and fostering a sense of psychological safety are often the key drivers of innovation. However, promoting innovation is also something that has to be sustained. It is not a simple, one-time act.
"You can change your website. You can start selling online. These are relatively easy thing to do. But, when you want to change the mind-set of people, it really has to be an on-going thing that starts with leaders," Prof. Fernandez says.
That said, the team is quick to note that innovation cannot just be mandated from the top-down and that it takes more than one person to advocate for change to make it work.
"You can't put it on HR or on one person to drive innovation. You really have to engage everyone to be part of it. And that's part of the challenge," Prof. David says.
The CEIBS 2021 Innovation Survey is now available online. Download a copy of the report here (English) or here (Chinese).