Look Back and Look Beyond
In October 2021, in Shanghai, I walked through the CEIBS campus gate at Hongfeng Road full of aspiration to make an impact in China. Almost 13 years have passed since I first came to China to learn how to launch a new glass factory, the starting point of my long journey. I was pleasantly surprised to be surrounded by passionate people and a rapidly growing economy, which impressed me and fueled my ambition to build my career in China.
Engineer at Aichi
As an engineer, I started my career at AGC Inc., a global glass manufacturer. At the Aichi factory, I joined the Float Glass Production Division. Melting raw materials, such as silica sand in the furnace at a temperature higher than 1,600 degrees centigrade, we produce over 1,000 tons of flat glass per day for the automotive industry. As Toyota's main supplier, AGC manages its operations through lean manufacturing. Although it sounds simple, in reality it is a tough job. The basic way of thinking follows the "go-gen principle," which means that when we face an issue, we should immediately go to the site, make a direct observation, determine the facts, determine the mechanisms through fundamental rules and principles, and pursue the root cause of the issue. To improve product quality and factory yield, I repeatedly executed this course of action. However, the plant is enormous and runs 24/7, so it is impossible to manage everything as an engineer. Luckily, I had reliable coworkers.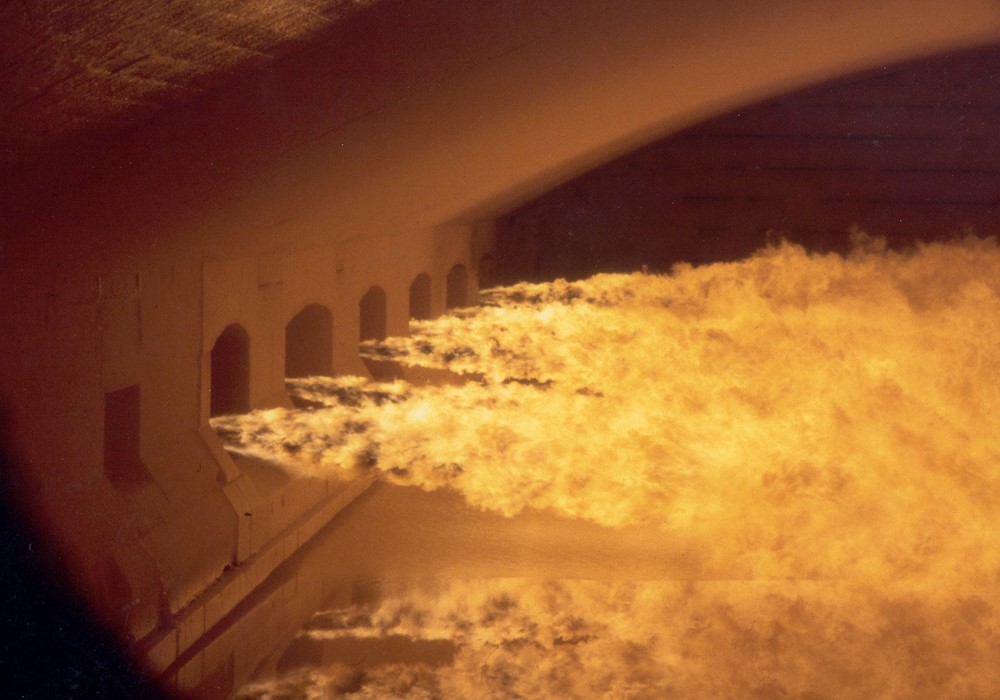 Glass furnace
One of the features of Japanese manufacturers is a spirit of craftsmanship. In the Aichi factory, there are many smart, skillful, and well-experienced professionals. Initially, they were skeptical toward fresh graduates who only knew theories. Thus, I tried almost every type of onsite work, some of which were hard, dirty, dangerous, and incredibly hot, and observed more actual situations onsite than they did so that I could discuss issues more deeply with them. In this way, I gradually earned their trust, and my "kaizen" approach (continuous improvement in Japanese) proved influential, which was truly enjoyable. One of the biggest improvements was a huge breakthrough in reducing down-time of the glass thickness change operation, which received an Operational Excellence Award from the CEO. These experiences at the Aichi factory shaped my core philosophy of being down-to-earth, and of encouraging team spirit.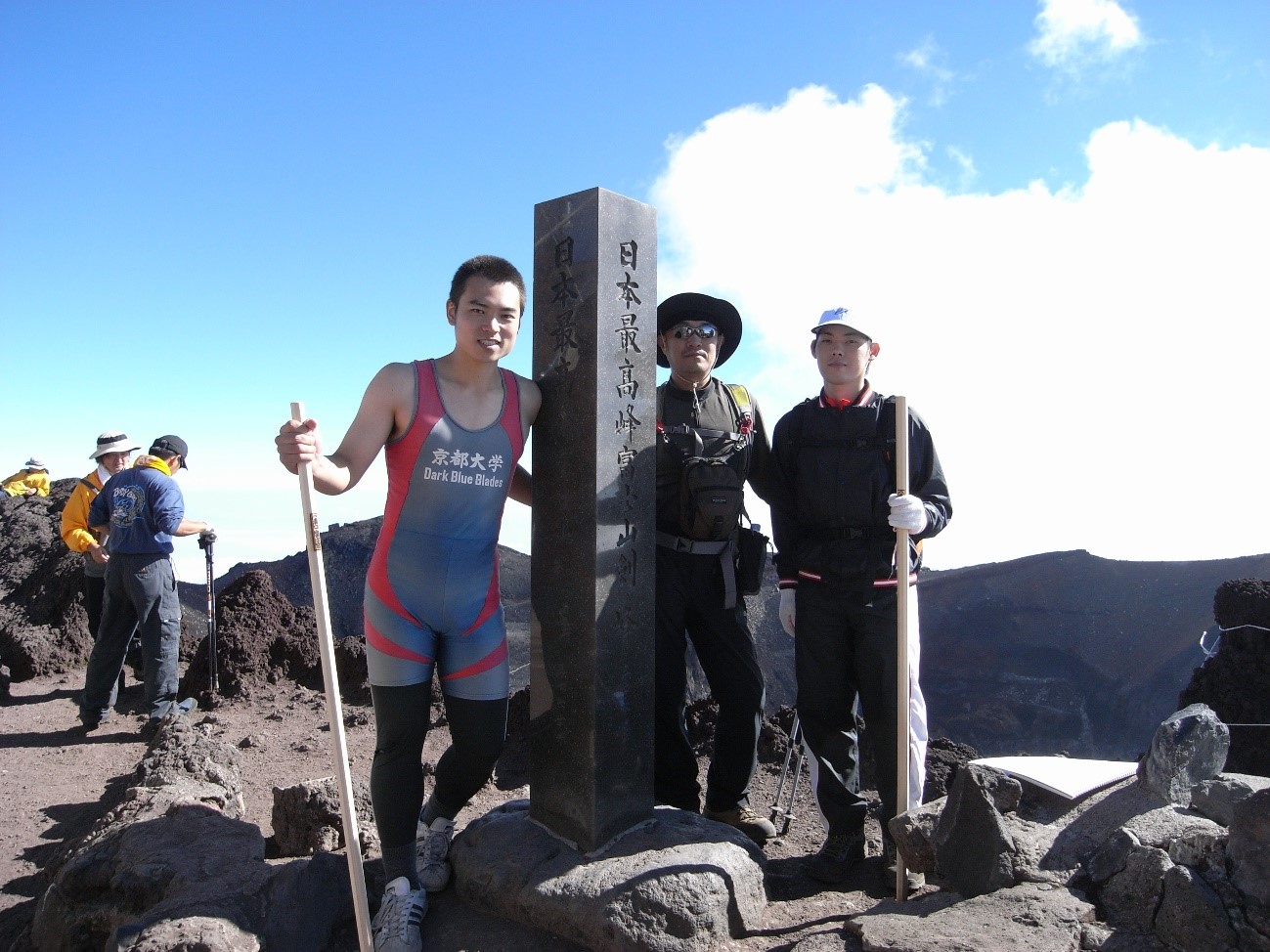 Summiting Mt. Fuji with my shift's colleagues
Project Management in Suzhou
Aside from my struggles in the Aichi factory, I had a chance to join a new factory launch project in Suzhou, China for four months in 2009. After returning to Japan, I started to learn Chinese so that one day, after gaining the necessary skills and knowledge to become an overseas supervisor, I could return to China. At the end of 2013, all those efforts paid off. I was assigned to manage the Suzhou factory. In the following six years, I experienced many challenging and unforgettable moments, such as developing a new product specialized for Audi China, and I succeeded in brokering a historic first deal, for which we received the CEO's New Customer Acquirement Award. Especially, one of the most challenging projects was a "cold repair" plant reconstruction. A feature of glass manufacturing is that once we ignite a furnace, we do not stop operations for over ten years because it requires significant cost. Thus, cold repair is a rare and precious chance to upgrade the whole process for the next decade. To make the new plant's development sustainable, I reformed our product portfolio to include more environmentally friendly products, reflecting current market trends. I redesigned the whole process to make it possible to manufacture new products more efficiently and sustainably. In terms of execution, I led cross-cultural teams, including Chinese, Japanese, Indian, Filipino, and Portuguese members. Although I was already familiar with diversity thanks to my prior experiences in Suzhou, and despite facing enormous time pressure each day, this project made me even more capable of coping with diverse perspectives. When I succeeded in producing the first sheet of flat glass from our new furnace and saw my colleagues' smiles, after a struggle of almost three years, I was so relieved and delighted that I could not express it in words.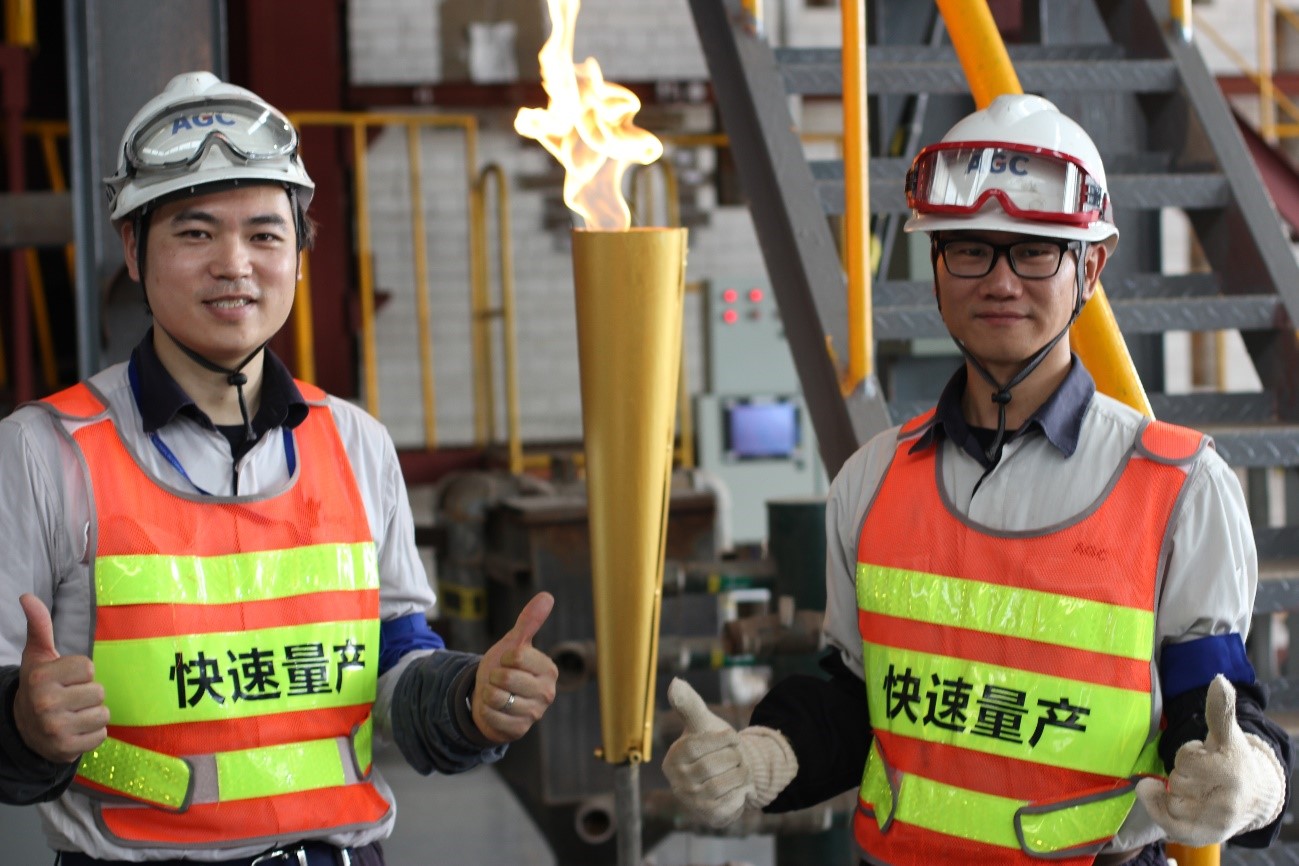 Lighting ceremony with my colleague
A New Journey at CEIBS
After accomplishing the cold repair project, at the end of 2019, I went back to the Tokyo head office to manage subsidiaries in the Asian region. While I enjoyed new tasks, such as optimizing our supply chain in Asia during COVID-19 and forming strategy related to SDGs and carbon-neutral, I started preparing to apply for CEIBS.
Ever since I was a child I have been interested in the global environmental crisis. This interest led me to major in energy science and technology at Kyoto University. At AGC, the float glass process consumes a significant amount of heavy oil and natural gas to melt sand, and making an effort to improve the process efficiency directly contributes to reducing CO2 emissions. While working in China for six years and cooperating with the Chinese government regarding environmental regulations, I witnessed people were prioritizing sustainability more than ever and turning their words into action. Also, I experienced how Chinese people's lives were drastically changing powered by new digital technologies, which have applications spanning every industry to ensure sustainable development. Furthermore, when it comes to carbon-neutral, I believe global collaboration is the key to tackling this seemingly impossible mission and that China will be a key center for the collaboration. Considering these elements mentioned above, it was natural to conclude that China is one of the best countries to pursue my future career, in terms of the impact, government executability, and technology. During my time in Suzhou, I started thinking how to pursue my further career development in China. By chance, one of my best friends suggested an MBA might boost my transition. As I want to be a global business leader based in China, CEIBS was my ideal program. Once I set my path, taking action was simple. I studied hard to get an acceptable GMAT score, and made my application.
I have just started Term two. So far, CEIBS has provided a terrific platform where I can deeply communicate with fantastic professors, spiritual mentors, various industry leaders, and amazingly talented classmates, each of whom I could not imagine meeting outside of CEIBS. Looking back on my work experience, pursuing an MBA was not an easy decision because of the relatively high opportunity cost. However, what CEIBS has given me is worth far more than I could have imagined, and I am determined to keep running so that I can fly with smile. As a Japanese citizen, leveraging my traditional industry experience and China's strength in digital technology, I aspire to be a bridge between China and Japan, a contributing to a more sustainable society.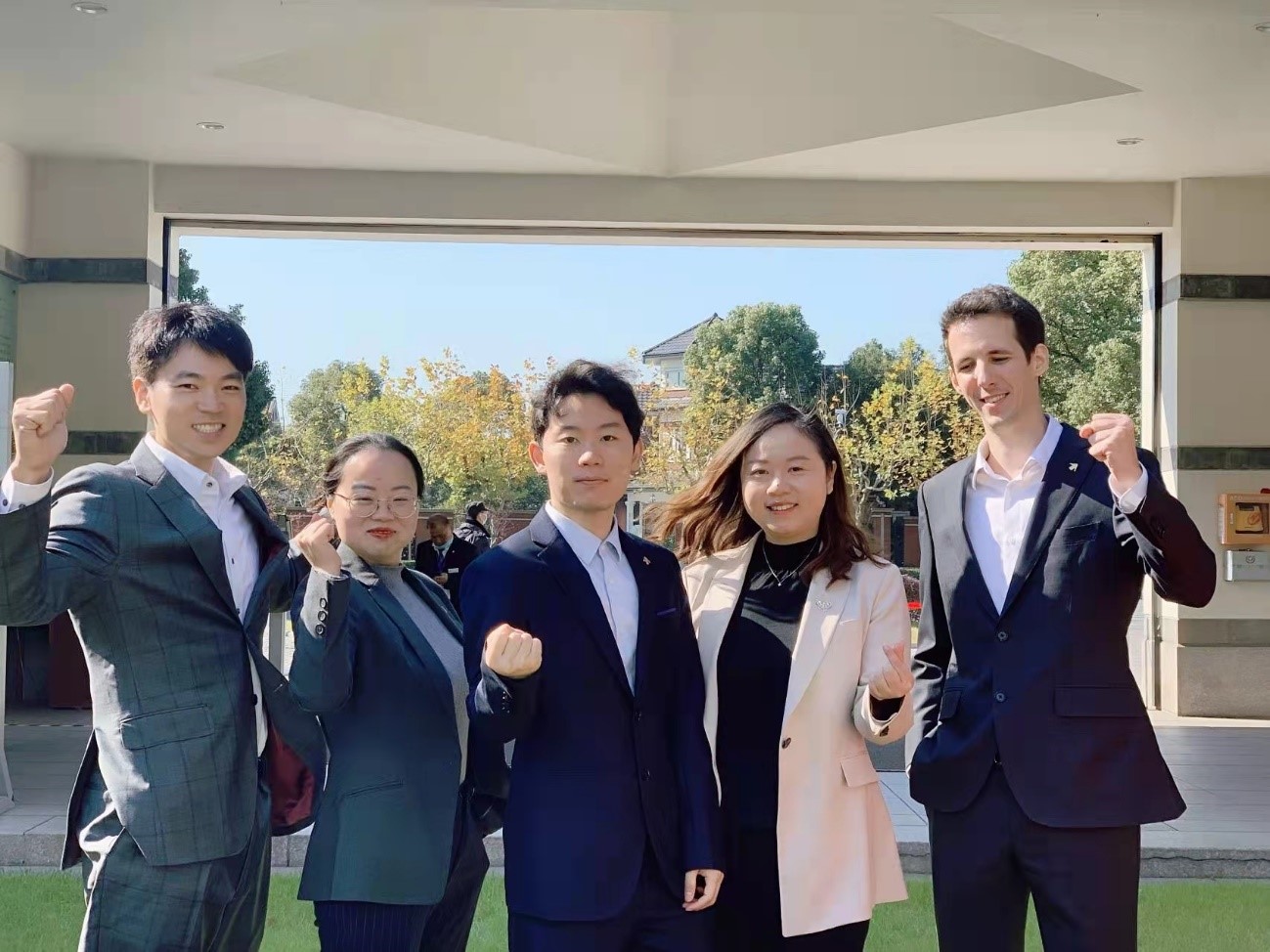 With my Term one teammates
Outside of academics, I really enjoy campus life with my friends. Some friends and I formed a music band and performed on campus for events such as Halloween, Thanksgiving Day. During our Chinese New Year Gala performance, when we played the last song, "Don't Look Back in Anger by Oasis," everyone in the auditorium joined in, giving us a sense of unity. The CEIBS family is my dearest treasure. I will keep learning from my classmates as much as possible to help create many more exciting moments for us in the future!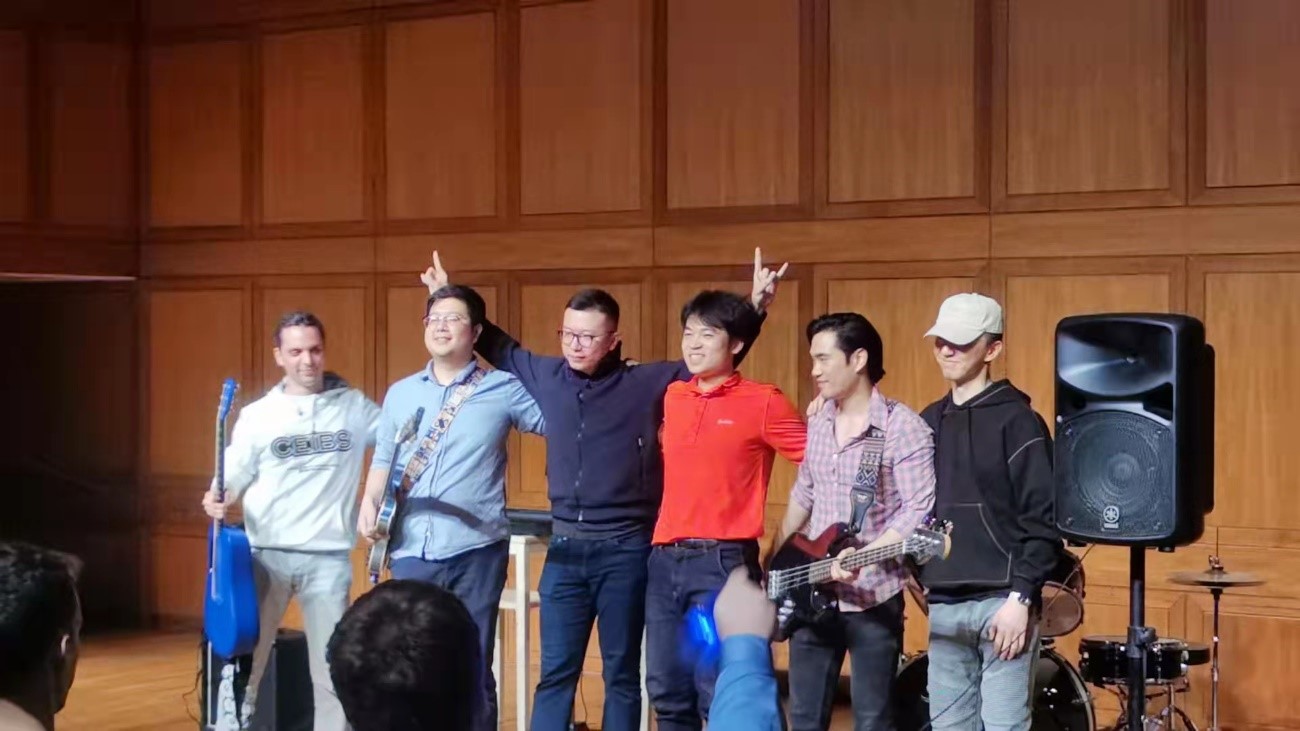 Gala finale with my band peers