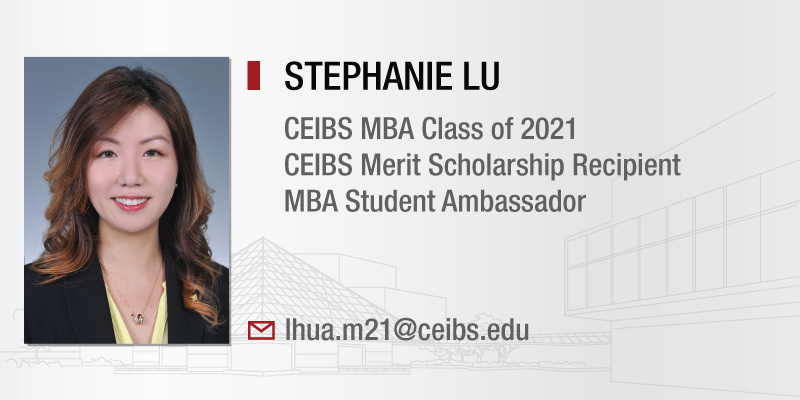 A Small Girl in a Big World
My name is Stephanie. Born and raised in the beautiful city of Zhenjiang in China's Jiangsu province, I moved to Toronto, Canada, with my parents in 2003. After graduating high school as an Honours Student, I attended the University of Waterloo, majoring in Mathematics and Chartered Accountancy, and was awarded a number of scholarships to fund my education. During my undergraduate studies, I also took the opportunity to complete 16 months of co-op / internship time with PwC as a tax associate. After my bachelor's, I went on to obtain a Master's of Accounting. Upon graduating, I returned to PwC, serving clients that included large mutual funds, leading public firms, and Fortune 500 companies, and shortly after received my Canadian CPA designation. Up until that point, my career path had been laid out right in front of me – I could choose to advance within the firm, or switch industries in a tax-related role. It was an easy and clear path, but let us be honest – it was an "ordinary" path, and I knew I wanted to do more. I should also add a disclaimer about the title. I am by no means a superwoman, but I feel CEIBS is setting me – in fact, all of us here at the school – up for that transformation. You will see what I mean as I share my experience below.

Commencement Day - University of Waterloo
Three years into working full-time, I left my job and took two months off to travel and reflect. One day, just as I was starting to panic about my declining savings, a recruiter reached out with a short-term opportunity at the Royal Bank of Canada – Canada's largest bank. I gladly went for the interview, and to my pleasant surprise was offered the job 10 minutes into the interview. The rest was history: I was part of a four-person project team that won the Annual Bronze Team Award that year for successfully leading a transformation project to standardise and digitise the entire documentation process. I was then offered a full-time position as a Manager in Financial Advisory, where I supported five business units and their strategy teams in budgeting and planning, and advised on investment and divestiture decisions. So, while most of my friends had become senior managers at Big 4 accounting firms, I enjoyed "derailing" from the traditional CPA route and exploring new roles and functionalities. Because of this desire to learn about all facets of doing business, going for an MBA was always on my mind and I wanted to develop stronger business knowledge and eventually move into a general management role.
If immigrating to Canada in 2003 marked the first critical turning point of my life, then I stumbled upon the second biggest milestone in 2018. Early that year, after much contemplation and inner struggle, I decided to move back to China. It was a bold decision, considering I was living a comfortable life in Canada, and my career was on an upward trajectory. Nevertheless, since I had lived on my own for over a decade away from my family in China, I had grown quite homesick, and wished I could see my family sooner than the wait of a 14-hour flight. Naturally, Shanghai became my next destination – not only because it was a mere one-and-a-half-hour train ride away from my hometown, but also because it was an international metropolis where I would feel right at home. As I searched for ways to make the move across the Pacific smoother, I learned about CEIBS. The school was based in Shanghai, which would give me the geographical advantage to familiarise myself with the city and life here, since I wanted to stay here after graduation. It had achieved impressive rankings in the Financial Times as the #1 business school in Asia and #5 globally, making it a brand that was recognised and valued by employers not just in China but all around the world. In addition, despite being a very young school, CEIBS had established valuable connections with companies and leading business schools worldwide, providing students with a great platform for expanding their network and finding their next career opportunity. To further see whether I had a good fit with the school, I spoke with the lovely MBA office staff, attended a CEIBS Master Class held in Toronto taught by the school's European President Dipak Jain (it was the best marketing class I have had), listened in on a macroeconomics class taught by CEIBS Professor of Finance and Economics Xu Bin, and toured the gorgeous campus in the soft autumn sun with students from the MBA 2020 cohort. Speaking of campus tours, my fellow classmate Karan and I recently shot a video giving a virtual tour around our beautiful campus, please feel free to check it out here. If you are interested in applying to CEIBS, you are more than welcome to come visit us – perhaps, just as I did, you will fall in love with CEIBS, too.
Transformation at CEIBS
So why do I say that CEIBS is transforming us into supermen and superwomen, or rather, unleashing the super power we all have within? Because there is so much going on constantly, and yet, we manage to not only do it all but also excel at it. We have accomplished a lot in the four months since school started. In addition to our academic commitments and the countless late-nights we have pulled off working on group projects together, our talented classmates from technology, healthcare and automotive backgrounds have organised info sessions to share their experiences, insights and outlook about their industries. Many of us participated in the student committee and club/big-event leadership elections, and have led fantastic campaigns for the opportunity to serve and contribute to our batch. Our basketball, football, and tug-of-war teams competed in the Sunny Cup MBA Sports Event with other business schools in Shanghai, and made us super proud of their efforts and amazing teamwork.

With my feline friends on CEIBS campus
In addition, the Career Development Center (CDC) has organised various events to keep us busy even on the weekends. We regularly sign up for peer- and executive- coaching sessions, attend career exploration talks, and network with companies who come for campus recruiting. In late October, groups of us travelled to Nanjing, Singapore, and Malaysia for our China and overseas modules, and as soon as term 2 exams wrapped up in December, more than two-thirds of our batch flew overseas to Japan, Israel, Ghana and Dubai for cultural tours and company visits. There are many more modules and career treks coming up in 2020 in Germany & Switzerland, Denmark, and Silicon Valley, as well as local visits to Shenzhen and Jinhua.

With the kids at Uncle Bala's FLAME Camp in Ipoh, Malaysia. We are their "gege" and "jiejie"
Of course, that isn't all. A few global competitions have already started, such as the IESE-Roland Berger International Case Competition, UNC Kenan-Flagler Business School's Venture Capital Investment Competition (a.k.a. VCIC), and the Hult Prize Challenge for sustainable businesses. All the teams are enthusiastically working to come up with the next big business idea, to identify the best investment opportunity, or to save the world. For the 2019 Hult Prize competition, my team came up with an innovative and disruptive business idea to eliminate waste generated by the fast-growing food delivery industry in China, and other teams are also contemplating bold business ideas that aim to address the United Nations' 17 Sustainable Development Goals.

During a team presentation
Whenever my friends in Canada ask how my MBA is going, I admit to them that it is quite hectic, but I am loving it. Despite the crazy schedule and the little sleep that I manage to get, I feel fulfilled every single day. I am impressed by all my classmates who have achieved much success in their careers thus far, and are so knowledgeable and smart that I am beyond grateful to have their company on this wonderful journey. I also feel immensely honoured to have been chosen as a student ambassador and to represent CEIBS, to share my experience with prospective students during coffee chats and student receptions, and to help them figure out their own plans for their MBA.

With fellow student ambassadors; At a coffee chat with prospective students
The Big CEIBS Family
Life at CEIBS so far has been nothing short of extraordinary. Our batchmates are from all walks-of-life including consultants, investment bankers, doctors, lawyers, engineers, accountants, designer, and even a former diplomat. We also come from different parts of the world, including North America, Latin America, Europe, South and Southeast Asia, Africa, Australia, and of course, from China.
It has only been four months since we came together at CEIBS, but it feels like we have already known each other for a lifetime. Together, we are a big loving family. We have also celebrated festivals from around the world. For instance, in October, the International Club organised a Halloween party held at our favourite hang-out spot, the Student Lounge. Our classmates from India also hosted a get-together to celebrate Diwali, the Hindu festival of lights. In November, we celebrated Thanksgiving with a scrumptious feast.

Halloween Party
The Rest is Still Unwritten
In the upcoming 14 months of our MBA programme, we will start to search for internships, apply for exchange programmes, and strategize for landing that dream job after graduation. All of that is uncertain, and is waiting to be written in our MBA chapter. However, one thing I am sure of is that the bonds we have made, and the memories we are creating together, will last a lifetime. For that, I am deeply grateful to CEIBS for bringing us together. As we march on into 2020, I would like to wish all of us a fruitful rest of our school year. If you are now enticed to come join the CEIBS family, please drop us a message and we will be happy to help you get started on your very own CEIBS journey! See you soon.