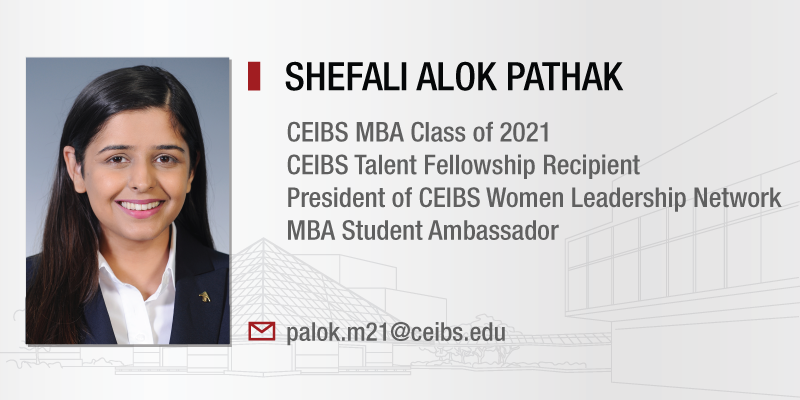 Hi! My name is Shefali. I was born in Mumbai, educated in the US and previously worked in the for-profit social impact investing space. That was until a unique opportunity to move to China presented itself, a move that paved the way to begin the most exciting phase of my life so far.
Moving to China
After my husband accepted a job offer in Shanghai in 2017, we packed up our lives amidst a chorus of perplexed family and friends who questioned our decision, especially given the comfortable lives we had built for ourselves in India. It was a massive leap of faith, as it meant dropping out of a high-growth career track to become a remote-employee and a trailing spouse to my husband – not to mention moving to a country where I didn't speak the language and which I had never visited before. Ultimately though, we looked at the move from a different perspective, one filled with raw excitement and cool logic. After all, China is increasingly driving the world, and there is no better way to learn about it than to experience it first-hand.
When I look back now, I can comfortably say that this was one of the best decisions of my life. Over the first few months, I couldn't contain my excitement and spent hours walking around Shanghai, absorbing the culture, and trying out the food. Shanghai, I can honestly say, played the perfect host! We received such a great deal of warmth from both people who knew us and those who were complete strangers, so it really didn't take long for it to start feeling like home.
Exploring Shanghai with my husband.
Discovering CEIBS
I first heard about CEIBS from my husband. He did his MBA at ISB, one of CEIBS' exchange school partners. When I began talking to students who had passed through the corridors at CEIBS, the message was loud and clear – CEIBS was a differentiated MBA programme, unlike no other. China is a driver of the global economy. At CEIBS, I knew I would be able to learn extensively about doing business in China with the added benefits of an international learning environment. It would be the best way to explore the value to be created through a collaboration between Chinese and Indian businesses. Given my career aspirations, to me, it was a no-brainer – CEIBS was the best choice for me to take my career to the next level.
I scheduled my first campus visit and attended a lecture by CEIBS Professor of Entrepreneurship and International Business Dr. Shameen Prashantham. I spent the whole day on campus, meeting with students, talking with MBA admissions staff, and just visualising my life on campus if I were given the opportunity to study here. That night, when I came back home, I covered our bedroom wall with post-it notes outlining my detailed month-to-month plan to get in, making it the first thing I saw when I woke up every day.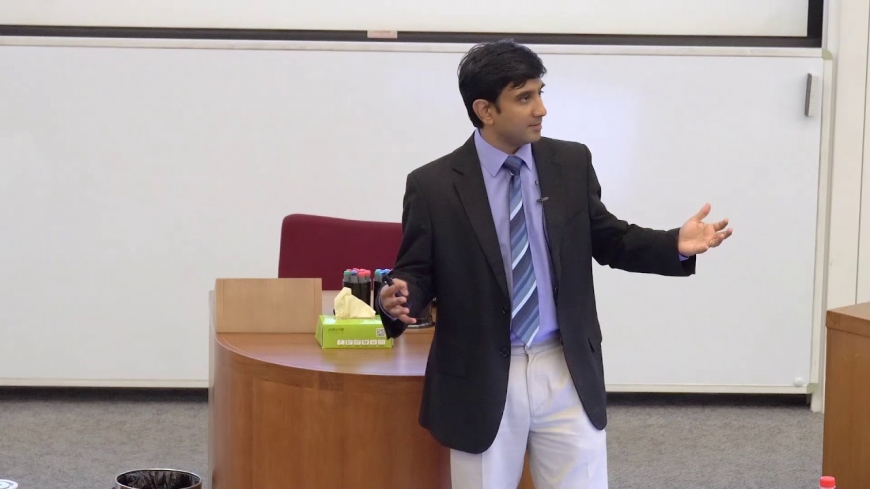 My first CEIBS classroom experience with Professor Prashantham.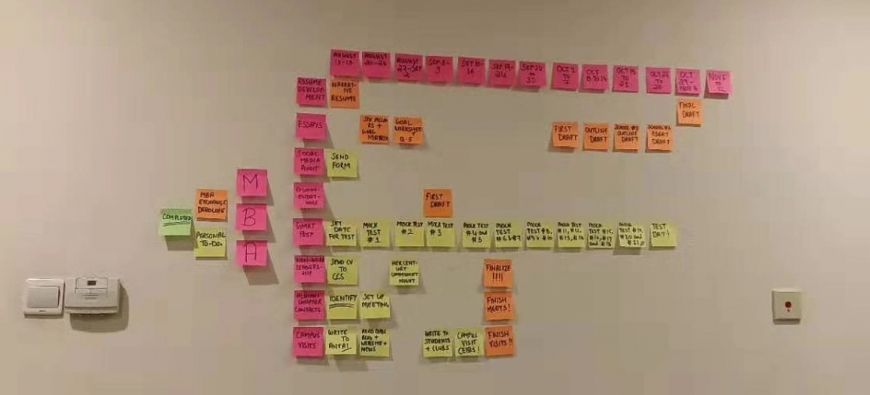 My month-to-month plan to get into CEIBS.
Besides prepping for the GMAT and maintaining my full-time remote job, I started looking for a pre-MBA internship in Shanghai. I began working with a Sino-Dutch private equity (PE) fund that invested in clean water tech. With two jobs, GMAT prep, and trying to learn Mandarin, my plate was full. At the time, however, I had no idea that this was just going to be a sneak-peek into life as a CEIBS MBA student. The day I received my letter of admission and scholarship, I was over the moon. I was ready to start the transformational journey and take it to the next level.
The CEIBS Cohort
The cohort at CEIBS has impressed me the most in my first few months here. One of the most vital sources of learning at any business school is the experience and knowledge of your classmates, whose diverse perspectives help you learn how to approach situations from different angles. I can confidently say that my MBA peers at CEIBS have lived up to, if not exceeded, my expectations. Outside of the traditional management consultants and investment bankers, I have had the pleasure of learning from the many diverse students in my cohort. Their work experiences range from a forest consultant in New Zealand to a leading real estate developer in Chile, from marketing industrial products in South Africa to a geophysicist in Kazakhstan, from serving in the United States military to handling their own logistics business in Indonesia, and so on. The kinds of insights they bring add vitality to discussions and ensure you walk out of every lecture or team meeting, having learned something new. Rest assured, CEIBS gives you a wealth of opportunities to work with all these unique personalities both inside and outside of the classroom.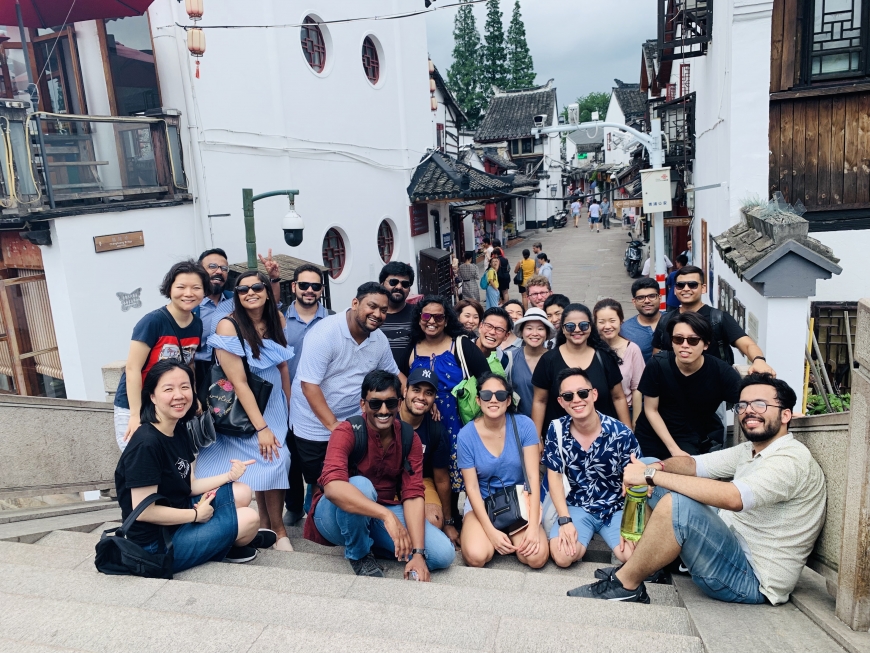 Exploring Zhujiajiao with my classmates.
Overseas Malaysia Module       
One of the most memorable experiences in my CEIBS journey so far has been the overseas module about Leadership for Social Responsibility in Malaysia. Over a course of five days, we stayed at FLAME NGO's Kanthamani campus in Ipoh, Malaysia, where we first trained and then conducted a three day camp for children, teaching them self-esteem, moral values and the importance of having a vision to be successful. The camp was physically challenging as we worked 16 to 17 hour shifts to facilitate an adequate learning environment while ensuring the kids were always having fun. The experience was humbling and very different from typical business school modules. Whereas the b-school environment is competitive, the success of the camp depended on our ability to be a cohesive, collaborative unit. This was a unique opportunity of real-life learning experience. Not only were we taught about what it means to be a servant leader, we were expected to put it in practice during the execution of the camp. The memories from FLAME camp will always serve as a reminder of how empathy and compassion are integral qualities of being a good leader.
Making memories at the FLAME camp in Malaysia.
Not even halfway there
It's only been two terms, but my CEIBS journey so far has been truly transformational. Discovering China, new friendships, new approaches to leadership and the promise of new discoveries tomorrow leaves me feeling extremely content, but slightly exhausted at the end of each day. Then again, this is a giant step forward compared to trying to get to sleep looking at my CEIBS admission post-it notes or fretting about whether we made the right decision to move to China.