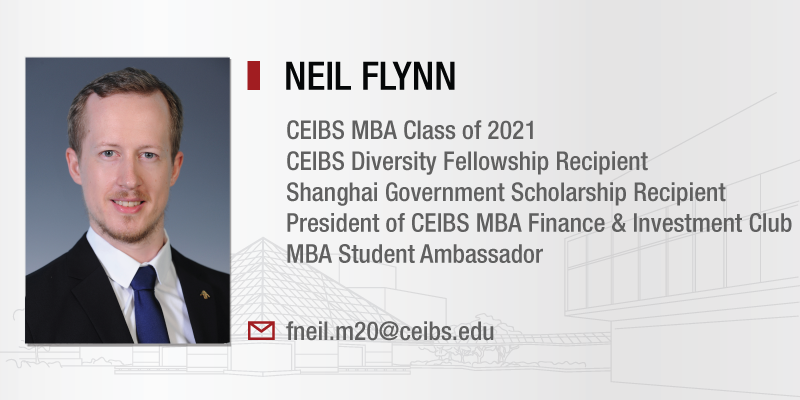 Before I started my MBA at CEIBS, I read a book by Malcolm Gladwell called Outliers. It's about success stories from people across different industries, such as Bill Gates and The Beatles, and discusses how there are three commonalities between many extremely successful people: being in the right place, at the right time in history, and working very hard to capitalise on those two factors. It got me thinking about China and, more specifically, why I'm here.
The beginnings
My China journey began in 2008. I watched the Beijing Olympics at home in the UK and, like many, saw it as China officially presenting itself to the world on the grandest of stages. That's when I decided to teach myself Mandarin. Fast-forward a year, I started my master's degree in my hometown – at the University of York – and found that of the 200 students in the class, I was the only one that wasn't Chinese. This is surprisingly common at universities in the UK, Canada, Australia and, to a certain extent, the US. Hundreds of thousands of Chinese students are getting master's degrees overseas every year, and the vast majority are coming back to China straight away. It just seemed this highly-educated and multilingual workforce would drive the Chinese economy over the next few decades. I realised that learning the language wouldn't suffice; I would have to live and work in China at some point in my career.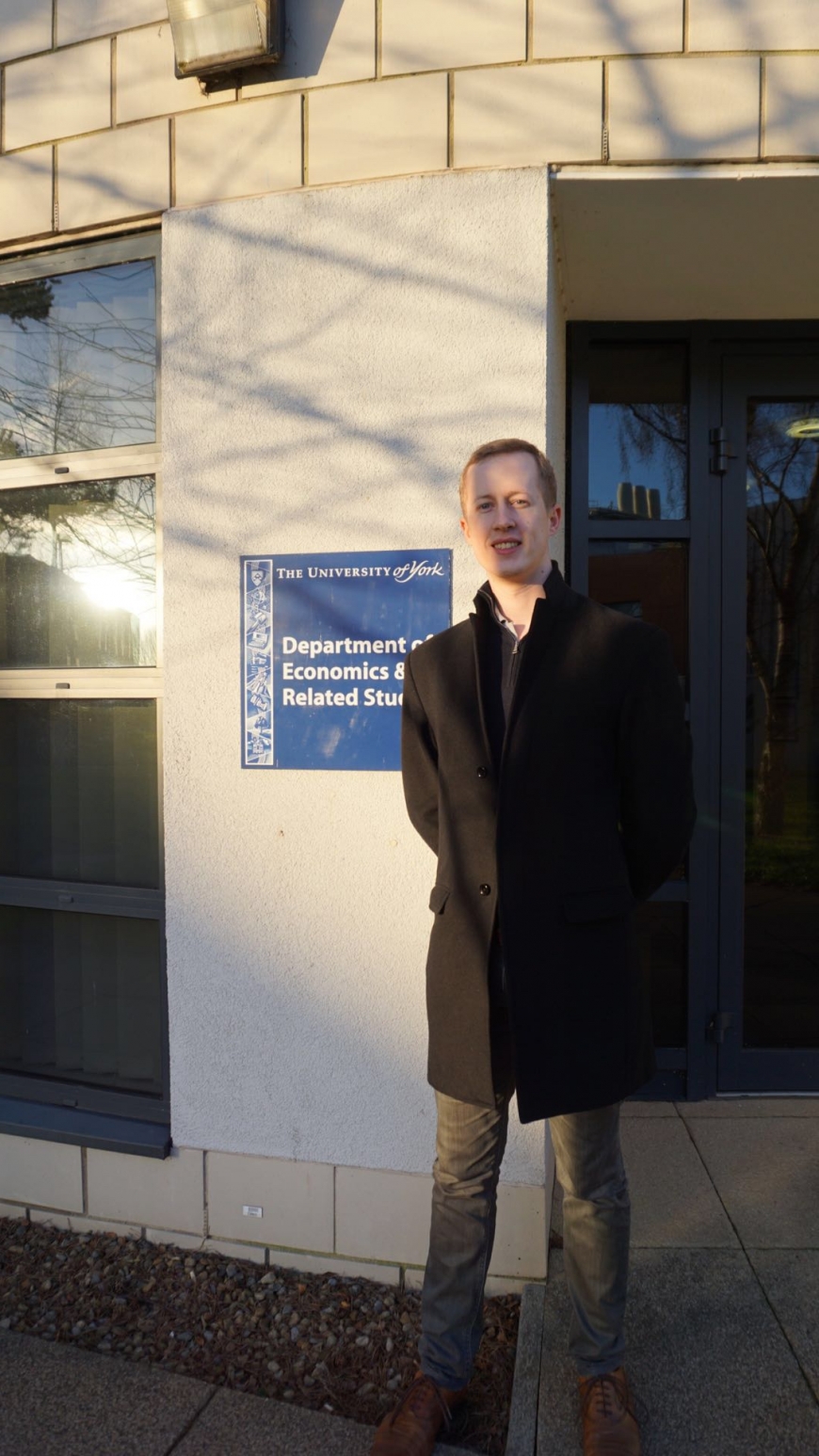 Outside the University of York's economics department
Not straight away though. Upon graduation, I accepted an offer in London as a hedge fund trader, which was fun. Long hours and high pressure were an exciting introduction to the world of finance. Trading in Asian, European and US markets gave me a real understanding of what drives global asset prices, and China was an increasingly-prominent theme. My intentions were to stay in London for around five years before heading east, but after the European financial crisis of 2012, I felt it was the right time to move to Shanghai.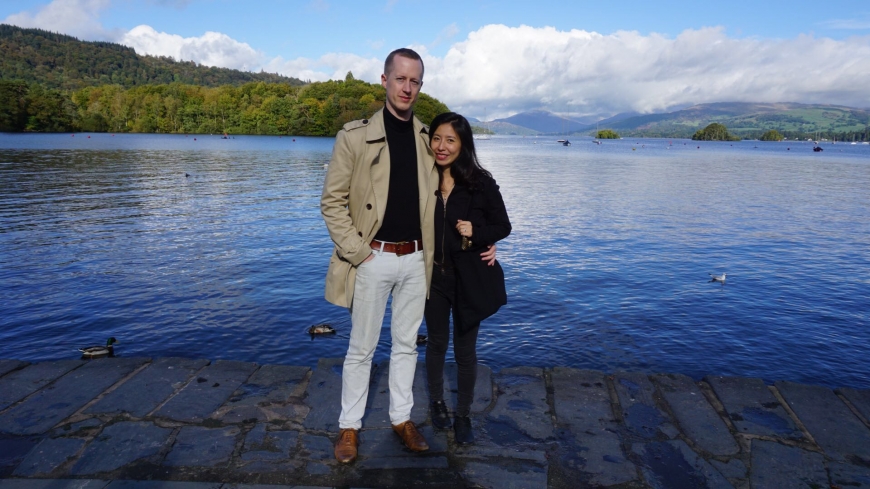 Visiting Lake District on a rare trip back to the UK
On the ground
I arrived on March 23, 2013. I had it easier than most, as I had university friends in Shanghai already. My Mandarin was already pretty good at the time but improved so quickly and was probably what many would consider as fluent by 2014.
I think the biggest thing you notice is the food. In the UK, the vast majority of Chinese restaurants are Cantonese or Hong Kong style but that is completely different to other cuisines of China. It's worth remembering that China is bigger than the EU, and there is no one national cuisine that can broadly represent Europe; each country's food is proudly different from the rest. That is the same for China among its provinces.
Shanghainese food is quite sweet and not at all spicy. Up in the north-east, the food is hearty, the south-east is similar to Cantonese, and southern China (particularly Sichuan and Hunan provinces) is incredibly spicy, and most often a red colour that could only be described as radioactive. My two favourites are north-western Xinjiang, which is very similar to Middle Eastern food, and Yunnan (a province on the border with Vietnam) which is similar to south-east Asian food. Yunnan food is probably my favourite cuisine in the world, but as with most Chinese provincial food, it's difficult to find outside of China.
Shanghai is great. It's a cosmopolitan and modern city and you can find pretty much whatever you're interested in here. Even nearby CEIBS, which is in a more suburban area of the city, there are lots of different cuisines, bars and stores nearby. Many will arrive and get a culture shock, but Shanghai is probably the easiest place to move to in Mainland China.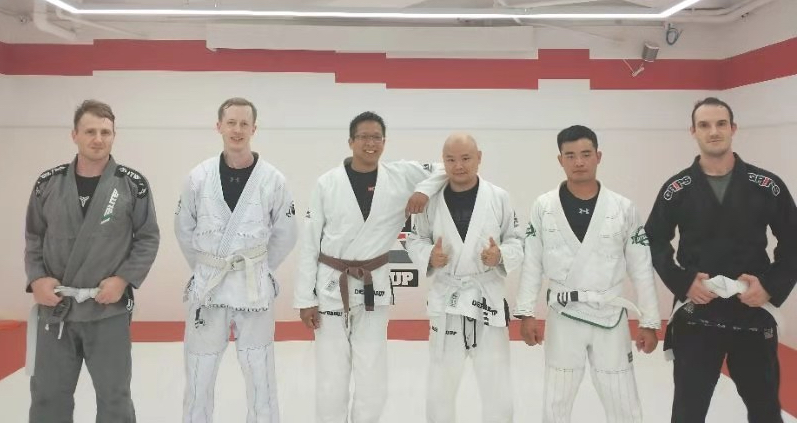 As with most big cities, Shanghai has seen a lot of mixed martial arts gyms open up over the past few years, especially those focused on Brazilian Jiu-Jitsu
Perhaps the biggest adjustment that foreign students make is getting used to all the essential daily apps. Whether it's payment, conference calls, shopping or food delivery, everything is done through one or two apps – mainly from Tencent or Alibaba – and it leaves you wondering why this isn't being done in your own country. Using cash just seems so antiquated. Just getting to use them every day gives you a real understanding of what is driving China. Everyone has heard of Alibaba, but probably not the two core shopping platforms it runs. Everyone has heard of Tencent's WeChat, but probably just as a messaging app. Through this, you begin to understand what these sprawling two tech giants are really doing in China; failure to do so is like trying to understand the US with no understanding of Google, Amazon and Facebook.
You can – but really shouldn't – live here comfortably without speaking a word of Mandarin. Fortunately, CEIBS requires all foreign nationals to reach an intermediate level of Mandarin by graduation. That may sound daunting, but Mandarin really isn't as difficult as you'd think. Those familiar with the romantic languages and their verb conjugations based on pronouns, time and mood will be pleasantly surprised to find that Mandarin grammar is mostly pronoun + time + verb infinitive. Once you get past the initial difficulty of the tonal system, speaking Mandarin is actually pretty easy. As for reading, well, ok, that isn't easy, but you'd be surprised how many characters you will recognise by the end of the MBA; the 1,000 most-common is a reasonable target. Most importantly, being able to speak some Mandarin is a great asset to have when applying for jobs, even if just because it attracts attention. It's also worth remembering that the most successful foreign brands in China are those that have shown a real cultural understanding of the country. Taking the time to learn the language and the culture while at CEIBS will help you to create goodwill with Chinese clients in your future career.
China's burgeoning financial industry
Ultimately, the main reason I moved to China was because of finance. Even back when I was working in London, it was clear that China had a huge financial industry, was making huge investments overseas and yet was relatively closed to foreign firms. I realised that it would have to change eventually; an industry can't continue to grow without global best practices eventually entering.
It took me a while, but I eventually found the best firm to give me the most exposure. In 2015, I moved to a boutique consultancy that counts the vast majority of the world's biggest financial firms as its clients. China's financial industry is curious. It is one of the largest in the world (think trillions of dollars), but foreign firms have largely been restricted to minority stakes in fund management companies and investment banks. Now, foreign ownership limitations are being lifted, and foreign firms are getting ready to enter the market. With minimal hyperbole intended, China is the biggest untapped opportunity in the global financial industry, and market entry now will define positioning for the next decade.
So, armed with the industry knowledge, I was lacking just one thing: experience at a big firm. I had only ever worked at boutique firms during my career. While that had given me exposure to broader experiences, the ability to work successfully in a large multinational organisation is something that can't be replicated anywhere else. As such, I began a pre-MBA internship at $330 billion USD asset manager Neuberger Berman.
Life at CEIBS
At CEIBS, we have about 180 people in the whole of our MBA batch. That's roughly a quarter of what other top schools have. From one perspective, your potential network is obviously much smaller, but that's not necessarily a bad thing. I have found that within the first term, I got to know everyone in the class, I know most pretty well, and I can count around a third as good friends. If the class size were larger, I'd probably struggle to find the time to network.
What I enjoy most is the diversity of thought process. I come from a financial background with a specific way of looking at a problem, while other classmates have a completely different, yet equally logical, perspective. I enjoy having my views challenged, I enjoy learning how to see the world in different ways, and I enjoy seeing the benefits of that diversity lead to better results.
The 180 students in our cohort are split into three sections and you attend every class with these same 60 people. Within each section, everyone is split into groups of four or five people, with whom you do all of your group work. The idea is to work as a team and everyone in the group gets the same grade. Towards the end of the term, there's a class where each group member has to give frank and honest feedback on each other's good and bad points, and then discuss it face-to-face. To me, this has been the most interesting class so far because it is difficult for someone to get honest feedback on areas they can improve on. In term 2, we get new sections and new groups, so we can use that feedback, as well as the experience of group work from term 1, to improve.
Being a student leader
My first goal at CEIBS was to become the President of the Finance and Investment Club, which I achieved in September. Unlike other top business schools, which have separate clubs for different areas of finance, CEIBS has just one, and it is by far the largest professional club on campus. I wanted to show that I'm a capable financial leader, not just to my classmates, but also to prospective employers. I've been using my connections to bring speakers to campus, have arranged study sessions for financially-focused classes and have co-operated with other student clubs to show how finance is part of all professional interests. And, as my classmates will attest, no matter how much you dislike finance, you have to understand the basics in order to graduate.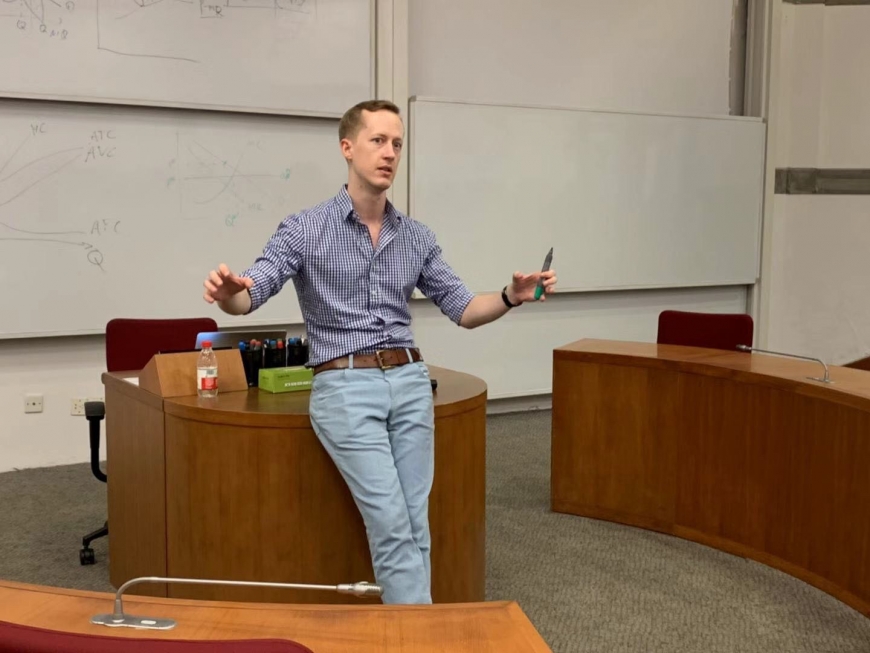 As President of the Finance and Investment Club, hosting a joint event with the MBA Public Speaking Club
I also applied to become a student ambassador and was lucky enough to be chosen. I was shown around by an ambassador prior to applying and it helped cement my decision. But more importantly, I think I have a rather objective view about China, having experienced the highs and lows of the economy and life as a foreign national here over the past seven years. It's great that people want to come to CEIBS and stay in China for their whole career, and it's great that they want to work at Alibaba or Tencent after graduation, because it has all be done by foreign CEIBS graduates. But as with any business school, life isn't as simple as that, and a dash of realism can help temper expectations so that the MBA experience isn't disappointing. Being able to represent the long-term expat view on China is what I want my ambassadorial contribution to be.
There are many opportunities to become a student leader at CEIBS. There are nearly 20 student clubs, each of which requires a three-person leadership team, a student committee that works tirelessly for all students' interests, section representatives and student ambassadors, all of whom play an important role on campus. There are many others, including teams that organise events such as TEDxCEIBS. But just as important is what this means for your career post-MBA. We join the MBA as potential leaders and leave as future leaders. Prospective employers look for tangible leadership experience, so all incoming CEIBS students should give some thought to how they want their leadership resume to look.
Seven years and done
The CEIBS MBA will be my last year in China. I arrived with the goal of learning the language, about the culture and the finance industry, and I've done that. Ending my time with the best education the country has to offer is the perfect swansong. I arrived as an ambitious optimist, and will leave as a knowledgeable and experienced realist, with a wife, a baby daughter and, unfortunately, less hair than when I arrived.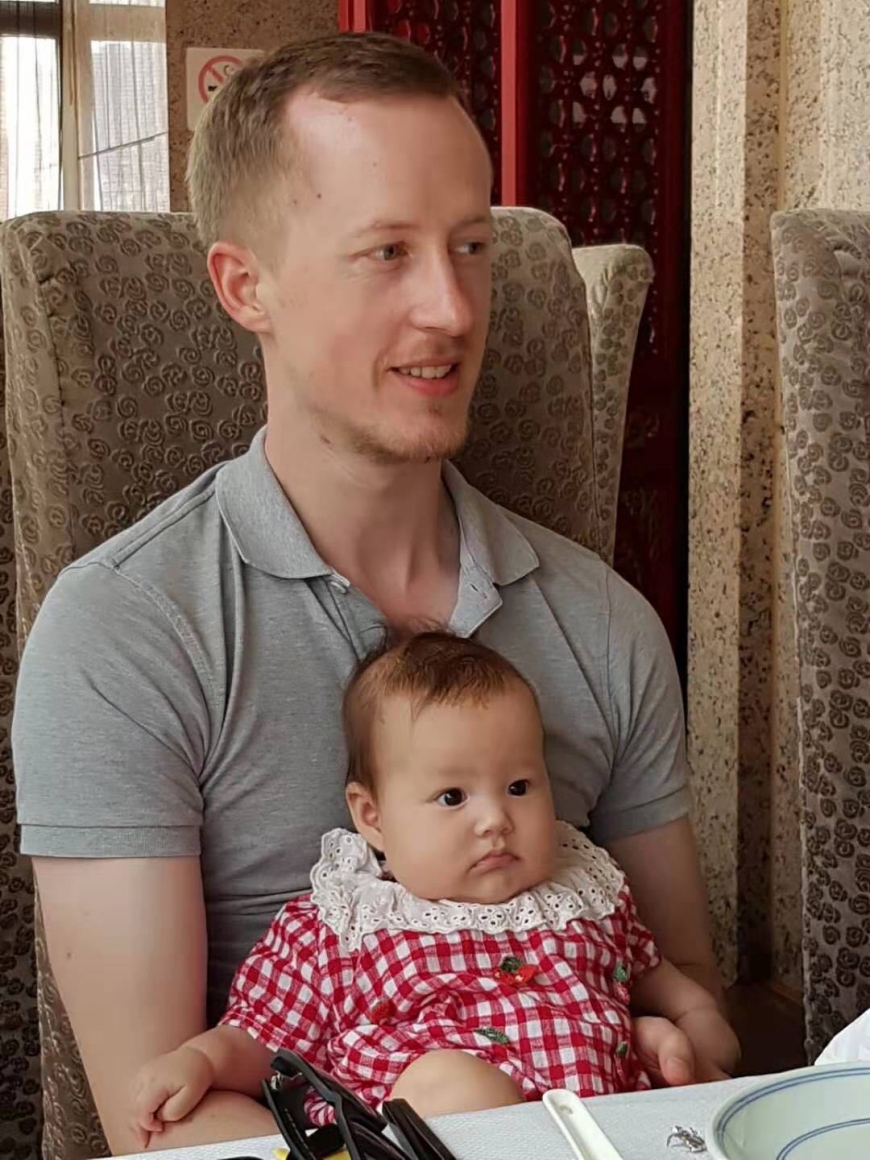 Balancing fatherhood and the MBA has been an interesting challenge
I believe there is much more value in being a China expert overseas than in China. While China may not be the only focus of my career going forward, the knowledge I have will be invaluable. In fact, many foreign students came to CEIBS and have returned home to find they are highly regarded as a China expert. If that can be achieved in just 18 months, it shows the quality of the CEIBS MBA, the dearth of China knowledge overseas and the strong demand for it.
So, why CEIBS?
It's a question you will be asked at your admissions interview, by your future classmates and by future employers, likely framed in a "…instead of a more traditional top-tier school in the US or Europe?" way. Everyone has a different answer, so I can only tell you mine to see if it resonates. Put simply, every industry in every country has been affected by the growth of China; in some cases moderately, in other cases China is now the biggest player in the industry, and in almost all cases it's a trend that will continue throughout our careers. Here's the kicker: it's almost impossible to truly understand China unless you're on the ground. Among the top business schools in the world, CEIBS is the only one that can truly offer that edge.
Elephant in the room
When I arrived in Shanghai, the economy was growing fast, the world was optimistic about China, and life here was vibrant and exciting. The skyline of monstrous towers seemed to change radically every year. But China's growth is now at its slowest pace in three decades, there are concerns (some legitimate and some not) about the sustainability of the economy, and then there is the trade war. The latter point could last for a year, another five or even longer, but I think we can all be confident in suggesting that China will never not be a familiar topic on all news sites and in all boardrooms. Everyone is talking about China, everyone wants to know more about China, and that won't stop anytime soon.
Back in 2013, the decision foreign companies faced about whether or not to enter China was pretty easy. The economy was growing at speed and enthusiasm was high. In addition, there wasn't much market penetration by foreign brands, so the decision was almost always "absolutely".
Now it's different. Not only is the market saturated by all the usual foreign suspects, but some are even leaving China altogether, citing the slowing economy making it an unsustainable market. So that decision to enter and expand in China is much more complicated and requires a much greater and more nuanced understanding of the local market. What's more is that every company is now pondering this same question, particularly as foreign entry restrictions topple across industries. To me, that is where the value of the CEIBS MBA is most apparent because it is difficult to find suitable people overseas to help make that decision.
Framing China
This brings me back to the book I mentioned at the start. Success requires being in the right place: you're more likely to have success in the tech industry if you're in Silicon Valley than in rural England. Success requires being at the right time in history: having a natural talent for calligraphy would have been much more valuable a century ago. Success requires you to find those two factors and to work extremely hard to capitalise on them.
I believe China is our generation's major opportunity. I believe it can only be understood by being here, and I believe the ability to connect China to the rest of the world will be the most valuable asset of any top-tier MBA graduate.