Bridging China and Europe
October 29, 2019. Nur-Sultan, Kazakhstan – On the long list of impressive CEIBS alumni who bring China and the West closer together, MBA 2016's Saken Shayakhmetov stands out. From the office of Askar Mamin, Kazakhstan's Prime Minister, Saken is not only working inside a country that literally bridges China and Europe, he is also involved in state level investment projects that impact lives on both sides.
Saken sits down with MBA Admissions to discuss how he is using his MBA skills in the world of diplomacy, share tips for doing business with both the East and West and offer suggestions for MBA applicants on what to expect when preparing for a career connecting China with the World.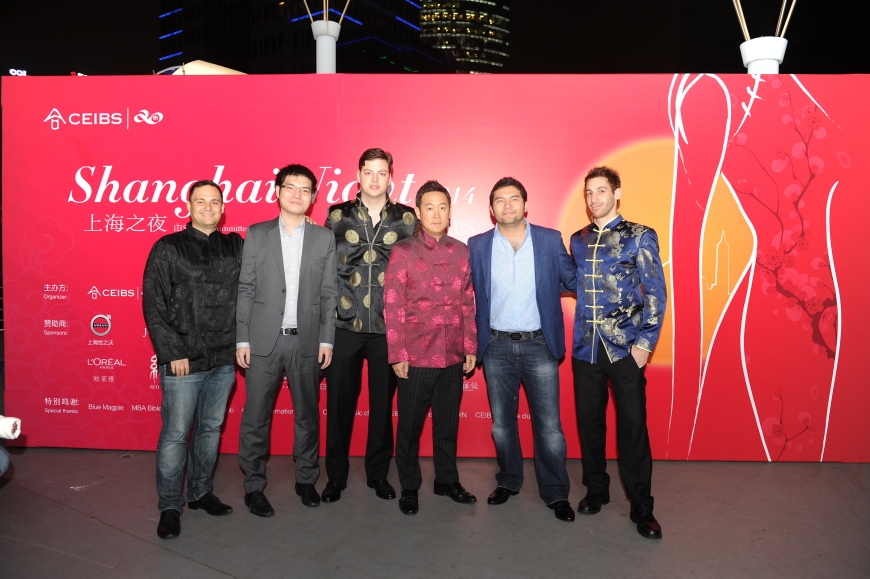 Saken celebrating at the annual Shanghai Night party with his MBA 2016 classmates.
From the Caspian Sea to Business School
As the world's second largest transcontinental country, Kazakhstan shares a border with China to the East while roughly 20% of its territory is in Europe, to the west. Growing up, Saken saw classmates leave — for both directions — to pursue undergraduate degrees. He took another road. While many of his friends were lured to Shanghai or Beijing, Saken opted for the US and the University of Texas, where he graduated with a dual degree in Economics and Petroleum Engineering. Years before, his parents had made a similar journey. "My parents were part of the first wave of Kazakhstani students sent abroad to study market economics after our (country declared its) independence (in 1991)," recalls Saken. "They went on to obtain their MBA degrees at Rutgers Business School in New Jersey in 1996 and often talked about how the experience changed their lives. My parents instilled in me a firm belief in the value of an MBA — it was just a question of where to study."
That was the question he was facing, in 2014, while working on an offshore oil project in the Caspian Sea. As a development economist, he was determining the impact that decisions on how and where to drill had on the project's bottom line. When he wasn't calculating the viability of developing the offshore oil field, he found enough time to think about his MBA dream and finally decided to follow both his head and heart by applying to CEIBS. "Many of my friends had studied in China, so I had visited Shanghai on multiple occasions — including one memorable trip during spring break that made me eager to go back and continue my adventures," he says. "Having lived in the US, I was already confident in my understanding of the western way of thinking. I was acutely aware that China, on the other hand, still held many mysteries for me. Also, as one of Kazakhstan's direct neighbours and largest trading partners, I knew an MBA in China would strengthen my resume."

Saken's home for 12 months - CEIBS Shanghai campus. 
Culture Shock — The Two-sided Coin   
After arriving on campus in August 2014, Saken eagerly began soaking up knowledge from core modules, including those delivered by CEIBS Economics Professors Bala Ramasamy and Xu Bin whose classes he found particularly impactful. "At CEIBS, I appreciated the strategy to balance both China and global knowledge," he says. "I knew I would be learning a lot about China, but one of the pleasant surprises, early on, was the high level of conversations around global issues. In our Operations Management core module led by Prof. Nikolaos Tsikriktsis, for example, I remember we were discussing how Netflix could survive given the vast amounts of money it was paying out in royalties at the time. That conversation took place in 2014, so I can now look back quite smugly as I remember suggesting they should focus their efforts on developing original content [a vital part of the company's current strategy]."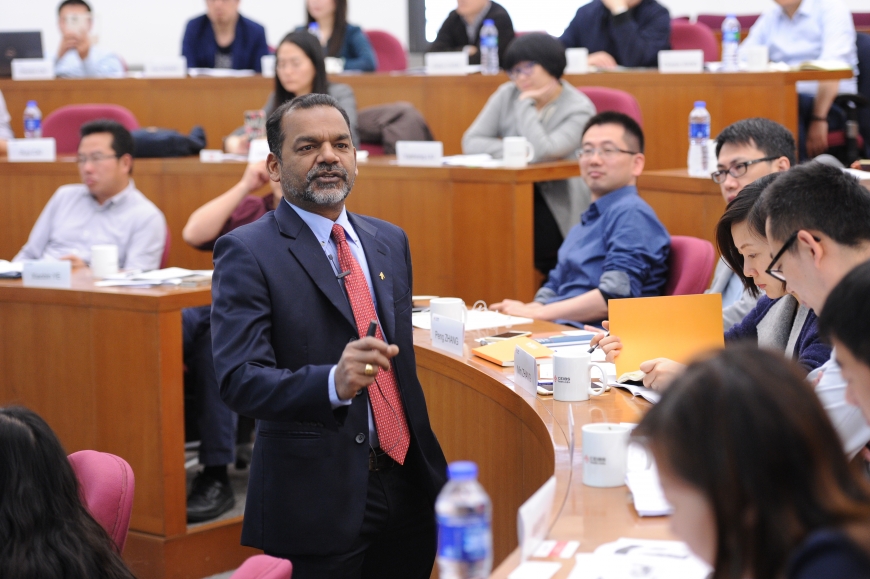 CEIBS Professor of Economics and Associate Dean Dr. Bala Ramasamy. 
As the weeks rolled into months in Shanghai, Saken steadily made headway towards achieving his main objective, which was to gain first-hand exposure to how business was done in China. His approach was to embrace any cultural challenges faced, but he soon realised that it was only the tip of the iceberg. From that lesson, he offers advice for anyone thinking of studying in China. "I wanted the adventure and I knew there would be challenges for me in a predominantly Mandarin-speaking society, but [potential students] should be prepared to face frustrations [they] couldn't have even imagined before coming," says Saken. "It took me some time to get my head around the concept of harmonious decision making, for example. Also, there is a tendency in China to make business decisions in an informal setting first, only to then host the formal meeting later. It takes time to figure out these differences, and unless you are completely invested, it can feel like there is a clear line between Chinese and international students. What helps is how CEIBS structures the group work in class, intentionally assigning culturally diverse groups to work together. The time I initially thought was wasted dealing with these frustrations has actually equipped me with a better understanding of how to approach meetings with Chinese investors [I meet in my role] at the Prime Minister's office. It is better to develop these skills in a campus environment rather than try to figure it out during a multimillion-dollar investment negotiation!"

Saken with the MBA 2016 organizing committee for the Graduate Business Conference.
Joining the Prime Minister's Office              
Saken returned to Kazakhstan via Massachusetts in the US, where he opted to continue his studies by enrolling at Tufts University for a Masters in Law and Diplomacy. The MALD at Tufts is one of three co-ordinated degree programmes jointly offered by CEIBS and top US schools. The others are the Master of Public Health at Johns Hopkins and the Master of Management in Hospitality at Cornell.
After his MALD, Saken returned to Kazakhstan where he successfully switched careers by joining the Prime Minister's office. The former development economist was first a policy advisor in the office of the Prime Minister before his current role as Deputy Head. Adhering to a gruelling work schedule similar to the '996' culture (9am to 9pm, six days per week) at Chinese tech firms, Saken is responsible for improving existing policies and advising on which direction the government should take when formulating new ones. When asked how he uses his MBA skills on the job, he summarises the value drivers of the position in two words: co-ordination and paperwork. "When the Prime Minister signs his name on a document, we are the guys that make sure these decisions, protocols and agendas come to life — and within the agreed time frames," he says of the role he and his team members play. "We are also approached by many companies in the private sector that ask us for funding to support projects that are in line with government policies. What the MBA gives you is a comprehensive understanding of the mechanics of an enterprise. So I can now look at these proposals and identify if there are any red flags from, say, a financial or operations perspective."

The skyline of Nur-Sultan, Kzakhstan's capital city.
The Buckle in Belt and Road
Given its position as the gateway to Europe, many see Kazakhstan as the buckle in the China-led Belt and Road Initiative (BRI). Described by CEIBS Prof. Ramasamy as the centrepiece of China's international relations strategy, the BRI will connect a host of economies and civilisations between China and Western Europe through large-scale infrastructure investments. From Saken's perspective, it is a great initiative and he praises China's commitment to fund such infrastructure projects in countries that are in need of both investment and economic development.
"In Kazakhstan we have our own countrywide infrastructure improvement programme called "Nurly Zhol" (Enlightened Road)," he explains. "We have been working tirelessly to make sure that it is well integrated into global logistical and supply routes. This is why the governments of Kazakhstan and China have signed an agreement to co-ordinate Nurly Zhol and the BRI, because co-operation in such endeavours is the only way to ensure that development is transparent, efficient and well structured."
Thousands of years from now, will humanity look back on the Belt and Road between China and the West with the same admiration for infrastructure as, say, the Great Wall of China? Saken believes the long-term success of the BRI rests in the abilities of those co-ordinating the projects to bridge the cultural gaps. "Growing up in Kazakhstan, we have a handle on both the Asian and European way of doing things. One of the keys when managing both sides' expectations is to not let stereotypes lead the way," he says. "Both sides are extremely proud, and this pride is manifested in different ways, so you need to know your history. When you consider Europe's years of dominance and couple that with the unparalleled growth of China, it means that neither party comes to the negotiating table willing to offer much in terms of flexibility. You need a win-win situation to foster long-term commitment from all parties. Otherwise if either side perceives that they have been used and the relationship is not mutually beneficial, the BRI may not create the lasting legacy it was intended to have on the world."
As Saken returns to his evening schedule of meetings, he ends the discussion with MBA Admissions by congratulating CEIBS as the school approaches its 25th anniversary next month. Along with a series of global events throughout 2019, CEIBS will also celebrate its anniversary with the key message of 'China Essence, Global Significance'. The phrase, like the word bridge, doesn't seem too far away from a perfect description of Saken.