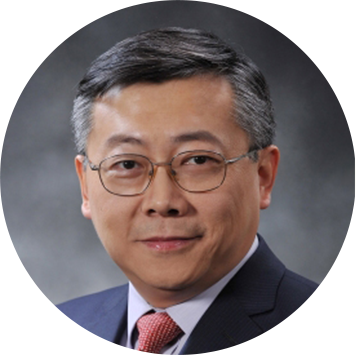 By Zhao Xinge, Professor of Finance and Accounting, Associate Dean, and Director of the Finance MBA (FMBA) Department at CEIBS
After earning my PhD from Northwestern University in the US, I taught at the long-established Raymond A. Mason School of Business at the College of William & Mary in Virginia. In 2000, the Financial Times updated its ranking of global MBA programmes. When looking at the ranking, I was happy to see that Raymond A. Mason was ranked amongst the top 50. Then, I looked down. A school ranked 90th caught my eye. It was a business school in China named CEIBS. At that time, I was shocked to see a Chinese business school amongst the top 100 in the world and the name sounded totally foreign to me – it indicated no connection whatsoever with any well-known university in China. This marked my very first impression of CEIBS.

Around 2004, I decided to return to China and started contacting Chinese business schools. In the beginning, I thought I would most likely settle down in Beijing, since I had studied at Peking University for four years and had a strong attachment to the city. But, I also included CEIBS in my contact list as I was on good terms with two CEIBS professors with finance backgrounds when they were in the US. After getting into touch with CEIBS, things progressed well. At the end of 2004, I came to CEIBS for a campus visit for the first time. As soon as I stepped onto campus, I felt as if I were in a classical Chinese garden. Throughout the day, both my academic presentation and one-on-one interview with professors went fairly smoothly.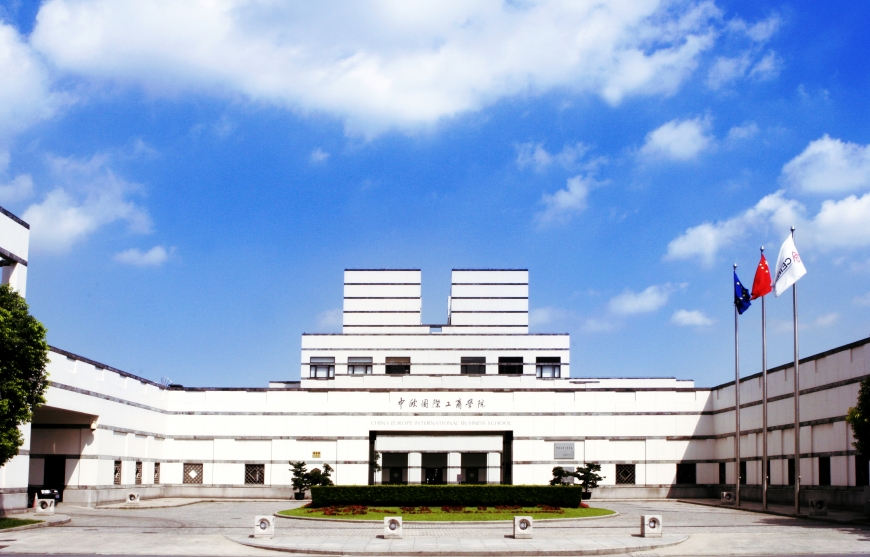 To my surprise, shortly after returning to the US, I received an offer from CEIBS. But, it meant that my decision about whether or not to join CEIBS became an urgent one. Should I move to Shanghai and join CEIBS, a young business school I knew little about? This would be a critical choice in my life. I wrote an email to then-Associate Dean Zhang Weijiong with questions about the offer details. As I finished writing the e-mail, I realised it contained too many questions, so I wrote (somewhat self-deprecatingly), "I'm afraid you have received an email with the most questions ever." I soon received a reply from Mr. Zhang, who candidly admitted that my email had indeed raised more questions than he had ever seen, and then answered them one by one. CEIBS' professionalism, candour, meticulousness and efficiency convinced me that the school took its work seriously. So, I quickly accepted the offer and officially came aboard on July 1, 2005. This was one of the most important decisions in my life, and I have never regretted it.
In 2011, the school planned to launch the Finance MBA (FMBA) Programme and asked me to conduct a feasibility study. CEIBS was already a latecomer to the field. To ensure the FMBA programme would be competitive and attractive without affecting other existing programmes, I worked together with Professor Ding Yuan to collect information and carry out in-depth research. We concluded that in order to gain a firm foothold in this field, we should enter the high-end segment of the market with courses focusing on finance, while leveraging CEIBS' considerable advantages in management education. Therefore, we came up with the slogan "Financial Depth, Managerial Breadth" and a curriculum design tailored to the needs of mid-level managers with high potential in financial institutions. Our vision was to cultivate "leaders in next ten years".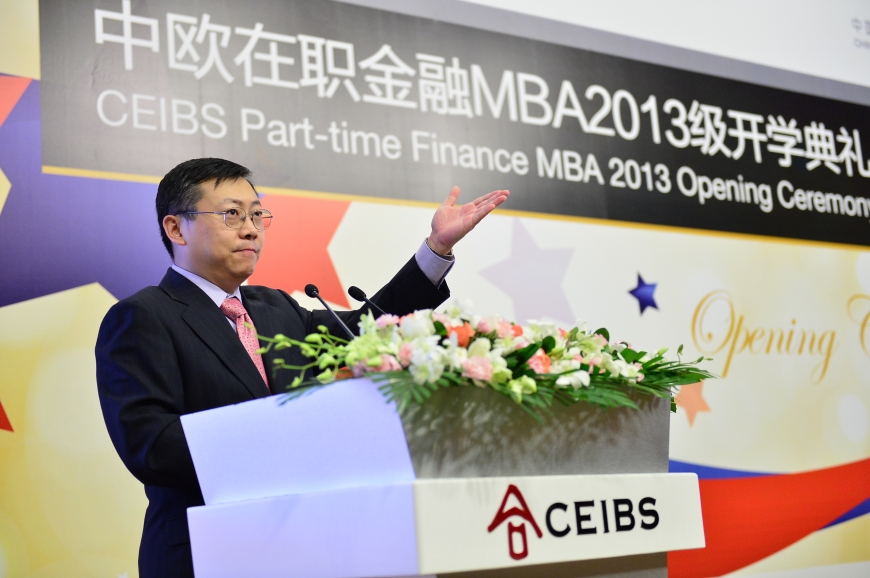 At the end of 2011, the FMBA programme was officially launched at CEIBS. I was appointed as the first Director of the FMBA Department and tasked with developing courses together with my colleague Michelle Zhu. To create a new curriculum from scratch was no easy feat. It called for not only proper positioning, but also close attention to detail. I still clearly remembered one incident when we were preparing the first programme brochure, my colleagues showed me a photo they had chosen with great confidence – a row of high-spirited students standing in one of CEIBS' iconic sunlit breezeways. Undoubtedly, the photo was visually intriguing. Nevertheless, I challenged my colleagues, "It's really a good photo, but why are there only men in it? Don't you ladies think it is wrong?"
It is also worth mentioning that for eight years, only two men have worked in the FMBA Department. For a long period of time, I played the role of "Hong Changqing" (a well-known male leader of a troop of women soldiers during the Cultural Revolution). I was often teased that "FMBA" stood for "Female MBA", but I insisted that it stood for "Fantastic MBA", because the ladies or girls or little sisters (I am really not sure which choice of words is an appropriate one in young people's language today) in our department were worth their weight in gold!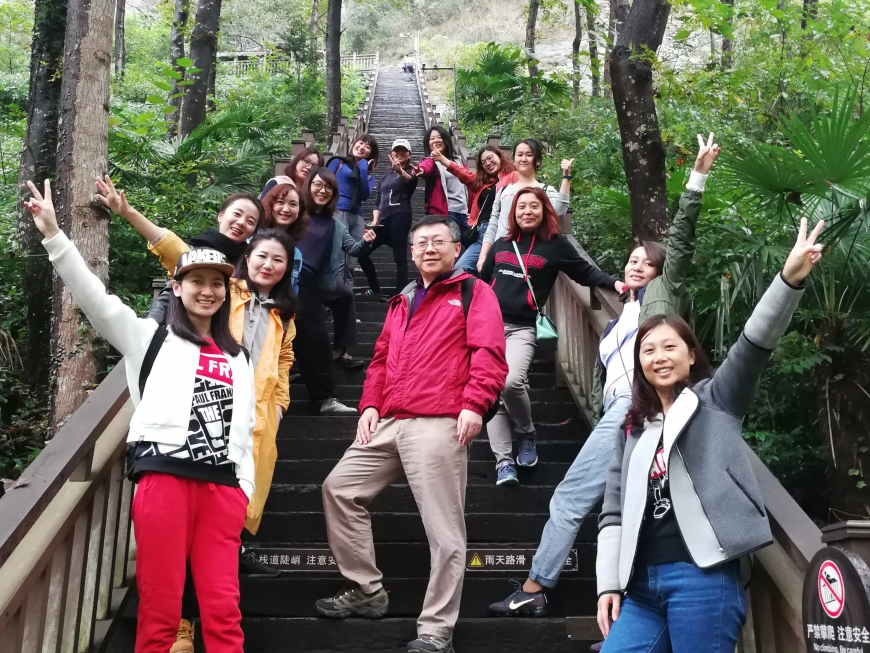 Over the past eight years, the CEIBS FMBA has evolved into a leader in the FMBA market. When asked why the CEIBS FMBA stood out from its competitors, one of our students replied, "At companies, FMBA graduates from other schools report to CEIBS FMBA graduates."
The everyday life of CEIBS professors is not confined to work. Take, for example, the year-end party in 2007. That year, the professors decided to perform "Into the Bandits' Lair" from the Peking opera "Taking Tiger Mountain by Strategy". The Dean's Office managed to borrow a full set of costumes for us, so that everyone could be fully dressed up on stage. As an avid fan of Peking Opera, I was chosen to play the part of war hero Yang Zirong (I became perhaps the shortest Yang Zirong ever in history). During the performance, I didn't make any mistakes, except that I held a prop – the "secret map" – upside down. The party atmosphere reached its climax when everyone raised their glasses at the end of the opera and sang the line "let us have a celebratory drink".
As well, quite a few CEIBS professors, including Xu Bin, Su Xijia and I, are dedicated soccer fans. Soccer is a regular topic of our talks at lunch. In August 2017, I invited my colleagues to watch Shanghai SIPG's AFC Champions League match at home against Guangzhou Evergrande. We also started a WeChat group for soccer-loving CEIBS professors, and I was nicknamed the group's "President". This group brought together not only Shanghai SIPG fans, but also followers of Shanghai Shenhua and Beijing Guo'an. We often share our joy over the victories of our teams, and comfort each other about their losses. Of course, as professors, we do not watch games purely for fun. During the 2018 World Cup, we held rather academic discussions on topics like "why are defending champions often eliminated during the group stage" and "what are some of the defects of the World Cup competition system".
Time really flies. I have been working at CEIBS for more than fourteen years. From the age of 35 to nearly 50, I have dedicated the prime of my life to CEIBS. In return, I have been rewarded with a job, a career, and a big, warm family. I would like to finish with a poem I wrote on the 10th anniversary of my work at CEIBS:
For ten years I have lived in Shanghai,
My face wrinkled and my hair grizzled.
Have I travelled afar to find my home?
Yes, CEIBS has long become the second home of mine.