Faculty & Research
---
Knowledge creation on China, from proven China experts.

Faculty & Research
---
Knowledge creation on China, from proven China experts.
Tuesday, March 05, 2019
Women Leaders: Then & Now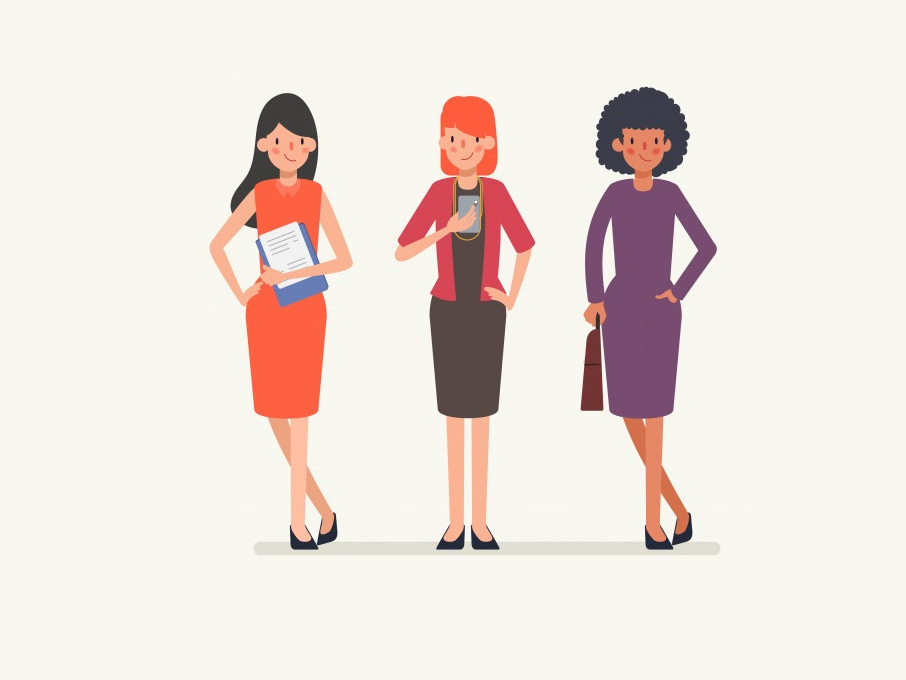 By Jean Lee
In the forty years since the beginning of its reform and opening-up policy, China has experienced continuous change. The role of Chinese women has also evolved, from 'the red generation' and 'the lost generation' to 'the fortunate generation' and 'the millennial generation,' and the women who grew up in these different times bear their unique imprints.
In the early days, as some of the first trailblazers in the business world, Chinese women entrepreneurs experienced the ups and down of the country and their personal lives. They had characteristics of traditional Chinese women, including the ability to endure hardship, a spirit of devotion, loyalty, and persistence, and the courage to "grin and bear it." Women such as Haier Group co-founder Yang Mianmian and Voith Paper Asia President and CEO Liu Mingming serve as excellent examples of successful leaders during these early years.
'She Power' in the Digital Age
Over the past decade, as millennials have poured into the job market, a new generation of women has emerged in the fields of technology, innovation, investment, and corporate management. With the advent of artificial intelligence, technologies such as cloud computing and big data are disrupting our way of working, living, and communicating at an unprecedented rate. In this new reality, women have been blessed with irreplaceable 'she power', including high-value creativity, favourable social skills, and even stronger sensibility and empathy.
As both beneficiaries and leaders, female millennials have demonstrated distinct characteristics, are increasingly unbound by tradition, are more confident, and are more focused on self-worth. In general, they:
are more highly educated;
make up a larger portion of the workforce;
have higher levels of career confidence; and,
have higher levels of career ambition.
According to recent statistics from the Organization for Economic Co-operation and Development, the number of women with higher-education degrees has steadily increased. Many women now specialise in areas such as education, healthcare, humanities, and social sciences, as well as business and law, while more and more women have entered STEM disciplines (See figure 1).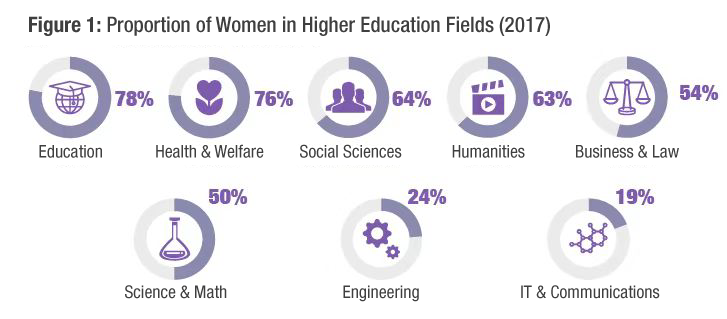 As female millennials have entered the job market, increased employment has been seen all over the world. The latest statistics from the World Bank show that as of 2017 women accounted for 49% of the global workforce. In China, this figure has reached 61%, with more and more women choosing to work (see figure 2).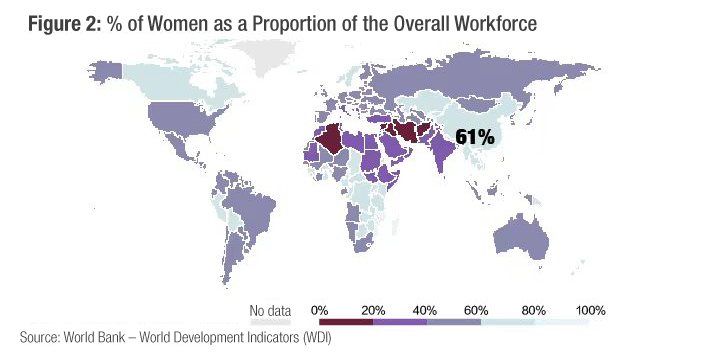 At the same time, women's roles have broken free from traditional social constraints as they have made greater efforts to advance their careers. In 2015 a PwC-conducted survey of 8,756 new-generation working women from 75 countries showed that:
53% of female millennials ranked opportunities for career progression as one of the most attractive employer traits, and are more willing to communicate their career goals with employers face to face;
49% of female millennials believe that they can be promoted to high-level management positions within their current company; and,
They attach greater importance to the flexibility and balance of their job, with 97% of them expressing the importance of work-life balance.
The internet has also provided female millennials with more business opportunities and career options and more women are now choosing to start their own businesses. For example, a 2017 report released by the Global Entrepreneurship Monitor (GEM) showed that Chinese women's entrepreneurial intentions have risen by 24% since 2014.
In a report released by Alibaba in 2015, 46% of transactions on Taobao.com were handled by women. Among them, those born in the 1980s and 1990s showed an exceptional desire to start their own businesses. Many of them boast a high level of education, a global mind-set, independent thought, and a willingness to earn wealth via personal effort.
In addition, among the 56 women on the 2017 Forbes list of the world's self-made women billionaires, 21 were Chinese. More female entrepreneurs are committing themselves to self-realisation and higher goals, while taking both business and social values into consideration.
The 'She Power' of Higher Flexibility
In the early days of the Industrial Age, the traditional pyramid organizational structure was highly centralized and dominated by the 'rigidity' of male leadership. Now, as a result of digital disruption, organizations have been greatly flattened and 'internetized,' transforming from pyramids into 'fishing net' structures (see figure 3).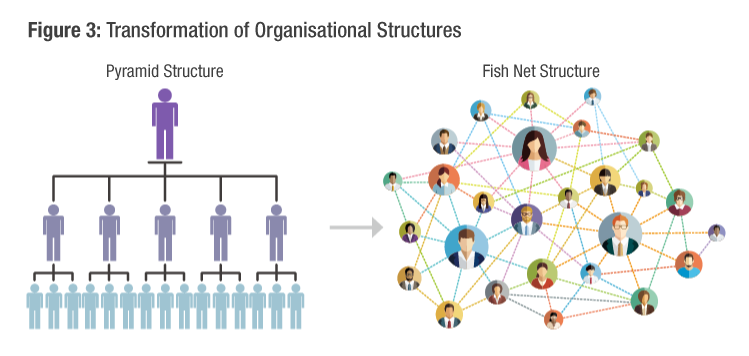 Leaders have also experienced a gradual transformation from a function as general or supervisor to one of coach or mentor, shifting from giving orders to coordinating (see Figure 4). Teamwork has also evolved from the centralised command centre mode to a multi-variant command centre. In the past, the relationship between leaders and employees bore resemblance to that of the head and the hands, where orders needed to be accurate and consistent. Today, more attention is paid to employee engagement and vision sharing.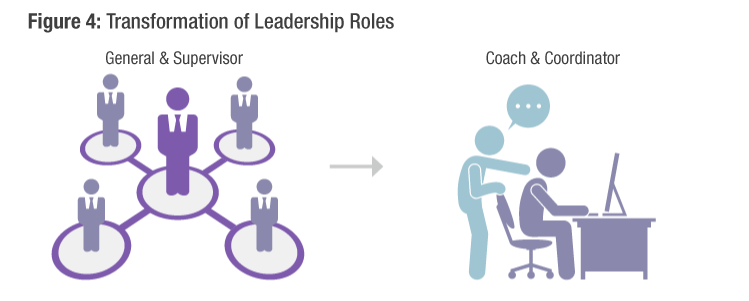 Incentives have also shifted, with a focus on developing employees' internal drives, engagement, and individual value (see figure 5).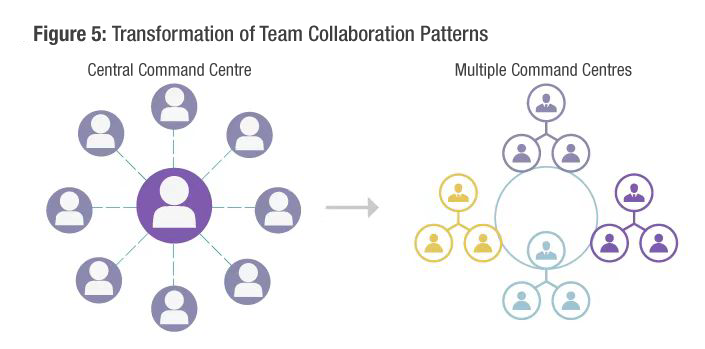 The shift in the organizational management paradigm has also created more space for women. Management has become more flexible and managers must focus more on the cultivation of people. Women in various social roles often demonstrate the 'she power' of flexibility. Specifically, they are more inclined to cultivate and develop subordinates, while at the same time listening and encouraging them to play an active role. In general, women leaders are more likely to emphasise employee development, expectations, and rewards, to set examples, and to encourage group decision-making – all of which are helpful in improving future organizational performance.
More Integrated 'She Power'
The shift in the organizational management paradigm is also creating new requirements for leaders. Leaders are expected to succeed in spite of uncertainty and are now under even greater pressure to do so. In the past, the flexibility of women counted against their ability to lead. However, as the Digital Age puts more emphasis on cross-border integration and innovation, as well as attention to people, the flexibility of new-generation women will become increasingly valuable.
Leadership Focusing on Employee Development and Cultivation
In the Digital Age, the concept of 'leaders as individual heroes' has vanished, and the ability to leverage team capabilities and organizational eco-systems has become a core competency for leaders. Today, leaders need to build and manage teams, maintain contact and active interaction among people, and create an atmosphere of sharing. At the same time, as millennials enter the job market, they are seeking interesting, attractive, and valuable work experiences. As a result, keeping employees' individual objectives aligned with organizational goals is a challenge for leaders.
Women leaders typically pay greater attention to employees' psychological needs, are better at communicating, and are more flexible. This 'she power' manifests itself in women leaders' sensitivity, focus, and patience with regard to talent development and teamwork. Women are also more tolerant and more willing to hear different viewpoints, while continuously gathering resources, and are unswerving in leading their teams to their goals from beginning to end.
Sensitivity and Empathy
As a major force of consumption, women now have more decision-making power and, as consumers, have given rise to the 'she economy'. An Ernst & Young report looking at female emerging markets has pointed out that by 2028, 75% of the disposable income worldwide will be controlled by women.
Especially in the Digital Age, women executives and entrepreneurs are apt to have strong sensitivity and empathy for customer experiences from a consumer angle. According to Alibaba's 2015 report, women entrepreneurs have demonstrated a preference for e-commerce with a focus on everyday products and services, including fashion, home, health, and education. As the main consumers in these markets, women tend to reflect on and improve user experiences on their own terms.
In addition, according a 2018 survey published by Boston Consulting Group, women are more dependent on data and information analysis, and willing to invest more time to do research. As a result, start-ups founded or co-founded by women have yielded higher benefits. Over the past 5 years, start-ups with women founders have an average income 10% higher than those founded by men.
Ability to Integrate Cross-border Cultures
Innovation, cross-over, and integration will become a focus of future leaders and leaders will also need to possess cross-border skills. The days when people could focus on a specific area and still be promoted to management positions have come to an end. The application of future technologies requires managers who possess cross-border integration capabilities, and the line between organizational departments and professional fields is blurring.
In the ever-changing Digital Age, leaders must be flexible cross-border thinkers, constantly improving themselves to meet the requirements of different roles. Women's 'she power' embodies the ability to combine, adapt, and learn. Ultimately, women leaders possess the ability to change according to different environments and face hardships optimistically.
Jean Lee is Professor of Management, Michelin Chair in Leadership and Human Resources Management at CEIBS and the Co-Director of CEIBS Centre for Family Heritage. For more information about Prof. Lee's work, visit her CEIBS faculty profile here.