CEIBS Celebrates MBA 2020 Virtual Graduation Celebration
Saturday, June 20, 2020
CEIBS Celebrates MBA 2020 Virtual Graduation Celebration
Nearly 2,000 people join in to watch the first virtual graduation celebration in CEIBS history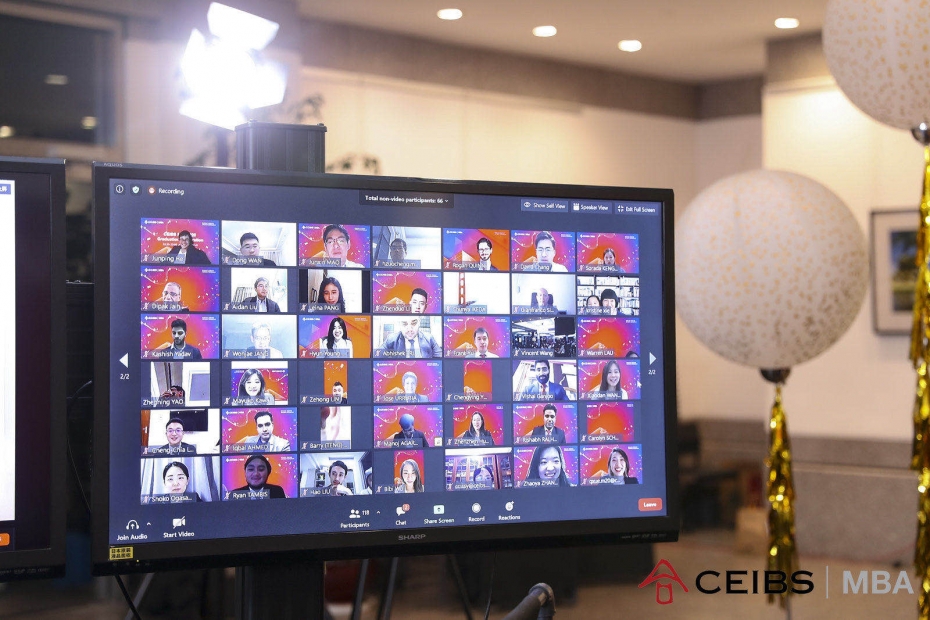 June 20, 2020. Shanghai – In an enforced break from tradition, the CEIBS MBA Class of 2020 concluded their offline MBA journeys online today with 150+ graduates and 1,600+ friends, families, professors, mentors and CEIBS staff logging on to welcome this year's graduates into the school's alumni network of over 24,000 professionals. School leaders including CEIBS President Mingjun Li, President (European) Dipak Jain, Vice President and Dean Yuan Ding, Vice President and Co-Dean Weijiong Zhang and Associate Dean and MBA Programme Director Juan Fernandez led the first virtual graduation celebration in CEIBS' 26-year history.
The host of today's celebrations, Professor Fernandez welcomed the MBA Class of 2020 by praising their dedication and determination and the grit required by students in order to call themselves Masters of Business Administration.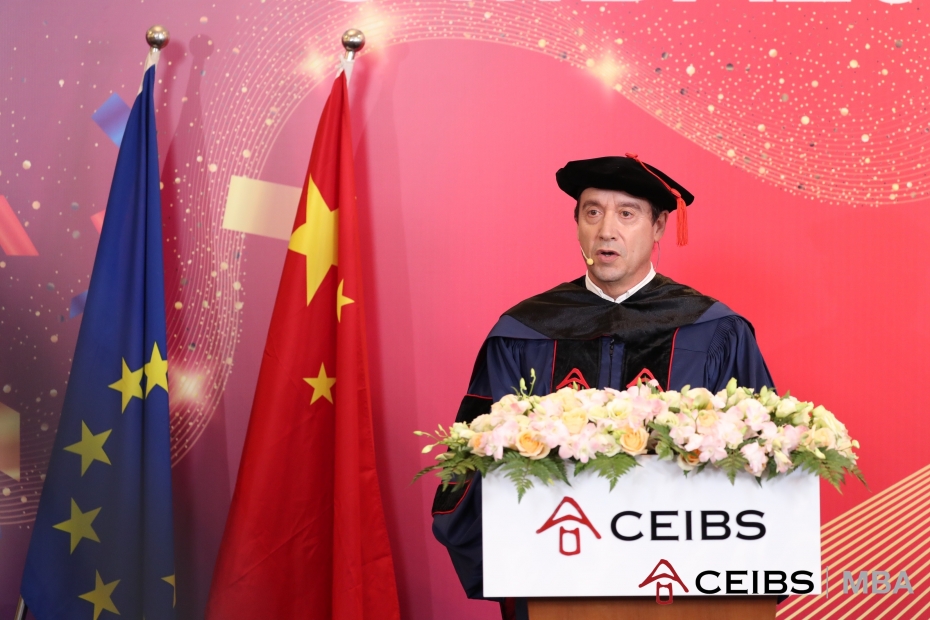 Dean Ding officially began the proceedings by congratulating the graduates on coming to the end of their long and intensive journey.
"It's important that we pause to celebrate this significant moment in your lives – albeit virtually," Dean Ding said. "Despite the global pandemic, most of you have already resumed your professional lives. The school will continue to support those who are still looking for opportunities and help you all to turn to a new chapter in your lives".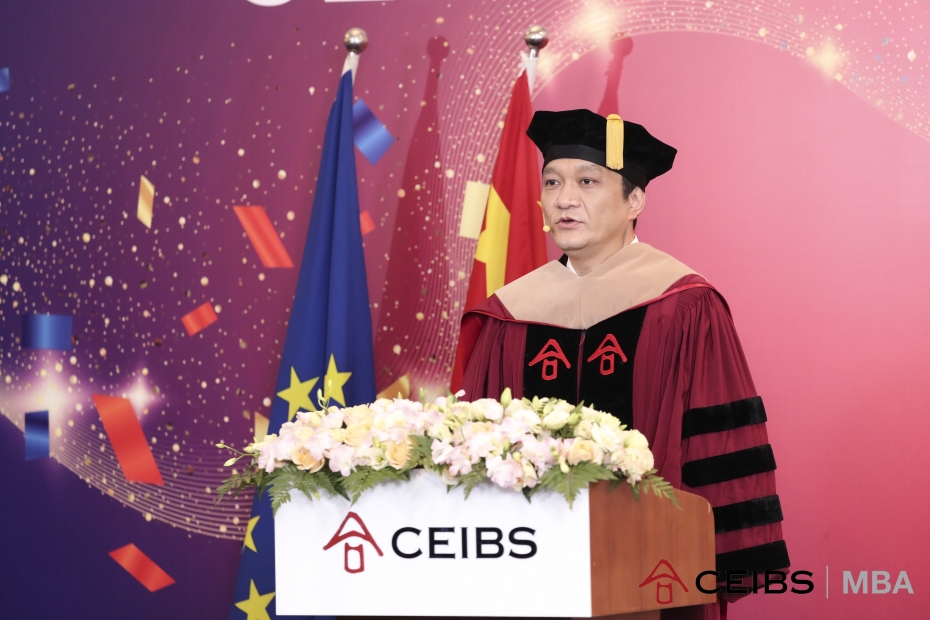 In his keynote speech, former Prime Minister of France and CEIBS Distinguished Professor Jean-Pierre Raffarin saluted this year's graduates by praising their talent, relationships and ambition.
"Today is something that will never leave you," he said. "Trust that this diploma certifies that you can trust yourself. You are the leader of your projects, your future and your ambition."  
With many MBA faculty joining today's celebrations, CEIBS Associate Dean (Research) and Professor of Economics and Finance Bin Xu spoke on behalf of his colleagues to deliver one final lesson in the form of three guiding principles from ancient wisdom.
Flourish: Remember and try to channel that flourishing feeling you had when you first began your MBA journey at CEIBS.
Retreat: Be mindful that you cannot flourish ever second. You need to take time to pause and reflect.
Virtue: Most importantly, pursue a balance between the first two. We should focus on the purpose of life and how to live it to its fullest.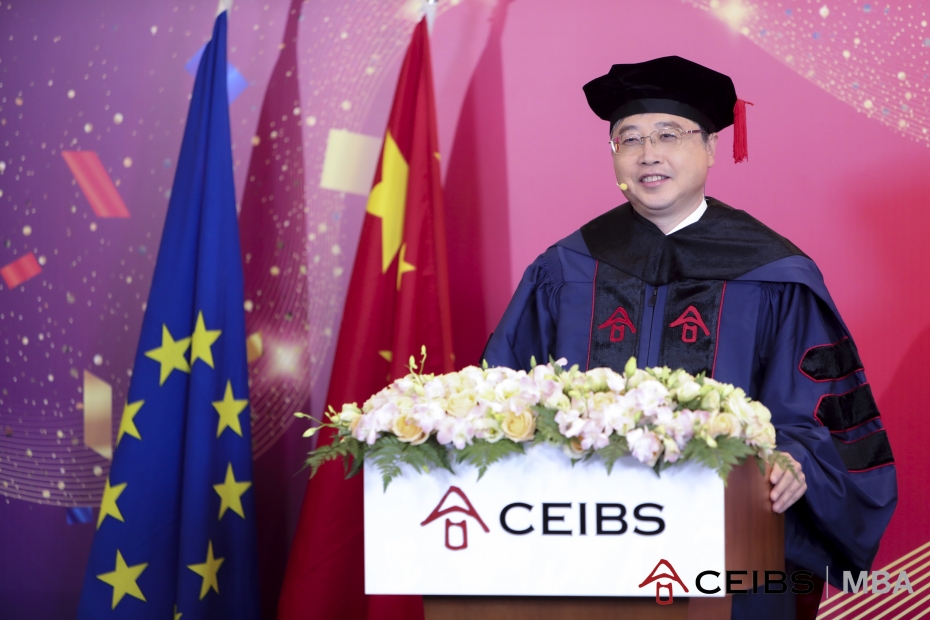 Representing the MBA Class of 2020, Shoko Ogasawara and Cain Tong shared some key takeaways from their journeys at CEIBS. Joining the virtual celebrations from outside of CEIBS' Beijing campus, Shoko shared her reflections on what has been a tough 18-month journey.
"I have been pushed to my limits, and often found myself well outside of my comfort zone," she said. "My classmates inspired me with their positive attitudes and made me want to be just like them. Having overcome many challenges along the way, I am now confident to take on the future."
Shoko then expressed her sadness that although the class WeChat group is no longer as active as it once was and that graduates aren't physically together today, they remain as one – one family.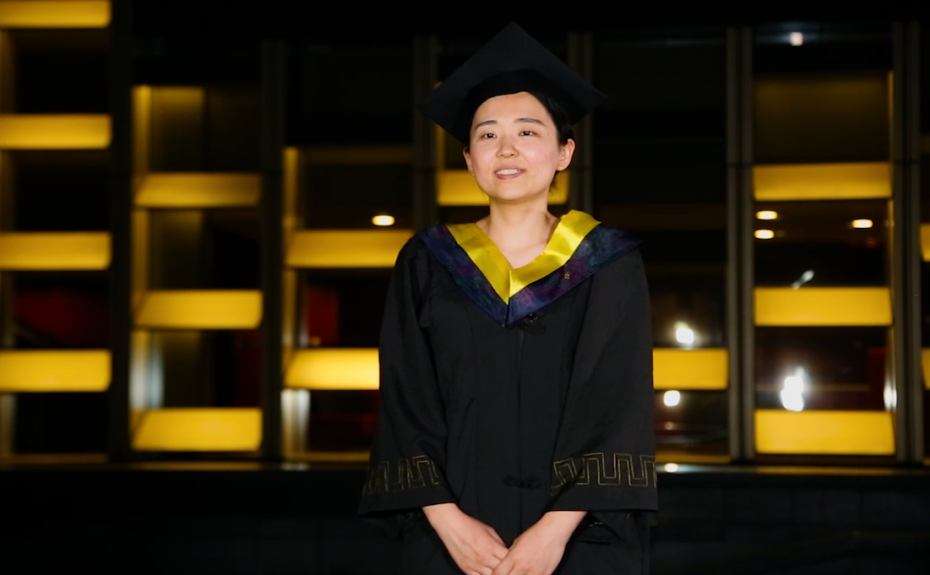 Cain reflected on the MBA programme from his perspective of being, in his words, an average student.
"It would be greedy to ask for more," he said. "In the past 18 months, I have led the Finance and Investment Club, joined international case competitions and took on the Gobi Desert Challenge. After this, even with the struggles we are all facing due to COVID-19, I have confidence in our collective abilities to figure out a solution and succeed."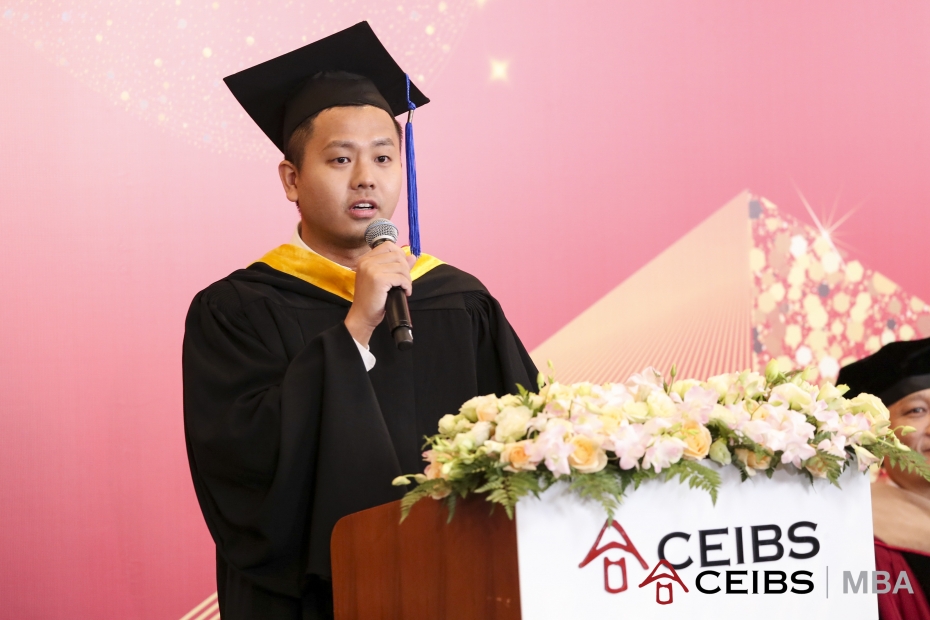 President Li, President Jain and Co-Dean Zhang then presented awards to the MBA Class of 2020's outstanding achievers. The award recipients are:
Student Leader Award: LUO Cheng, TONG Ji and GONG Guoxiang
Outstanding Graduate Award: Yann Michel BIEHLER, Andreas GLAEFKE, Jaqueline HANRATH, LI Jiaqi, LING Yunzhi, Danruo LIU, Shoko OGASAWARA, TONG Ji, Wing Hang Mathieu TSE and Paul WALPRECHT
MBA Office Special Recognition Award: Manoj Kumar AGARWAL, Francesco CARTONI CASTILLA, CHEN Bing, HUANG, Zhenzhen, Yashovardhan Suresh JANGID, JIN Yutong, Mayuko KAWATA, Doo Hyun LEE, LI Bingzi, Hsin-Ho LU, QIN Xue, Ryan Belcina TAMBIS, Hyung Joon UM, Jose Antonio URRUTIA RIVAS, WANG Taibin, WU Qiong, Kashish YADAV, Ke ZENG and ZHANG Qiaojie
The celebration concluded with a performance of You Raise Me Up sung by MBA2020 graduates spread out across the world. Graduates were then encouraged to raise a glass to toast to each other's success as they were ushered into the CEIBS alumni community with a spectacular light show from the iconic CEIBS Pyramid in Shanghai.