MBA 2019 Graduation Ceremony
Saturday, April 13, 2019
MBA 2019 Graduation Ceremony
~ Confidence, Excellence, Intelligence, Balance, and Sacrifice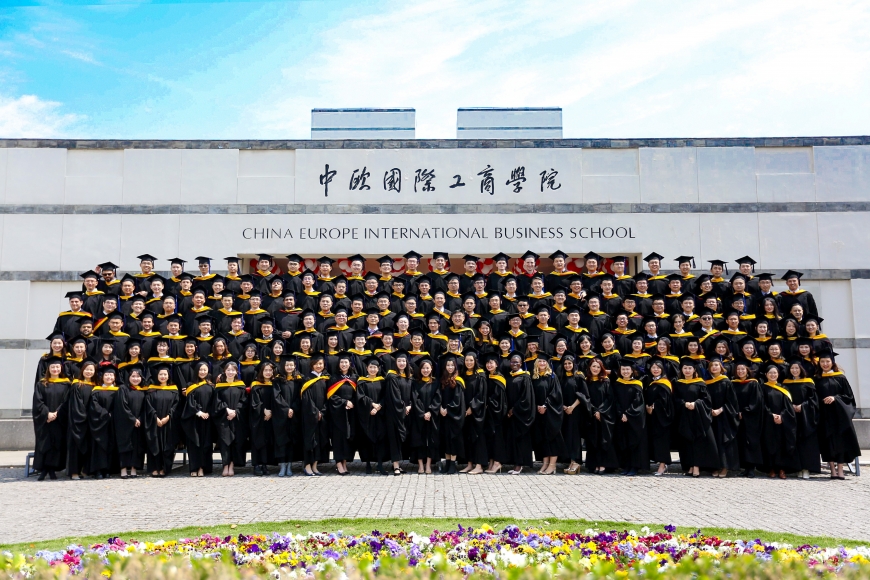 April 13, 2019. Shanghai – More than 150 students concluded their MBA journey on campus today. Accompanied by friends, family, professors, mentors, and CEIBS staff, the MBA Class of 2019 joined the school's alumni network of over 22,000 professionals. School leaders including CEIBS President (European) Prof. Dipak Jain, Vice President and Co-Dean Prof. Zhang Weijiong, and Associate Dean and MBA Programme Director Prof. Juan Fernandez led the celebrations on a day of reflection and new beginnings.
President Jain began the proceedings by wishing all of today's graduates the best of luck on their journeys ahead. "At my graduation day, I remember my father telling me about the three R's that I should embrace on that day — reflection, renewal, and responsibility," he said. "I now encourage you all to take these words with you. And, remember, you may have been a student here for 18 months, but you will be an alumnus for the rest of your lives."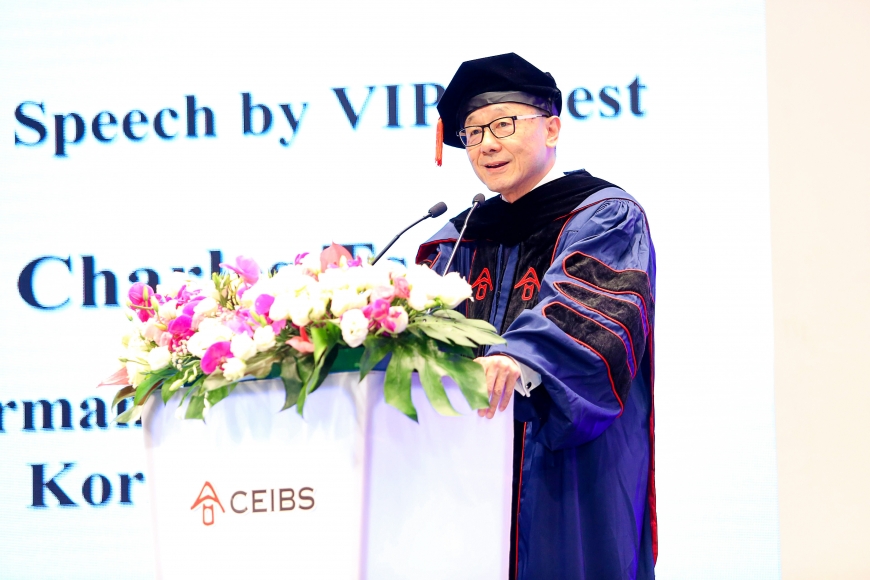 In his keynote speech, Korn Ferry Asia Pacific Chairman Mr. Charles Tseng shared insights from his experience. "Having placed many senior executives and CEOs and having observed their behaviour and performance over the years, I am convinced the most successful CEOs follow their heart, not their brain. They simply do what they feel is right for them. Successful leaders believe their future is not a mere extension of the past, hence completely relying on knowledge that is based on the past limits them to approach a future that is filled with endless possibilities," he said. "The MBA programme has provided you with the confidence to connect with entrepreneurs, CEOs, and political and business leaders. In the decades to come your investment in this education will be vindicated many times over."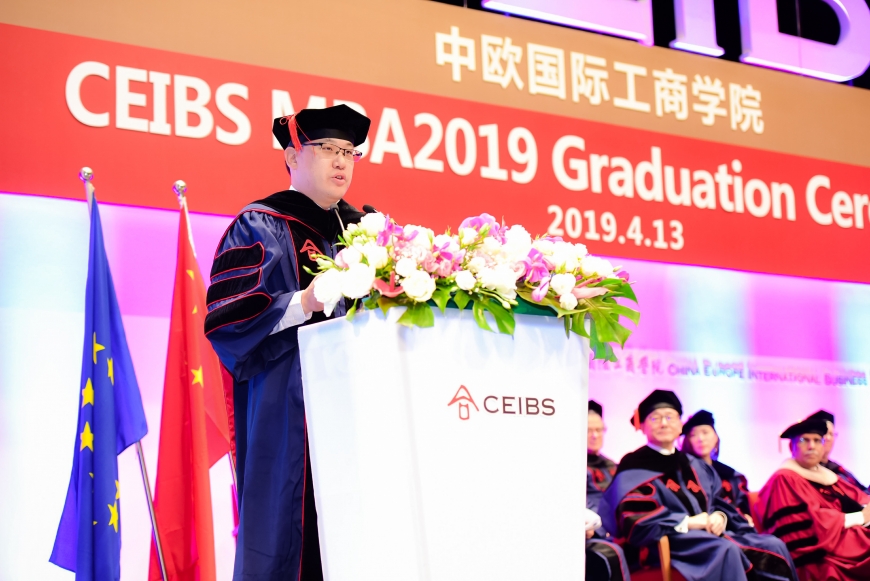 With many of the MBA faculty joining today's celebrations, CEIBS Assistant Professor of Management Dr. Byron Lee spoke on behalf of his colleagues to offer the graduates one final lesson. "As we enter this new age of innovation and branding, your biggest asset is you! It's not simply your credentials, but more importantly it's what belongs to you, which is your intellectual property," he said. "I encourage you to embrace three IPs in the future – imagine the possibilities, identify your purpose, and illuminate the people."
Representing the MBA Class of 2019, Elizabeth Achieng Chweya and Ryan Zhou shared some key takeaways from their journey at CEIBS. "Different looks, different thoughts, different worlds, different perspective – that is what will make for an even more interesting life for everyone. So, if you ever find yourself feeling like the odd one out, remember to stay as odd as possible, because in the famous words of Marianne Williamson, 'As we let our own light shine, we unconsciously give other people permission to do the same'," Elizabeth said. "Go out, be different, be bold, and be you! Congratulations to my fellow graduates and best of luck!"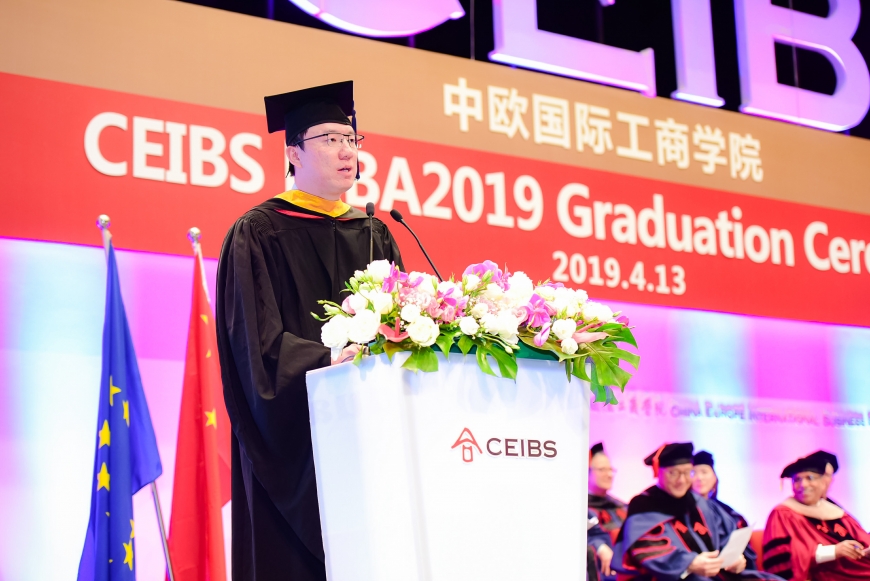 Zhou reflected on the transformation experience of the MBA programme. "When I heard that I would stand here to give you a speech, I thought the MBA office must have made a mistake. Standing here is a little bit strange for me. I was a lawyer before the MBA. When I am in court, the audience are always behind me. The judge is in front of me. So wow, 300 judges! It must be the biggest case I have ever had," he said. "If you wonder why I stopped my legal career, why I did an MBA, and why I came to CEIBS, maybe I couldn't give you an answer two years ago. But I can tell you today, studying at CEIBS is the best choice I have ever made. For me, what CEIBS taught me is a new way of interpreting the acronym CEIBS, Confidence, Excellence, Intelligence, Balance, and Sacrifice."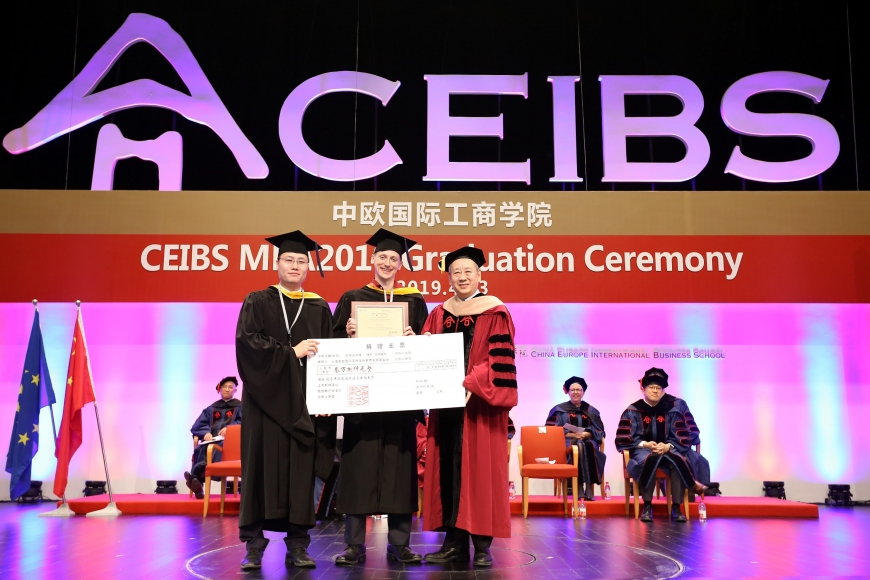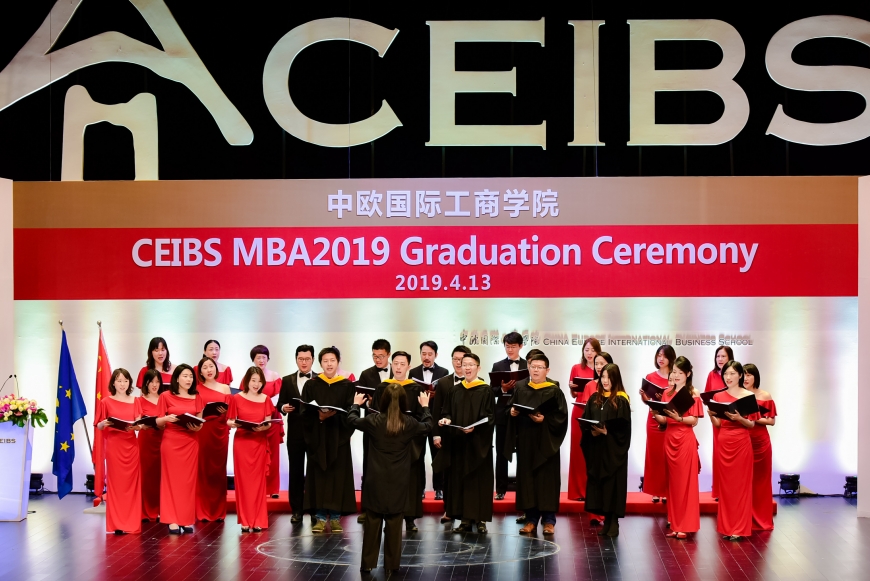 The MBA Class of 2019 presented the school with a special donation before those in attendance were treated to two student led performances. MBA 2019 graduate Tian Tian performed a piano solo of Polonaise No. 6 by Chopin. He was followed by CEIBS Maple Choir who sang Farewell and Seasons of Love.
Prof. Fernandez congratulated the MBA Class of 2019 on their new status as alumni before encouraging graduates, families, and friends to continue the celebrations on campus as today also marks the kick-off of the CEIBS 25th Anniversary Celebration. President Jain and Co-Dean Zhang joined Prof. Fernandez on stage to present awards to the MBA Class of 2019's outstanding achievers. The award recipients are:
MBA Office Special Recognition Award: Kuan-Wei Chen, Chun Sin Chew, Qinzhi Dai, Christopher Stephen Day, Ting Gao, Peichen He, Katinka Honervogt, Jeff Jin, Valentina Kaledina, Pengfei Lai, Xueyi Liao, Zhenrong Wang, Yifan Xu, Huiwen Zhang, Xiaomou Zhang and Xiang Zheng
Outstanding Graduate Award: Yijun Chen, Elizabeth Achieng Chweya, Christoph Hendrik Hupfeld, Shailesh Jha, Junwei Jia, Yijie Jiang, Timo Reinhard Peters, Matthew Alexander Seresin, Apricot Maude Daphne Wilson, Chen Yang and Jiwei Zhang
Special Contribution Award: Pablo Miguel Che Leon Sarmiento, Ye Xiao and Kaichi Lin
The ceremony concluded with Vice President and Co-Dean Zhang Weijiong calling upon the graduates to signal their new status as alumni by switching the tassels on their caps from right to left. Celebrations continued well into the evening as CEIBS hosted a graduation dinner for all who supported the students throughout their MBA journey.