CEIBS Welcomes MBA2020 Cohort
Monday, August 13, 2018
CEIBS Welcomes MBA2020 Cohort
August 13, 2018. Shanghai - Today marked the beginning of a new chapter rooted in "China Depth, Global Breadth" as our Shanghai campus welcomed 175 students from 17 countries and regions for the CEIBS MBA2020 opening ceremony and cocktail reception.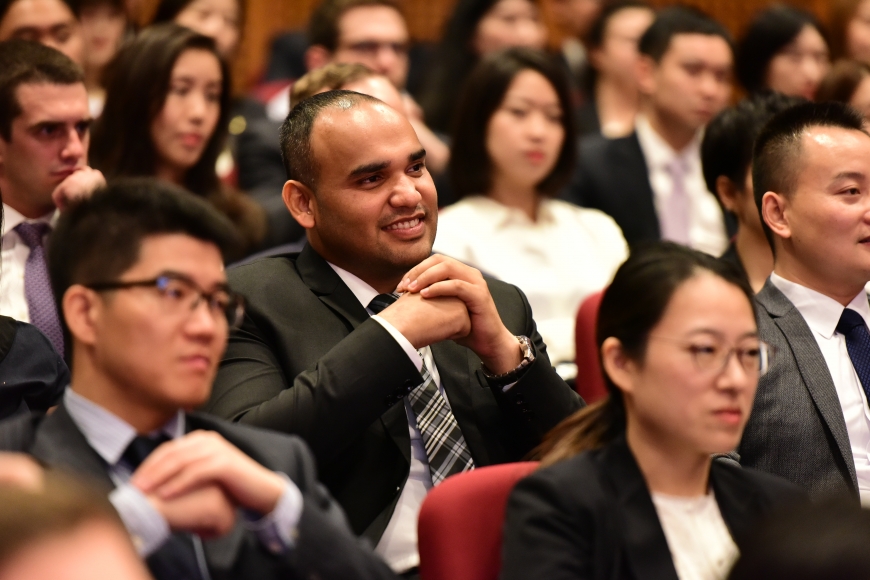 CEIBS Vice President and Co-Dean Prof. Zhang Weijiong opened the ceremony with a warm welcome and in the process offered some valuable advice about life. "Among three people, there should be one who can be my teacher," he said, quoting Confucius. In addition, Prof. Zhang encouraged the students to always be curious – to seek out the unfamiliar and to never stop learning.
Associate Dean and Professor of Economics Dr. Bala Ramasamy then took centre stage to introduce two concepts: happiness and humility. In regards to happiness, Prof. Ramasamy implored students to avoid being overly anxious or worried, asking them, "If you are unsure of yourself, how can you expect others to be sure of you?" He further stated that in a community such as CEIBS, where all members are leaders, humility is one of the keys to standing out. "Be the mediator and not the judge or arbitrator," he advised.
Following Prof. Ramasamy, MBA2019 student Pablo Miguel Che Leon shared with attendees some thoughts and experiences from his past year at CEIBS. One of the main points students took away from his speech was the importance of getting involved. "As the MBA programme came into full swing, opportunities to be involved in more activities than I could think of surged," he recalled.
The MBA2020 class also heard from one of their fellow classmates, Li Bingzi, who told her peers, "Today is the first day of our MBA programme, but for most of us, our MBA journey started long before today. The MBA programme is a self-reflection process and I believe all our questions point to one answer: I want to make a change and I want to change the world." Li's declaration struck at the core of the business mind-set, inspiring her fellow classmates to strive for the change they desire.
The day's penultimate speaker, Deputy Director of the MBA Programme Ms. Ma Ning, then provided students with a brief summary of what they can expect during their next two years at CEIBS, specifically focusing on the academic rigor, extracurricular activities, and exchange programme opportunities available.
As the opening ceremony came to an end, the new class began to prepare themselves for the journey ahead with MBA Programme Director Prof. Juan Antonio Fernandez's welcoming words in mind, "During your time at CEIBS you will discover new things about the world and about yourself. Embrace and enjoy the diversity of the class as you learn from each other."