Wednesday, June 28, 2017
From Composing Music to Shooting an Ad for Airbnb in China
~ How the CEIBS MBA, a value-oriented mindset and embracing local business culture helped alumnus Jeff Pi along the path to success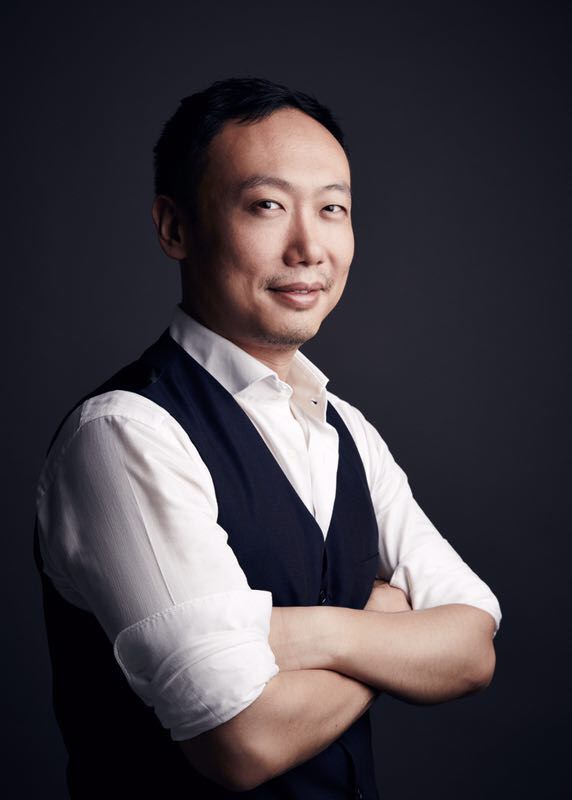 Surrounded by video editing equipment, multiple cups of coffee and a harpsichord, it's difficult to imagine Jeff Pi, MBA 2009 alumnus and partner at media production company Studio Stare, anywhere other than his studio in the hipster enclave of Jing'an, Shanghai. 
Before he began pursuing his current goal of building a media production group that is battle-ready for today's Asian economy, Jeff held many roles. He was a composer in Canada; Regional Chief Administration Officer at global healthcare giant Bayer and Vice President of Operations at DMG, a Chinese media and entertainment company with global ambitions.  We caught up with Jeff to find out about key lessons he has learned along his unique career trajectory to date.
What first attracted you to China?
When I first came to Shanghai in 2006, to visit friends, it struck me right away that big things were really starting to happen here.  Over a decade later, I can confidently say that I made the right decision to move here.  Especially when I consider the fast pace and diverse experiences I've since had in China. 
I think the best way to put it is that time feels compressed, somehow, in Shanghai.  A year here feels like more than five years back in Canada.  When I first enrolled in CEIBS, for example, there were no iPhones and no such thing as WeChat.  It's remarkable how these innovations have disrupted the economy since they were introduced. And thinking about other innovations that may be on the horizon is fascinating to me. 
What advice do you have for young international professionals who want to develop their careers in China?
It's easy to get sucked into the expat illusion, especially in Shanghai, which can feel like a cultural bubble at times.  For me, the most important lessons are to keep an open mind and to be respectful of how things are done here.  I always remind myself that when more than a billion people are doing something one way, there is a reason why it works and maybe it is the right way.  First, you need to immerse yourself in China, and really experience it.  Only then can you innovate and add value.  Ultimately setting your mindset to come and learn, and try to understand China, should be the top priority.
Do you think you could have developed your understanding of China anywhere else?
No, that would not have been possible.  Only by being on the ground in China, studying at CEIBS and working for a local company do you really get a sense of the business environment here. 
Having grown up in Canada, I knew I'd need to go through something of a transitional phase to acclimatize to life here.  CEIBS was the perfect platform for me, given its reputation as one of the best business schools in the world.  The balance of Chinese and international students, and the school's proximity to the heart of the action, were big pluses. 
The transition from an MNC to a globally-oriented Chinese company can be easier said than done.  Do you have any tips for entrepreneurs who are looking to make that transition?
I remember looking around my first class at CEIBS and noting that the majority of my classmates were from finance or business backgrounds.  I was a music composer from Canada and had zero guanxi or family business connections in China.  So I quickly realized that the only way to stand out was to keep proving my value. 
For me this has been a key success factor throughout my career.  And it applies just as much in the CEIBS classroom as it does in an MNC or a local Chinese company.  If you can save or make money for your boss, your value in that company will increase rapidly.  There is a very pragmatic approach to business here, which meant that at Bayer, for example, I quickly built up trust with the management and achieved six promotions in four years. 
Six promotions in four years! Do you think you could have achieved this rapid rise in other countries, or was it an 'only in China' experience?
I started as an intern at Bayer, which was actually a prize for winning a consulting competition at CEIBS.  When I left the company, four years later, I was Regional Chief Administrative Officer.  This level of growth only happens in rapidly developing markets.  There is a real need for management and leadership here, so if you put in the hours and prove your value, a lot of opportunities will come your way. 
What advice do you have for our current MBAs going into their 10-week summer internships?  How can they make the best of the opportunity?
When I started my internship at Bayer, they didn't know what to do with me and I was translating their website from Chinese into English.  I remember thinking at the time that I had gone through so much to win this opportunity and was now stuck in the office translating. 
Undeterred, one Friday afternoon I heard that the Communications Department was preparing a research study on innovation.  Over the weekend, and off my own back, I used CEIBS resources to compile a market analysis report on innovation, covering their key business units.  Back in the office on Monday morning, I placed the completed report on the desk of the Vice President of Communications.  Later that day, she summoned me to her office and asked me two questions, "Who asked you to prepare this report?" I said no one, and "What are you doing now?" I said translating Bayer's website. "Not anymore," she replied, and that was how I made my way onto the first rung of the corporate ladder at Bayer.
Is there a specific lesson you learnt during CEIBS lectures that continues to shape your career today?
Before doing the MBA, many in our class liked to reach conclusions without data.  I was lucky to have Dr. Lydia Price as Professor for our core Marketing module.  Every time my classmates and I presented a report to her, she would say, "Go deeper.  Where is the data?"  At the time, I have to admit to finding this slightly annoying.  However, I now realize that this data-driven approach to problem solving is super valuable.  It wins you a lot of arguments and, most importantly, helps get things done.
Tell us a bit about what you're doing now.
The long term goal is to build a large media group.  I'm starting with a production agency and building extensions to that, so that when the new Asian economy is fully connected digitally, we'll be ready. 
Right now, we've just finished shooting a commercial for AirBnB in China.  This has been great exposure for the studio, but what I really like is the balance of work from outbound Chinese enterprises and inbound international clients.  To borrow a phrase from CEIBS, I am helping clients to maximize their 'China depth and global breadth'.