Friday, November 16, 2018
CEIBS European President Welcomes CEIBS Global EMBA Class of 2018
November 6, 2018. Shanghai – CEIBS President (European) Professor Dipak Jain met today with the new 2018 cohort of the CEIBS Global EMBA Programme and together they had an in-depth conversation. Prof. Jain expressed a warm welcome and congratulations to the new class who are now a part of the #5 ranked EMBA programme in the world! He said he believes that participants will gain life-long benefits from the two-year learning journey. Inspired by Prof. Jain, the new cohort of participants also said that they can't wait to start the journey and are full of expectations.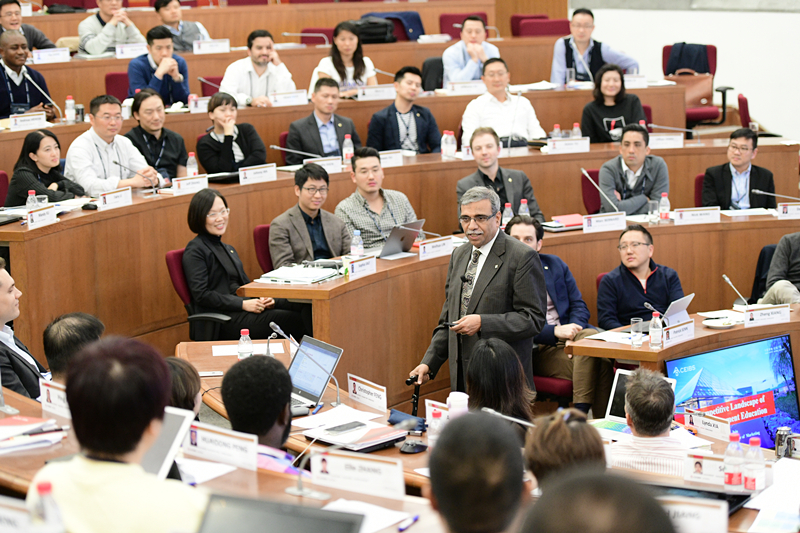 ​
Prof. Jain also talked to the group about how CEIBS is committed to educating responsible leaders as a top international business school in the world. He emphasised three aspects which CEIBS is perfecting:
First is Academic Excellence. CEIBS is devoted to improving skills for students, by providing management tools to solve problems and giving them concepts and frameworks for strategic thinking.
Second, Business Relevance. Based on a strong academic research background, the education delivered by any business school should have strong relevance to the real business world. CEIBS faculty use case analysis and the patented Real Situation Learning Method to help students more penetrated concepts and theories and put them into real practice.
Finally, based on Academic Excellence and Business Relevance, the higher commitment of CEIBS is to Social Significance. CEIBS' mission is to educate responsible leaders with a sense of social responsibility. This mission is well integrated into the entire curriculum. In addition to individual success, business leaders should strive to create social value. They should give back to society and communities, and finally make the world more peaceful and prosperous.
Furthermore, Prof. Jain gave some valuable advice to the students for their future studies. First, maintain curiosity at all time, as it is a motivator for lifelong learning. Second, he encouraged students to ask more questions and put forward constructive suggestions to professors. Third, actively learn from peers since they are all elites in different industries from all over the world.
As a globally-recognised marketing and innovation expert, Prof. Jain was previously Sasin's Director, Dean of INSEAD, and Dean of Dean of Northwestern University's Kellogg School of Management, as has maintained strong influence in both fields of business and education. In his opinion, future opportunities for EMBA education lie in the East, in China. As a China-based business school, CEIBS will grasp this opportunity to educate more responsible business leaders for China and the world, while contributing to EMBA education in the world.
The new members of the Global EMBA class were inspired by Prof. Jain's speech and said they have a lot of confidence as they look forward to the learning journey ahead.