Monday, October 30, 2023
Global EMBA Class of 2021 Teams Ace Their Oral Defense
Between 20-22 October 2023, the Global EMBA(GEMBA) 2021 class undertook the final part of their Capstone Project, the Oral Defense. Sat opposite a panel of CEIBS faculty professors and alumni experts from relevant fields, each Capstone group of students had to rigorously defend the structure, suggestions and overall validity of their project against the probing questions of their examiners.
Fortunately, according to the professors representing the various panels, the GEMBA 2021 class had definitely 'done their homework'. Each group provided answers that not only showed the depth and breadth of their knowledge regarding analytical skills and processes, but also their ability to forge their collected data into practical, pragmatic suggestions that were viable within the business context of their chosen company's circumstances.
01 Capstone Roundup – A Cross-section of Company Challenges
Every year, the GEMBA cohort is split into Capstone teams, by their professors, and must chose the parent organisation of one team member as the focus of their project. The team must outline a genuine, real-world business issue or challenge faced by that organisation, and then work together to construct a series of data-driven solutions or possible avenues for further research that the company can review and (hopefully) adopt.
This year saw a remarkable range of target companies. Not only were there sizeable MNCs operating in China, there were also SMEs and startups, and even a Chinese state-owned enterprise among the roster of organisations benefitting from the students' analysis. To give a glimpse of the variety on display at this year's oral defense, the following is a shortlist of the companies under analysis, with a brief overview of what the group was trying to achieve in each case.
Vision Care
Vision Care is a division of Johnson & Johnson Vision, specialising in a wide range of products including beauty contact lenses. The objective of the capstone project was to find the right growth strategy in the China market for these lenses. The outcome of this project influenced the company in reshaping their innovation pipeline towards the recommended value proposition. Thanks to the experience of the team members, the company also launched an innovative brand communication campaign which created a record for their brand social presence.
Sinexcel
Sinexcel is a Shenzhen-based, cutting-edge provider of EV charging and energy storage products. In this case, the Capstone team addressed the challenges related to Sinexcel's ambition to launch into the booming US renewable energy market. Due to geopolitical risks associated with the China/US trade rivalry, the team's strategy recommended a gradual market entry journey, slowly building up a local team and assets in the US while carefully looking for the right US player to partner with and establish local production facilities.
ACRO Certify
ACRO Certify looks to address a long-standing problem in the biopharma industry, where companies are always in need of the right life sciences tools and technologies to enhance their research efforts, but finding sufficient information is always difficult. ACRO Certify is designed as a boutique platform to put solution providers together with biopharma buyers, giving both sides complete transparency and ease of access. The group has already launched two successful pilot projects through the platform and now looks to move beyond the 'proof of concept' stage and scale up the customer base.
StarOcean
StarOcean is a China-based startup founded by GEMBA 2021's Heling Gu. The company designs and manufactures remote-controlled model airplanes for a major US distributor, which is their only customer due to an exclusivity agreement. The team looked for the best ways for StarOcean to expand while maintaining good relations with their sole client. They discovered that there were sizeable opportunities in selling both upstream (selling Electric Speed Controller parts) and downstream (selling existing airplane products and new China-specific products).
Shanghai Yunshi Technology Co
Shanghai Yunshi Technology Co offers advanced '3D naked eye' technological solutions that allow audiences to see 3D content without the need for glasses or other equipment – i.e.: they can view 3D movies, games, etc with the naked eye. The problem for the group to overcome was how to position Yunshi's core technology in the right markets for maximum market share and profitability. Their analysis led the team to recommend Yunshi to focus intently on government 'cultural shows' projects for the short-term, while also looking to develop capabilities in the automotive and consumer goods sectors.
02 Walking the Steep Learning Curve 
But what have the students gained during this multi-year learning experience? As well as the essential qualities of patience and discipline in maintaining the project and its many needs (data collection, team-based analysis, efficient division of labour, insight generation, generating solutions and much more), every Capstone team learns a great deal from their teammates and assigned professorial mentor who guides their efforts.
In a series of brief interviews, we asked several GEMBA 2021 members to highlight the foremost lessons they learned as part of their Capstone journey.
Heling Gu
Founder and CEO, Shanghai Lingwei Intelligence Partnership Enterprise 
Global EMBA 2021
We really worked together to approach the issue in a strategic way. We followed the professor's advice, we kept our minds open to all possibilities. We did comprehensive research, we went to the relevant exhibitions, we did a focus group, we constantly evaluated our thoughts. I believe that our strategic solution is valid, as it is supported by the data and has complete consensus across the group.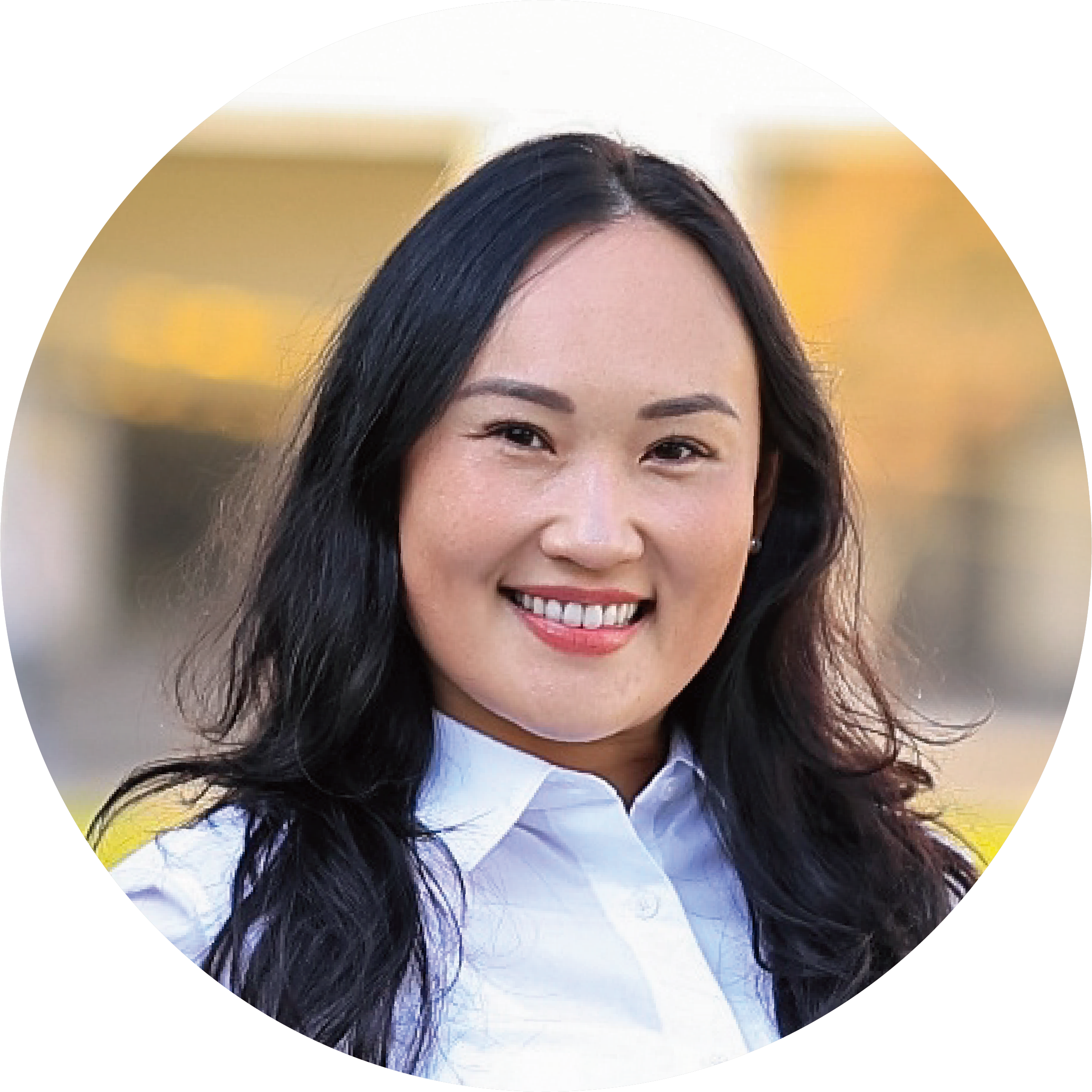 Anastasia Zherbakanova
Senior Legal Manager, The9 Limited
Global EMBA 2021
We had to do this Capstone during the first year after COVID, so everyone had a very challenging and demanding travel schedule. So, it was sometimes difficult to get people together in the meeting. I think we all learned how to be more flexible and task-focused in less-than-ideal teamwork setups, and overcoming this challenge made us a stronger team overall.
Mike Chen
Founder and CEO, ACROBiosystems Inc.
Global EMBA 2021
We learned so much during the past two years, but with this project we combined what we learned from customers, from classmates and professors while putting the theory into practice. We quickly identified and assessed a crucial problem, and then found the right framework to apply in a very systematic way. I think this was the most valuable part of the project, as it brought together everything we had learned and allowed us to mould it into a real-life business solution. Learning for its own sake is good, applying knowledge to solve problems you see in the world is better.
Romain Decourcelle
R&D Manager, Saint Gobain
Global EMBA 2021
The Capstone Project is the opportunity to combine all our learning and put it into a real case for a real business; no more simulations, no more papers or use cases – this is real-life business. It's challenging, we have a lot of things to manage at the same time. But it's really rewarding to integrate key learnings from marketing, strategy and so on, into a real business case that will hopefully support the growth of one company.
Celine Chen
General Manager, J&J Vision Care China
Global EMBA 2021
The value of a Capstone Project comes from two parts. The first is about our learning of academic knowledge and putting it into the real commercial world; we learn how to translate theory into practical value for the business. The other part for me is about learning how to lead a diverse team with different backgrounds to apply the learnings from all the leadership modules.
03 Ask the Profs – Advice for GEMBA 2022 Cohort
As soon as one GEMBA class completes its Capstone Project, the next cohort readies itself to do the same. Classmates of GEMBA 2022 must prepare themselves for the mentally rigorous process of constantly honing and shaping their project each month until their proposal is complete and they face an oral defense panel of their own.
Among the professors involved in this year's oral defense, three offer their advice for the GEMBA 2022 cohort, as they look forward to completing their Capstone journey:
Prof. Terry Wang
Professor of Entrepreneurship, CEIBS
I have three suggestions – One: focus on the root causes of the problem you want to solve; talking about a business trend or phenomenon is not enough, you have to go deeper and show that you understand how to solve the issue. Two: define your scope carefully; too many groups go either too broad or too narrow. Three: remember that data is king; collect high-quality data, meaningful interviews, and this will greatly aid you in finding the best solutions based on sound evidence rather than mere intuition.
Prof. Hyun Young Park
Associate Professor of Marketing, CEIBS
Remember that successful Capstone Projects combine academic rigour with practical value. If you focus too tightly on academic frameworks, your insights won't be applicable to the company. However, without them, your insights become too reliant on gut feelings that are not sufficiently grounded in evidence or logically structured. Keep both these factors in mind and you'll get the balance right.
Prof. Bala Ramasamy
Professor of Economics,
Associate Dean; 
Director of GEMBA Programme, CEIBS
I always encourage teams to find members who are different. There could be somebody who is a CFO, another person who is a CMO, somebody in operations and so on. When they come together, they can look at the problem from different dimensions. Accordingly, their solutions are more likely to be more innovative, and more reflective of the broader business realities we face in today's world.
Although this year's Capstone Projects have officially drawn to a close, the legacy and impact of them will be felt for years to come, as many of them will continue to add real-world value to the complex business environments they were created in. Congratulations to all the GEMBA 2021 students who have completed their Capstone Projects. We cannot wait to see what GEMBA 2022 can do to top this extremely impressive cohort's efforts.