Sunday, September 10, 2023
Gearing management education toward a better future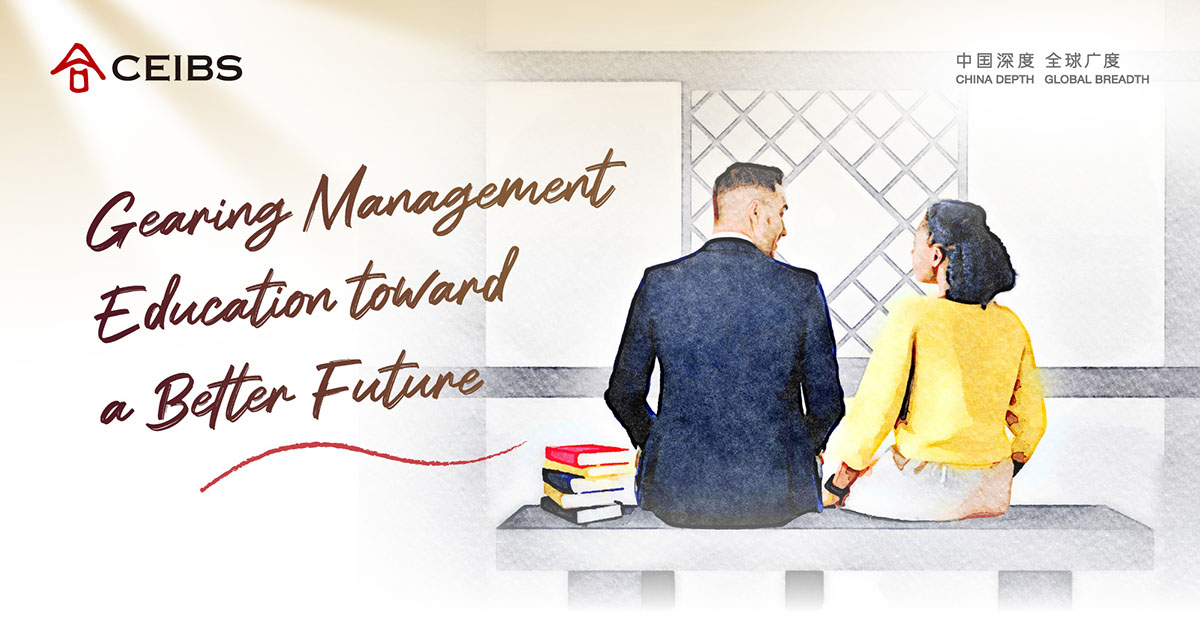 Dear CEIBS Community, Alumni and Friends,
Today is the 39th Teachers' Day in China. On this occasion, we wish everyone in the education sector a happy day!
Nearly a century ago, Cai Yuanpei, a prominent Chinese educator, emphasized the importance of gearing education toward the future, noting, "Education is neither for the past, nor for the present, but above all for the future." This also rings true for business school education, which is still in its infancy. Today, we would like to share with you some more thoughts on the ongoing evolution of management education.
Management education faces great challenges in this new era of disruptive change. The shifting geopolitical landscape has cast a shadow over international cooperation and profoundly affected the recruitment of international students and faculty; an array of emerging technologies, such as artificial intelligence-generated content (AIGC), are upending traditional teaching models in business schools; and the accelerated reconfiguration of global supply and industry chains has made it imperative for companies to pursue digital transformation for sustainability, raising the bar for management knowledge creation and dissemination. In addition, business schools around the world are jockeying for top faculty, students, and staff. To complicate matters, online education providers, consulting firms, and entrepreneur networking platforms are directly or indirectly competing with business schools for a piece of the management education pie, making the entire market increasingly competitive.
To cope with these challenges, business schools should step up their efforts to create value and build core competencies while fulfilling a greater mission and responsibility. First, to meet the needs of students, industry, and the broader socio-economic landscape, business schools should enhance their ability to create knowledge with a problem-oriented approach that aligns research with practice; second, in the context of digital transformation, business schools should leverage cutting-edge technologies and models to digitalize teaching. Third, to promote business practices and social development, business schools should continuously expand the platforms and channels for sharing and communicating their research results; last but not least, business schools should continuously increase their visibility and brand reputation by integrating CSR concepts into their routine teaching, research and management.
"Perseverance leads to excellence," an ancient Chinese saying goes. Faced with challenges and opportunities, CEIBS, a pacesetter in China's business education field, has been pondering the following questions. What kind of management talent is needed for companies to drive economic and social development? How should CEIBS continuously improve its teaching model to live up to the expectations of the times? How can business schools' research findings better shape business practices? In a nutshell, how can CEIBS help companies thrive and set a benchmark for business education in the ever-evolving management education landscape?
According to another ancient Chinese proverb, "Inspiring people with action is a surefire way to get their quick response". Faced with looming challenges, CEIBS has responded with concrete actions. In recent years, the school has rolled out innovative initiatives aimed at boosting interdisciplinary research, helped by a world-class faculty team. Our in-depth research on the areas of "China and the World", "ESG", "AI and Business Management", and "Service Excellence" have produced influential insights that have the power to inform business decisions. Our innovative "2+4+2+X" interdisciplinary research mechanism has yielded significant achievements and fruitful academic outcomes. In addition, we continue to expand our talent cultivation system, and strengthen industry-academia-research integration to nurture more business leaders poised to drive China's high-quality development and global engagement. This year, we have resumed a series of company visits in the Chinese mainland and overseas study tours, providing students with immersive experiences and insights into the seamless integration of theory and practice in the business world, thus helping them to develop both China knowledge and a global perspective.
Meanwhile, we continuously expand our platforms and channels to facilitate the wider dissemination of CEIBS professors' innovative ideas and research findings, which have the potential to inform business practices. We host a range of high-profile international forums to facilitate communication among the political, business and academic communities while promoting China's exchange with the world and serving regional strategies. CEIBS professors also continuously share their insights into the latest developments, industry trends, corporate challenges, and business dynamics to empower alumni and alumni companies and drive progress in socio-economic development.
All these measures speak volumes about the competitiveness, creativity, and vitality of CEIBS. Looking ahead, we are confident that through our ongoing commitment to development and innovation, CEIBS will remain in the top tier of global management education rankings. China's growing global engagement has inspired us to nurture more responsible leaders versed in "China Depth, Global Breadth", opening new opportunities for CEIBS to make full use of our resources and platforms. The achievements of more than 40 years of reform and opening-up and China's promising long-term economic prospects—both a significant boon for Chinese business schools—will provide fertile ground for CEIBS to cultivate more entrepreneurial talent and better compete internationally. Guided by the motto of "Conscientiousness, Innovation, and Excellence" and the school's "Co-Culture", we will continue to move forward. Finally, the pioneering and enterprising spirit of the CEIBS community will inspire us to forge ahead against all odds and write an even brighter new chapter.
When faced with social and industrial transformation, pacesetters must always step up to the plate and shoulder the mission of the times. Driven by the belief that "when a hundred boats compete, the one who exerts the most effort wins; when a thousand sails compete, the boldest one prevails", CEIBS has evolved into a world-class business school ranked among the best in Asia in just 29 years, an impressive feat that took many business schools a century to achieve. As we approach the school's 30th anniversary in 2024, we will work together with our enterprising alumni and friends from all walks of life who care about the school's development to sharpen our resilience in the midst of change and strengthen our commitment to shared values in our quest for excellence. In doing so, we aim to draw on more international experience to promote China's economic boom, share more Chinese approaches to global prosperity, and make a greater contribution to deepening China's engagement with the outside world!
CEIBS President Wang Hong                  CEIBS President (European) Dominique Turpin