Tuesday, November 23, 2021
CEIBS Insights 2021: Consensus and cooperation crucial to achieving carbon goals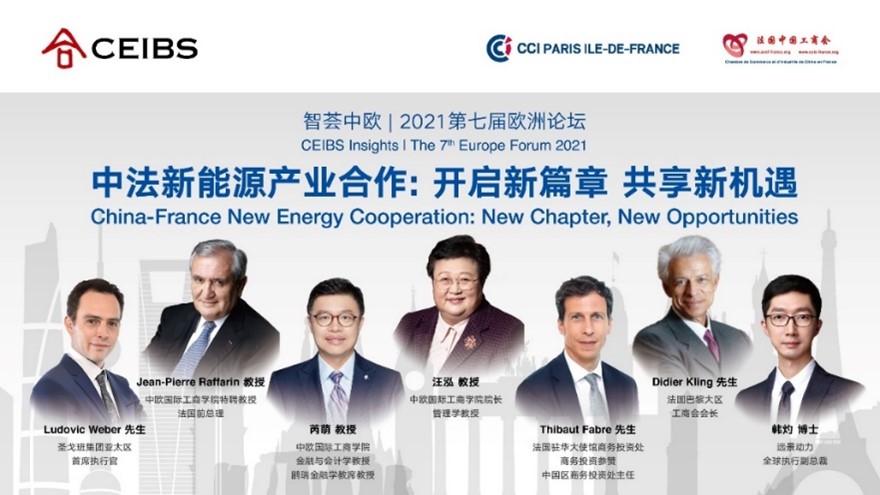 November 23, 2021. Shanghai – Consensus and cooperation around new energy will be crucial to achieving carbon goals, according to speakers at the CEIBS Insights 7th Europe Forum 2021 streamed online today.
Under the banner of China-France New Energy Cooperation: New Chapter, New Opportunities, the event explored opportunities for Sino-French cooperation in green energy and electric vehicles with an eye on China's dual carbon goals of peak carbon emissions by 2030 and carbon neutrality by 2060.
In her welcome speech, CEIBS President and Professor of Management Wang Hong stated that China and France share a broad consensus, enjoy significant international influence and have numerous prospects for cooperation when it comes to climate change, global environmental governance and sustainable development.
"CEIBS will also undertake its mission to promote economic and cultural exchange between China and the world, facilitate dialogue between the Chinese and French business communities, and contribute to green development across the globe," Prof. Wang said.
Also speaking at the event, CCI Paris Île-de-France President Didier Kling said that China's goal of achieving carbon neutrality by 2060 is vital in the face of current geopolitical and environmental challenges. To achieve this goal, he added, countries everywhere should share their experiences in innovation and technology and work together for a better future.
Prof. Wang and Mr. Kling's messages were echoed by former Prime Minister of France and CEIBS Distinguished Professor Jean-Pierre Raffarin, who noted during his opening speech that, as a model of China-Europe cooperation, CEIBS has made much progress in promoting cooperation between China and Europe.
Prof. Raffarin further emphasised the importance of cooperation in today's competitive world, and noted that China and France have both made significant contributions to the application of smart vehicles and digital technologies in the automotive field.
The forum also featured a roundtable on the topic of China's dual carbon goals with CEIBS Professor of Finance and Accounting Oliver Rui, Business France Director in China Thibaut Fabre, Envision AESC Global Executive Vice President Dr. Han Zhuo and Saint-Gobain Group Asia-Pacific CEO Ludovic Weber. The panellists shared their views on China-France cooperation in green industries and corporate strategies for accelerating green transformation, as well as various efforts in the areas of renewable energy and green technology.
During the discussion, Prof. Rui explained that carbon peaking and carbon neutrality are of great importance to the future of people everywhere. He further noted that over the next nine years China will pour 2.7 trillion RMB into achieving its carbon targets.
When asked about China-France cooperation in the new energy industry and how French companies can develop in China, Mr. Fabre stated that France will invest 30 billion euros in the development of green industries, a large part of which will be used for energy transformation, including the R&D and application of hydropower, electric vehicles, and low-emissions aircraft.
The CEIBS Insights 7th Europe Forum 2021 was co-organised by CEIBS, the Committee of Exchanges between France and China (CEFC) of CCI Paris Île-de-France and the Chinese Chamber of Commerce and Industry in France (CCICF).
The event was hosted and moderated by CEIBS Education Foundation Council Member and CEIBS International Affairs Advisor Dr. Xu Bo.