Tuesday, May 04, 2021
Webinar: MBA Alumni Career Discussion: From China to the World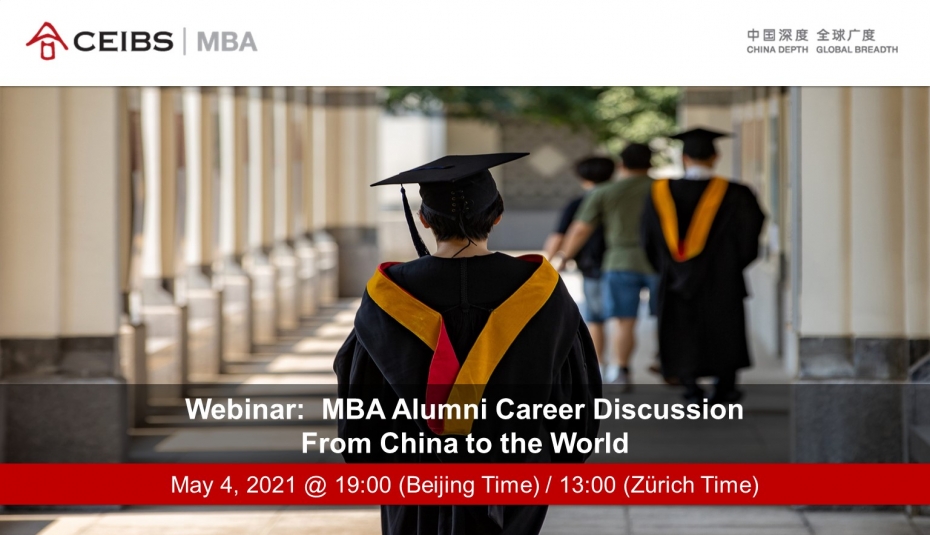 About the webinar
Interested in career opportunities at Chinese companies going global? Join MBA Admissions for a virtual alumni panel discussion as we explore how international professionals can successfully navigate the transition from working at headquarters in China to representing the company on the global stage.
Our alumni will share their own CEIBS stories, including; how they positioned themselves in the eyes of recruiters, deciding when was the right time to leave China, and what were the major takeaways from the CEIBS MBA programme on their career development.
Alumni Sharing
Gulnara Abdullina
CEIBS MBA Class of 2009
Vice President Europe – LONGI Solar

Diego García Fernández
CEIBS MBA Class of 2017
Head of Business Development – Alipay

Valentina Kaledia
CEIBS MBA Class of 2019
Director of Business Development – Castbox

Lorenz Egner
CEIBS MBA Class of 2020
Key Account Manager - CATL

Abhishek Srivastava
CEIBS MBA Class of 2020
Senior Manager – JD.COM
*Alumni panel speakers subject to change
Who should attend?
Young professionals interested in a career at a Chinese Company.
Event details
Date & Time: May 4, 2021 at 19.00 -20.30 (Beijing time)
Venue: Online
Language: English
Contact: Please email James for any inquires kjames@ceibs.edu
Registration: Please click the link below to register.
Please click here to register!
About CEIBS MBA
Ranked #7 in the world by the Financial Times in 2021, CEIBS' MBA programme offers a truly global perspective. Based in Shanghai – China's biggest economic hub – our programme is designed to take you out of your comfort zone and straight into the new economy, allowing you to experience first-hand the world's most dynamic city and its opportunities.
With 18- and 12-month full-time options available, our programme offers a transformative journey that few others can match, and our intense, world-class curriculum combines case studies, experiential projects, and study trips, along with a wide range of activities.